Kitchen gadgets come in various categories. On the one hand there are those insanely whimsical yet totally useless gimmicks we see on TV shopping channels (deep in our hearts we all know those As Seen on TV product ads are deceptive as desert mirages right?)
On the other hand there are nifty cooking tools you will actually use (of which, suprisingly, some are featured on the same TV advertisements). We have made a selection of the most useful products. The products listed here are all well-reviewed and actually useful.
Essential culinary utensils that in fact save you time and effort. Highly useful, multipurpose tools for cooking and food preparation. These are must-haves for any self-respecting cook.
No dedicated machines that will be used a few times a year taking up precious space the rest of the time. No superfluous items when you can do the same with knives or basic utensils. We don't believe in dedicated banana choppers or pizza scissors.
1. Water Bottle Stick Ice Cube Tray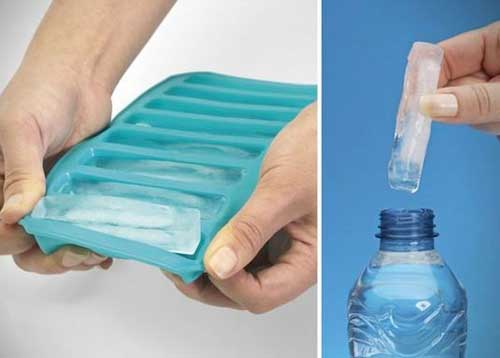 This knickknack is the savior for cold beverage-loving folks. Gone will be the days of scouring for the perfect bottle that a regular ice cube can fit into without it being too bulky. A bottle of ice cold drink can go a long way, especially in summer.
For outdoorsy folks with reusable water bottles, the water bottle ice cube tray, keeps your chosen beverage cool. Its silicone materials make it easy to flexi-pop the long and thin cubes out of their holders and into your bottle. How cool is that?
2. Chop Wizard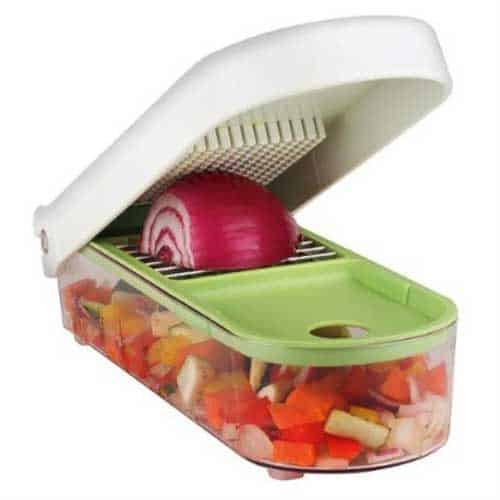 Why useful?
You may not have the ninja-style chopping skills of this street food vendor.
Because you're always in a hurry.
Having a family of 4, you may need to slice and dice more than that single red Maui onion in a minimalist, zero-waste kitchen.
With the Chop Wizard, you can easily chop and dice fruit, vegetables, and even cheeses in less than half the time you'd normally take. Having friends over and you want to serve up a cheese platter, complete with sliced grapes?
What about making a bell pepper, onion, carrot and potato sauté? All done in a jiffy with the Vidalia Chop Wizard. Oh, did we mention it doubles up as a measuring cup too?
3. Bag Resealer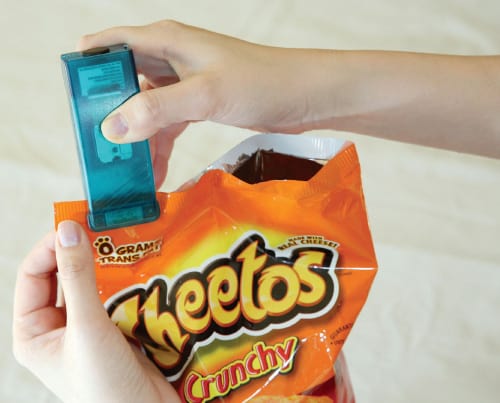 Do we need to say more? This picture says it all. This will prevent you from making excuses. No more, 'I have to empty the bag or they will go stale which would be a pity'. Looking at it like this, the iTouchless Bag Re-Sealer is actually a health boosting gadget. Go get it here. $22,49 for two.
4. Microwave Spatter Screen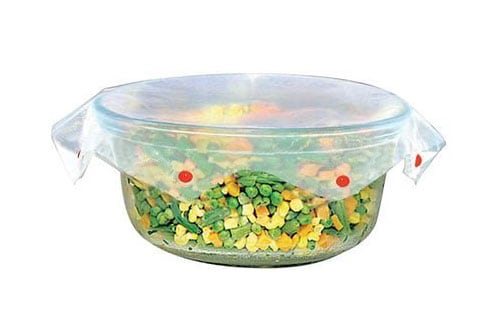 Who hasn't microwaved food, only to find it bubbled and splattered all over the inside of their microwave? The Microwave Spatter Screen fits over a variety of bowls and plates of different sizes, giving you a clean microwave experience every time.
Say goodbye to soaked paper towels and poorly placed wasted plastic wrap. This microwave splatter screen is flexible enough to fit around most bowls and with weighted beads, will also stay in place.
A useful kitchen gadget to any microwave owner and a particular good gift for mess-making students or travelers often only having access to a microwave oven for cooking.
5. Fold flat dish drainer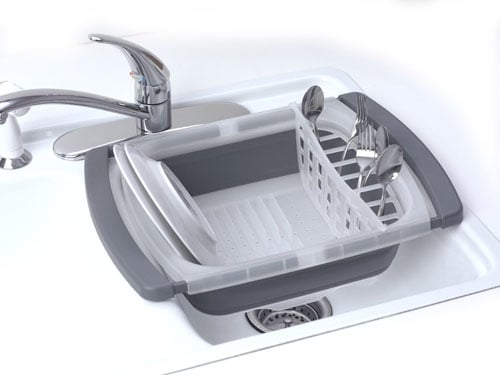 For cramped condos, tiny homes, and other space-limited abodes this thing is a genuine life saver space saver. The collapsible dish drainer is great for larger habited folks too.
Keeping your kitchen counter dry and clean is appreciated by many. Similarly to over-the-sink roll-up drying racks, this item is just plain handy. $21,09
6. Zyliss FastCut Herb Mincer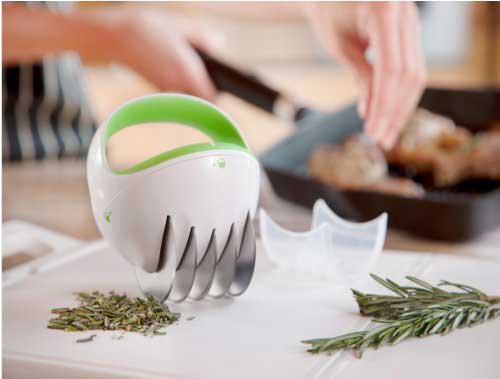 Herbs bring soul in your dishes. Yet even with great knife skills, preparing fresh herbs can be a chore. Enter the FastCut Herb Mincer. Fashioned with sharp "roller blades", this sleek gadget allows you to mince fresh herbs without crushing them in the matter of seconds.
Simply glide the mincer over the herb of your choice and let its sharp blades do the job. Not only are your hands free from retaining all of the potentially unwanted scents that the herbs may bring. If you are a hardcore herb enthusiast this gadget may pair nicely with a herb stripper for stemmy herbs.
$16,49 on Amazon.
7. Silicone Pouring Bowls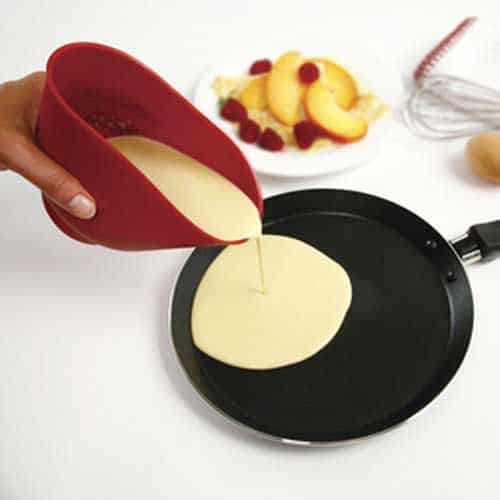 Easy to clean, microwavable, dish washer friendly, compact, flexible, child proof and almost indestructible. In short, it's probably going to be one of the most useful items in your kitchen.
Every good chef needs an equally good set of Silicone Bowls. This 3 piece set has so many uses. Great for hand mixing, measure, and (obviously) pouring, these are an especially a great addition your bakers kitchen. With the sturdy but flexible build, these are ideal for holding thick batters and poring said batters out with minimal mess and maximum control.
The Norpro 3 Piece Silicone Bowl set goes for about 25 bucks.
8. Towel Apron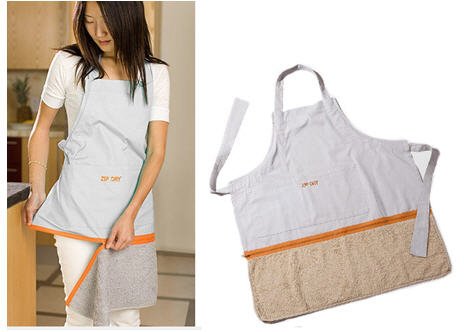 Some home cooks, I'm not naming anyone in particular here -ahum- make an habit out of wiping their hands on their sweater anyway. This Swedisch Chef type behavior may be less frowned upon when the individual is wearing this ingenious Towel Apron. Because of its pouch it's highly appreciated among gardeners and model kit builders alike.
Zip n Dry Apron w/ Attached Towel. Price, $18,69.
9. Pasta Pot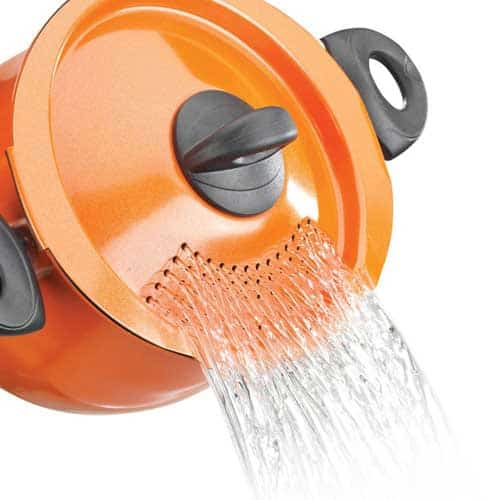 Essential for the avid pasta cooker. Lock the lid to the pot and draining out your pasta becomes a breeze! Just like energy-saving pans, This innovative pot will see the end of making a wet mess while you hastily struggle to transfer your pasta into a strainer.
The twist and lock lid act as a strainer, keeping the lid in place while the holes on one half of the lid carefully drain your pasta of fluids, without any breakage often associated with the traditional straining method.
Hit the link to check out the Bialetti Trends Collection Pasta Pot. $34,99
10. Over-the-Sink Strainer Board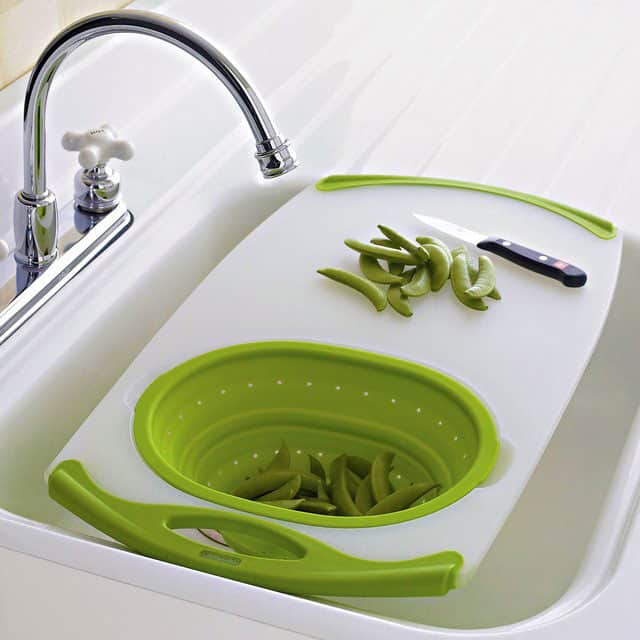 One of the best ways you can maximize time and space in your kitchen- rinse, slice and hold your ingredients all in one board. An over the sink cutting board with a removable 2 1/2 quart strainer on one side, makes hopping and cleaning much easier.
Use the strainer as a holding place for strained materials such as olives or pickle's, and easily transfer to the cutting board for easy chopping, or use the cutting board as you would any other for chopping vegetable, meats, fruits, etc., and then transfer your cuttings into the strainers for easy cleaning.
More highly useful cutting boards here. Hit this link if you're in need for a soaking and straining bowl in one.
11. Expandable Kitchen Drawer Organizer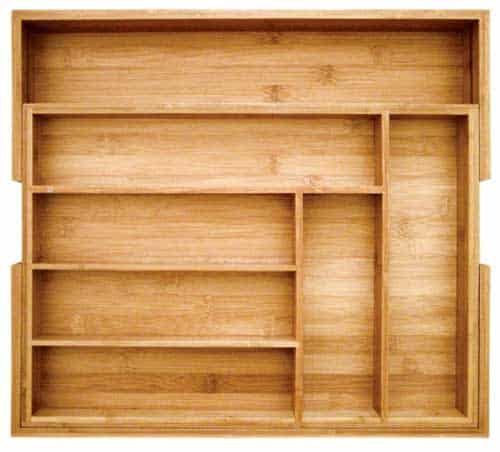 Why useful?
Because the typical kitchen drawer is chaos.
Because expandable is so friggin' handy
Because plastic cutlery drawer organizers suck.
Beautiful, functional, and helps improve on organization. What more could you ask for in a utensil drawer holder? With 7 allotted spaces, yet a slim design, there is plenty of room to fit all of your utensils and even some extras.
Made with high quality Moso bamboo, this is an environmentally friendly alternative to wood, yet is equally as strong. This would also be a great piece for organizing spices, or smaller baking tools.
$26,73 on Amazon.
12. Spiral Vegetable Slicer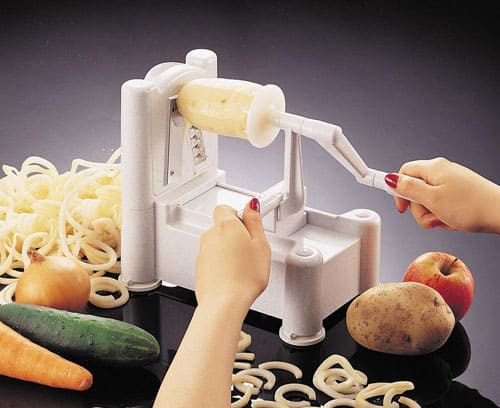 Despite this being a rather bulky addition to your already cramped kitchen this item is worthy ranking high on the Most Useful Kitchen Gadgets List.
Don't let the fact that it looks like a 1950's kitchen gadget put you off. This device is a must-have for anyone who values their time, convenience and does a lot of healthy cooking. Here's why:
An amazing tool for the health conscious. This nifty creation can easily assist you in replacing regular spaghetti with strips of zucchini and churn out beautifully sliced vegetables for your salads. Julienning vegetables doesn't need to involve tedious and precise slicing anymore.
Not only great for replacing high-carb noodles by making "pasta-free pasta", aka veggie noodles. This gadget lets you quickly peel potatoes for quicker mashed potatoes or use the julienne blades for thinner fries, peel carrots to add to your salad, peel apples for a juicer taste, julienne butternut squash with less mess.
Not yet convinced you need the Paderno World Cuisine A4982799 Tri-Blade Plastic Spiral Vegetable Slicer? Read raving reviews here.
13. Tabletop Oil Mister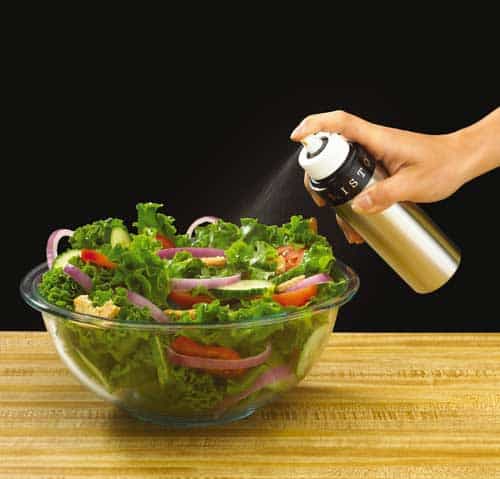 Bottles of cooking spray don't come cheap. Spraying or atomising out oil, this compact refillable kitchen tool not only fits nicely on your counter. On top of that it's convenient for many uses, such as: misting salad, spraying cookie sheets, coating food, grilling meat, and more. Thumbs up for being environmentally friendly and it's the perfect gadget for the DIY home cooks- think homemade infused olive oil.
Nope, the Prepara Oil Mister, is not your average mister. With a glass bass, it makes for much easier cleaning and sterilization. Simply poor your chosen oil into the base, attach the lock-in-place misting top, remove the lid, and spray away.  The mister is also equipped with a clog filter so you needn't worry about thicker oils clogging it.
14. Baggy Holder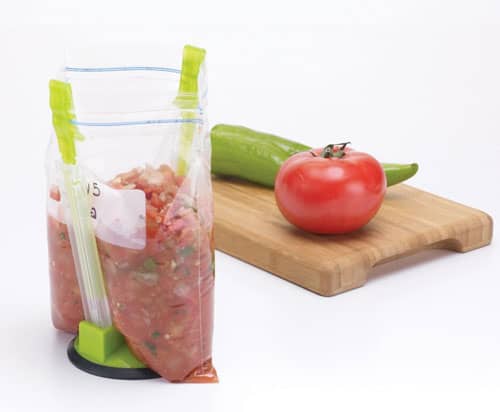 More often than not, you find yourself helplessly wishing for a third arm to hold up a freezer bag while you empty your leftovers inside. Clipping firmly to your bag, this simple contraption allows you to pour contents from nuts to sauce without making a mess. Definitely a fantastic tool for a klutz! Or for anyone who values convenience.

With a no slip rubber base and clips on either side, this storage bag holder is truly "hands free". Ideal for sloppy foods, or frozen foods that require more control and assistance keeping open, this hands free baggy rack holds your storage bag in place and open while allowing you to poor out the contents more precisely. This can also be used upside down to help dry out freshly rinsed bags and is also collapsible to save space.
Jokari Hands-Free Baggy Rack, $7,14.
15. Stinky Fingers Rub Away Bar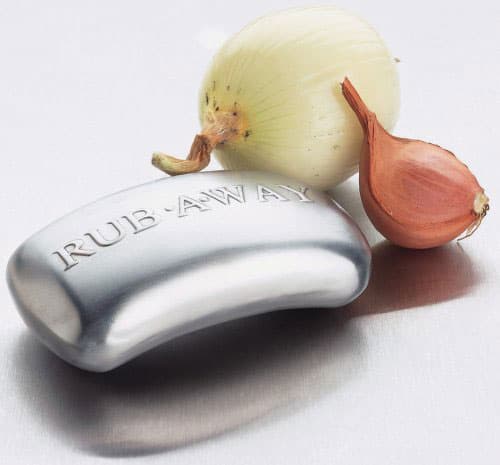 What's worse than garlic breath? The pungent smell that lingers on your hands. After all, you don't smell your own breath. Rub away any awful stench with the Amco Rub Away Bar and settle in for a good meal you've worked hard at preparing. Works for fishy or onion smells too. And perhaps even the stinky feet or pits, just saying.
Made with stainless steel, a chemical reaction is created by running it under cold water whilst you rub it between your hands. Shaped like your average bar of soap, using the bar will be natural for you. Worried about how long it will last? Don't be. With even frequent use the bar is said to work almost indefinitely while still maintaining the looks of being new.
Amco rub away bar. $10,32.
16. Boil Over Safeguard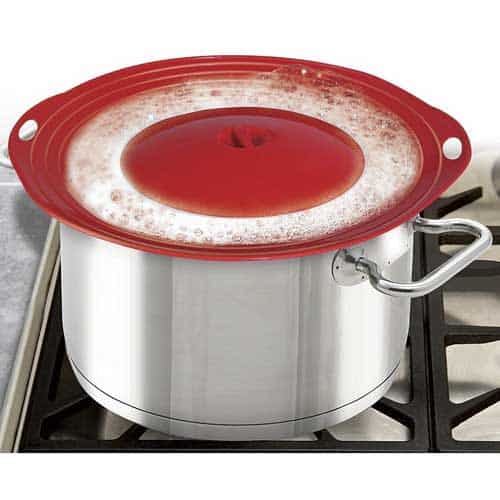 Made out of extremely durable, odour-resistant silicone, this gadget fits over almost any of your kitchen pots, preventing water from bubbling and spilling over when you're boiling soups or other liquids. Form and function in one little package? Wonderful.
Avoid messy boil over accidents by using this boil over safe guard. Made from silicone, this lid fits most standard pots, is dishwasher safe, and is heat resistant up to 400 degrees.
The excess water overflows into the inner rings of the lid, and prevents potentially damaging your stove top, or (for gas tops) extinguishing the heat.
Boil Over Safeguard, $10,53
17. Fridge door iPad holder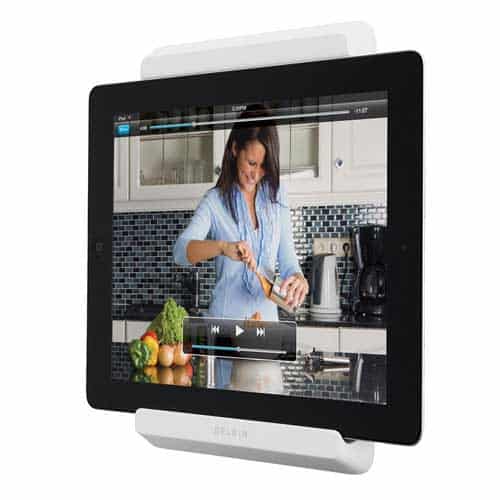 Be it engrossing yourself in a game while you wait for the pan to heat up, watching cooking and kitchen tutorials, or checking up on recipes, tech-savvy home cooks can now rejoice with the Fridgepad for iPad.
Out of the way of your main cooking area, and out of reach of young children (plus points!), this creative innovation allows you to keep your iPad by your side while you whip up a storm.
The magnetic backing and clipping mechanism safely secure your iPad, so you are able to display it on your refrigerator door.
Fridgepad for iPad sets you back about $12.
18. Utensil Pot Clip
Cooking up a storm can turn into a nightmare for home cooks who are particular about cleanliness. In case you don't already own Hang Around Kitchen Utensils, The Snug Pot Clip allows you to attach your cooking utensils to your pots and pans, avoiding messes and drips. No more searching for a spare bowl or plate to place your ladle or spatula in, this takes care of it all.
This device allows you to clip your ladle, spatula, or other cooking device straight onto the pot or pan. Look Ma, no hands!
Have you ever left a spatula, spoon, or other utensil resting in a hot pot or pan for just a second too long? I know someone who has. The snug pot clip puts an end to those troubles. Simply attach one of the 3 small or 3 large clips onto the resting point of your utensil and you no longer have to worry about melted or damaged equipment.
Priced at about $17, that makes each clip in this set of 6 cost only around $2.80. This is far more cost effective than replacing entire utensils or even pots and pans damaged by the melting utensil.
19. Veggie Shreds Maker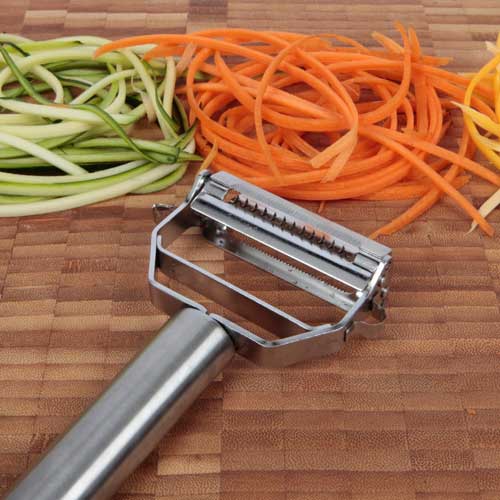 Okay, granted, a julienner slash peeler isn't actually something you didn't know existed. Because of its versatility it does belong to the most handy kitchen tools though. This 2 in 1 peeler will definitely be your ideal kitchen aid for various reasons.
A neat little device to slice up your fruits and vegetables into perfect thin slices. Why would you ever want to do that? How about pasta-free pasta, a.k.a. zucchini pasta? What about homemade baked apple chips, or even fancy fruit garnishing for your pudding or dessert? Why not?
Versatile and multi-purpose, this highly useful piece is a great addition to any kitchen filled with fruits and veggies. No wonder this Precision Kitchenware Julienne & Vegetable Peeler has over 1500 five star reviews.
20. Spaghetti Measurer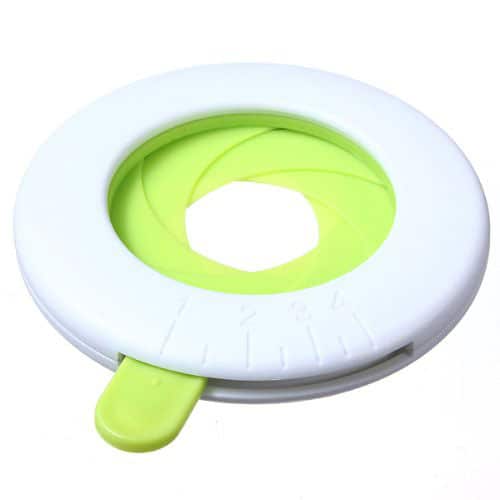 This tool is ingenious in its simplicity. Spaghetti always is a tough food to estimate. Admit it, you've tried all sorts of (funny) ways to measure your portions- bowls, handfuls, spoons and etc. With this, you never will cook too large or small portions of pasta ever again, whether you're cooking for one or twenty.
21. Chef's Planet Chip & Drain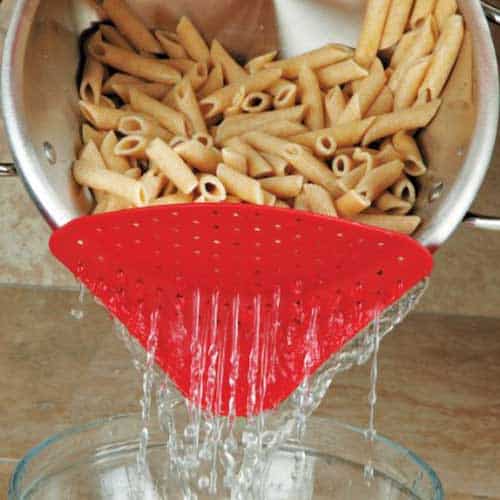 This witty creation basically lets you clip on a spout and a drainer to the side of your pot. Whether you're cooking noodles, pasta, or anything else that needs water to be drained, you will no longer suffer the risk of burning your hands with hot steam. Simply clip the drainer on, tilt, and voila, you're done.
What makes this clip on different than other popular versions (such as the less high rated Silpoura Silicone Clip-On Spout) is that its draining space is much wider therefore it covers pot space and reduced time spent draining and food that might be lost draining.
22. Space-Saving Kitchen Grater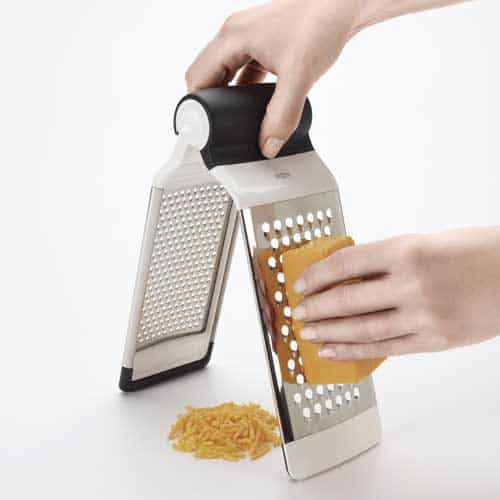 You don't have to live in a tiny home on wheels in order to fall short on kitchen space. It's a common thing among most owners which is why smart storage designs have made their way into the kitchen. Cube graters move over. Without sacrificing quality or stability, the 4-in-1 flat fold has 4 different sides all made with stainless steel and with separate blades for different levels of grating.
Folding out into its traditional box shape to give handlers a stable grip and then back into its flat state for easy storage, this ingenious device is the perfect example of having the best of both worlds.
Go get your Oxo Good Grips two-fold grater on Amazon. $12,99.
23. Citrus Sprayer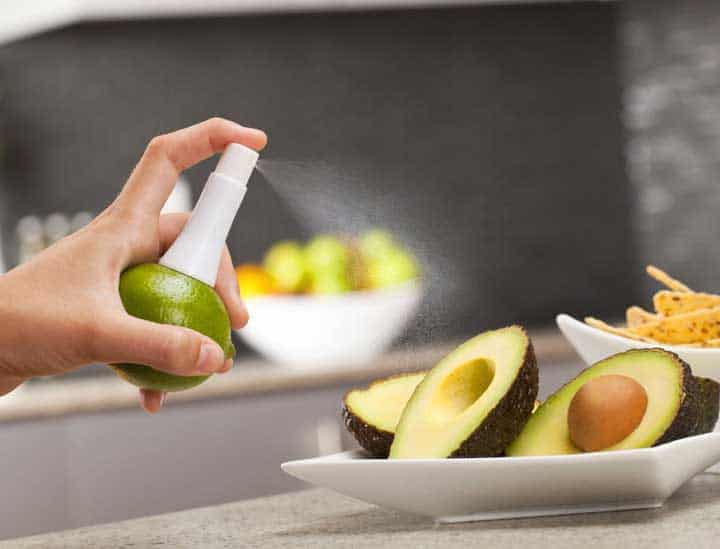 Next time, when you make a salad or a fried fish dish, instead of squeezing a lemon with your hands and trying to catch the seeds, try the Citrus Sprayer. It's as simple as affixing it to a lemon, then with the simple press of a button, you get fresh lemon zest spray. Tangy!
More about the Quirky Citrus Spritzer.
What do you think?
Want to add something to this list?
Think some of those don't belong here?
Shout it out below.
Last Updated on February 10, 2015 by Tyler