Kitchen storage is an eternal challenge. You want a way to keep everything out of sight, while also having it easily to hand when you're cooking, and sometimes those two things don't work together.
You clear everything away, you stack it neatly in the pantry – and then two meals later, everything is scattered on the kitchen table again. How does that even happen?
The key to effective kitchen storage is using every inch of space in easy-to-reach areas. A magnetic fridge-mounted organizer will allow you to reclaim some of the wasted space around your refrigerator for kitchen storage.
Magnetic fittings mean you can put it up instantly, and try out different positions until you find one which is right for you.
There are hundreds of different magnetic fridge organizers on the market – a large fridge door rack to hold food, a tiny fridge caddy to keep your car keys in an easy-to-find place, a wipe-clean fridge mounted organizer for writing shopping lists.
We've rounded up ten of the most popular models to give you an overview of what's out there. Here we go.
Top 10 magnetic organizing solutions for your fridge
---
1.Heavy lifter magnetic 3-tier storage rack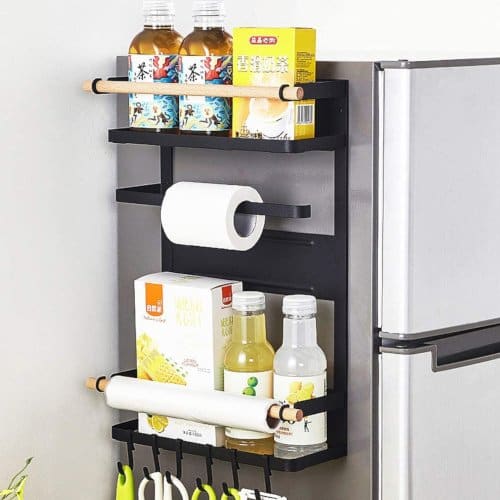 This magnetic fridge caddy is designed to use up the wasted space at the side of your refrigerator. The design is compact, just 12 by 18 inches, but it holds a huge amount in a small space.
Two shelves hold jars or bottles, and there are three horizontal posts to carry rolls of kitchen towels or freezer bags. Removable hooks at the bottom are great for suspending kitchen utensils.
It attaches with strong magnets at the back, so it takes just seconds to attach to your fridge, and can be easily moved and repositioned.
2. Magnetic fridge door storage rack
save fridge space, time, and the lower your energy bill by storing stuff outside the fridge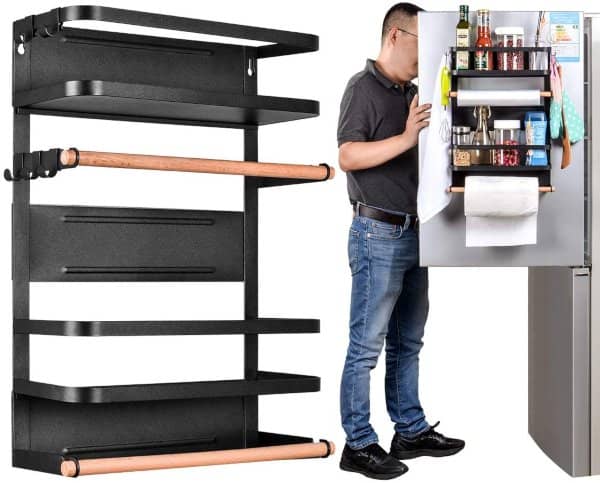 Ketchup doesn't need to be refrigerated. Neither does mustard, or sriracha, or soy sauce… and yet most of us keep them on the shelf inside the fridge door, because we don't have enough kitchen storage space to put them anywhere else.
This magnetic rack is designed to mount on the outside of your fridge door, giving you a convenient place to store condiments and free up some space inside the fridge.
Of course, you're not limited to just jars of pickles – the powerful magnetic mount can support over 20lbs in weight, meaning it's also ideal for holding things like bottles of oil or cooking wine, which you want to be easily accessible but not cluttering up the counter.
3. Set of 12 fridge-mounted spice tins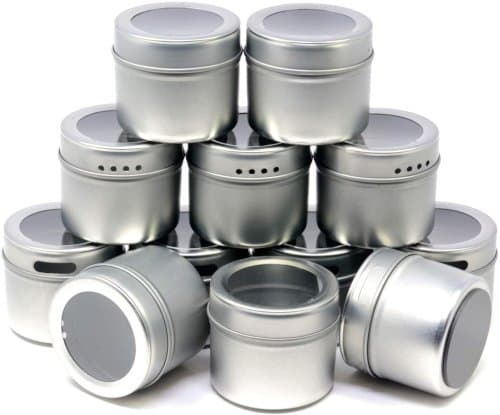 Most keen cooks don't have a spice rack: they have an overstuffed drawer or an overflowing shelf, full of crumpled packets and unlabelled jars which can only be identified by a good hard sniff.
Get some order into your cooking with this set of magnetized spice jars. They hold a generous 3oz, and the magnetic bottom means they can be stuck to the fridge or even a steel cooker hood.
The lids hold on securely, forming a seal that's almost airtight, and when you need to use the spices you can twist to either sprinkle or pour. The clear window at the top means you can see at a glance when you're running low on something, and the included set of labels makes it easy to tell your cumin from your coriander.
4. Set of 2 magnetic mini spice racks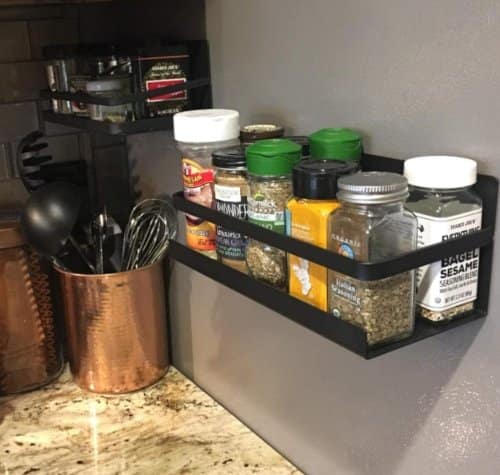 These small single-layer magnetic shelves are a real boon for small spaces. The magnetic backs mean they can be easily repositioned – ideal if you're renting, and need to adapt your storage solutions to what the landlord provides – and they're small enough that you can mount several on the side of even the smallest refrigerator.
Although labelled as a spice rack, these shelves are deep enough to hold any standard jars or cans, and can carry up to 5lb in weight. The fact that they're single shelves (instead of a fixed rack) means you can store items of any height.
5.  Fridge-mounted paper and letter organizers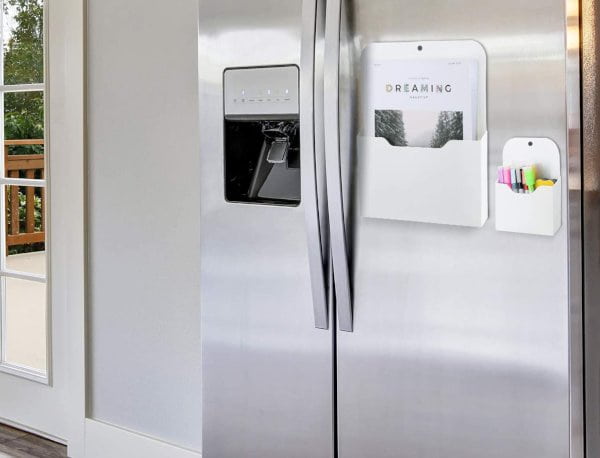 From takeout menus to unpaid bills, it's surprising how much paper there is in the average kitchen. These magnetic fridge organizers are wide but shallow, perfect for holding paper. The largest is big enough to hold a hardback cook book; the smaller ones are great for tidying away recipe cards or mail.
If you're trying to get more organized about paperwork, they're ideal for setting up a mail sorting system – put today's unsorted mail in one, bills in another, personal letters in the third. And they're not only limited to kitchen storage – they're also useful to mount to the side of a metal filing cabinet or school locker.
6. Magnetic daily organizer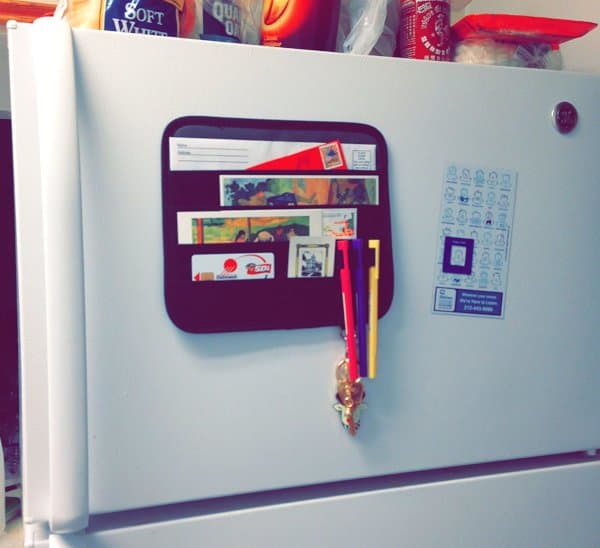 Most of the fridge mounted organizers on the market are designed for food storage, but this one is a little different. Instead of holding kitchen items, it's designed to keep your daily essentials organized, with flat pockets for storage and two magnets to attach it to any metal surface.
It holds credit cards, pens, bills which need paying….there's even a little clip at the bottom for your keys. When you go to the fridge for your breakfast OJ, you'll see all your day's essentials neatly lined up, ready to grab what you need as you run out of the door.
It's particularly popular with parents of teens and older children, because it helps them to get organized for the day without you having to ask, "Do you have your bus pass? Keys? Lunch money?" every morning.
7.  Removable magnetic hooks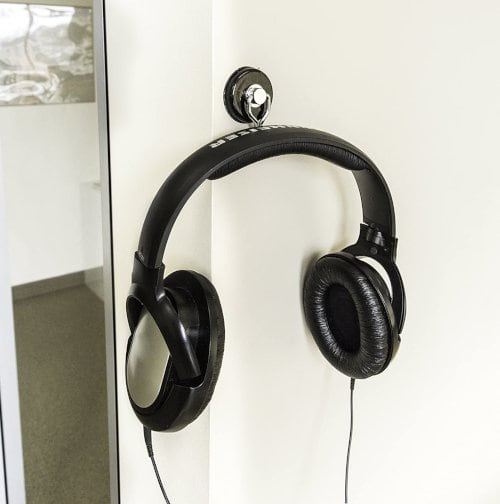 These swiveling hooks are great for holding tea towels or oven mitts in the kitchen. Hanging hand towels over your cupboard handles spreads germs and can be a fire hazard: by attaching fabric items to the side of the fridge, you'll keep things easily to hand but also hygienically separate.
These hooks are also great for holding small children's coats and bags – just attach them to the fridge at the right height for tiny hands. They will attach easily to most metal surfaces in the house – and since the footprint is just over an inch in diameter, you can use them for things like hanging a small light off the steel legs of a bunk bed, or a towel off the metal edges of your shower compartment.
8. Any month reusable calendar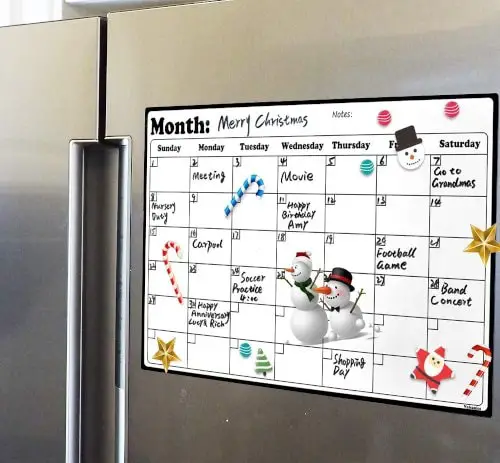 A large kitchen calendar is a lifesaver for scheduling. Whether you're a family or a houseshare, it's great to be able to see everyone's plans at a glance.
This magnetic fridge door calendar is cleverly designed to work for any month: just fill in the dates, write your appointments, then wipe it clean and re-use it for next month.
It covers a six-week period, so you can see what's happening at the beginning of next month too. A magnetic sheet covers the whole back of the calendar, so it will stick snugly to the front of the fridge and won't slide around.
9. Dry erase kitchen whiteboard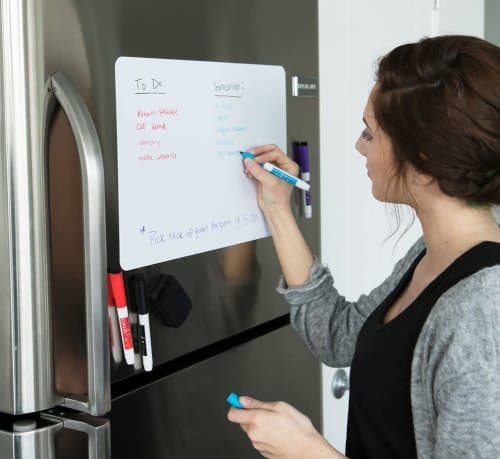 Keep all your grocery lists and to-dos in one convenient place with this fridge mounted organizer. The dry-wipe board sticks flat to any metal surface and comes with magnetic pens and eraser, so you can stick the whole set to the refrigerator door.
It's great for busy households and big families, as it provides one convenient central place to leave messages for each other – and when you're done, just wipe clean and start again. There are various sizes available, and of course you can switch it between landscape and portrait orientation in order to fit the particular shape of your fridge doors.
10. All-in-one kitchen caddy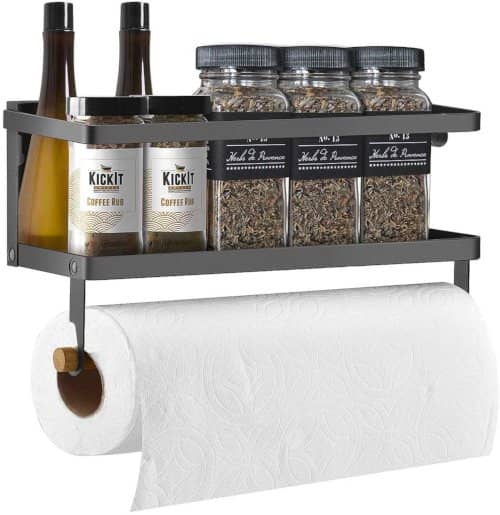 This magnetic fridge door rack is a great all-in-one for kitchen storage in a small space. The top shelf holds small items like spices or vitamins, and the wooden dowel underneath is for kitchen roll, allowing you to keep all your cooking essentials off the counter but within easy reach.
It's also great for organizing small utensils if you're short on drawer space: use the shelf to hold jars of cutlery, and then hang butcher's hooks (not included) from the rod to suspend items like spatulas and potato mashers. Although it's designed as a fridge organizer, the magnetic back also has drilled screw holes so you can fix it to a wall or cupboard.
Which magnetic fridge storage solution do you like best?
Share your thoughts below.
Last Updated on April 14, 2020 by Tyler