Some mechanics use a standard old leather office chair to roll and swivel around the work shop. Others even swear by a decent folding chair to support their garage activities.
Those who take their job seriously, however, know about the advantages of using a high quality shop stool. Not only in terms of comfort but in increased productivity and reduced physical strain as well. A good workbench stool can save you from an aching back, hurting knees and other problems.
Whether you're a car mechanic with arthritis or an ergonomically aware professional, a good garage work shop stool is a huge asset.
Here's how to pick the best shop stool for your needs
Which garage shop seat is best depends on the tasks at hand. Obviously a traditional shop stool is virtually useless when doing brake work while a creeper is to no use when you're behind your workbench.
First decide which characteristics and features are essential to you. For instance, your stool height might need to match your workbench height.
Or you might want a low rolling stool that swivels so you can scoot swiftly through the shop without having to get up continuously. Or you might absolutely want it to have a backrest or storage compartment.
Here's a checklist of criteria to help you choose the perfect mechanic stool:
has wheels (has heavy duty casters to roll smoothly over debris, clutter, air hoses, cords, uneven floor)
wheels are lockable
weight capacity
height adjustable
gas vs hydraulic height adjustment (elevates)
sits comfortably  (when your spine is acting up focus on comfort and quality)
dusts off easily, easy to clean off grease
thick vinyl cover to prevent burns from welding
has a (magnetic) tool tray
lets you get your knees under your workbench (measure and pay attention to size)
has non-scratch, non-slip leveling feet.
Different types of shop stools
Roughly put there's mechanic's stools vs creeper seats. However among these two main types there are other distinctions. Here's an overview.
tractor seats
roller seats
hydraulic shop stools
garage shop roller seats
creeper seats
topside creepers
kneeling/ sitting creepers
Top 10 best mechanic's seats for various situations & purposes
---
1. WEN 73012 mechanic stool
budget buy, not recommended for industrial use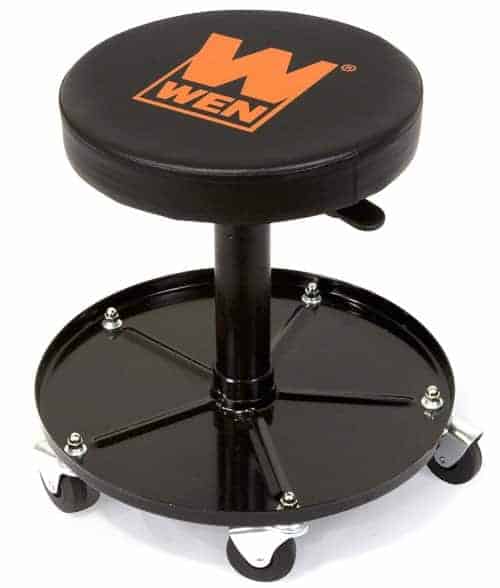 This pneumatic rolling stool by reputable brand WEN is relatively small making it an affordable option for smaller, lightweight users. The seat measures only 12″ across. A seat like this lets you sit on it from any direction.
Its price reflects its quality and for heavy duty use we do not recommend this seat. If you need a cheap shop seat for occasional use that's height adjustable from 15″ to 20″, has a tool tray, that rolls well on hardwood, carpet and concrete floors, this might be the one for you.
Keep in mind though that some users have complained about its welds being inferior causing the seat to break down after relatively short use. So if you order, make sure to do your own quality control by checking the welds and overall structure.
Cons
No lockable wheels. Not suitable for large and heavy users. Its base might be a bit wobbly.
Critical note: Remember, you get what you pay for so chances are that if you're using this seat, or any similar shop seat in its kind and price range for day-in-day-out, heavy duty use, it's likely to, at some point, fail. Commonly the seat plate welds and casters will break.
2. Telescoping tractor seat with parts tray
Good mid-range shop stool for the money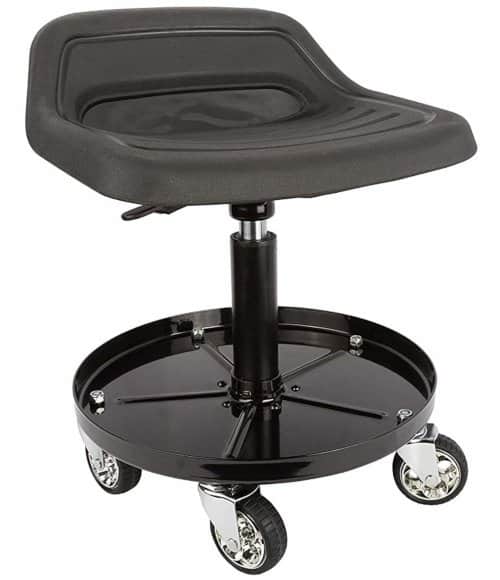 Not only does this 300 lbs capacity shop seat feature a sturdy base and smooth rolling 3.5″ casters, it also a comfortable yet firm contoured seat offering support to your hips and thighs. Just like the previous garage shop seat it's intended for work on the lower half of the car such as body and brake work .
The Sunex 8514 tractor stool is from 18″-22″ in height adjustable and rotates 360 degrees. One thing to keep in mind is the following..
Because the wheelbase is smaller than the seat it might cause this: if you lean forward with the seat extended the stool might shoot away from underneath you. However, it does enhance precision in maneuverability as you can put your feet under your body.
Critical note. Some users noticed that the caster wheels' ball bearings started falling out. This doesn't necessarily mean that you can toss the seat in the bin, like is the case with some brands, as you can get Sunex replacement parts. Other users however, mentioned using these shop stools for almost a decade without failing them.
3. WorkPro stool (great for tall people)
sturdy tall stool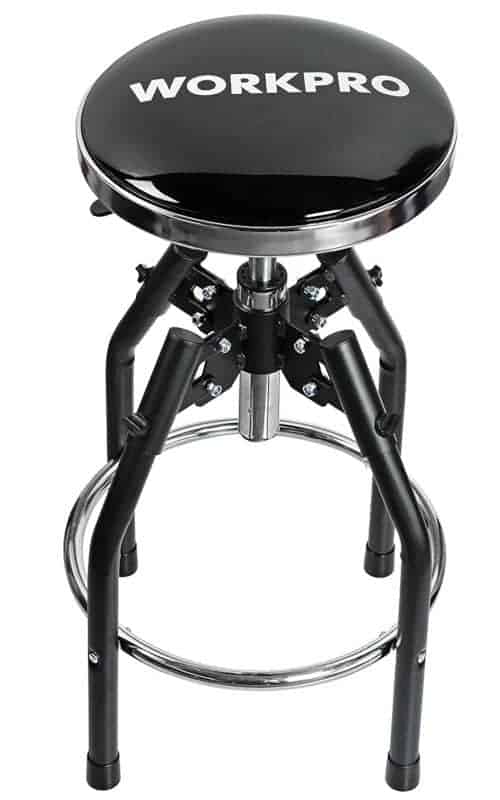 The WorkPro W112010A with its tubular legs is a well-built, full swivel, height adjustable, stable stool that feels sturdy even to tall and heavy people. It's on high side so make sure to measure your workbench or desk as it might turn out to tall for your situation. Its foot rest measures 8-1/2″ from the floor.
When doing heavier work such as taking stuff apart a seat with a fixed base like this is a godsend. It's clever to use a more comfortable seat when doing stationary work for a longer period of time.
Cons. No wheels. No back support. Does not hold its height when you sit on it. It's cushioned but only with a thin foam layer so it could use more padding. The shiny seat is a bit slippery.
4. Busted Knuckle Garage BKG-86 Garage Stool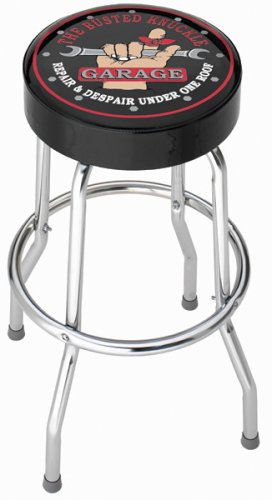 This robust stool matches the height of your standard workbench (29-1/2 inches ). It's only modestly padded so not the most comfortable stool you can get. In some stools there seems to be one leg shorter in length which causes a slight wobble. If you need a simple, sturdy, affordable garage stool that looks appealing, this one might be for you.
The Busted Knuckle garage stool might be for you when you're looking for a simple, affordable mechanics stool or when the design is attractive to you. In the same price range similar stools can be purchased with John Deere, Ford and other logos.
5. Cushioned creeper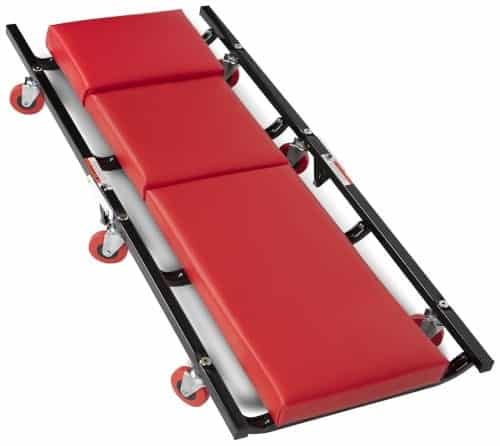 If you want a creeper that's as low to the floor as possible, check out the Pro Lift Bone-ster. It might not be as comfortable as it lacks cushioning and might roll a bit less smoothly, but it's as low as you can get.What's more, it rolls well on many surfaces and has a safety latch.
Some users complain you won't be able to fit in between tandems on a semi truck while others say it's a tight fit but it works. Alternatives inlude Snap-On creepers or if you want a low profile, consider the Omega 91400 Black Low Profile Creeper
Did you know… ?  Besides extra low creepers there's extra wide creepers as well.
6. Transformable creeper
Pro-Lift C-2036D Grey 36″ Z-Creeper Seat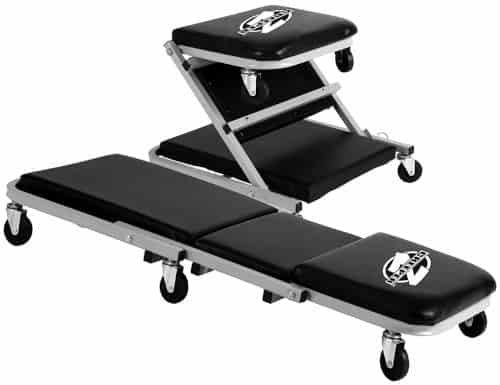 With its big casters this sturdy shop seat combo is easy to maneuver as it rolls smooth even on rough concrete. It's a transformable mechanic's creeper that transforms into a step stool / shop stool. The padding is supportive and not too soft.
Besides this multi-purpose creeper you can also get a transformable creeper step stool combo (JEGS Performance Products 81156). Cons: The Pro-Lift C-2036D is not height adjustable.
7. Omega Lift 91305 2-in-1 mechanics creeper seat/step stool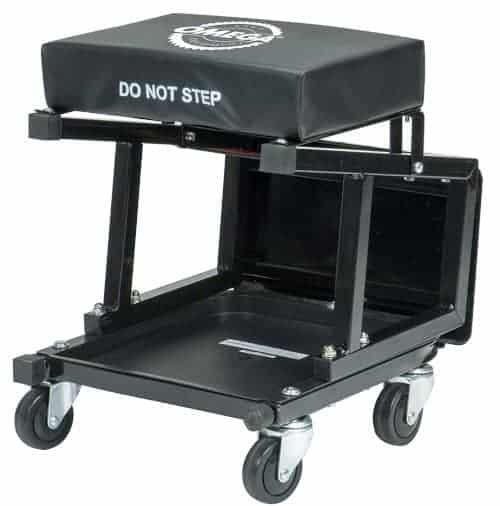 The versatile Omega Lift 91305 has a soft seat and quality wheels. Being a combo seat it offers both an ergonomic way to reach a car's tires and lower body panels as well as to do some higher work. On top of that it can be used as a step stool.
Obviously this type of seat doesn't have a gas strut or swivel seat but for fine work other types of shop seats are probably more appropriate.
8. Racatac 01RAC3 kneeling sitting creeper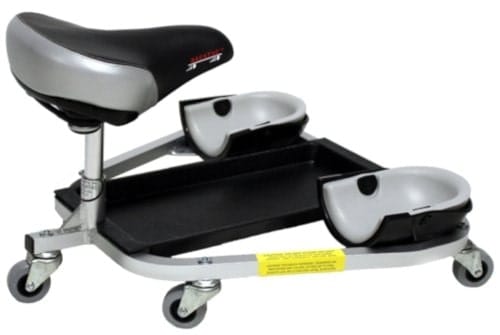 Another option when it comes to shop seats is a kneeling creeper combo seat which is designed to literally save your knees and lower back.  It's like an evolved version of traditional knee pads and a useful tool when doing low work such as working on wheels and low panels.
It significantly increases your mobility and range when doing jobs that require being kneeled. You're able to roll, spin, and shift your leverage while being kind to your body.
Additionally there's a chest support for the Racatac 01RAC3. Critical note: this type of seat might not be for everyone though. It's kind of an acquired taste since you're using the balls of your feet and toes to stay steady and push off.
9. Topside creeper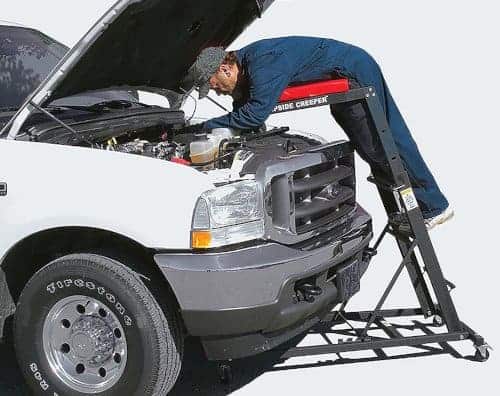 This foldable over-the-engine workstation lets you "hover" up to 40″ over the engine compartment for convenient access under a back saving angle. Thus you have a better sight on the issue, you can use more leverage, and are less likely to drop tools and supplies into the engine compartment.
It's height adjustable from 52″ to 72″ in increments of 6″, has lockable wheels so you can use manual force without pushing yourself away from the car. It does have a few minor design flaws such as inferior non slip surface and quality control leaves to be desired.
Keep in mind that this unit is for pickups only. More on the Traxion 3-100.
10. Iconic The Tail Bone 5031 mechanic's s tool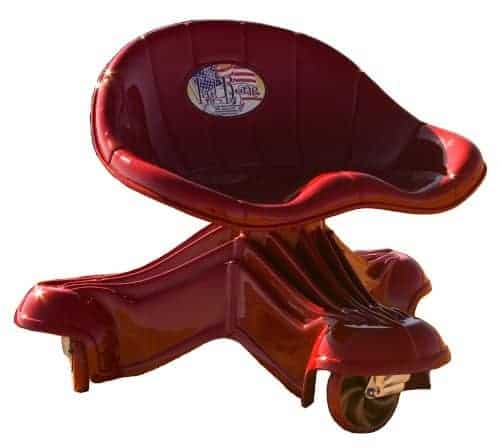 A common complaint among users of shop stools is that casters tend to wear out and finally fall off. This is often the case with budget seats as well as the more high end items. The wheels being the weak link seems to be insurmountable.
Not with the The Tail Bone 5031  as it comes (limited) with a lifetime guarantee on wheels. At 5″ they're big wheels too, which adds to your mobility. Combined with the extra wide (32″) unique tripod base that makes this seat super stable preventing you from tipping over when you reach out to grab that sander.
It's a bit of a Spartan tool though as there's no padding which may cause some physical discomfort after hours of use. Nonetheless it's design as design is intended, it works. Added bonus, Dale Adam's Enterprises' vintage tractor seat wins the price for best looking shop seat and may fit very well in your shop.
Featured image: the best selling, budge buy Torin Big Red
You may also like:
What are your requirements for a good shop seat?
Drop your comments below
Last Updated on November 24, 2020 by Tyler