Happy campers, sun birds, van dwellers, and other mobile home inhabitants tend to agree that one's RV should feel like home.
We are not run of the mill home-and-hearth people. We're adventurers, explorers, wanderlusters. And it's exactly because of this that our humble wheeled abodes should feel as sanctuaries.
But what makes a home a home these days? Is home a place, a space, or a feeling? Is it where the heart is? Is it the friends you make along the way? Is it simply "where you park"?
Why making your RV feel like home makes you want to explore more…
Psychiatrist Professor Michael Lehofer infers that people who are most prone to homesickness are, surprisingly, those who have the least bonding to a place.
If you have a strong bond to a place or people you're more likely to feel 'unheimisch' when you're far away from where you normally live "because you have the inner security and sense of that place that you take with you. You are free to explore".
Strong ties to a home base or not, creating that homely feel of security and familiarity within your RV will benefit your sense of wellbeing. Whether you're leading a nomadic life, you're at an RV park or living the off grid life in a secluded place in nature.
With clever design hacks and simple adaptations you can turn any RV into an actual home on wheels.
19 Ways to make your RV really comfy like your home
Content:
warm LED lights
smart controllable lights
Himalayan pink salt lamp
indoor (fake rock) garden solar lights
safety lights
smart plugs
floor rugs
pillows
big outdoor RV area rug
big screen   (optional electricity saving    mini projector)
portable speaker with decent bass
photo frame (digital)
small wall frames for DIY art
12V electric fireplace for RV's
wood stove
portable hanging (herb) planters
mirrors
open corner shelves
wallpaper
1. Swap your old bulbs for warm LED's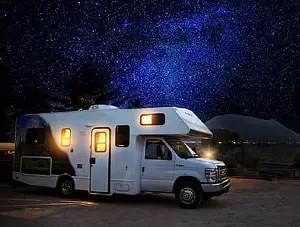 First of all, if you haven't gotten rid of those stock, harsh cool white LED lights best to do so right now. Too often we still see campers residing under sterile white light like on a 20th century East Block factory floor.
It's probably stating the obvious but this kind of ambient light won't give you the feeling of being at home. So if you haven't done so yet, update the lighting fixtures and plug in some cozy, warm lights. This simple adaptation can go a long way into making the space feel more comfortable and functional.
Keep in mind that many advertised as warm white LED lights can still be quite harsh and cold. Also consider remote controlled dimmable puck lights, closet tap lights and other more functional lighting options.
Check out these best sellers in RV lighting to cozy up your indoor ambiance.
Tip: be creative in picking light colors. We swapped the stock fluorescent tube for an orange LED strip in our 'home theater area' a.k.a. the rear lounge as we find the hue of light it emits compliments watching a movie or reading an e-book very well.
2. Deck out your RV with smart mood lights
One of the reasons you might feel your RV isn't as cozy as your home is because you're missing some of your house's good stuff. Your Philips Hue lights, for instance. Being able to change the mood of a room, or part of the motorhome, by changing light color, intensity as well as turn them off with your smartphone is something that can really help you feel comfy within your surroundings.
Or how about being able to switch between office lights (digital nomads will love this option) and dinner lights with the command of your voice by using Google Home Assistant or Alexa. Who doesn't agree that not having to get out of bed to switch off that bathroom light you accidentally left on is priceless?
Not to forget the blissful waking up with gradually increased light instead of a blaring alarm clock. That is of course provided that you need an alarm clock when RV'ing and not just wait till you wake up with the rising of the sun.
With an inverter present, Philips Hue is easily brought aboard, that is if you have a Mofi router to connect the Hue to. If everything runs of 12V electricity taking your Hue with you in your RV it might be not an option. In that case, a 4 channel LED RF controller could be the next best thing.
In terms of options, the sky is the limit. Think RGB multi zones, under awning LED strips, and sleep promoting orange/red tinted lights for evenings and map reading.
Check out his page for more mood light options.
3. Add a soothing Himalayan pink salt lamp
One of my favorite "make your RV feel more like home" hacks is as simple as it is effective. We put an Himalayan pink salt lamp on our dinette table. The warm, amber glow that these lamps emit, to me, resembles a bit the glowing coals of a hot barbecue or a beach bonfire. It makes us feel as snug as a bug in a rug.
The warm, cushy, ambient light is perfect for cozy evenings in. Especially when it's getting dark sooner in fall and winter a HPS glow lamp contributes to a relaxing, intimate atmosphere. Plus, these lamps are claimed to emit health-boosting ions.
Our lamp is always on when the inverter is on making it a good reminder to not forget to turn the inverter off.
Tip: if a HPS lamp just isn't your thing.. how about fairy lights as they work well in small spaces and you can run them along your bed's headboard to add warmth to the space, the dinette cupboards to make the habitation area more hospitable, or wherever you fancy.  Or a great option for (grand-)kids as they might feel disoriented the first nights in an RV is this small, portable decor cube light.
Your lighting choices influence how you feel in your RV big time. Which is why we've listed various hacks related to lighting.
4. Solar ambient mood lights for homely feels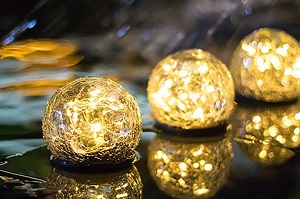 Let's proceed on the thought of decor lights as adequate ambient light improves energy levels and overall wellbeing making you feel more in your element.
We have three Ikea LED solar-powered rock shaped garden floor lamps which are generally charging on the dashboard behind our huge windshield. At night they emit a soft, glowing light that accentuates the curtains and succulents on our dashboard.
The simple act of placing some solar lights on the dash makes the space feel larger motorhome. It involves this otherwise dark, often underutilized when camping, part of the motorhome making it feel more like a part of the living room.
As such these affordable, 'no switching on  and off' lamps "really tie the room together". It seems our white rock lamps are not available anymore. If we'd be in the market for replacements we might get these cracked glass solar ball lights.
5. Install safety lights to bring home that safe feeling you're used to
Home, whether identified as a physical place or a state of mind, is a place of safety and security. In other words, feeling at home requires feeling safe. Especially since you're often parked in unfamiliar locations, and even more so when you're wild camping, safety becomes even more of an issue.
Simple, affordable gadgets such as motion sensor lights to keep potential burglars and dangerous or mess causing animals away. For sake of completeness we'll mention smoke and carbon monoxide alarms.
6. Use smart plugs to reduce time and energy consumption
How do smart plugs contribute to homey vibes you might wonder. Smart plugs tell you exactly how much power an appliance is drawing which is really useful on both campsites but especially when boondocking.
However, by using smart plugs you're taking the guesswork out of the camping experience which can be perceived by some as spoiling the romantic aspect of camping.
7. Finish your RV floor with (fluffy) rugs
Area rugs make any living space, sticks and bricks or mobile, more cozy and create an inviting ambience. They add comfort to all kinds of floor surfaces, including carpet because who doesn't appreciate an extra fluffy rug in the dinette area or next to the bed to keep your feet warm on cold evenings and mornings.
Or a throw rug on the couch? While you're at it, don't skip the cockpit. A faux sheep skin on the driver pilot and passenger co-pilot seats can considerably add to the homely feel of your RV.
Rugs are easy to shake and air out too saving you some vacuuming time to get rid of the sea sand. Your dog or cat will thank you because they've gained another place to snugly roll themselves up and take a nap.
8. Snug up and soften spaces with pillows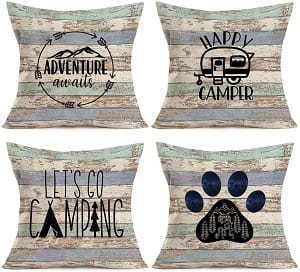 Pillows add comfort to RV's as they invite you to snug up in a corner and soften spaces. Moreover, extra pillows let you use the bed as a couch.
Functional and pretty, pillows can soften any space. Colors and textures aid in the overall look and feel of the interior style you're trying to create.
Whether you like the vintage beach wood style of the pillow covers in the picture or something totally different, pillows are a quick and easy way to make your living space feel more comfy.
9. Expand your interior living space with an outdoor rug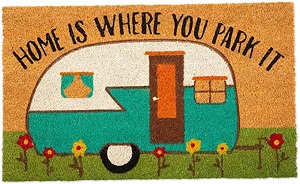 Is there anything more iconic than the quintessential "welcome doormat"? Campers can pick from a wide range of camping-themed versions. It's a small step from the motorhome to the newfound site but a giant leap in terms of claiming your territory. Making it a bit your own so to say. And a great way to do this really well an is by putting out an outdoor reversible RV area rug. So your guests will feel truly invited and welcome.
10. Immerse yourself in the allure of the big screen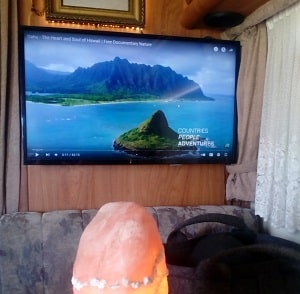 What says home better than a home theater?
We've all seen them, those RV's with a big satellite receiver on the roof and when you peak in after dusk the RV dwellers are stretching their necks watching their favorite shows and news on a post stamp sized TV screen in the top corner of the space.
How about upgrading that tablet sized screen to something more like home? In case you just don't have the space to permanently fit in, let's say, a 30″ LCD screen, you could consider going for the projector and screen route.
Utilizing a home theater mini travel projector instead of a media PC will be less demanding for your habitation batteries. Not only does it make watching movies and YouTube videos a whole different experience, digital nomads can view presentations, do conference calls and other business tasks like pros.
We've got a Iiyama screen which is a store display screen making it lightweight and consuming comparatively low energy consumption. It only draws about 3 amps.
Even when not in use, they keep on drawing power. We would therefore recommend to consider getting an Energy Star certified monitor as they suck up a significantly less amps than other screens.
11. Upgrade the audio experience with a portable speaker with decent bass and surround
They make great, affordable screens these days but the audio quality of built-in speakers generally is horrible. Since we have two computer/ TV screens in our motorhome (one in the dinette area that doubles as a home office screen) and one in the back, lounge area we decided to get a portable Bluetooth speaker.
The audiophile might jeer and sneer at our few years old Riva Turbo X but it's a practical, relatively low cost solution for us. We're not particularly sophisticated music listeners but listening to songs via smartphone speakers just does not cut it for us. Actually, I refuse to do so.
A Bluetooth speaker makes watching and listening to movies so much better. Plus it's great to connect to our tablet as well as for playing music at an evening campfire, barbecue or other outdoor get-togethers.
There's a wide range of single unit wireless speakers available these days. Which one offers the best sound per pound will likely depend on whether you want features like; surround, battery play time duration, connectivity via Chromecast, Spotify Connect, Apple AirPlay 2, Roon Ready, Tidal, and so on. We just carry our speaker from one 'room' to the other but perhaps you're adamant on getting multi-room speakers in your RV.
Popular choices these days include the Oontz Angle 3, JBL Flip 4 among others.
12. Cherish happy memories and your dearest with a digital photo frame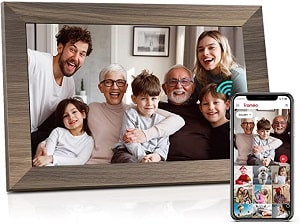 Recently, the urge to need a fixed single place to call home is declining. Home is often the place (or places) we deeply long for. Why do we long for that place? It's often the familiarity and even more so the people.
In archaic times home may have simply meant a campfire and the light it cast on a few family member's faces
Having photos of friends and family who didn't join you on your trip, or just live far away, can make your RV feel considerably more like home.
Since there's not much empty wall space in our mobile dwellings to hang various photo frames, a digital photo frame offers the (almost*) perfect solution.
Store and display all your favorite family members and friends as well as that stunning cliff high above the crashing ocean waves where you have camped, that picturesque, medieval vineyard's wine tasting experience, those remarkable people you've met on the road,  Fido's new furry friends roaming the beach, and much more.
All in all it's a space-saving yet easy way to bring up happy memories and keep your most beloved people a bit closer while traveling in distant countries or being away for months on end.
Digital cloud enabled photo frames allow family and friends to upload photos to your frame giving it a more personal touch then social media.
*Keep in mind: many products require you to pay to upload photos after a set amount of (say 10GB) of photo uploading so make sure to read the small print and reviews. Also, most frames need to be plugged in at all times which might be less ideal in an RV.
13. Small wall frames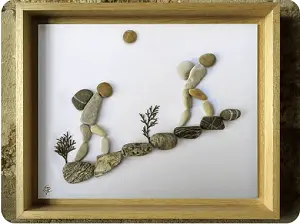 Hanging modest-sized art created by you (or the grand kids) is a guaranteed way of adding a personal touch to your RV. This extra bit of personal oomph will help make your vehicle feel more like your home.
Create a series of miniature wall art with sea shells, small pebbles, dried flowers, or different colors of sand you've gathered during hikes.
You might discover you're actually good at it and that crafting is a lot of fun. By displaying a few of your latest creations in the windscreen or outside your RV you could create a small side business on the road while you're at it. Browse small wall frames for DIY art.  (Image: Pinterest.)
14. Electrify your RV's atmosphere with an e-fireplace for RV's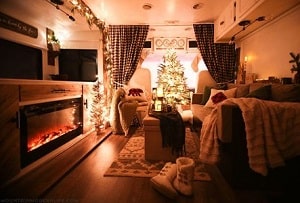 A cynic would say that electric RV fireplaces are simply electric space heaters with a faux fire facade but they probably haven't experienced the alluring ambiance these things emanate.
Depending on your RV interior situation you might be best off opting for an either an electric fireplace insert or one of the many table top models or freestanding stove models.
Features to consider include; BTU's, fire, if it stays cool to the touch, crackling sound, raised feet, carrying handle, and flame only mode. One of the most important things to consider, besides heat output and energy efficiency, is how realistic the embers are looking. Image credit: Mountain Modern Life
15. "A true home on wheels has a wood stove" #VanLife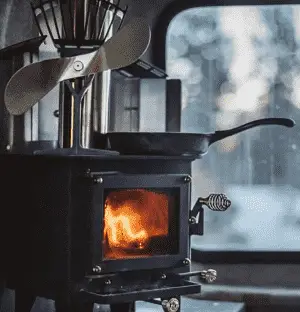 Yes we know, this is one of those 'you love it or hate it' ideas but besides the possible objections regarding practicality and safety (some people seem to be convinced that these are guaranteed fire hazards), what says home more than a crackling, warmth radiating hearth?
Can you picture yourself? Feeling snug in your home on wheels, listening to the wind, a hot cup of tea in your hands, in front of your modest-sized hearth, staring in the mesmerizing flames.
As seen on Instagram, wood stoves are immensely popular among van dwellers yet are making their introduction increasingly in other types of RV's such as motorhomes, fifth wheels, skoolies, and so on, too. For many who adhere to the tenets of #Vanlife, a mini wood stove is the ideal solution for both heating and cooking.
Granted, wood stoves in mobile homes are better suited for those who don't move around all the time but are on (semi-)permanent locations. You need to retract?? the chimney pipe before driving, you can't use the stove while driving, it takes quite a while to cool off.
Popular, mini wood stoves for RV's include the Cubic Mini, Dwarf Mini, and Pipsqueak stoves.
16.  Portable hanging (herb) planters
When you're on the road, the RV is often parked in various positions resulting in your plants facing West one day, North the other. This involves a bit of maneuvering with planters as you might need to increase or reduce your plants sun exposure.
Although taking care of plants in an RV is a bit more challenging than in a sticks and bricks home, plants sure bring that cozy, homey feeling. Hanging planters make for easy relocating of your plants airing them out, allowing them to catch fresh rain drops and warm sunshine. This way you can ensure your Aloe vera or kitchen herbs grow optimally and you'll enjoy them in various positions.
17. Mirrors
Even if you're in an extra large travel trailer or other type of RV, space is limited. Which is why adding mirrors can brighten and open up the space.  Full-length mirrors on closet doors to visually enlarge the otherwise tight space around the bed or utilizing mirrors to reflect light around a room makes your RV feel larger and thus more like home.
18. Open corner wall shelves
Incorporating open corner shelving in nooks and crannies that are often unused contributes to the homey look and feel of the area because you can display nice trinkets and other decor. Apart from that, you can never have enough surfaces to store your stuff while RV-ing, otherwise it will all end up on the couches or table.
Besides incorporating minimal surface space for a maximal effect, if you'd want to do a genuine makeover in the same line of thought, consider taking off the overhead RV cabinet doors to achieve a similar effect.
Another idea that both offers more storage space and adds to the space feeling more homelike are extra hooks or wall-hung storage board with hooks.
19. Wallpaper
Wallpaper is a relatively easy and low cost way of customizing your RV. It will help give the RV a bit of your unique character. Think; faux tile for the kitchen area, vintage brick in the living room, a nature theme for the bedroom, or just a wild color wherever it will suit you.
What did you do to make your RV feel more like home?
Whether you spend a few weeks of holidays during the year in your RV, or you're a full-timer, you're still, in fact living in a car. And sometimes it may feel like that. For instance when the weather is bad or you're not feeling 100% so you're staying inside more than usual.
Bringing those familiar comforts and decor items from home can make a difference of day and night. Maybe you can recall a moment, coming home from a trip, when your house , just for a moment, felt like any other house.
For a fraction of a second you saw your home as a stranger might see it. But then this feeling faded and your house became your home again. That's the essence of home, that place that you can never see with an outsider's eyes for more than a moment.
Last Updated on April 21, 2022 by Tyler