Mood lights are designed to bring about a certain feeling or state of mind. They are used in all kinds of environments such as bars, restaurants, massage parlors, airplanes, cinemas, and homes.
Mood lights can be used for various reasons. From improving performance and alertness in office settings through blue-enriched lighting, to creating a pleasant ambiance during dinner by using a dimmable table lamp that emits light with a lower color temperature.
These days there are more intricate, highly specific mood lights available as well. These lamps range from light color changing lamps that create a very specific atmosphere in the home to therapy lamps.
For instance, your room becomes a primordial deep red cave to stimulate appetite*, or a deep blue ocean, conducive to relaxing meditation sessions.
Other lamps specifically designed to create a certain effect include mood light for kids who are afraid of the dark, or people who can't sleep at night.
There's gentle wake lights that ease your transition from being in dreamland to woken up, thus reducing winter grogginess.
Then there's the so called happy lights a.k.a. SAD therapy light boxes — 10,000-lux white fluorescent bulbs intended to treat seasonal depression. And more.
Here's an overview of the various types of mood lights, their specific purposes and benefits as well as reviews and ratings.
1. The 'liven-up a party' mood light
Alter your mood from sober or calm to excited and energetic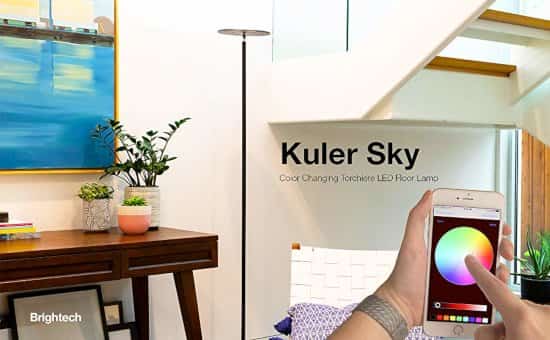 Wanna jazz up the mood during home dance parties? The Brightech Kuler Sky is a great choice as its ability to sync it to music is marvelous, both in terms of user-friendliness as well as performance.
Excite and propel your family members, room mates, and guests to get their feet of the floor and dance, dance!
Use the ultra responsive Bluetooth smartphone app to select from thousands of different colors, dim the light, turn the lamp on and off.
It can be dialed up to very bright, so bright that you can completely light up a room, without dark corners.
Since colors are known to impact our feelings and can influence physical, emotional, and mental processes such as energy levels, hunger levels, relaxation, and blood pressure, this lamp with its many colors can serve sheer unlimited purposes.
Making this LED torchiere floor lamp an ideal mood light for the dining room, bed room, living room, or game room.
Check its current price and read reviews here.
2. The sleep-inducing, ocean wave projecting mood light
How can this light help alter your mood? Might help you transform your mental state from restless, anxious, fearful to calm, relaxed, intrepid, sleepy.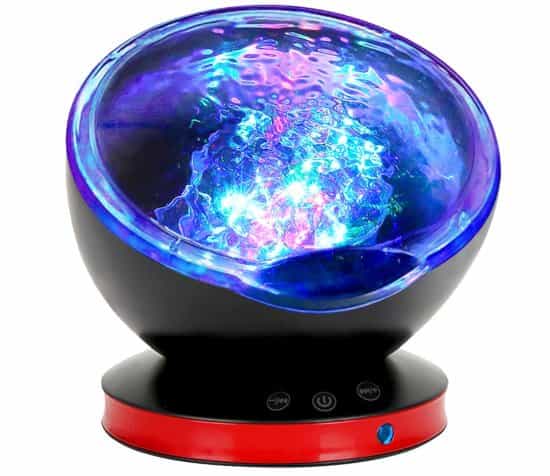 Do you suffer from insomnia? Does having to sleep in a pitch dark room freak you out? Is your child afraid of the dark?
Being scared activates your primitive fear response, increasing adrenaline levels and keeping you alert which may cause trouble with falling asleep.
Our natural response to fear is activation of the sympathetic nervous system, a.k.a. the fight-and-flight response system in which your brain stays aware, your body keeps energy levels up and maintains muscle strength. This to be able to detect, escape from, or fight off a threat.
The good thing is that distraction works for many people. Some keep the TV on while in bed, although this isn't recommended because of the blue light it emits.
Distraction techniques such as relaxation through wave-like projections and nature sounds can help break the cycle of feeling scared. GoerTek's Ocean Wave Projector provides exactly such tranquility.
The sleep-enhancing ocean wave night light projector lamp let's you gaze at rippling shapes of blue oceans, the renowned Northern Light, red atmospheres among others projected on your entire ceiling.
It has a lullaby mode, allows you to set the timer to leave the lamp on for 1 hour, 2 or 4 hours, or leave it on all night.
What's more is that it has calming nature sound effects such as forest and sea sounds to help you silence those racing thoughts when trying to fall asleep.
Its built-in, high-quality speaker lets you connect the lamp to your laptop, smartphone, or music player making this a great mood light for the baby's room, kids room, living room, and adult bedroom alike.
3. The mystical moon sky projector
Put your kids in the mood for imaginative play, help them wind down during bed time or give your Christmas get-together an extra touch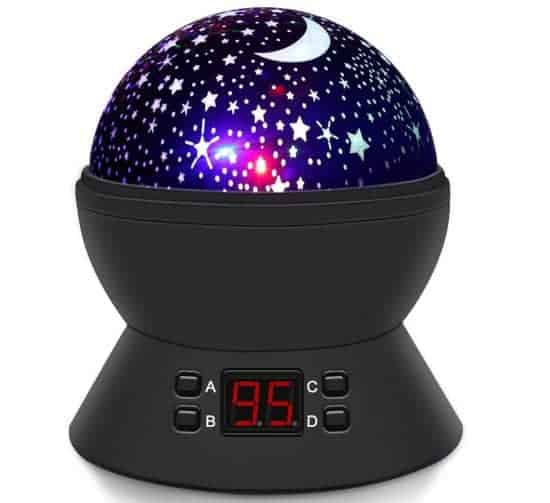 Looking for a rotating light show to electrify a birthday party? Want something celestial to guide your meditation and relaxation sessions?
Decorate your hall or room with sparkling light? A night light that helps you put the kids to bed? This rotating, starry sky projector night light can do it all making it great for the nursery, toddlers, and some adults alike.
Unearth yourself with mystical light effects resembling the night sky with stars, moons and and other luminaries on your walls and ceiling. Easy to operate due to intuitive buttons and the light isn't too bright so it doesn't interfere with sleep.
Click here for its current price.
4. The multipurpose, portable, mood light stool
set the mood at home or work as it helps you maintain work flow, thus preventing schedule slippage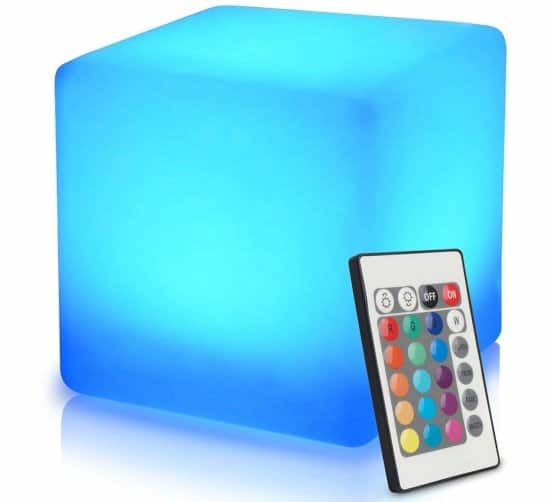 Kindle a soothing mood by adding an ambient glow to your indoor or outdoor environment. The portable light can be used with a cord or on batteries.
Whether it's your kid's bedroom -being able to opt for mild light output or a brighter light level makes them great for use at night- or your garden, this compact, cool to the touch, decorative mood light stool can be used in various settings.
Use the rechargeable Mr.Go cube as a side table during movie nights, as guide light for nocturnal bathroom visits – it measures a handy 16-inch in diameter-, or to illuminate patio and poolside parties.
Another pretty cool implementation, use them at the open floor plan office instead of a desk flag or headphones to signal whether you're available by simply switching it to green or on red for; "do not disturb".
5. The portable, remote-controlled, glass sphere mood light
use this glass ball to see things through pink glasses (so to say)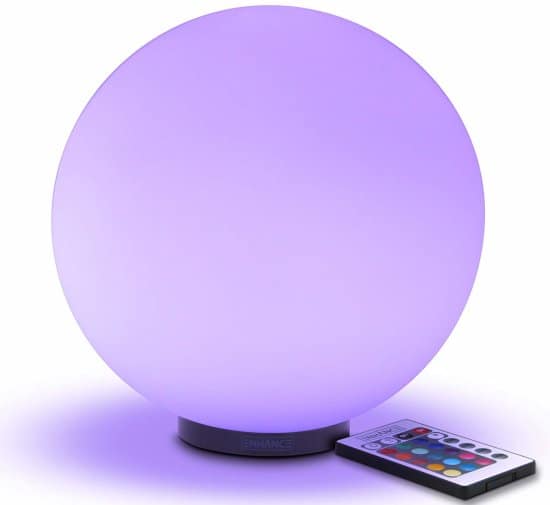 ENHANCE is a 7,9 inch hand-blown glass sphere lamp which makes that the light shines through beautifully. On the other hand does the fact that it's made out of glass that it's not appropriate to be handled by younger children.
The dimmable, portable, color-changing, remote-controlled mood light can be set to slide through 256 colors. Galvanize the room's atmosphere with this minimal yet stylish and practical mood light. Research shows that light can be a great focus for guided meditation and relaxation. Perhaps this lamp might help you get in touch with your true self?
6. The easy to operate reading lamp & mood light combo
enhance your mood by choosing from many colors to create feelings of spaciousness or coziness in your home*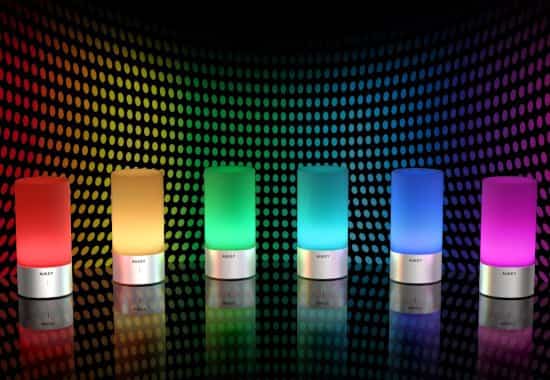 Wondering how to shut off your overactive brain while not being able to sleep for the thousandth time? Pick a nightstand lamp that lets you choose which color or intensity you drift off with.
Studies show that colored light impacts the autonomic nervous system, thus influencing physiological activities such as our heart rate, stress levels, and breathing (4).
Want a reading lamp that you allows you to almost effortlessly change settings or turn off while you're dozing off? AUKEY's whole base can be touch-activated making this a great light for the bedroom or for lazy evenings on the couch.
Or just want something to enhance your room? A libido and energy boosting red hue perhaps? Or a peaceful blue gleam? Besides the many colors AUKEY lets you pick from three white light modes; soft glow, ambient warmth, and bright light.
All in all, this is a great lamp for desks, tables, and nightstands.
* For this purpose, blue is the most favorable choice for 35% of Americans, followed by green (16%), purple (10%) and red (9%).[1]
7. The smart mood light
this is the mission control center of mood lights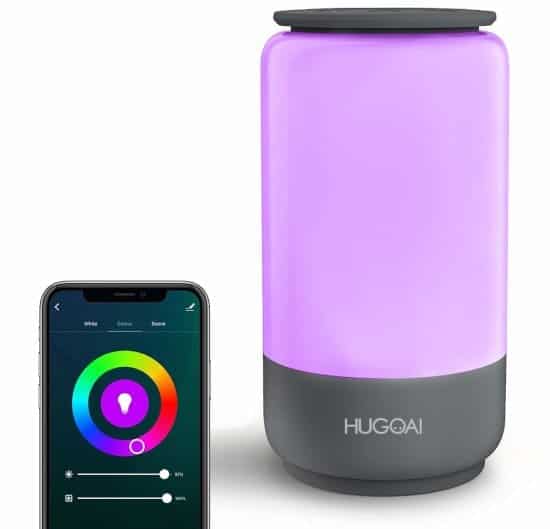 Whether you suffer from mild mood disturbances or just want to reap the benefits that various light hues can bring in certain settings, a smart mood light might be something for you.
If you want total control of your mood light such as adjusting brightness from 3% to 100%, or picking a the color temperature between 2000K to 4000K, the HUGOAI smart lamp might be for you.
It works with Google Home and Alexa and allows you to command it via smartphone apps. Choose from several shades of white light or one of the 16 million colors.
Did you know that colored light can do more than enhance your mood?
Next time you feel under the weather or are sore from exercising, bathe in green light in the comfort of your home.
Green, the color of nature, is claimed by chromotherapists*[2] to strengthen muscles, ligaments and bones and stimulate growth hormones as well as boost your immune system.
Or perhaps you'll want to experiment with warm colors for when you feel cold, and vice versa. This lamp, with its tons of features, will give you total control, so toss out those battery-devouring e-candles and..
..buy the HUGOAI smart mood light.
8. The mini aquarium-esque jellyfish mood light
beholding aquatic environments could improve your mood in more ways than you might think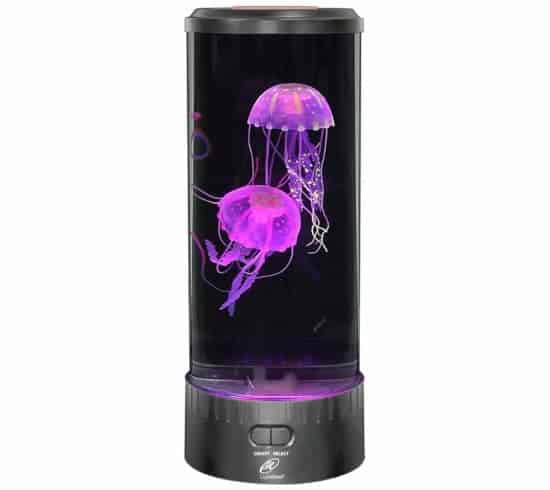 Everybody knows how mesmerizing and tranquilizing aquariums can be. It's not for no reason that many dentists have aquariums in their waiting rooms.
A scientific experiment shows that participants gazing at a fish tank experienced improved mood, as well as significant reductions in blood pressure and heart rate. Test persons felt happier and more relaxed*. [3]
But aquarium maintenance can be quite a bit of work too.
A simple, yet nonetheless appealing to the cradle of human existence; the ocean, is this jelly fish tank mood lamp. After all, it seems it's the ocean where life began on planet Earth.
Thus staring in a fish tank, or this magic lamp, might momentarily connect you with this primordial memory. Renowned psychologist Jung called this accessing the collective unconscious of the planet.
But what am I actually rambling about. The Lightahead animated jellyfish lamp is just a cool gadget that probably brings tranquility and certainly some novelty to your room.
* I'm not claiming this jellyfish mood light can bring about the same or similar mood enhancements or health benefits. Just saying that looking at fish and other sea creatures is pretty darn chill.
9. The, beat the winter blues, mood light
a SAD light therapy lamp is clinically proven to lift your mood during the darker months of the year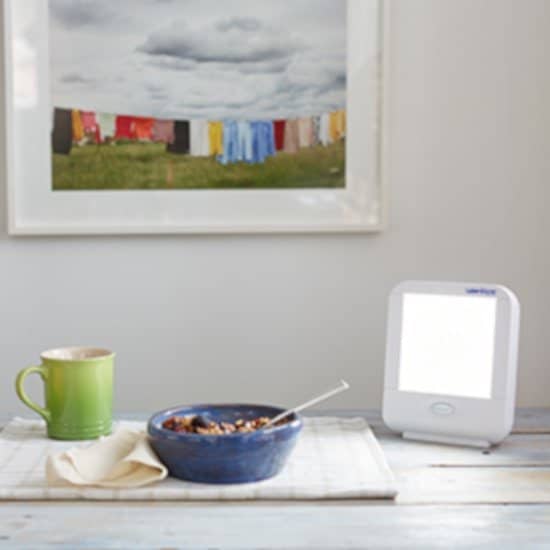 The shortage of daylight during winter is known to cause low mood, loss of libido, lack of or restless sleep, and lethargy.
Light therapy lamps are clinically proven – as is confirmed by research on mood disorders and human circadian rhythms – to combat such mood shifts and mild depressions.
As a non-prescription treatment option, they are thought to work by affecting brain chemicals linked to sleep problems and mood shifts.
Get rid of the dreadful winter blues with the portable HappyLight Liberty energy lamp. If you work shifts or suffer from frequent jetlags, this mood light could be a lifesaver for you too.
Its benefits include; feeling more energetic, better sleep, having more focus among many other advantages.
Click the link below to read all about its health and wellbeing benefits.
10. The smart, gentle sleep and wake mood light
How can this light help alter your mood? It's scientifically proven to improve your energy and well-being through enhanced falling asleep and waking up.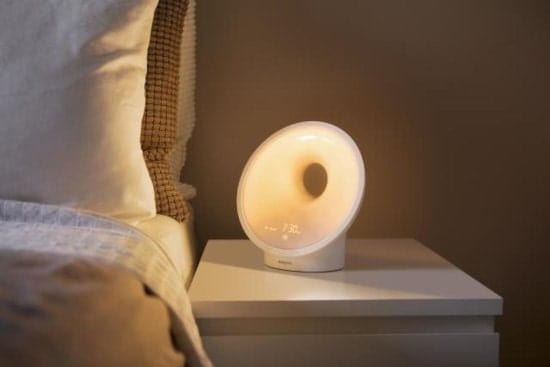 Who doesn't hate it? You get woken up suddenly by the loud shriek of your alarm clock. Your heart jumps. Your internal body clock gets shocked.
Your fight-and-flight response system is activated. Neurotransmitters involved in maintaining alertness such as adrenaline, dopamine are pumping through your veins. Yet you still feel sleepy.
The flagship of Philips' wake up lights line is the Philips SmartSleep Sleep and Wake-up Light. It has sunrise alarm and sunset fading to ease your transitions from sleeping to waking and vice versa.
But this mood light* does much more, such as let you fall asleep with the innovative RelaxBreathe function.
Read all about its health benefits here.
*It's actually a therapy lamp. Some mood lights do more than bring about a certain temporary feeling or state of mind. They positively affect one's long-term (perceived) well-being and health. Which is why these lamps are called therapy lamps.
11. The rock-steady mood light that might boost your health too
its primitive, innate appeal lifts moods like it's carved in stone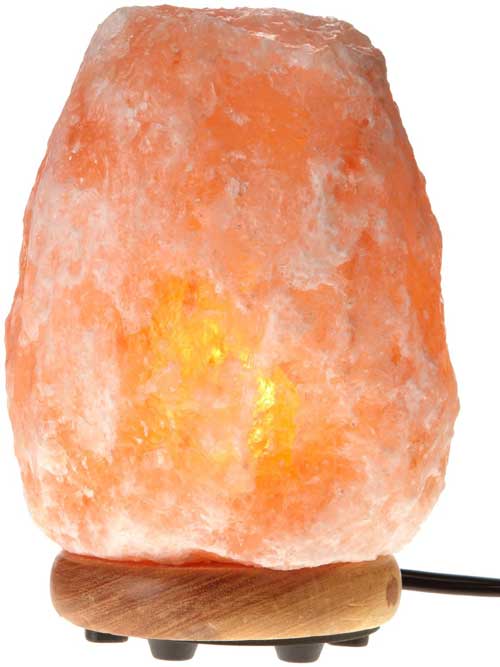 A wide range of supposed health benefit claims -from improved air quality to soothing allergies – stick to these lamps. Whether these have any merit or not doesn't really matter here as Himalayan pink salt lamps are excellent mood lights.
Their warm, amber glow make for perfect soothing background illumination during cozy nights in. The glowing light amidst the carved salt rock somewhat resembles a cave fire. Thus, again, appealing to our archaic roots.
Ancient symbolism of stones and rocks centers on stability, endurance, and permanence. Fire and light stand for security, rebirth, and purification. Unearthing some aspects of the seemingly mystical appeal these lamps have.
Anyway, these lamps are simply very pleasant to behold. The light they emit, especially when dimmable, is more than appropriate and quite mood-lifting for various settings such as during dinner, while watching a movie, or during bedtime.
And if (some of the alleged) health claims are true, you're killing two birds with one stone.
12. The sleep soothing, aurora projecting mood light
space out with this light show night light combo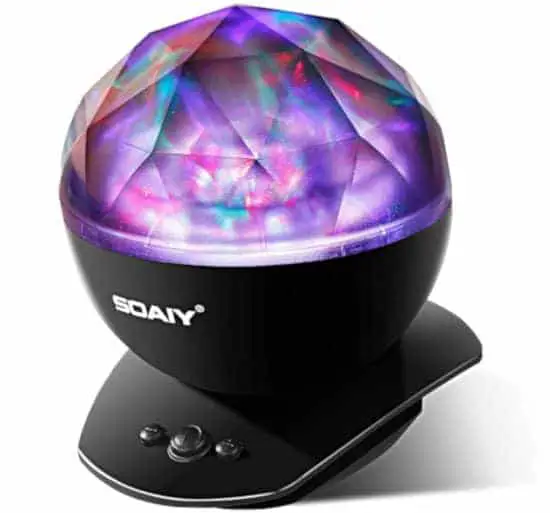 Solar flares might induce mood swings as scientists have noticed. Whether the result of solar flares, Aurora the Northern Lights does too remains to be seen.
But that this mood light is awe-inspiring is quite clear. When the dome is on it functions as a soothing night light.
Take it off and you've got a mesmerizing home laser show in your room. It projects nebular light and the Aurora Borealis on your wall or ceiling.
It has a built-in speaker, 8 color modes, and auto shut off feature. Great for the kids bedroom and your living room alike.
Gaze into space with the SOAIY mood light.
13. The 'TV viewing experience enhancing' ambient light kit
This mood light enhances your experience as ambient light draws you into the screen, creating a wider viewing experience, magnifying the overall effect for a sense of total immersion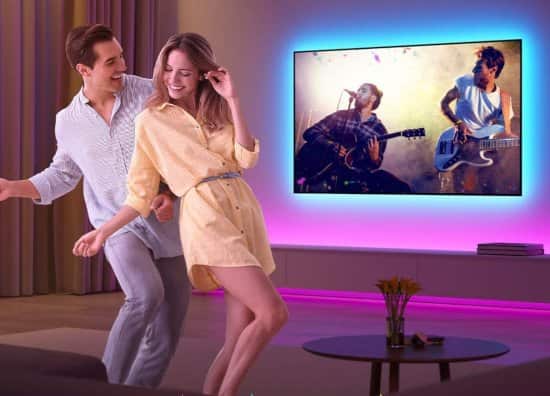 Enhance your home theater experience, or supercharge your gaming rig's ambiance with the remote controlled Govee TV backlight strip. The backlight provides ambient lighting and syncs with music. By illuminating the area around the back of the screen it reduces perceived brightness, thus alleviating eye strain and fatigue.
Keep in mind that this particular light strip does not change colors with the screen. If you want to sync the light with what's happening on the screen you'd have to buy a Philips Ambilight TV which has this feature built in, or install a retrofit TV backlight kit.
The latter are commonly referred to as Ambilight clones and are able to automatically reflect on-screen colors. These LEDs change colors by processing the on-screen image. They do this, either via an external camera mounted to the top or bottom of the screen, or via HDMI.
When going the HDMI route you could opt for a few different Ambilight bias lighting kits such as the Philips Hue Play HDMI sync box. Keep in mind that you'll need to buy a Hue LightStrip and Hue Bridge as well. Other solutions are offered by Ambivision and Lightpack.
14. The 'build your own immersive light show' with modular sound-reactive mood light panels
a customized, touch-sensitive artwork on your wall that reacts to music making any space interactive and a whole lot of fun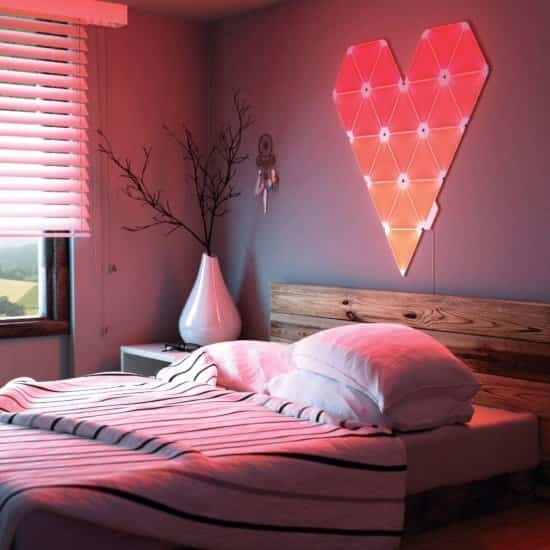 Does a more powerful mood enhancer than music exist? Perhaps a beautiful sunrise, the Northern Light, or another natural phenomenon. Everybody knows that music can make you feel happy, but did you know that music can reduce anxiety and that even sad music can elevate your mood?
Music is, and always has been an essential part of the conscious human experience. From mesmerizing drum beats touching the hearts of our ancestors millennia ago, to the explosion of musical genres and streaming services in our modern times, music has always been bringing us joy, support, therapy, and even medical benefits.
"So why not expand on this blissful experience?" the creators of Nanoleaf Light Panels must have thought. The smart, modular mood light panels react in real-time to music and transform the audio registered into color and light effects.
Creating impressive light art isn't exclusively reserved for professional artists anymore. Anyone can create their own miniature light festival at home. Or simply improve their mood with fantastic colors, or by transforming their favorite music into light.
The smart modular decor lighting allows you to create virtually any effect you want in virtually any shape or setup. Boost productivity at your ergonomic home workstation, choose one of the many schedules such as the 'Sunrise Scene' to wake up more naturally. You can even kind of project the image of your TV or computer immediately onto the light panels (similar to TV backlighting).
15. The smart outdoor mood light to show off your outdoor space
these tunable outdoor ambiance lamps help you set the mood for get-togethers, decorate the property, and much more, making them belong to the most versatile landscape lighting on the market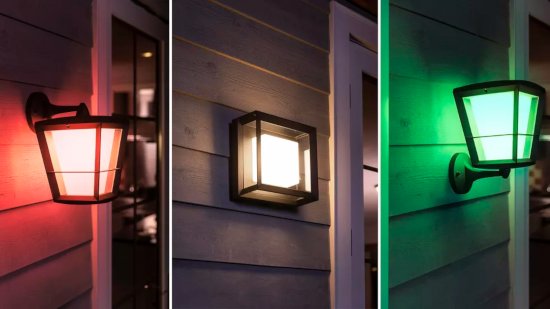 Whether it's your patio, balcony, or garden, these smart mood lights will 'wow' you, your family, and visitors. Cheer up your front yard, porch, or terrace on cozy summer nights and dark winter evenings with Econic outdoor wall and ceiling fixtures.
Set the mood during barbecue parties, animate that date while cozying up in your patio loveseat, or highlight on your outdoor bonsai collection. With 16 million colors and 50,000 shades of white to choose from, the possibilities are endless.
Cleverly designed, their contemporary looks will fit in both classic as well as modern exteriors. Besides creating a warm, welcoming atmosphere you can do many highly practical things too.
Remotely control the smart bulbs inside the lamps with your phone or tablet. Make the smart lighting turn on just before you get home. Use them as burglary deterrents by making it seem you're home when you're not.
The Philips Hue range also has spotlights so you can beam that big tree trunk orange during Halloween or shed some colored light on the back yard rose garden.
Looking for something similar? Check out the Philips Hue Appear, a wall-mounted cylinder lamp that beams a direct triangular wash of light in both downward and upward directions along a wall.
Which mood light do you like best?
Interior designers have long known that light and colors affect our mood and even our health. For this reason hospital rooms are often painted calming, stress-reducing green.
Sure, all types of light can affect your state of mind so technically we could deem every lamp and light source a mood light.
However, there's a plethora of lamps that specifically fall under the category mood lights. We hope this selection helped you pick the best mood light for your specific needs and wants.
Let us know what you think of this selection in the comment section below.
References
1. "Emotional Reactions to Color" by Kathy Lamancusa. Source; Wikipedia.
2.  How colors affect humans, and potentially amend physical conditions, can vary from person to person according to color therapists.
3. Marine Biota and Psychological Well-Being: A Preliminary Examination of Dose–Response Effects in an Aquarium Setting. Source; Sage Journals
4. Light years ahead: the illustrated guide to full spectrum and colored light in mindbody healing. Breiling, B. (1995)
Last Updated on November 26, 2020 by Tyler