Need a portable tool box with wheels for harsh job site conditions? Something industrial-grade that withstands dust, sand, water, wind, bumpy uneven terrain, heavy loads, going up and down stairs?
Or will a slightly less sturdy, more entry-level mobile tool storage system for lighter jobs or to use in and around the house suffice?
Whether you're hauling equipment on construction sites on a daily basis, or you're looking for a rolling tool carrier to support your crafts and handmade products functioning like a portable shop, your best option is likely listed below.
Read our honest, critical reviews listing the pros and cons of the most popular items on the market to make a well-informed purchase.
Features to consider
retractable dolly handle
handle on both ends so it can be lifted by two people in case of heavy contents
central locking mechanism
pad lock ability
separates into two (or more) portable boxes
modular / stackable boxes
waterproof seals/ weather sealed
dustproof
can easily to be taken up stairs
weight limit (respective limits of the products listed below: Milwaukee – 250lbs, Husky – 100lbs, DeWalt – 88lbs, Ridgid – 60lbs.)
Our Top 6 Picks
---
1. Rigid stackable 3 tool box cart
high-end tool carrier lives up to its name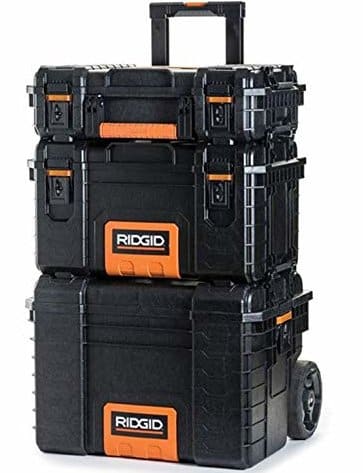 If durability does it for you, get these. 'Rigid' is an understatement when considered these boxes kept what was inside safe during a garage fire. Everything outside of the boxes was damaged due to fire, smoke, and water but the stuff inside these was intact. Not to claim it's actually fireproof but the anecdote does indicate its robustness.
The thick and sturdy stack and roll boxes have an extendable telescoping handle, bar lock (no pad lock), and can be taken up stairs quite easily thanks to the large, robust wheels. strong latches and hinges, dust- and close to waterproof thanks to rubber gaskets. You can remove the inside of the lid to store larger tools.
The full configuration consists of a base wheel box, a mid size box and a smaller top case (milk crate).
Downsides include; no customizable slots, lacks variety of boxes – especially trays for smaller parts, there's no way to easy access to lower boxes when stacked without having to remove the ones on top. No labels to recognize their contents but you can easily fix that yourself with some tape or stickers.
Note: it might be cheaper at your local Home Depot or hardware store. Check its price on Amazon.
2 Milwaukee Packout modular rolling tool box
industrial storage system, intuitive design, inventive organization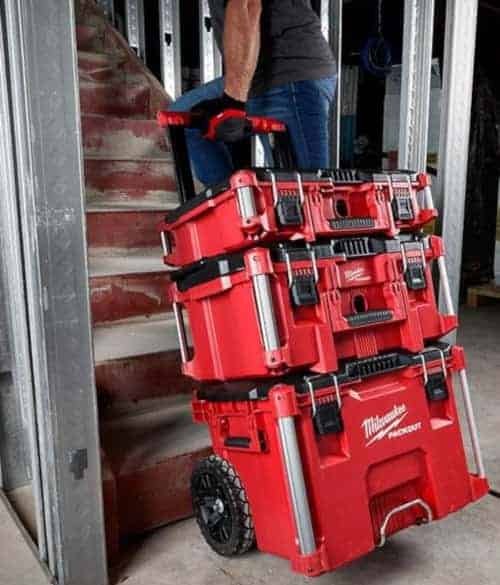 The 250 Lbs. capacity Milwaukee Packout tool box on wheels has one of the highest weight limits out there, an indication of its durability.
Yet this professional tool carrier is modular so you can break it down to a lighter variant even though it's relatively light-weight by itself.
Alternatively, the Packout Modular Storage Systems allows you to add an additional box on top of this 3 box set as well as attachments to increase your mobile tool carrying capacity.
Despite being extremely robust, this high-end stackable tool trolley rolls well over various surfaces.
Next to well-thought out organizational design the Milwaukee has other benefits. For one it allows for easy one hand operation as the durable one handed slide and lock grips allow for effortless removing or attaching of components which saves you time and hassle.
Its solid drawers feature customizable slots and metal reinforced locking points and strengthened corners with, additionally, aluminum corner grabs (often the weak links).
3. DeWalt DWST17820 TSTAK mobile tool box
feature-rich, modular, stackable system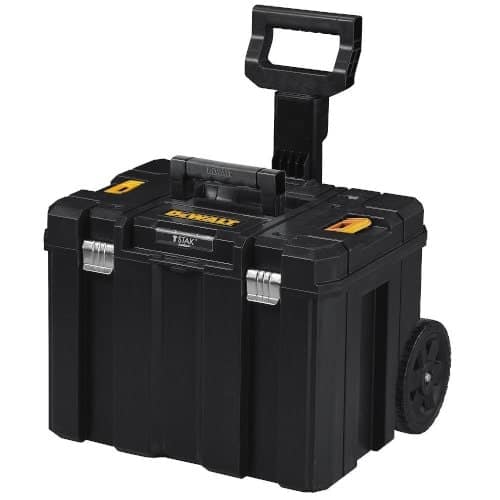 There's various portable carriers on the market that are basically foldable crates with wheels and a telescoping handle. They might be great for use on the sports field or while doing grocery shopping but we don't recommend these for use as mobile tool boxes as they are generally too flimsy for that purpose.
We'd suggest spending more and getting the, similar in design yet much more robust, DeWalt DWST17820 TSTAK mobile storage deep box on wheels. These well-built boxes can be stacked, interlocked, and connected with sturdy side latches. TSTAK comes in 6 different cases. They feature drawer racks, drawer label provision, optional pre-formed foam inserts.
One downside is a design flaw involving the shelf beneath the bottom drawer being curved upwards. The supporting feet are placed in such a way that the lower shelf bows up even more into the bottom drawer.
In case you need even more durability, besides the more entry level TSTAK, DeWalt offers their more contractor level 'Tough System' mobile storage solutions. A huge advantage of DeWalt's Tough System is that it allows for easy access to all the boxes while they are stacked.
4. Versatility does it : Stanley
50 gallon mobile chest

adaptable all-rounder 
Despite not being designed specifically as a tool chest the Stanley 037025H "Tuff Box" is popular among technicians of all sorts.
It easily fits carpenter tools such as nail guns, power drills, reciprocating saws, circular saws, and accessories such as grinders and sanders. Extension cords, hard and soft cases with bits and drills, blades, and other supplies.
Additionally this versatile mobile chest is popular among gamers, stargazers who use it to transport their telescope, for use as a horse show tack trunk, to keep car parts, and even as a solar generator encasement for camping and boondocking.
5. Beta C41H two module tool trolley
premium heavy-hitter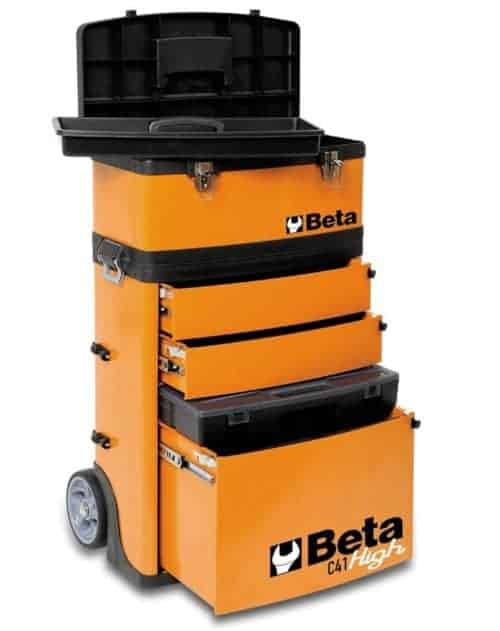 If you're looking for a simple, heavy duty, professional mobile tool storage system and light-weight is not a concern, this hefty trolley might be your best buy. (otherwise we'd recommend the Milwaukee).
The Beta C41H sports 4 drawers of which 2 smaller ones, the bottom drawer the largest -it can fit a Bolle welding helmet- a detachable tool box in the top, a removable lidded tray drawer. A net on the backside lets you strap additional tools or supplies to the trolley.
The family company Beta Utensili, a reputable name in Grand Prix racing since the early 1970s, is known for its innovative and high quality products.
Cons: since it's not modular you can not take off parts to make the cart lighter when jobs allow for it.
More recommended picks
---
6. Heavy Duty: Husky mobile tool box
clever storage design packed in ruggedness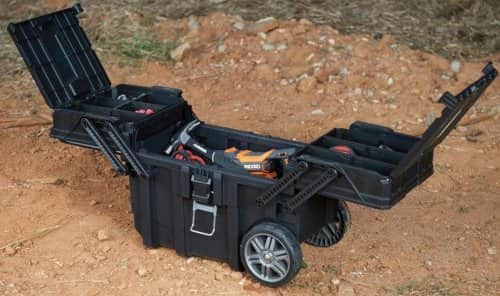 The Husky 25″ mobile job box isn't the only tool box of its kind. Yet it is the only cooler-sized tool carrier on the market that has the following features; 8″ wheels, dividers for small parts, an innovative cantilever top lid featuring integrated organizers, and that's actually robust.
Its cantilever lid with flip-out trays allows for easy access. On top of that it has 18 customizable compartments to store your small parts and it can be pad locked.
7. For lighter tools and supplies only: Stalwart rolling upright tool box
feature-rich, yet kinda flimsy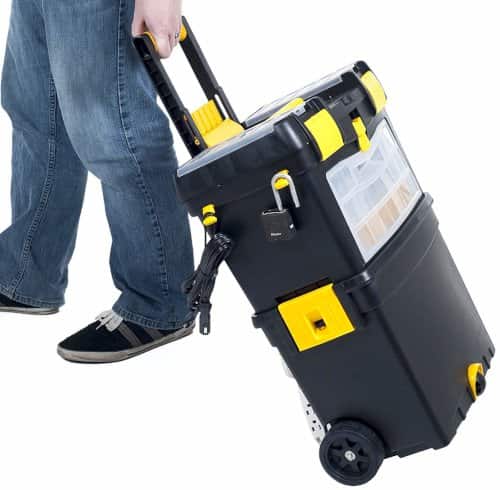 This light-weight, small to medium-sized rolling tool box can be unlatched into two boxes. The top part has a tray that can be taken out. Keep in mind that, although advertised as such, it is not a heavy duty tool box as it's simply not robust enough.
At heavy loads the yellow plastic clips may break which causes the separate parts to come loose. If you need to carry around lighter tools and accessories and supplies, for instance for quilting or sewing or other forms of crafting, this low-budget snap-on rolling tool box might be a good choice.
8. Keter Masterloader rolling tool box
the runner up in cantilever lid carriers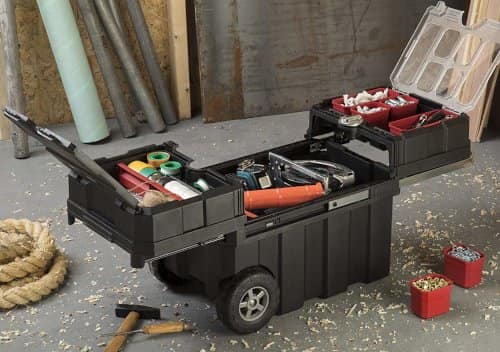 Its clever design allows for various configuration options. It sports sturdy boxes and smooth rolling wheels with the ability to lock all compartments. Where the Husky's design is more focused on well-thought out storage organization, the Keter Masterloader has more additional features such as a central auto-locking besides a pad lock connection.
This rolling tool carrier too, is made from plastic so it requires more careful handling. Its compartments are good, not perfect. This can be improved by adding internal organizers such as socket rails, organizer trays and/or socket organizers to it.
Its sliding mechanism and latch spring could be improved upon as the latter is known to break. Contrary to the Husky, the Keter portable tool box with its 7″ wheels catches on stairs.
Another downside, it's not waterproof. Despite its flaws it scores well in terms of customization of storage compartments and feature-richness.
Need more portable tool carrier inspiration?
Top 10 Best Tool Backpacks For Electricians & Other Pros 2020
Last Updated on April 21, 2019 by Tyler