Pizza is probably the world's favorite food. It's equally beloved by small children and serious gourmets, drunk college kids and bearded hipsters. Crisp crust, gooey cheese, and rich tomato sauce: have you ever met anyone who didn't like pizza?
Even a cheap frozen pizza is a pretty satisfying dinner. But if you've ever had pizza from a good Italian restaurant, you know just how delicious it can be.
Restaurants use large wood-fired brick ovens which get up to 1000 degrees F, which cook so quickly that the crust stays soft in the middle and crisps up on the outside.
A domestic oven can probably offer you 600 degrees F of uneven heat. It's adequate for heating up a store-bought pizza, but you'll never get that true Italian taste at those temperatures.
That's where these no-oven pizza cookers come in. From specially-made electric ovens to basic cast-iron skillets, all these gadgets are designed to give you the super-hot temperatures required to make perfect pizza.
Whether you're making a traditional Neapolitan pizza with homemade dough, or reheating leftover Papa John's for breakfast, you'll be amazed at how good pizza can taste when it's cooked at the right temperatures.
1. Ironate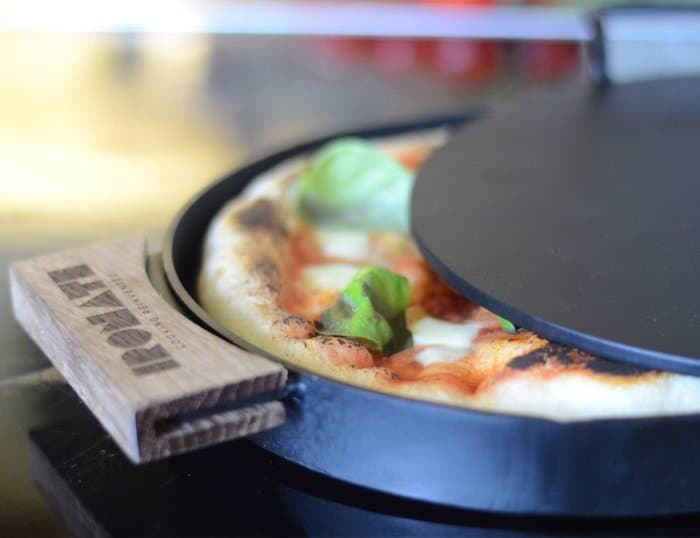 Made of thick high-carbon steel, the Ironate heats up to 800F – as hot as a commercial pizza oven. After pre-heating the steel pan, slide in a 10-inch pizza and slap on the heated lid: your pizza will cook in just three minutes.
The pan has wooden handles for safety, so you can carry it straight from pan to table, and you can even get a personalized engraving on your handles. The Ironate is one of the more expensive gadgets in our list, but it's no one-trick pony.
From perfectly-seared steaks to traditional naan bread, the Ironate is ideal for cooking any food which benefits from a super-high temperature
2. Skillet
If you have strong nerves and a heavy-based skillet, it's possible to cook a homemade pizza on the stove top. The technique won't work for fancy pizzas with a lot of toppings, but it works perfectly for a basic thin-crust margherita.
Start by cooking your pizza base like a flatbread: cook a flat round of dough in your pre-heated skillet until it bubbles, then flip it over to cook the other side too.
Deflate the bubbles in the middle of the dough by poking them with a sharp knife, then scatter over tomato sauce and cheese and put the lid on top. Within a couple of minutes, you'll have hot sauce, melted cheese, and a perfectly crisp base.
The only disadvantage to this technique is that your cheese won't be toasted after heating from below. You can cheat your way to a bubbling top by giving your cooked pizza a once-over with a kitchen blowtorch, or pop it under a very hot broiler for one minute.
3. Lodge cast iron pizza pan (bestseller)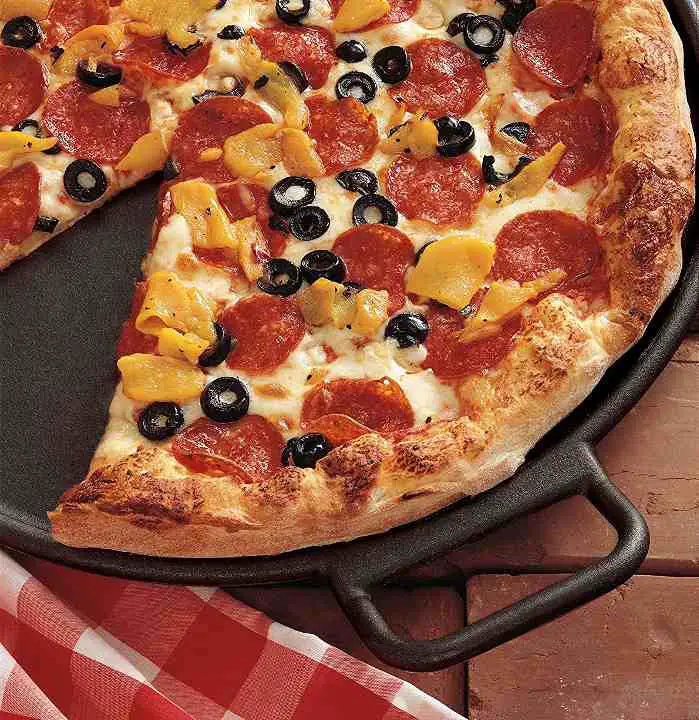 This multifunctional cast-iron pan is designed to get scorching hot on the stovetop, making it ideal for cooking anything flat – pancakes, tortillas, cookies, and of course pizza. Cast iron has unparalleled heat retention, so it gets hot and stays hot.
The manufacturers recommend using it in the oven like a pizza stone, but you can also use it to make pizza on the stovetop. Cook the dough until it's firm and risen but not browned, then put on your toppings and finish it off under the broiler: the retained heat will cook the base from below while the hot grill melts the cheese.
The Lodge pizza pan is made from a single piece of cast iron, so it's almost indestructible and will last for decades with a little care. Use it on the stovetop, put it under the broiler, even use it on a barbecue grill. It's also delivered pre-seasoned, so you don't need to faff around seasoning the cast-iron before you can use it for the first time.
4. Ronco Pizza & More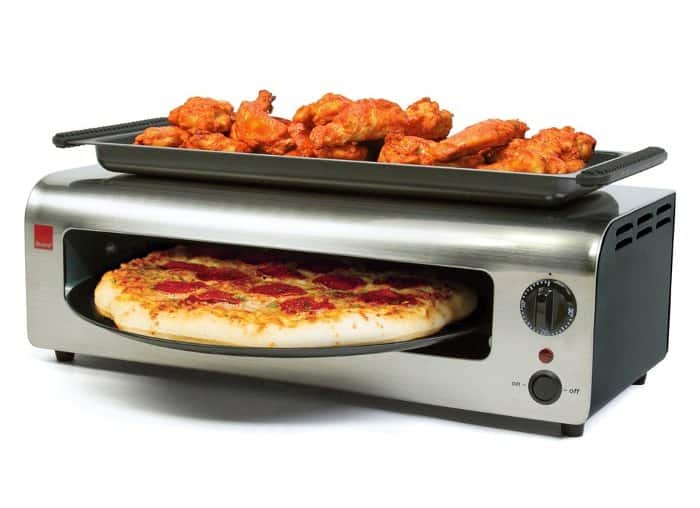 This pizza maker is ideal for tiny apartments or college dorms, as it's the size of a shoebox. The space-saving secret is the rotating tray, which cooks your pizza evenly without needing to fit the whole thing under the heated elements.
You can also use it to make snacks or appetizers, which you can keep hot in the warming tray on top: there's about two inches of clearance inside the oven, so it's suitable for flattish foods like chicken wings, cookies, or oven fries. The Ronco is super easy to use, with no temperature controls and no need to pre-heat, and is more energy-efficient than a full-sized oven.
5. Breville Crispy Crust Pizza Maker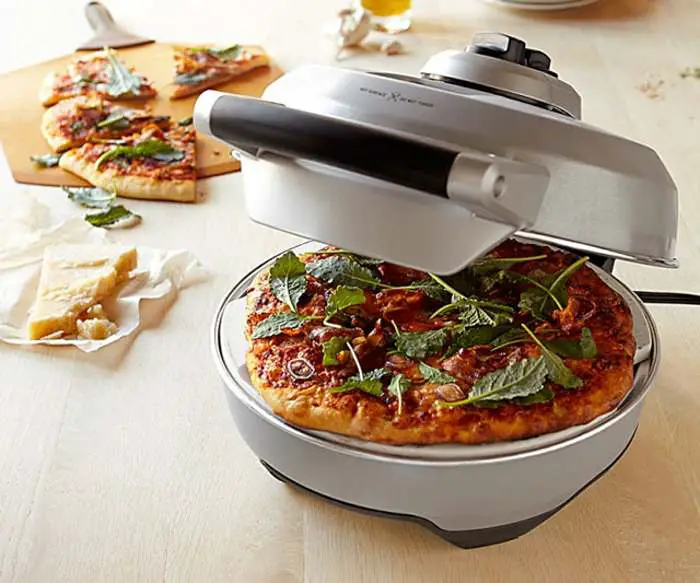 This all-in-one gadget has a powerful heating element and a ceramic pizza stone designed to heat up to 650oF – far hotter than a normal kitchen stove. Cooking your pizza on this super-heated stone gives you the crunchy-yet-chewy crust you've only had from restaurants.
The Breville Crispy Crust pizza maker can hold anything up to a 12-inch pizza, and it even has a viewing window so you can see how your dinner is cooking without having to open it up. Instead of fiddly temperature adjustments, it has automatic settings for thick or thin crust. Just push the button for your pizza type, and within ten minutes you'll have a better-than-takeout meal.
6. Betty Crocker Pizza Maker
This energy-efficient pizza maker has a non-stick baking plate, for fast cooking and easy cleanup. Suitable for handmade or store-bought pizzas, it can cook a frozen pizza from scratch within ten minutes, and the high heat makes factory-made pizzas taste like restaurant quality.
The Betty Crocker pizza maker is super easy to use, with a single temperature setting and a light to tell you when it's ready to cook. The safety cut-off makes it ideal for cooking with kids, as there's no risk of leaving it plugged in and burning the house down.
7. Pizzarette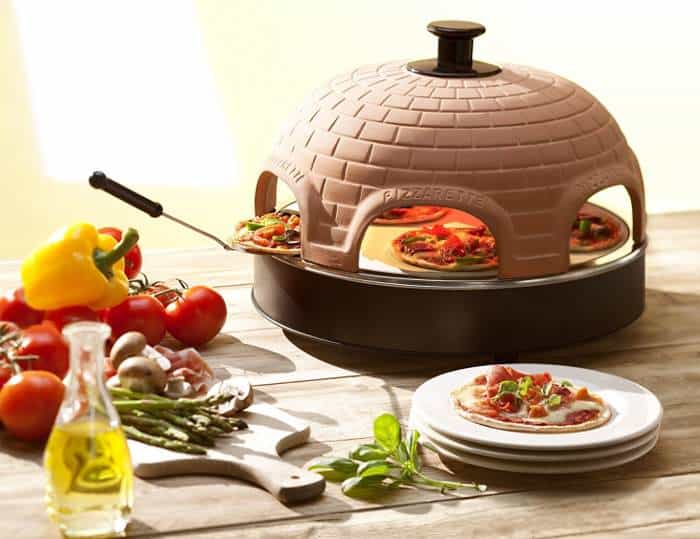 The Pizzarette is a cross between a brick kiln and a fondue set. Designed for families, the terracotta dome has four small openings so a group of people can make and cook individual mini pizzas. The novelty design makes it look like a kids' toy, but look past the gimmicky appearance: this is a powerful oven which can cook a pizza in five minutes.
It has heating elements both above and below the cooking surface to provide an even cooking temperature, and the terracotta adds a more authentic flavor. The heatproof base is cool to the touch, so you can leave the oven on your dining room table and cook fresh pizzas throughout dinner.
Last Updated on March 31, 2017 by Tyler