Last Updated on February 12, 2017 by hobbr.com
In the U.S. alone, there are over 357,000 house fires a year. Within that devastating number of house fires, 13,000 people are injured, and many end up losing their lives.
Do you know what the leading cause of house fires happens to be? Cooking equipment.
Whether you leave your toast in the toaster for too long, or you walk away from your stove-top cooking, your kitchen is the most potentially devastating place when it comes to negligence.
Inirv React comes to the rescue.
Inirv React is an intelligent stove safety device. It attaches right to your stove knob and interacts with a hub attached to the ceiling to keep track of what is going on with your stove.
The sensory hub acts as a gas and smoke detector, but what makes it so ingenious is the wireless motion sensor connection between it and the knobs on your stove.
When the hub senses a threat, it sends out a command for the knobs to kick into gear and the knob comes to life, mechanically turning off the activated knob.
How does the hub know when the knob is activated?
Simple: the touch sensors that surround the outside of the knob establish an automatic link with the hub above whenever the knob is touched.
And, if you wish to be proactive about future issues, the touch sensors, when tapped, also engage an automatic timed response.
If the knob has not been toggled or turned off by the time that timer runs out, the hub automatically sends a response for the knob to shut it down.
The knobs will glow blue unless something is wrong then they will turn red.
This stove knob works on any size and any style gas or electric stove. It comes with a smartphone application that gives you a piece of mind to check your stove settings even after you have already walked out of the house.
No more wondering if you remembered to turn the stove off! The app allows you to turn off, and on, any smart knob installed onto your stove.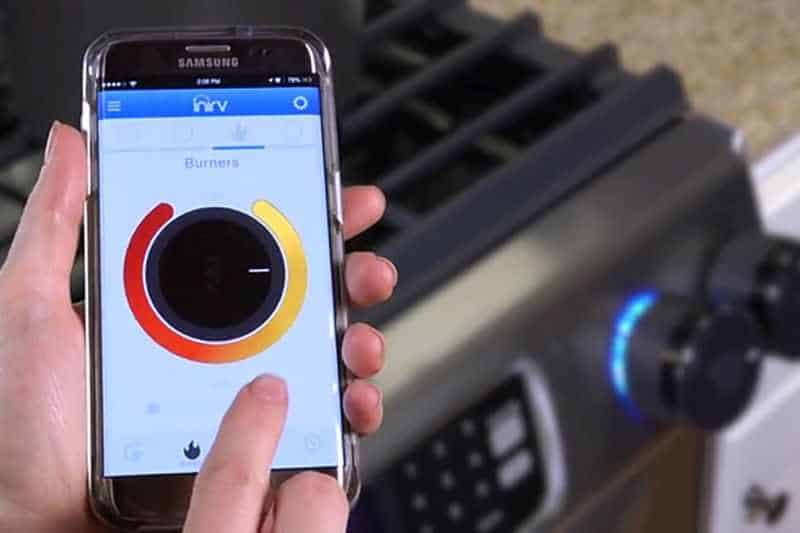 When it comes to your home, you can never have enough safety. When it comes to your peace of mind, you can never have enough reassurance. Let Inirv React give you both.
Back this project on Kickstarter.