Power lift recliners with heat and massage are designed to help people with a wide range of issues, from limited mobility to chronic pain. Heat and massage settings provide relaxation and pain relief, and the lift function means you can get up more easily.
A pop-up chair (a.k.a. a recliner with automatic forward tilt) ensures that people can get out of the seat without straining their hips or knees – but the benefits aren't just physical.
For a person with impaired mobility, it can feel incredibly frustrating to have to ask for help to get up and use the bathroom, especially if they've been healthy and independent their whole life. As such a power lift chair gives back a little bit of freedom of movement, autonomy and dignity.
Below an overview of the top 16 best rated power lift recliners with heat and massage. Scroll down to learn about the benefits of heated lift chairs with massage function as well as buying advice.
Top Rated Chairs
---
Our top 4 picks of overall best rated chairs.
1. CANMOV power lift chair with heat and massage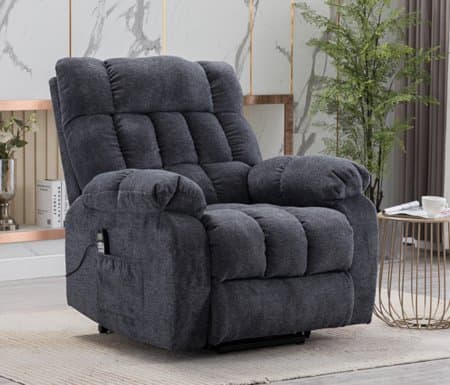 This power lift recliner let's you choose whether you want to massage your shin, thigh, lumbar, shoulders or all together as well as the intensity. You can choose vibration massage only or waist heating and vibration massage simultaneously. Seat width; 20.1″, weight capacity 300lbs.
It's got infinite position lift feature allowing you to recline to a flat position for refreshing naps and restful sleep. It makes getting up from the chair easy for the elderly and disabled.
Its wide armrests, luxurious cushioning, and good price quality ratio make the Canmov one of the better chairs in its kind.
Pros
Comfortable, not too rigid padding. Robust upholstery. The Canmov company provides good customer service.
Cons
The remote cord is a bit short. To only turn on the heating function without massage you need to disconnect 4 plugs and connect 1 plug under the seat.
2. PieDle electric power lift recliner with heat & massage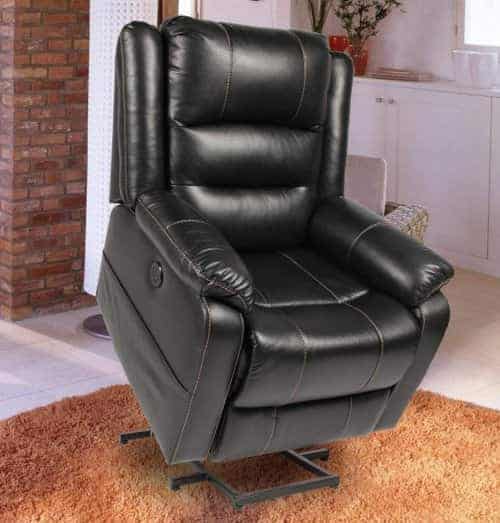 Pros
The U-Max PieDle is another chair that offers good value for its price. Its remote control operates the heat and massage feature. The recline function is operated by lightly touching the two buttons on the side of the chair. One for lifting, the other for reclining.
The USB port is a great feature for easy cellphone, tablet, or hearing aid charging without having to get up. It's got two side pockets
Cons
This recliner is very well received and has mainly 4 or 5 star reviews. It's a bit pricier than some of the budget recliners out there. It would be nice if it had an integrated drink holder. Keep in mind that if you're looking for a wall hugger this isn't your chair as it needs 14″ distance from the wall. It's got 8 vibration nodes and does not stretch to a completely horizontal position.
required wall clearance: 14″
seat width: 20.5″
weight capacity: 320 lbs
heated waist area
8 vibration nodes
Click here for current prices and reviews
3. Furgle power lift chair with heat & massage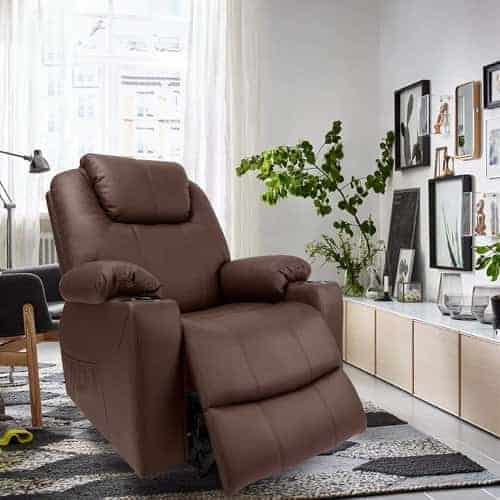 You get a whole lot of value for this budget chair. It's on the lower end price point yet nonetheless the robustly built Furgle comes with two remote controls, cup holders and spacious pockets on each side.
Pros
Nothing is manually operated so no need to push with your body weight. What's more is that it's lushly padded making it very comfortable. Heat and massage can be switched on without being in a reclined position. Good heat output. The assisted lift function works well making it easy to get in and out.
Cons
Footrest can not raise without reclining the chair. Not the most suitable option for larger people with a 19″ seat width and considering the fact that it's not the largest seat in its kind. No battery backup, a portable power station to be used during power outages is optionally available.
reclines up to 140°
seat width: 19″
weight capacity: 330 lbs
Check price and availability here.
4. Mcombo 7040 power lift chair with heat & massage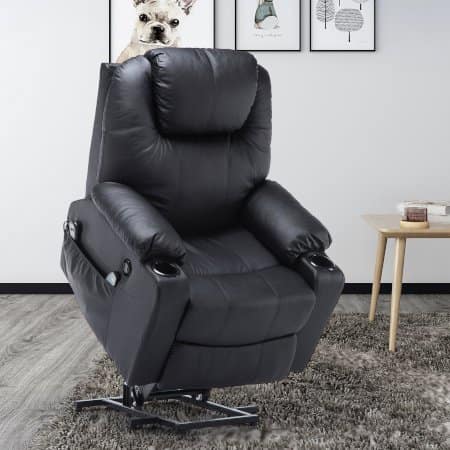 The Mcombo is great for people who work at home due to a disability, as it comes with 2 USB chargers to keep your devices powered. It's not quite a wall-hugger, but the 12" of clearance it needs is small enough to fit in most rooms.
The 8 vibrating massagers are floor-shakingly powerful, giving a really intense sensation which some people love and others hate. In addition to the 8 vibrating massagers and lower-back heating element, it also has both tilt and lift functions, which make rising easier and reduce pressure on hips and knees.
Many of the features work independently of each other: you can use heat without massage or vice versa, and raise the foot rest without reclining.
The chair supports up to 350lb but the back is fairly low, just 20" above the seat, so taller users might feel like they're dangling over the edge when they use the full 140 degree recline making it not the best option for large people (over 6′).
Pros
You pay a bit more (than the ultimate budget options) but get a lot more. This chairs padding ensures it feels soft without you sinking too deeply in it (a huge plus if you're trying to avoid pressure sores). The Mcombo offers high quality heat, mild vibration, and a wide range of pleasant massage features.
Cons
Like the aforementioned recliners, the lift mechanism operates slowly, yet in this case very smooth. The side pocket is placed too low for elderly who have difficulty reaching. There seem to be some problems with malfunctioning remote controls and in some cases a replacement part was needed to deal with a chair that stopped working.
seat width: 17.7″- 22″ (depending on model)
weight capacity: 320 l bs
2 cup holders
USB ports
standard 3 positions, comes in an infinite positions model (7298)
max. recline: 140°
Alternative picks
---
5. Magic Union power lift massage recliner with heat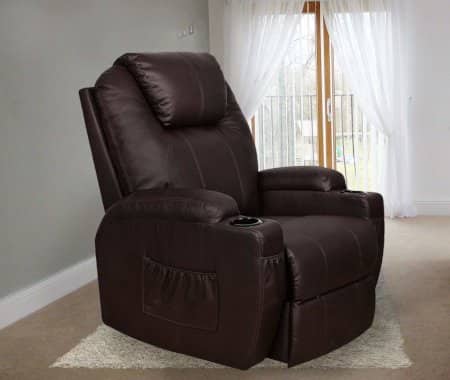 The Magic Union is another chair with generous proportions, holding up to 300 lbs in its 22" wide seat. The seat is 20" off the ground, which makes it great for anyone between about 5'3 and 5'10. The chair has very firm padding, which makes rising easier and helps to encourage healthy posture when sitting.
However, this means it might be uncomfortable for people who have very limited mobility and need to be careful of developing ulcers or pressure sores. With two drink holders and side pockets, it's comfortable to sit in for long periods of time.
It tilts back to 130 degrees, but needs about 18" of wall clearance. In has a powerful heating element in the lumbar area which works at any angle – great for sore backs and stiff hips – and the massage and heating elements can be controlled separately from two remotes.
No downsides? Yes there are. Here a few critical notes.
This is another budget option yet we'd recommend the previously listed chair over this one. This recliner has quite a firm backrest and isn't as reliable and robust as the ones first on this list.
Both massage as well as the lift motor make some noise. Users report the back broke off (the 278 weight capacity might be a bit overstated), massage, heat and lifting not always functioning. It doesn't recline totally flat (about 140 degrees) so keep that in mind if you need to be flat to take naps.
Click here to read more reviews.
6. Homegear PU Leather power lift recliner with massage, vibration, and heat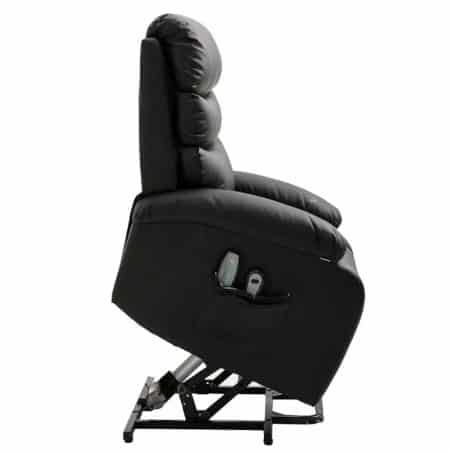 The Homegear power lift chair is ideal for heavy people. It can lift up to 440lb, or hold 750lb static weight. It's also designed in a shape which is comfortable for wide hips, with armrests which are low and well-padded so they won't dig in to your hips.
The downside is that these padded armrests make it harder to push yourself up, so if you need to support yourself with your hands when you get out of a chair then you might prefer a model with high, firm armrests instead. It opens out to 150 degrees (near flat), and has a single motor so the headrest and footrest tilt at the same time. Besides massage it features a heated lumbar section.
Pros and cons
Very high weight capacity. Especially in the back it lacks cushiness as the soft padding is quite thin (some customers mentioned they can feel the frame through the padding).
Its heat emission is rather mild and only concentrated at the lower back area. No independent foot and back mechanism (no dual motor) so you can't have your feet up with the backrest still straight up.
It's relatively small so probably not the best recliner for tall persons. Armrests are positioned relatively low. Seems to be not as durable as competing chairs.
7. New Electric power lift recliner with heated massage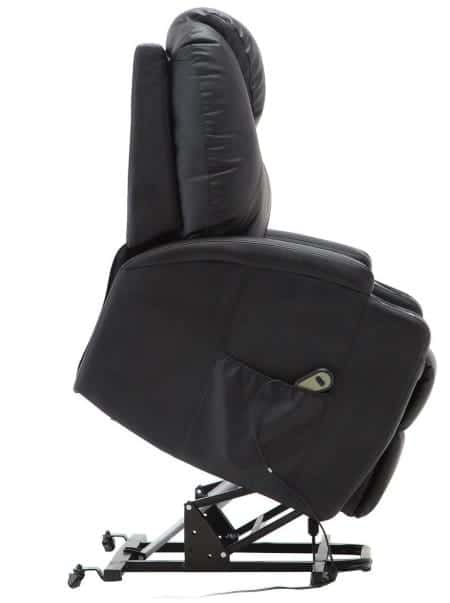 This 3-position chair is ideal for smaller people: it's just over 40 inches tall, with a lift capacity of 220lb (286 lbs when not lifted). People under 5'7 will find that they can sit comfortably without feeling like their feet are dangling.
The New Electric recliner comes with 8 inbuilt vibration motors, with 5 massage modes (wave, buzz, etc) at two levels of intensity.
The tilt mechanism allows you to sit in one of three positions (sitting straight, slightly relaxed, or lying out at 135 degrees), or tilt the chair forward to help you get up without straining your knees. The low armrests have cup holders for convenience and the back is generously padded.
seat width: 20.9″
cup holders in armrests
weight capacity: 220 lbs (286 lbs if not lifted)
8. Catnapper Soother 4825 power lift recliner with heat and massage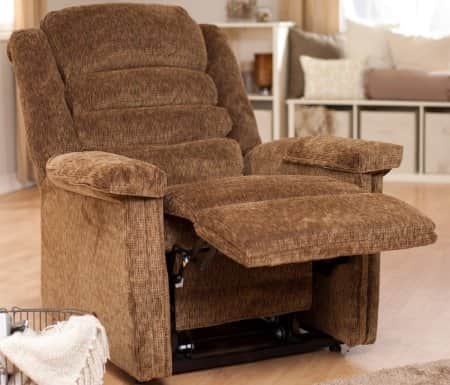 The Catnapper features a powerful 24V motor, with a back-up option of running on battery power (two 9V batteries). The massage nubs come with three settings – regular, wave, or pulse – and three levels of intensity.
Heat can be operated separately from the massage settings. A single motor first raises the footrest and then lowers the back, and it needs about 20" of clearance behind in order to work properly.
The remote control buttons aren't very intuitive – for example, there's a single button which says 'massage' and you have to hold it for three seconds in order to turn the movement on or off – which won't be a problem for most people, but you should bear it in mind if you're buying this for someone who gets easily confused.
Unlike most other massage chairs on the market, it is covered in soft upholstery fabric rather than black polyurethane or leather, which means it's easier to find a color which matches your home decor.
Pros

Does have emergency battery backup. Although quite firm, the cushions are comfortable. Heat is actually warm. Reclines quite far; approx. 155 to 160 degrees.
Cons
No independent foot rest lift feature. Like with most recliners massage is limited to vibration.
9. Cozzia MC-520 mobility power lift recliner with air massage and heat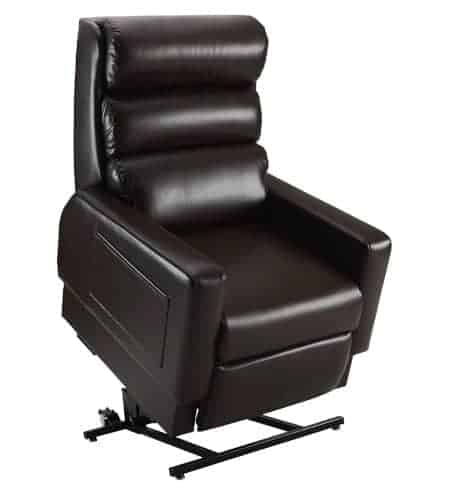 Finally, a power lift recliner which is designed for tall people! The Cozzia has an adjustable headrest, so you can alter the height or put it in a wrap-around position for comfortable napping.
A double motor means the backrest and footrest can be adjusted independently, giving you the option of a comfortable zero-gravity position, and it lies almost totally flat for comfortable napping. Unusually, the massage it offers is air-based rather than mechanical: valves within the upholstery inflate and deflate to put pressure on the body.
This infinite-position chair comes with retractable arms for easy positioning – for example, a wheelchair user can fold down one armrest and enter from the side rather than trying to climb on from the front.
10. Therapedic lift chair recliner, The "Washington" with carbon heat & sonic massage
Currently unavailable..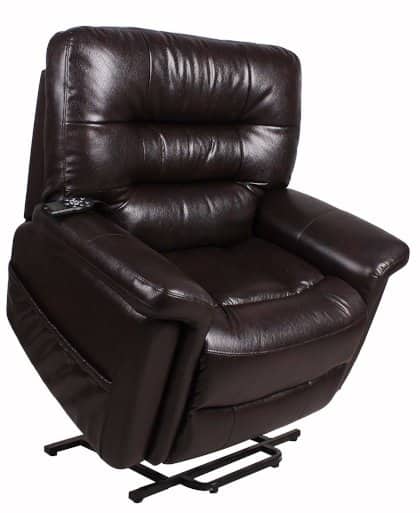 This throne-like chair has a 27" wide seat and a 500lb lift capacity, with low curved armrests which won't squeeze your hips. Despite its large size, this is the most efficient wall-hugger we've found – it can be positioned just 5" from a wall.
Carbon fiber heating distributes warmth around the whole lumbar region, rather than being concentrated in the area around a single heating element. Gel-infused foam conducts heat better, which means more effective heating from the carbon elements, but also a cooling sensation in hot weather.
The Washington has a single motor which moves backrest and footrest simultaneously, and it takes about a minute to raise from maximum 135 degree extension to a forward tilt, which means you won't be able to get up in a hurry.
Average Rated Chairs
---
Below a selection of slightly less well-rated assisted lift recliners.
11. ComHoma power lift recliner chair with massage and heat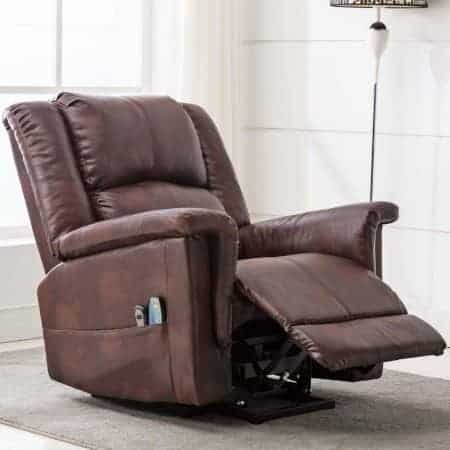 Instead of a complicated LCD screen, the remote for the ComHoma is illustrated with a simple outline of a person, marked with the locations of the 4 pairs of massaging nodes.
This is great for for people who find new technology tricky – rather than cycling through different modes, just press the button next to the body part which you'd like to massage, and then turn the lumbar heat on or off.
The angle of the chair goes from 110 to 160 degrees, which means it's comfortable for anything from watching TV to napping. The footrest can also be raised independently of the back, giving you the option of lying in the 'zero-gravity' position to improve circulation and de-stress the spine.
Another small but useful feature is that the chair sits on lockable wheels, so you can easily move it into another room or shift it for cleaning.
Pros and cons
No faux leather here but genuine, bonded leather. The chair has 4 massage nodes, a lot of features and is of high quality. A few customers did complain that the chair started making a ticking noise just after a few weeks.
Click here for price and additional information on the ComHoma.
12. Kchex electric lift power recliner with heated vibration massage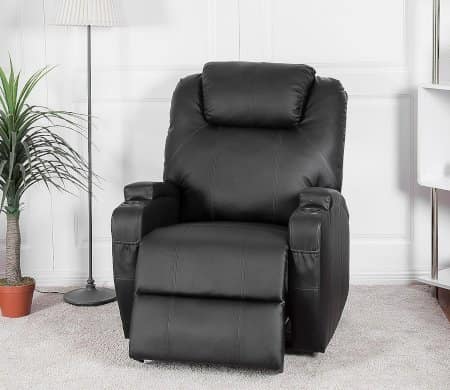 The KCHEX chair has a 360 degree swivel, an unusual feature which adds an extra degree of freedom of movement. It has a lumbar heat function and can be set to massage 3 separate areas – hips, shoulders, and lower back.
The chair can be put into three positions: neutral, lifted, and reclined. It also leans forwards so you can stand up easily.
It lifts up to 300lb and the seat back is 27" from the seat, meaning it's one of the more comfortable options on the market for tall people. A side-effect of the high seat back is that it needs a lot of clearance in order to recline – at least two feet away from the wall.
13. Stamo Power Lift Recliner Sofa Chair with Massage and Heating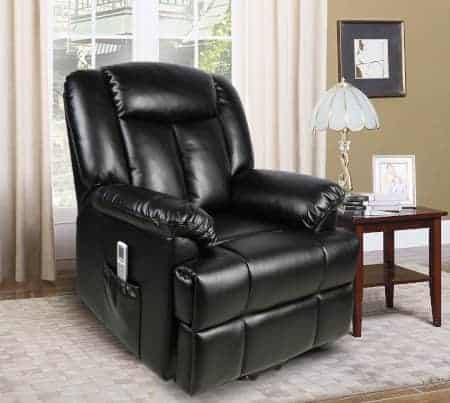 Note: this chair is currently not available. The Stamo power lift recliner has a rare double heating function which warms the seat of the chair as well as the back – ideal for arthritic hips or aching legs.
It also comes with a luxurious leather cover, which is breathable and comfortable in any weather: you won't feel sweaty in the summer, and in cold weather there's no unpleasant chill when you first sit down.
The whole chair is only 33" wide and it needs about 10" clearance in front of the wall, which makes it ideal for small spaces. The tilt mechanism goes to about 135 degrees, and the seat also has a lift function to make getting up easier.
14. Deluxe Wall Hugger power lift heated vibrating massage recliner chair with wheels
no power lift feature!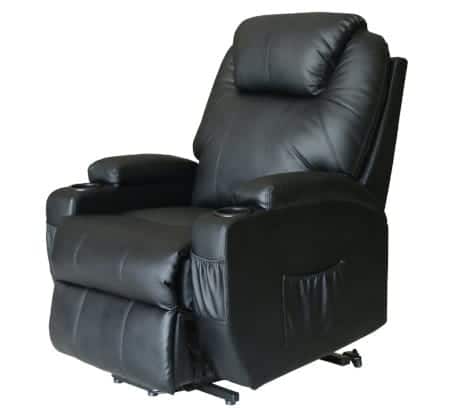 This is another wall hugger model, needing about 8" clearance to recline to 135 degrees. It has 8 massage points, arranged into pairs which work on your upper back, lumbar, thigh, and lower legs. There are 5 massage modes and a warming element in the small of the back.
The motors are interconnected, so the feet raise first and then the back tips. It's thickly padded with low armrests and cupholders, which makes it a comfortable chair to spend the day in.
Cons. Not suitable for tall people. Customer service lacks. Doesn't recline fully.
Keep in mind.. The chair has no forward tilt option, which means it's not suitable for people who need a bit of help to get up out of the chair. Nonetheless it's marketed as a power lift recliner.
weight capacity: 300 lbs
seat width: 22″
15. Mecor power lift chair with heat and massage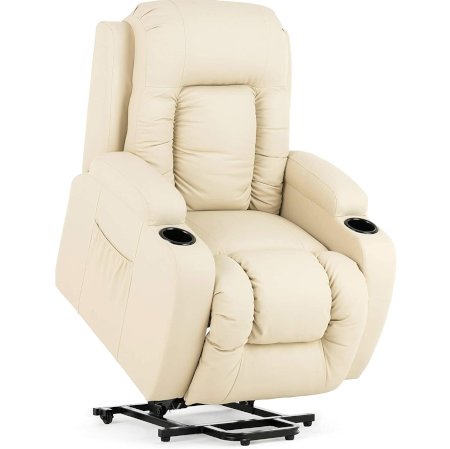 It's got all the basic features one would want from such a seat. Cup holders, side pockets, intuitive control and of course heating and massage function.  It's a simple, sturdy chair with an extra wide seat (22″ compared to the standard 18″) without being overly heavy or bulky making it a good recliner for senior citizens.
Pros
Overall it's got good reviews and has shown to be a good chair for the money.
Cons
There's one major disadvantage though. Customer service is severely lacking. After the motor broke down the company didn't honor the warranty and simply told the customers it was past the return date. Make sure to read the reviews before you decide to purchase.
16. Esright power lift recliner with heat and massage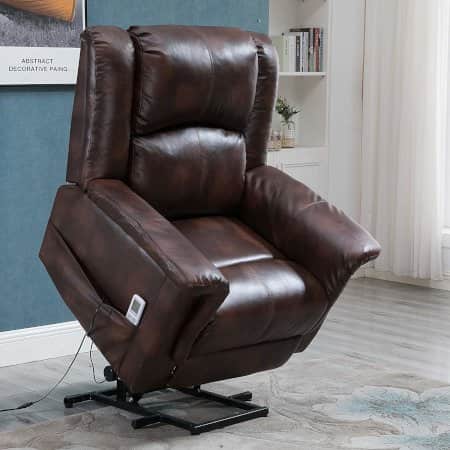 On paper, the Esright supports up to 330lb yet users complain it's not robust enough. The recliner goes back to 130 degrees and also tilts forwards to help you stand up easily.
Although it's a single motor model, the footrest lifts first before the back moves, so if you want to raise only the footrest you can simply pause midway through moving.
The heat and massage settings can be pre-set to last for 15, 30, or 45 minutes, which is great if you tend to nod off when reclining – there's no worry about accidentally running the motor for two hours. All settings are controlled from a single remote, which makes it easy to operate.
Cons
This wall hugger chair is advertised as only requiring 10 inches of wall clearance. In reality it turns out to be more like two feet. So in actuality it's not a wall hugger.
Lift speed is not as fast as some other recliners, which might be something to consider if you have to anticipate sudden, urgent bathroom visits. Pushing the footrest back into locked position might require some effort which some elderly or disabled might find difficult.
Heat function isn't very strong, this however is a complaint heard more often in these types of chairs.
Pros
Nonetheless, this chair offers good value for money as it's on the lower end of the price range. The chair is easy on the eyes, sturdy, it swivels easily, operates quietly, and its massage vibrations and heat are quite powerful and soothing.
required wall clearance: roughly two feet
seat width: 21.25″
weight capacity: 330 lbs
reclines to 130 degrees
Click here for its current price.
Power lift recliner chair benefits, features, and buying tips
---
Many people who are physically disabled, whether that's due to injury or old age, spend a lot of time sitting down.
A power lift recliner can be moved into lots of different positions, helping to keep good posture and prevent skin problems like pressure sores or ulcers which can result from holding one position too long.
Some chairs have a dual motor so that the headrest and footrest can be moved independently; others can only assume a certain number of pre-programmed positions.
Some power lift massage chairs offer a 'zero-gravity' feature, modeled on the positions astronauts assume to reduce the effects of G-force in space flight.
Down on solid ground, this neutral position (back reclined at about 120 degrees, legs raised and slightly bent) puts minimal pressure on the spine and hip joints, which releases tension and eases joint pain. It also boosts circulation and helps to prevent problems like blood pooling in the legs (which can lead to ulcers) or edema.
A recliner with heat function offers dual benefits. Firstly, heat is soothing and comfortable on sore muscles, whether that's stiff backs or fibromyalgia. Secondly, people who are elderly or unwell often feel the cold much more than others, due to things like reduced circulation and muscle wastage.
So they either have to heat up the entire house, or wrap themselves in heavy layers. By using a heated chair rather than warming up the whole room, the whole family can stay comfortable (as well as slash heating bills).
In fact there's more benefits of heat application.
Heat application soothes the muscles around the lumbar spine by dilating the blood vessels. Oxygen  flow is increased which enhances the delivery of nutrients to the tissues which aids the healing of damaged tissue.
Heat stimulates the skin's sensory receptors which helps minimize pain.
Heat therapy increase flexibility as it soothes the soft tissues and muscles surrounding the spine which helps reduce stiffness and boost injury recovery.
Keep in mind. Most chairs only heat the lumbar region, as this is the most effective way to spread heat throughout the body, but a few will also heat the seat and upper back.
Massage therapy promotes a plethora of physical and mental benefits. From tension, anxiety, and stress relief, to increased circulation. From enhanced injury recovery to improved sleep and an overall well-being.
What are you looking for an a power lift recliner with heat and massage?
share your experiences or reviews below
Power lift chairs are medical equipment looking like conventional reclining chairs. They are also called pop-up chairs and, through power lifting from a seated position, allow the elderly, people with a back injury, arthritic hips or knees, as well as those recovering from surgery to get up from their chair without needing assistance. As such they help people with living independently. What do you think of these chairs? Drop you comment below.
Editor's note: this post has been updated in 2021 to include the latest models entering the market.
Last Updated on April 8, 2021 by Tyler