In a perfect world, we'd have time to hit the spa every day. Making an appointment at a massage salon is not something you do every day. It's costly and time-consuming.
And although nothing beats the real deal; skillful human hands nudging  your sore neck and tension-ridden back, electric massage devices are invaluable.
Massages make your body feel incredible, relief pain, reduce stress, and even make you healthier.
Hubby may not be always around (or be busy watching sports), perhaps you live alone or you can't get a human massage for another reason. For these moments, an electric massager is a godsend.
To help you pick, here's an overview of different types that are available as well as the most popular devices in each category.
Table of content:
Besides reducing pain and tightness, these devices can help increase mobility, thus aid weight loss, help you sleep better, and even make your hair shine and skin glow.
Massage has historically been perceived as a luxury but awareness is increasing that incorporating massage in your everyday aids the journey to better health.
Which is why the following 21 best rated electric massagers can make such great additions to a healthy, well-balanced lifestyle.
These well-reviewed devices even allowed users to quit chiropractor visits and reduce their regular professional deep tissue massage sessions.
Here we go, the 21 best electric massage machines to relax from head to toes.
This list is compiled based personal experiences, on products with the most highly-rated reviews, sales numbers, and overall customer satisfaction. Ready to pick up some good vibrations? Let's dive in.
---
1. Zyllion shiatsu massage pillow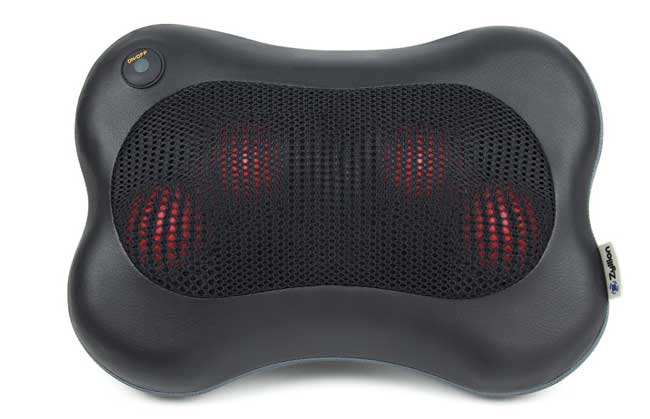 Are your neck and shoulders stiff and tense all the time? It's a common complaint and often heating pads alone don't cut it.
And if you neglect your neck for a while, it will start feeling like a bomb ready to explode, increasing the risk of developing a pounding headache or even a migraine attack.
What's so great about this massager is that's far from a one-trick pony. Besides your neck and shoulders you can use it to sooth your back, head and even your feet.
Stress, we often can't avoid, but you can relax those contracted neck and scalp muscles before they start acting up. The Zyllion massage pillow may very well by your best bet. It has received virtually nothing but glowing reviews and has little to no downsides.
Pros
powerful heat option
easily adjustable
highly versatile (use it literally from neck to toes)
affordable
Cons
you may have to get used to the rollers automatically changing directions after 5 minutes. This is not controllable.
"The Zyllion has been a bestseller for years now and still going strong as one of the best buys you can make."
2. Homedics deep kneading shiatsu foot massager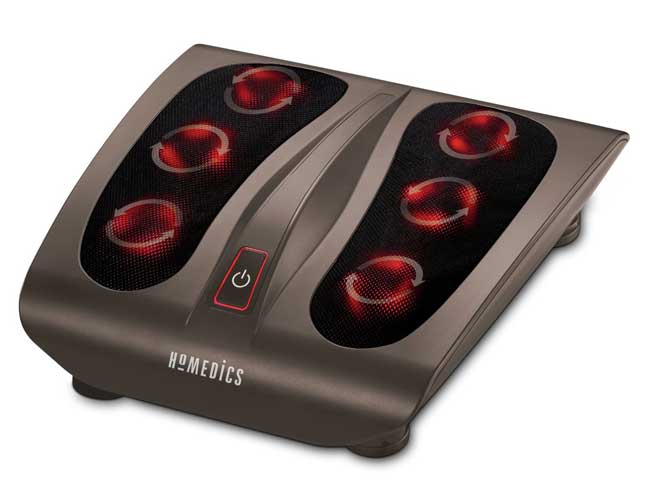 Your feet are your foundation. They are true workhorses and as such we demand a lot of our feet. We stand all day, we walk for miles, we enclose our feet in a cast called shoes which reduces sensitivity and sensory feedback. All in all, it's safe to say that our faithful trotters can use some TLC.
So take a stand and reap the soothing benefits of a shiatsu foot massager. This particular device is powerful and known to be too ticklish for folks with sensitive feet.
It heats up,  stimulates acupressure points, and helps relief diabetic nerve pain. Especially recommended for those who are up on their feet all day such as nurses and bar tenders who prefer a deep massage.
Pros
strong, deep foot massage that relieves tired aching feet
helps relief diabetic nerve pain
Cons
heat could be more intense
not recommended for people with delicate feet (or plantar fasciitis)
3. Breo iPalm520s electric acupressure hand palm massager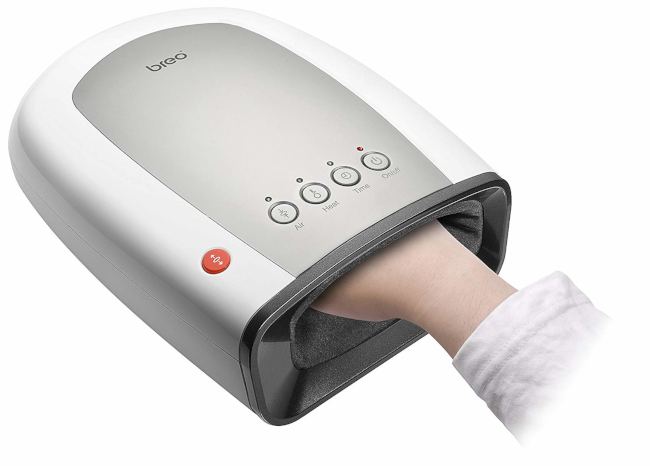 Do you suffer from arthritic hands, stiff fingers, carpal tunnel, tennis elbow, text thumbs, muscle spasms in your forearms, or locked forearms? This little gadget might by your savior.
It provides myofascial release by squeezing your hand firmly* while it stretches your fingers and nerves during which it administers soothing mild infrared heat and air pressure. * You can adjust pressure with the press of a button.
Pros
effective at pain and discomfort relief according to many users
portable
cordless
Cons
excessive pressure according to some users
administers pressure more than a providing a massage
Researchers found that a combination of self hand massage and hand massage from a therapist "is likely to be effective in the easing of hand pain caused by arthritis and other conditions".
4. Breo iSee 4 – Best electric eye massager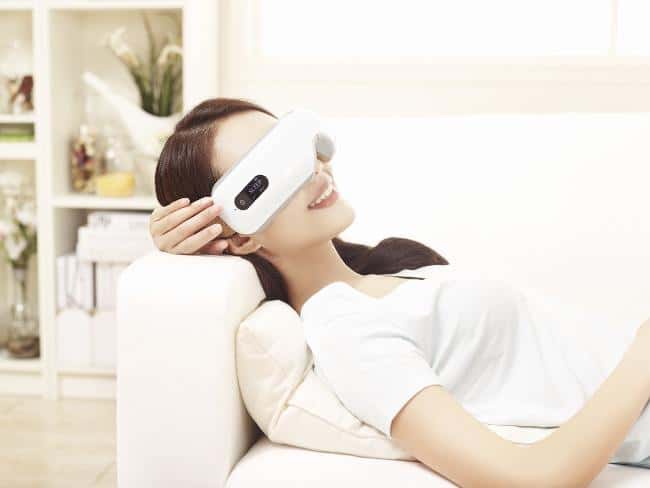 This foldable, portable massage gadget has quite a few tricks up its sleeve. Besides a gentle eye and temple massage it'll offer you a heat compress at, 107.6 degrees Fahrenheit (42 Celsius), the temperature often used in hot tubs and spa steam rooms.
Based on Chinese traditional medicine it massages so called Meridian ocular acupressure points. It does this through air compression to simulate shiatsu kneading and gentle vibration for a refreshing effect.
In order to reduce stress in the temples and the muscles around the eye sockets it plays soothing nature sounds and music too. Say goodbye to puffy eyes, dark circles, and eye strain.
Pros
helps relax and alleviate various eye strain and related complaints
Cons
it's not a one-size fits all type of device
5. Best ultra-portable handheld mini massager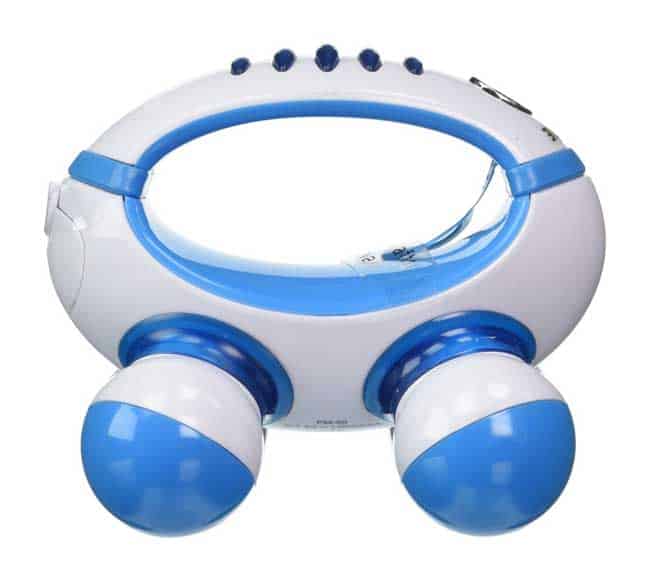 If you're in the market for a compact device you can take with you anywhere this Homedics massager is your best bet. It's handheld for self-directed massage but does an excellent job in soothing overworked muscles.
It's not the quietest but unleashes powerful vibrations considering its modest size. Obviously, for more thorough tension release other devices are better suited.
Pros
affordable
ultra-portable
Cons
a bit noisy, could be more quiet
Best rated electric handheld back massagers
---
According to experts, percussion massagers belong to the best massagers. These devices feature hammers sending vibrations into your muscles. Also known as tapotement, percussion refers to tapping or patting.

 
6. RENPHO rechargeable handheld deep tissue massager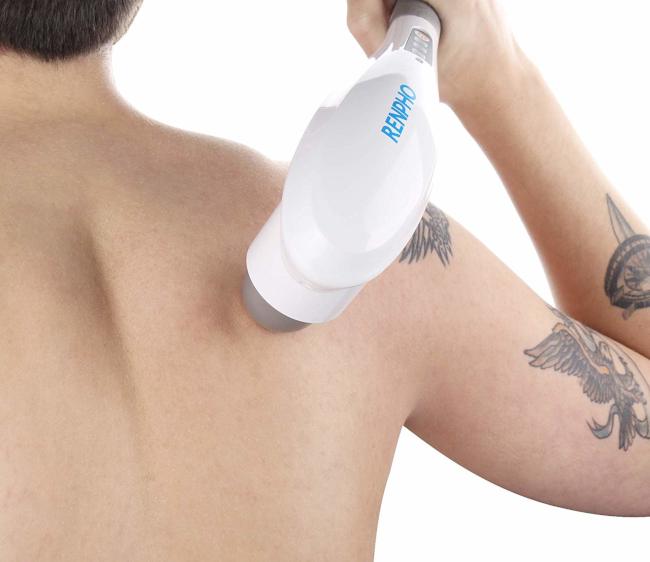 This portable massage device utilizes percussion technology to soothe tight and painful muscles pretty much anywhere on the body. The cordless Renpho has 4 speed modes 3 strength modes. Its powerful motor ensures a thorough deep tissue massage on the highest setting. It comes with various attachments and different speeds and percussion modes can be set.
Pros
excellent price / quality ratio
cordless
ergonomic handle makes it very easy to hold and operate
powerful motor
Cons
not the most lightweight device on the market so weight is crucial to you you might want to opt for another one
fairly powerful so if you really want power this one might not be for you
"This is the next best thing since manual massage therapy! I love how I can get top-tier massages at any time, even when my husband isn't around. This handheld personal massager equals pain relief. And it helps me chill out."
7. TheraRUB percussion head massager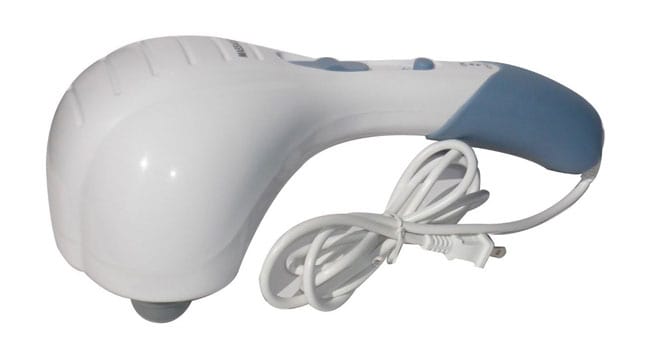 This device might look like a 1950's kitchen gadget but the TheraRUB actually taps into your deep tissue muscle whereas many similar (and often more expensive) devices merely vibrate.
This makes this powerful, relatively lightweight handheld yet shock-absorbing massager a highly popular choice for those who need knotted muscle relief and soothe niggles and muscle spasms. Whether you're an achy athlete or a computer-glued geek.
Pros
double head
quiet
cheap
extendable handle
powerful
Cons
corded
somewhat bulky and heavy to hold
some devices broke or started making more noise after a while
8. Purewave CM-07 dual motor percussion & vibration massage device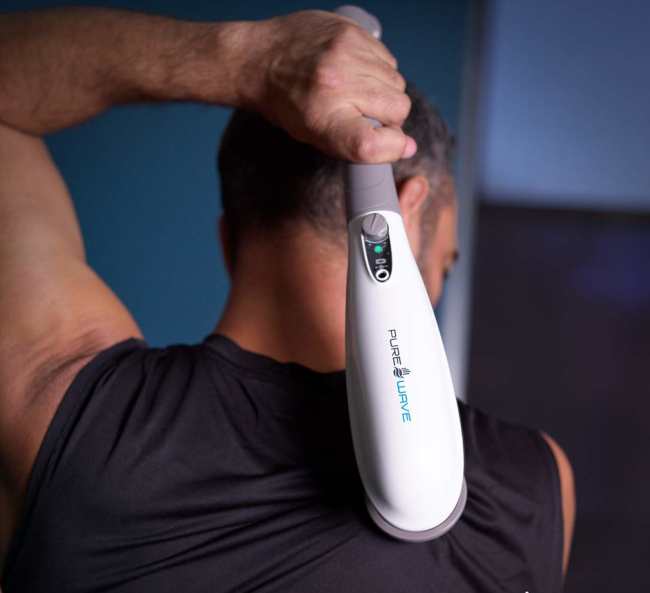 If you really want a high-end, professional, therapeutic massage device the Purewave CM-07 might your best bet. It adds both percussion and vibration to the mix and is used by medical professionals such as physical therapists and chiropractors to enhance the recovery process. Massage professionals state this device "meets or exceeds the quality" of handheld devices used in clinics.
Pros
has percussion and vibration motors, both motors can be separately adjusted
high end device, effectively gets rid of knots, trigger points, aches, pain, and relaxes muscles
easy to hold and operate
whisper silent
6 head attachments
Cons
"Its intuitive control knob lets me gradually dial from a very gentle, relaxing muscle massage all the way to a thorough jackhammer pounding that will drive out any muscle knot, tension or ache after a stressful day or heavy workout. It makes me feel reborn!"
9. Liba shiatsu neck and back massage cushion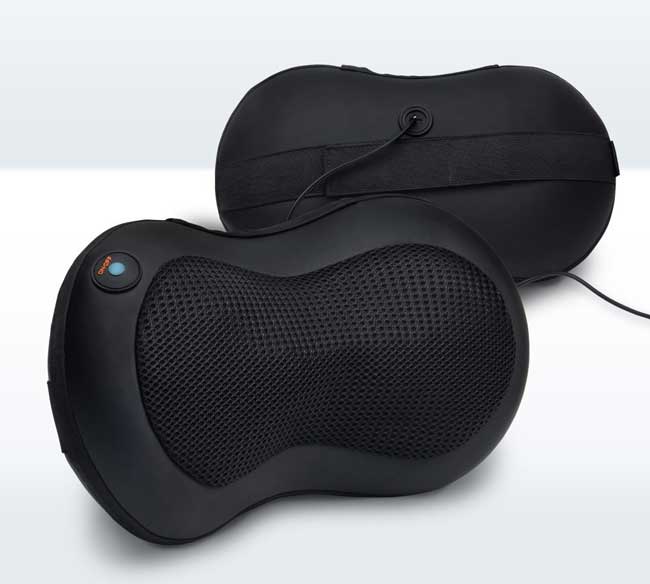 This portable, lightweight device can easily be taken with you in your car or to your work. Strap it around a seat and plug it in with the included (car) charger and enjoy deep kneading shiatsu massage with heat.
With this appraised massager you won't have to bribe your family members into giving you massages anymore, you may have to pay up in order to ensure you're using it first.
Treat neck, back, your legs, or wherever tension or pain is afflicting your body. The Liba relieves muscle cramps and works great to warm up cold winter feet too.
Pros
Lightweight and portable
Powerful heat function
Versatile
Easy to use
Cons
Can easily be taken with you in the car but hard to use while driving
10. Shiatsu neck & foot  massage kneading pillow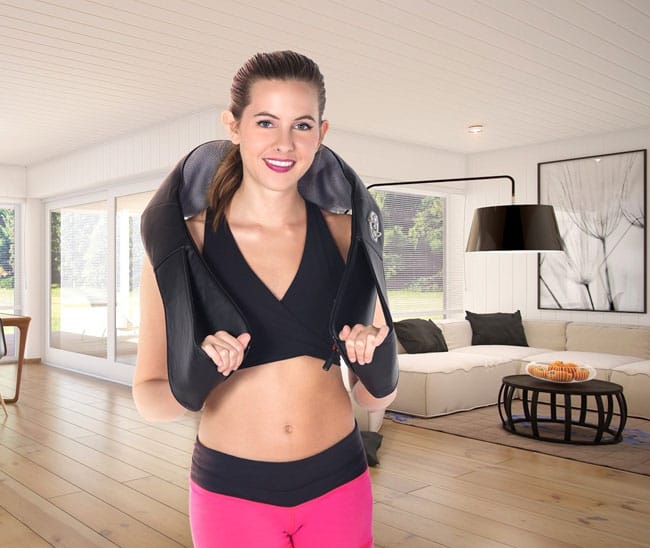 You can use this massager on practically your whole body. Pull the straps to excert more pressure for a deep tissue kneading massage or loosen up for a lighter massage. The knobs change direction without without the need to change settings.
Wrap the massage band around your calves or legs or use it on your lumbar area to treat lower back pain. Wear it like a boa constrictor to get rid of tension headaches.
Pros
Can be used on most body parts
Has slightly smaller knobs than comparable devices. This allows for deep tissue massage into tighter crevices such as underneath the shoulder blades.
Cons
Massage knobs do not turn in various patterns and multiple directions
Knobs are made of hard plastic.
Heat output is limited.
11. FIVE S FS8801 3D shiatsu massager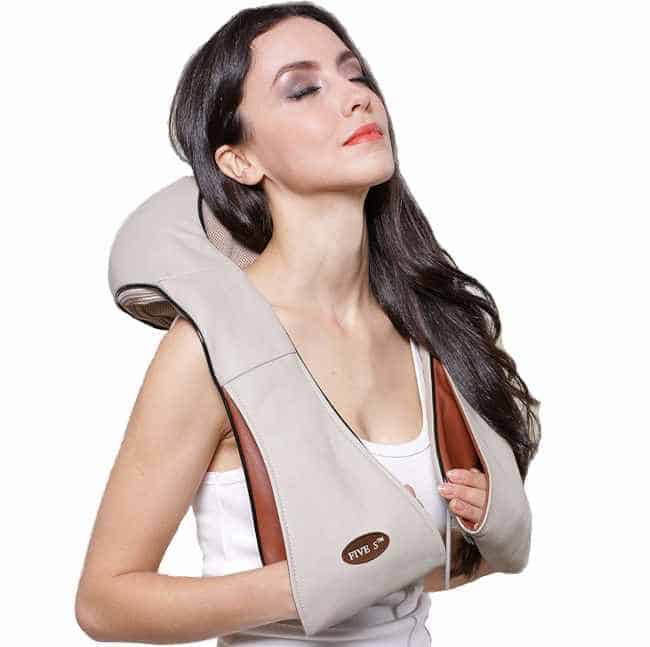 This Five S massager puts out exactly the right pressure. Not too harsh, not too gentle but just enough to get rid of headaches and upper body tension. The company is known for their stellar customer service so no reason to hesitate buying a heated massager online.
In addition, this type of massage device helps bring relief to pain and discomfort caused by incorrect posture.
Pros
well-balanced deep kneading massage output
sublime customer service
Cons
is not cordless (10 feet / 3 meters long)
heat not adjustable
doesn't get really hot
"After a long day of screen gazing at the office my neck and shoulders hurt a lot. This shoulder massager is the highlight of my weekday. I really look forward to enjoying my well-deserved massage at the end of the day. It massages the deep knots and painful spots away like a professional massage therapist. The heat function makes my exhausted body relax so much that I start my evening refreshed."
Best rated & reviewed Massage Seat Pads
---
12. Zyllion ZMA 13 best shiatsu chair massager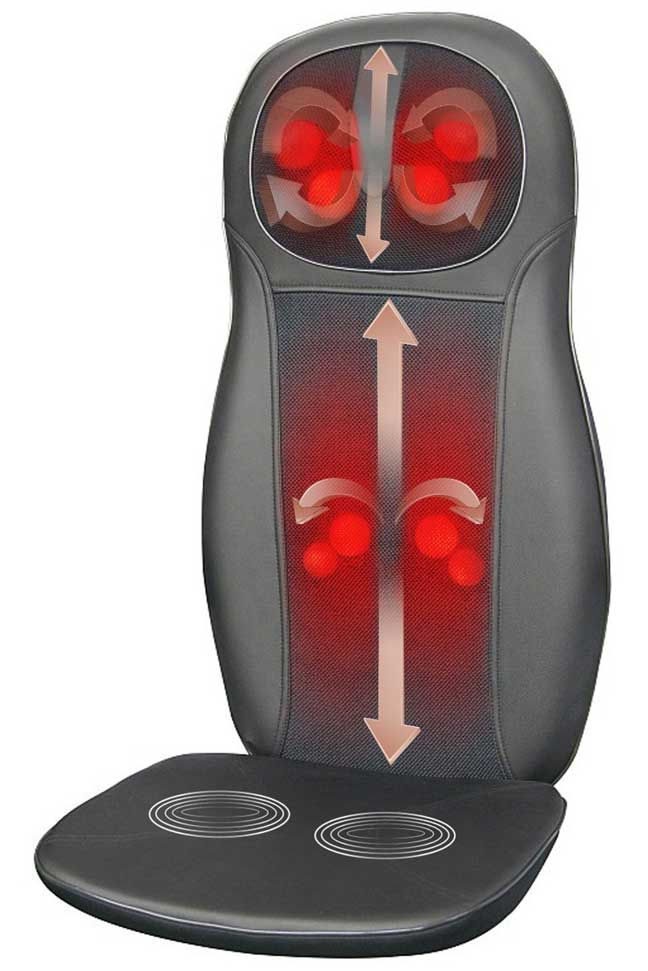 Designed for the neck, upper and lower back, this device treats you from your neck to your hips. One of your best bets when you need serious electrical trigger point massage. Trigger points a.k.a. muscle knots are the small patches of super-contracted muscle fibers that cause stiffness and pain.
The vibrating seat and its intense massage has helped users effectively heal their lower back spasms and sprains. Its various settings including; shiatsu, rolling, neck kneading and seat vibrating combined with its powerful rollers make this a popular choice.
Common complaints; upper back height may not always be parallel to your specific needs which requires repositioning. Its steep price ($160) inclines some users to value the more affordable Zyllion Shiatsu Massage Pillow higher.
Pros
solid, heavy and sturdy
four types of massages
lots of settings and options
Cons
for some (smaller) people it may be difficult to fully reach the lower back and shoulders
13. Snailax, best vibration & heat massager chair pad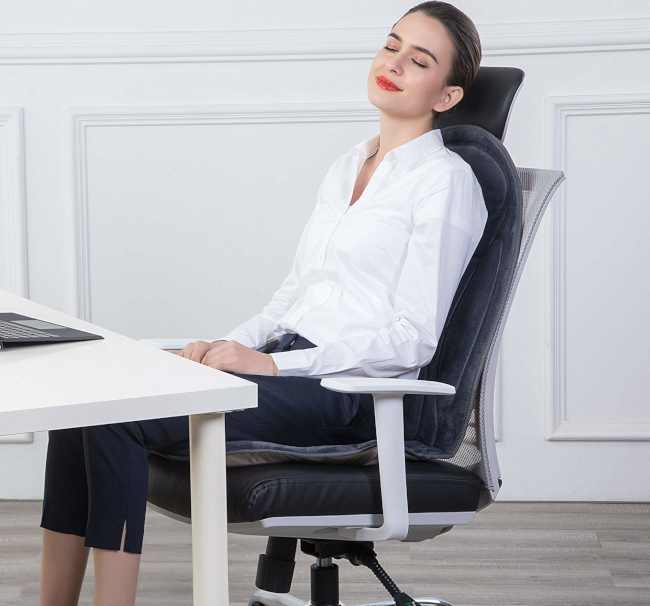 Looking for a chair pad massager that you can put in your car, office chair, or in a chair at home that doesn't offer Shiatsu? This is the device for you. The Snailax brings vibration and heat to the 'massage table' so to speak.
Because it doesn't have the rolling bolls required for kneading therapy it's less bulky than those chair pads. Which makes it fit snugly in pretty much any chair. It has several power settings and is great during cold winters in case you don't have heated seats in your car.
Pros
various settings; hips & buttocks, upper thighs, lower back, upper back
gets really warm
comfortable soft plush fabric
no shiatsu (it can be hard to find non-shiatsu devices)
Cons
14. Five Star vibrating massage seat cushion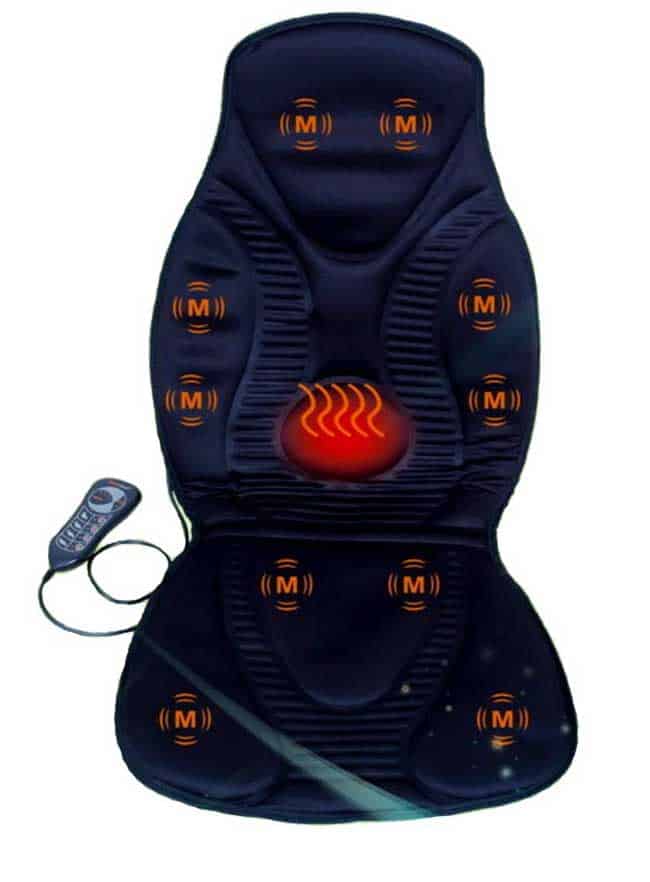 A big plus of this type of massager is that you don't have to hold anything. Holding a handheld device is great when you want to focus on on a certain, sore muscle group but if relaxation is your goal, a massage cushion is your best bet.
They are available in versions you can lie on and those you put in your chair like this one. It's great for salesmen on long car trips, screen workers to put in their office chair, or just to add to your favorite lazy chair.
The Five Star FS8812 sports 10 vibrating motors relaxing the whole area from your neck, back to your thighs while the heating pad warms your lumbar area. No rolling motors so no kneading, just vibrations. Good vibrations.
Pros
Gentle because of vibrating massage
Massages from neck to thighs, specific parts can be controlled separately
Allows you to sit comfortably in your car seat or computer chair when it's not turned on too
Can be set to strong vibration
Cons
heats lumbar area only
heat could be stronger
does not fit in all (car) seats
---
15. Relaxzen heated body massage mat

This pad packs the golden mean of massage machines in a full body package. It's not so forceful that it seems like someone is poking you in the back with a broomstick yet powerful enough to give you a firm massage.
The thick plush and foam cushioning adds to the alleviating experience. Put this mat on the floor, in your bed, in your favorite recliner, opt for pulse or vibration and enjoy your massage.
Pros
comfortable, well-balanced
Cons
you can't select a single mode but have to go through the whole cycle
16. AiraWear Jacket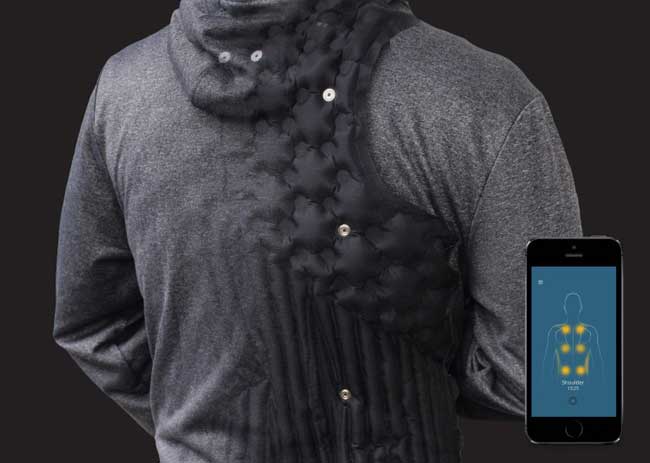 This innovative, almost futuristic garment is a pressure jacket, posture correction brace and massage device in one. Use the accompanying app to start your favorite point-pressure massage program or switch on body compression or posture reinforcement.
The TWare invention looks like a normal jacket yet offers a ultra-light massage and posture improving solution. It's smart too, in the sense that if offers bio data feedback.
The product has yet to be launched but it seems a great solution for those who want more than just massage.
We chronically sleep too little to such an extent that experts often call it a true epidemic. We are glued to our cellphones, work hours on end at our tablets and laptops, which often results in sitting in unnatural postures for extended periods while often continuously looking down on a brightly lit screen.
This leads to muscle tension and stretched necks and sore backs. Massage has always been an essential part of wellness programs but in this day and age it's almost a necessity. TWare's AiraWear jacket intends to mold us into more natural poses.
Pros
multiple actions combined in a discrete jacket.
Cons
Not yet clear as the product hasn't been produced  yet.
 Chiropractor tools
---
Ever thought about using your chiropractor's tools at home? Because now you can. The instruments listed below are just as good as those used by your bone cracking healer. Actually, some are used by medics themselves.
Back in the day when manual therapists prescribed supplementary home massage to their patients, consumer devices weren't as effective as they are now. In fact, there were only a handful of OTC electric therapeutic massagers on the market and those left a lot to be desired according to a 2005 study.
The past years however, technological innovations have paved the way for a wide range of high quality machines that can be used at the convenience of your home.
17. Body Sport professional home chiropractic massage machine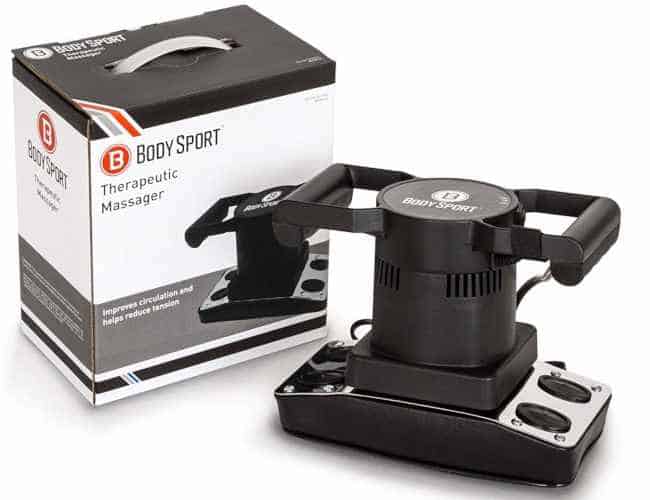 If you really need the best you can get when it comes to home massage machines why not get something chiropractors use*.
This professional machine goes the extra mile. Where other devices bring you pain relief and relaxation, the Body Sport therapeutic massager also offers true myofascial release and trigger point therapy. Use it on your legs, hips, lower and upper back, shoulders and shoulder blades.
Pros
two settings; "ahhh and oooh",  low (2800 rpm) and high (3700 rpm)
more rpm than its competitor the also well-reviewed Body Back
used by medical professionals to hasten recovery, reduce pain, tension, and tightness
Cons
you need another person to massage you with it but that goes for all chiropractic massagers of this type
"Delightful product that deals with achy or sore muscles. It helps strained or injured muscles heal faster. The machines that massage therapists and chiropractors use in their clinics cost 3 to 4 times more than this one but the BodySport is excellent value for its price. Recommend it to anyone."

 
18. AccuMed Tens Unit, electric pulse massager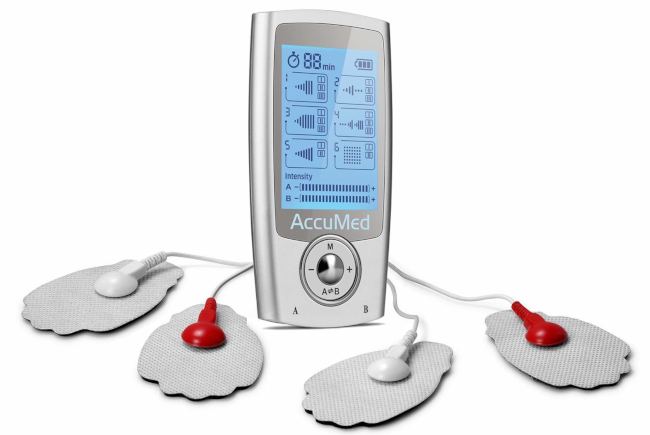 TENS (Transcutaneous Electrical Nerve Stimulation) units have shown to offer various kinds of chronic pain relief as well as increase mobility. One major advantage of electric pulse therapy over other forms of massage it that it doesn't cause swelling to increase whereas heat or massage would.
These gadgets work on a somewhat similar principle as acupuncture. A low-intensity electrical current stimulates specific nerve pathways which causes a tingling or massaging sensation which helps reduce pain, relax muscles, and combat spasms.
The AccuMed tens unit is popular because it produces such a smooth current. Other devices are commonly criticized for their relatively harsh electrical stimulation.
Pros
lets you use 4 pads simultaneously
tiny device yet very powerful
affordable
lightweight
portable, fits in a pocket
easy to use
Cons
adhesiveness of sticky pads could be improved
no continuous vibration setting
The administration of high-frequency pulses (10–200 pulses per second, pps) at the pain site is used to alleviate soft tissue pain.
19. Foot and calf massage machine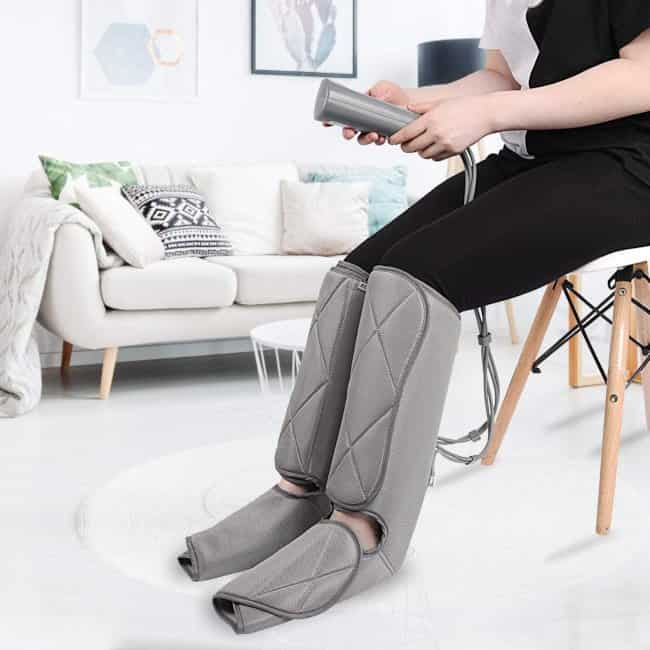 It's a well known fact that massage helps you recover faster from post-exercise soreness and pain. Research show that both massage and vibration therapy significantly reduce muscles soreness as well as recovery time after exercise. Also LDH (lactate dehydrogenase) levels in blood – higher LDH levels than normal point to possible tissue damage – significantly lower in the massage group compared to a control group.
But did you know that a foot and calf massager can reduce the ill effects of sitting or standing for long periods of time?  The lack of mobility, so common in for instance desk workers, can cause leg fatigue, cramps, weakness, and pain.
Since prolonged sitting and standing reduces the blood supply to the leg muscles it hastens the onset of fatigue and pain in the back and neck muscles too. It may also cause blood pooling in the feet and legs which leads to varicose veins.
As such, good foot and calf massager such as the Renpho Leg Massager can do much more for you than relaxing your feet and calves after a hard days work or an intensive workout. We'd say, considering its health benefits, that it would make for a great addition to an ergonomic workstation as well. Use it while you're behind your desk and enjoy the simulation of hands squeezing your calves and feet.
Note: it doesn't knead, utilize rollers, or vibration but compression. So technically it's not a massager but a compression device.
Pros
portable so easy to bring to work or take with you on travel
helps alleviate chronic pain and conditions such as ME
enhances surgery recovery
easy to operate
Cons
the pump makes a bit of noise
20. Vibration foot massage plate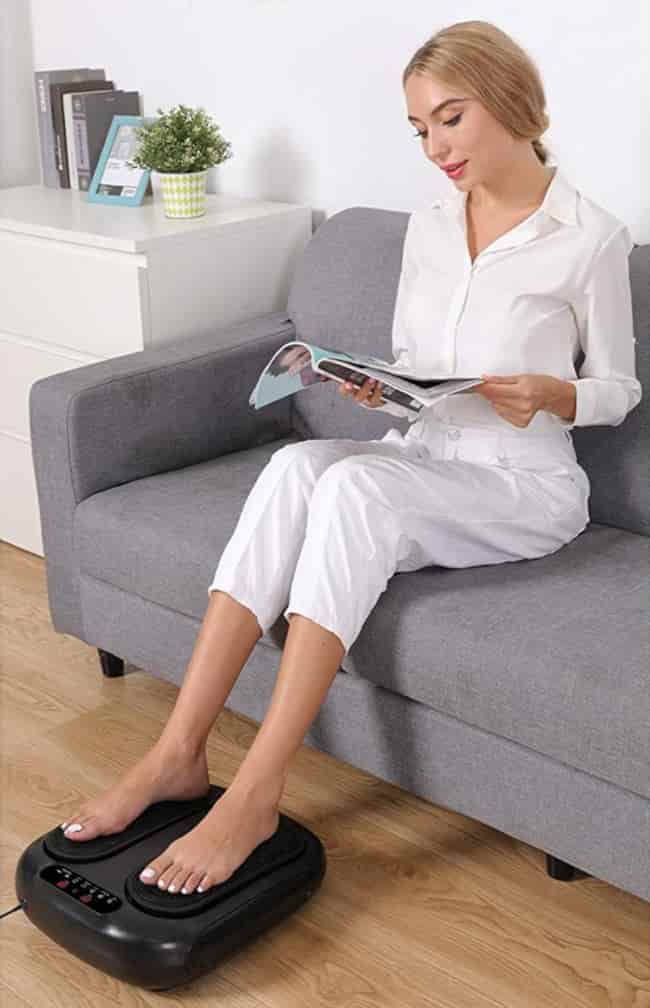 This modest sized piece of massage equipment packs a punch. From vibration to infrared light, and from acupressure to shiatsu deep massage, the Sylphim electric foot massage machine offers it all.
Vibration massage on your feet is known to reduce stress, improve circulation, increase balance and flexibility. It's said to enhance bone strength, healthier skin, as well as offer muscle, joint, and pain relief. No wonder they say foot massage starts at your feet and ends at your soul.
Infrared light, in turn, enhances blood circulation especially in those areas that are sore or experiencing fatigue. All these features, including high-frequency vibration will almost magically transform those achy, tired feet into mushy muscles
Indulge in an invigorating home massage treatment that pampers you from your outer pinky toe to your inner ankle, and way beyond. Use the Sylphim for just 15 minutes a day and relax your muscles and mind.
To be clear, the Sylphim offers local vibration therapy as opposed to whole-body vibration therapy. Sure, you can use it on your feet, soles, ankles, calves, thighs, hands, waist, and even your lower back, palms, and wrists. This device, however, is not a full body vibration platform.
These kind of devices are popular among those who are on their feet all day to soothe tiredness and pain. If you suffer from plantar fasciitis, or diabetic neuropathy this foot massage plate might make a huge difference for you too.
Did you know foot massage makes you sleepy? As such this device can be of great help with those who have trouble falling asleep at night.
Pros
quite portable
versatile with its wide range of features
high quality
quiet
Cons
the manual could be more clear
21. Zero gravity shiatsu massage chair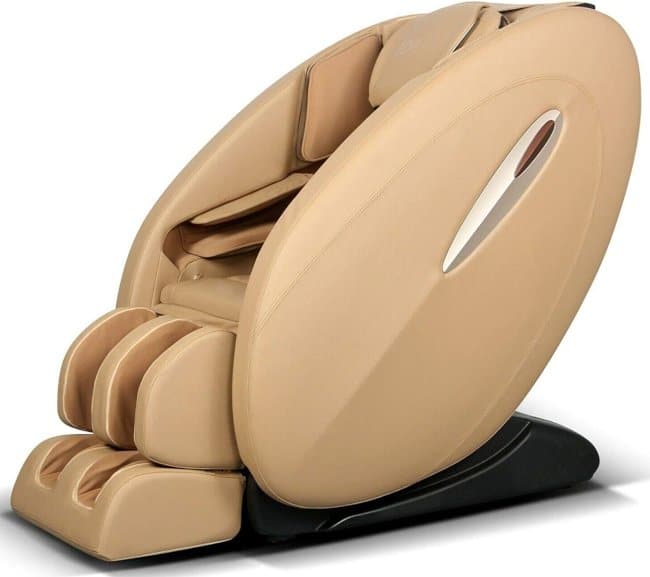 When you want to fully immerse in the delightful benefits of massage at the comfort of your home, a full body massage recliner is hard to beat. Especially this beast of a chair with its smart 3D scan massage feature that optimizes its massages to your your height.
Apart from 10 joyous programs to choose from including Swing, Relax, Full body Massage, and Full Body Stretch while performing 6 different massage techniques such as kneading, tapping, rolling, combos of those, shiatsu, and knocking it has more good stuff to offer.
How about the 3 Full Zero Gravity Positions or the fact that it's a forward sliding, space saving massage chair you can place close to the wall and still fully recline?
Massage chairs, especially those with zero gravity, are known to help the body flush impurities, boost the immune system, improve blood circulation, enhance breathing, and aid oxygenating the body's extremities.
These make great additions to an ergonomic (home) workstation setup too. Intermittent massage breaks will help combat tech neck, competitive strain injuries while at the same time replenish your energy so you can get back to your desk feeling refreshed and energetic.
If you're considering getting your own mechanical masseuse, in the corner of your room, available any time of the day, day and night, make sure to read the reviews by hitting the link below.
Concise buying guide
---
To help you make a well-informed decision:
Roughly there are three types of massaging devices
Deciding up front which type of massage you want from a device will help you make a better buying decision.
Shiatsu or kneading massagers with rolling balls.
Vibration massagers, just good vibes, no rolling balls.
Percussion massage devices use hammer pads that send vibrations deep into the muscles. The kneading process is designed to emulate a manual masseur. Percussion massagers are superior in terms of comfort and penetration.
Note On Shiatsu Massage
Keep in mind that if you're not used to shiatsu massage it can feel unpleasant and harsh at first. The deep kneading is something you may have to get used to first and is different from the Swedish massage characterized by an oily human touch.
Both types of massage however; improve flexibility,  increase the level of oxygen in the blood, improve blood circulation, help the body remove toxins, ease tension and aid pain management.
Features to consider
Remote-, or app-controlled for customized massages. Allows for tweaking the massage to soothe specific body parts.
Weight, more lightweight handheld self use massagers are likely less durable
Automatic modes vs manual compound therapy modes
Bi-directional movement (mimics human massage motion)
Multi-position capacity. Allows you to use it on various body parts.
Heat therapy (i.e. 4 tungsten warming lights with a range of 113°F to 149°F)
Infrared therapy
Magnetic therapy (magnet potency is expressed as such: 2000 gauss intensity.
Air compression with the chamber being lined by a soft cloth. (most current models utilizing air compression are not well-received.)
Electric home massage device benefits
Believe it or not but self home massage via massage devices actually brings certain advantages over manual massage by a masseur.
Percussion massage machines, for instance, are able to pretty much effortlessly send vibrations deep into the muscles and tissue. This deep penetration type of treatment is virtually impossible to achieve through manual massage.
Furthermore, devices allow for convenient, affordable, regular repetition of massage therapy. Regular massage has been shown by medical research to have significant wellness and health benefits.
Editor's note: This publication has been updated –based on the latest technical innovations and products — continuously since it was originally published in January 2016.
Which electric massager do you like best?
Share your comments, experiences or questions below.
Last Updated on August 24, 2022 by Tyler