Does mom really need to chill out? Your beloved wife could use a serious wind down? Your girlfriend on the edge of a mental breakdown?
Help her flow into mellow mode with these relaxing gifts. Day-to-day life is hectic enough as it is. It's a cold fact that stress is part of our daily routine, which is why a thoughtful gift to help her become stress-free is such a winner.
Here are 20 calming gift ideas to help you out finding the perfect gift for her.
1. Massaging Foot Warmer
For those days when you can't get the real thing, the Nap Luxe Vibrating Foot Warmer will soothe your aching feet while keeping your toes toasty. Give her the gift of deeply relaxing and the therapeutic bliss of foot reflexology. Or in less technical terms, nothing feels better on a cold winter night than slipping the sore soles of your feet into this luxurious and relaxing massager.
>Want more options? See these best electric massagers on the market.
2. Bath Bombs Gift Set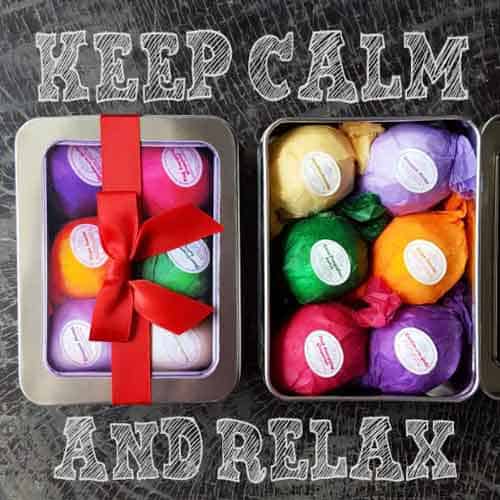 Dip yourself in an explosion of scent and refreshing natural oils with the Bath Bomb Set from Rejuvelle. The organic essential oils used will delight your senses without irritating your skin.
Drift away on a river of hot, soapy bath water while your skin gets a deluxe moisturizing treatment from the bath bombs' shea butter ingredients. Certain scents work wonders on our wellbeing, they soothe nerves and can relieve nervous tension. Bust stress with these mind and body calming bath bombs.
3. Sleep Mask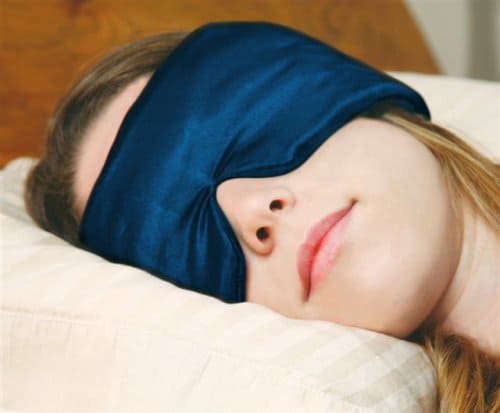 Block out harsh light and get the best night's sleep of your life with the Sleep Master Sleep Mask. Or take a reviving nap to soothe your tired body and mind. It's a fact that naps not only promote creativity and productivity but reduce daily stress as well.
Plush velvet caresses your skin while providing complete darkness for a more restful sleep. The mask won't slip off during the night thanks to the velcro strips that keep it securely in place.
4. Essential Oil Diffuser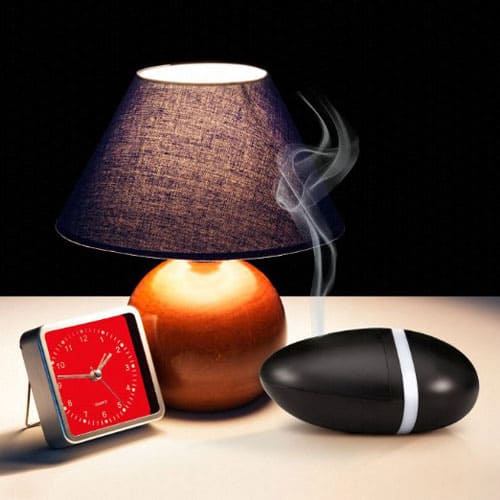 The Riverock Essential Oil Diffuser envelopes you in total tranquility as you sleep. The diffuser's quiet steamer distributes the scent of your favorite essential oil throughout your room as you rest, giving you the ultimate spa experience in the comfort of your own home. Use with Lavender or Eucalyptus for an extra calming effect.
5. Brookstone massaging bedrest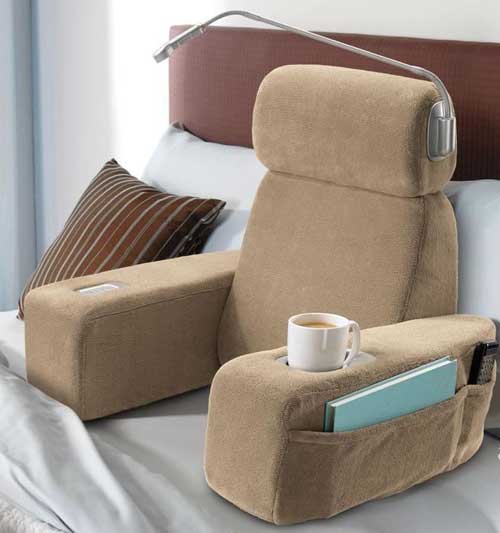 Transform your bed into the perfect massage chair with the Nap Massaging Bed Rest. Your aching back muscles will be soothed by the massager as you sip on your favorite beverage, just within your reach thanks to the cozy cupholder. The adjustable LED lamp lets you read your novel in total comfort as you while away the evening hours.
6. Self Rolling Yoga Mat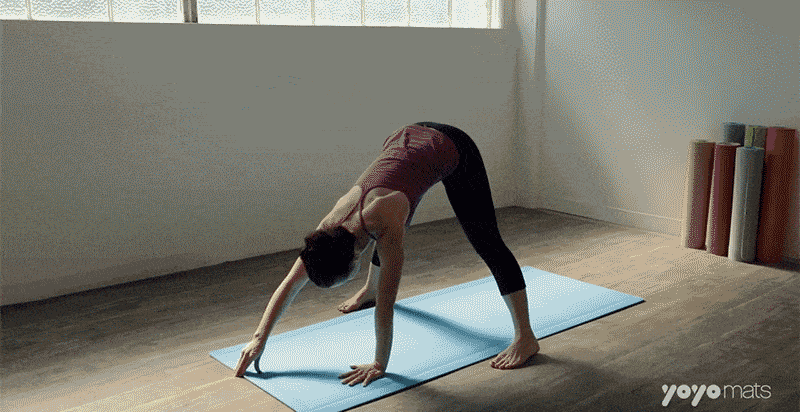 This Self-Rolling Yoga Mat is an invention you never knew you needed. No longer will you struggle to roll up your mat evenly while you strain your already sore (but flexible) muscles.
The YoYo Mat mat does it for you! Simply flip the mat over and, much like a cartoon tongue, it rolls itself right up onto your list of "Favorite Things Ever." (I so want that self-rolling yoga mat. I'm the lazy type, and I hate when my mat rolls up unevenly. I have Yoga Mat OCD. lol). Pre-order at Kickstarter.
7. Relaxing Lavender Basket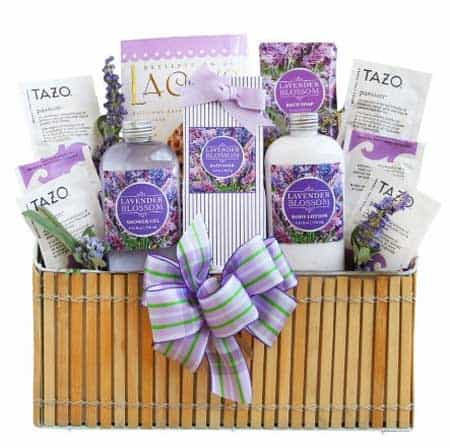 If you're searching for the perfect stress-relieving gift, look no further than the Relaxing Lavender Spa Gift Basket. Each product uses the soothing scent of lavender (scientifically proven to relax you) to whisk you away to a worry-free world where all you can see and smell is a peaceful field of flowers.
8. Footbath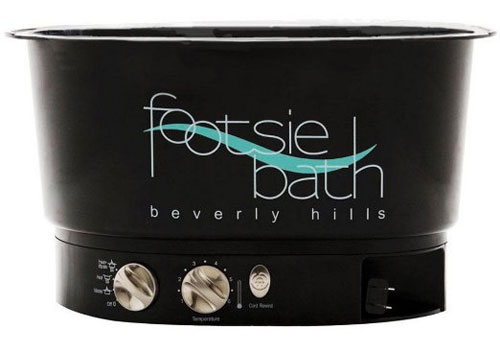 For spa quality foot therapy at a price you can afford, you'll want to purchase the Beverly Hills Footsie Bath. Follow the footsteps of our ancient Greek forefathers who utilized a healing tradition called the Water Cure. Foot baths were taken to relief headaches, lower blood pressure and reduce sleeplessness.
With the Footsie Bath you'll be able to soak your feet and melt away into a peaceful slumber as the bath's vibrating function massages your aching soles. Options for Heat Only or Vibration Only let you truly customize your experience.
9. Luxury Bath Pillow
Are you tired of trying to find a comfortable position in the bath with nothing but hard porcelain cradling your head? Get the Luxury Bath Pillow and save your spine from a trip to the chiropractor (if you've ever fallen asleep in bath to wake up with a stiff, strained neck you'll know what I mean). Plush cushion holds your head in comfort, and the suction cups make sure the pillow stays put as you relax.
10. Dead Sea Mud mask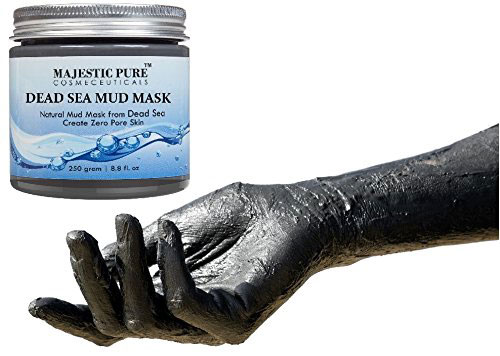 Sometimes you just need to revive yourself from the outside in. Some face masks can irritate the skin and cause more problems than they solve. The Majestic Pure Dead Sea Mud Mask gives you a deep down cleansing of your pores with non-irritating ingredients at a fraction of the price most spas would charge for it. Your skin will look clearer and brighter with every application.
11. Facial Steamer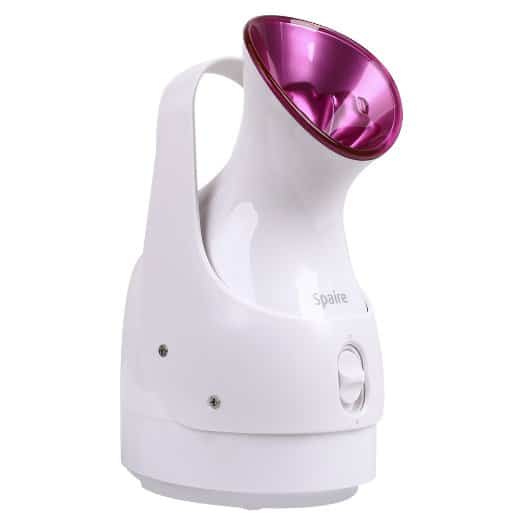 Why sweat in a public sauna with complete strangers when you can get the same benefits at home? We don't mean that, we love the sauna too but who has the time, right? The Spaire Nano Ionic Facial Steamer gives you an exclusive private facial wherever and whenever you choose. Spaire's portable face sauna leaves your skin looking fresh and helps to minimize blemishes and wrinkles.
12. Rosehip Oil
Enrich and heal your skin with Majestic Pure Rosehip Oil. Known for reducing the appearance of scars and stretch marks but don't pin us on this. Rosehip Oil truly is a natural way to refresh your skin with essential Vitamin A for a more youthful, healthy appearance. Follow the footsteps of the ancient Egyptians, Mayans and Native Americans who all had rosehip oil in their beauty arsenal.
13. Under Eye gel Pad Patches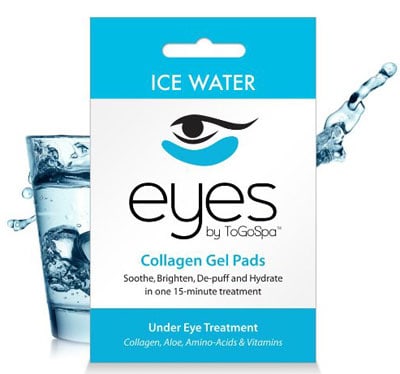 When you´re stressed or tired, your face and eyes will tell. You won't have to worry about dark circles from a poor night's rest with these under-eye gel pads from ToGoSpa. Fifteen minutes with these gel pads will have you looking refreshed and ready to take on the world. The pads also help to moisturize dry skin and reduce the appearance of wrinkles, leaving you looking younger.
14. Soft Luxe Blanket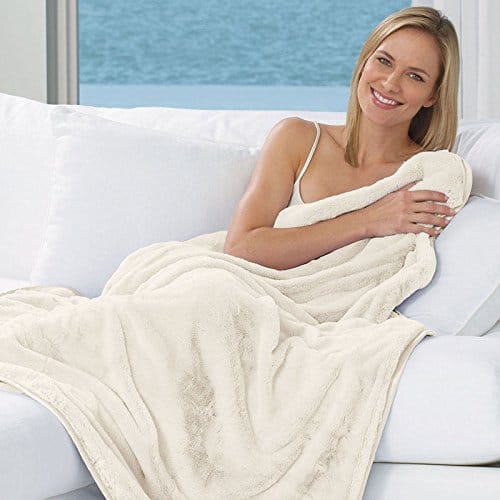 Sometimes you just need to wrap yourself in a soft blanket and cozy up by the fireside. The Nap Luxe Throw Blanket cradles you in skin-soothing material that warms and relaxes you with a mere touch. You'll never need another blanket after you purchase this one; its total comfort will have you floating on Cloud 9.
15. Floatation Spa Gift Certificate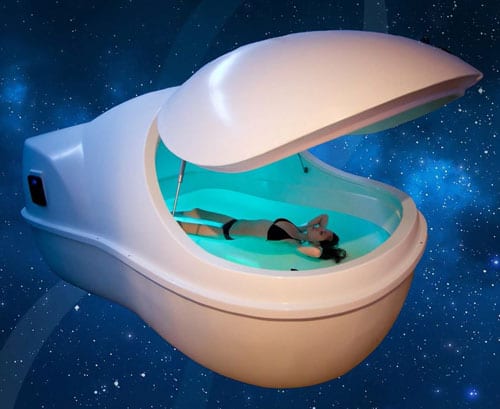 A gift certificate to a floatation spa could be just the ticket your loved one is looking for. Warm Epsom salt water keeps you afloat as you immerse yourself in total relaxation due to being sensory deprived in your own private spa room.
Although a floatation spa coupon may not be the best gift for anyone who's claustrophobic, others will reap the mental and physical benefits of this therapeutic treatment that's often described as an enlightening experience.
The experience in itself and its aftereffects almost seem to good to be true. Deep feelings of inner peace, pain reduction, creativity boosts and mind altering insights only scratch the surface of what may be in store for her. Also nice, research found that these positive effects last months after a float session.
16. Isolating noise-canceling headphones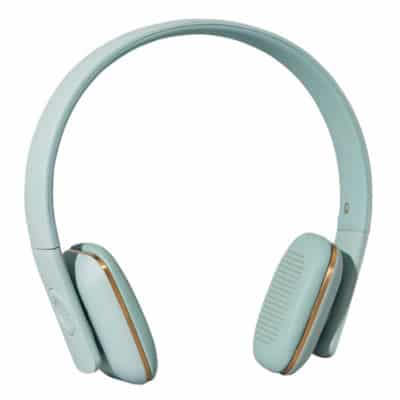 With wireless noise-canceling headphones, the only sounds you'll hear are the ones you want to hear. Total sound isolation ensures that the rest of the world can carry on while you listen to the symphony of whatever sounds relax you.
17. Proteus Light and Sound Stimulation System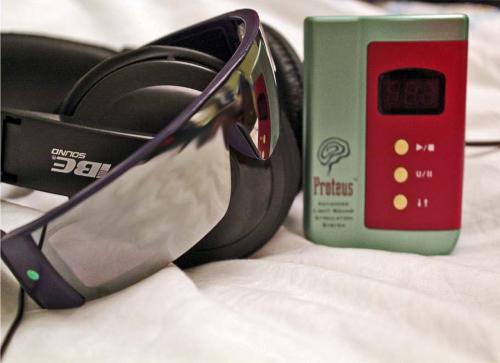 If she meditates or is open to mindfulness in general, a sound spa a.k.a a polyphonic synthesizer may help her decompress to previously unknown levels. By utilizing bright, flickering light and generate binaural and dual binaural beats it induces various states of consciousness such as relaxation but also euphoria and reduced anxiety.
The light show syncs with soothing sounds boosting meditation effects which allow her to reach much deeper states of meditation more quickly. The Proteus can be connected to a biofeedback device (optional) so that its programming adapts to her current mood.
These are still largely fringe devices and it must be noted that they are not suitable for those prone to seizures yet interest among the general public is growing. Do her a favor and take a quick look at the raving reviews.
18. Neck Hammock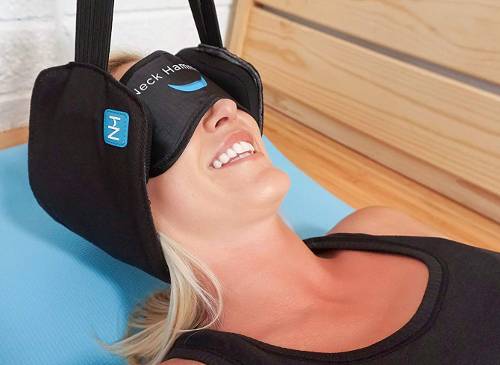 Whether she suffers from headaches, arthritis, neck and shoulder pain or simply work-related grumpiness, this clever gadget might help. It might seem like a quirky gadget at first but there's actual science supporting the health claims.
So called cervical traction applies a distraction force that gently pulls the head away form the neck. This offers relief to discs and muscles, thus providing a sense of relaxation as well as pain relief.
The Neck Hammock makes a fabulous gift for office workers and women who travel a lot, gf's who suffer from text neck syndrome or simply anyone who wants to get rid of discomfort in their neck and back.
19. Heated Luxury Spa Blankie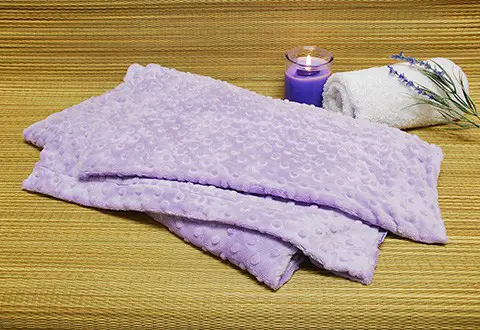 Snuggling up under a blanket engenders a micro-climate which warms your skin and helps you relax and fall asleep. Add being swaddled by the softness of this blanket and the science-backed relaxing effects of lavender scent and you've got the ultimate soothing gift.
Not yet convinced this is the perfect relaxing gift for her? Keep in mind that lavender is commonly used for its physically and emotionally balancing effects as well as its nausea-reducing properties. On top of that, take a look at the customer review ratings and see for yourself what stands out.
20. Audible audiobook membership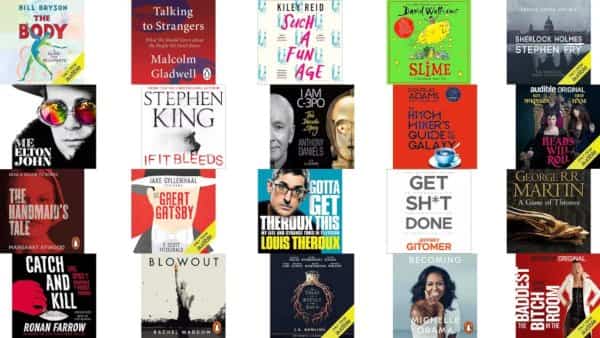 Give her the gift of floating off with a good book. An audio book, that is. Because listening to books is both fun and practical. She can just as easily listen while in the car during rush hour, or snuggle up comfy on the couch with her headphones on. Or in the waiting room, public transportation, or on the beach, for that matter.
Anyway, books offer powerful pathways to temporarily escape the mundane. It's not just bookworms who are claiming this. Research shows that "Reading for just six minutes can reduce stress by 68 percent."
The scientists also found that reading gets you faster to a more relaxed state than other popular de-stressing methods such as having a cup of tea or coffee, listening to music, and getting some fresh air while taking a walk.
Besides offering a great opportunity to forget about one's daily routine, books can be exciting, interesting, relaxing, funny, or all of them combined.
She doesn't like to read, you say? Take advice from J.K. Rowling who said; "If you don't like to read, you haven't found the right book." Give her an Audible Membership so she can start exploring the wondrous world of audio books and learn to lose herself in them.
Need more relaxing gift ideas?
These zen gifts will give you even more inspiration.
Or check out these gift ideas to help her sleep better.
Last Updated on November 30, 2020 by Tyler