Last Updated on April 13, 2020 by hobbr.com
The genuine outdoors man has a certain set of survival skills but still, good gear is critical. When hiking, hunting, camping, kayaking, canoeing, going on a survival expedition, men in the outdoors will thrive with their basic equipment on them.
These are gifts for men with dirty hands but clear minds. Men who are willing to go primal yet value safety and sensibility. So they can live life in the wilderness to the fullest.
Tinder on a Rope
When it's time to light a campfire, sometimes things can get difficult. Not only can damp weather snuff out any sparks you throw onto the woodpile, but materials to burn can be in short supply.
The Light My Fire Tinder on a Rope makes starting your campfire as simple as lighting a match while you let the tinder do the rest.
Free of toxic chemicals, this all-natural solution is a 6-inch block of tinder that lets you shave off however much you need for your campfire and save the rest for the next one.
Light My Fire will burn even when the wood is damp and conditions are rainy. Fire is primal and essential while surviving out in the wild. Don't let him leave without his firemaker.
LifeStraw Personal Water Filter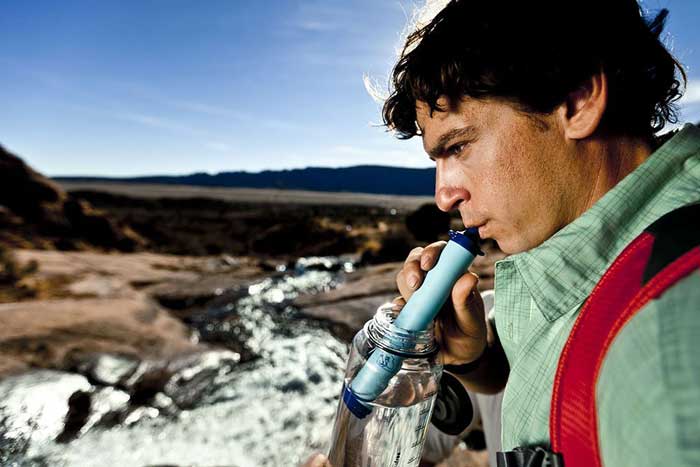 Next time he goes camping, save him the trouble of lugging heavy water containers around and opt for the LifeStraw Personal Water Filter.
This lightweight straw weighs less than a quarter of a pound and fits easily into backpacks and hiking gear.
The LifeStraw was designed for emergency use when in need of a clean water supply; instead of using a complicated water filtration system, LifeStraw allows him to drink directly from any pond or stream and filters out 99.9999% of waterborne bacteria and parasites.
Zippo Hand Warmer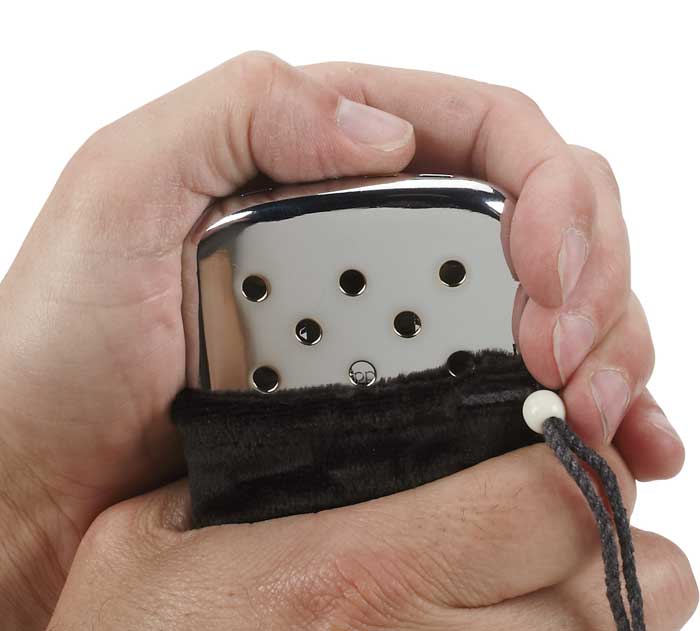 Zippo, most commonly known for its high quality lighters, has made a hand-warmer for those cold hunting trips and other frosty outdoor adventures.
This handy Hand Warmer comes in silver, black, and the ultra-camouflaged Realtree print and is a genuinely heart-warming gift idea for cold, harsh weather defying men.
Zippo runs on lighter fluid and has an astonishing life of up to 12 hours before refilling, and its compact design makes it easy to fit in your jacket pocket.
The Zippo comes with its own filler cup, for easy refueling, and a warming bag to keep you extra toasty.
Fiskars X7 Hatchet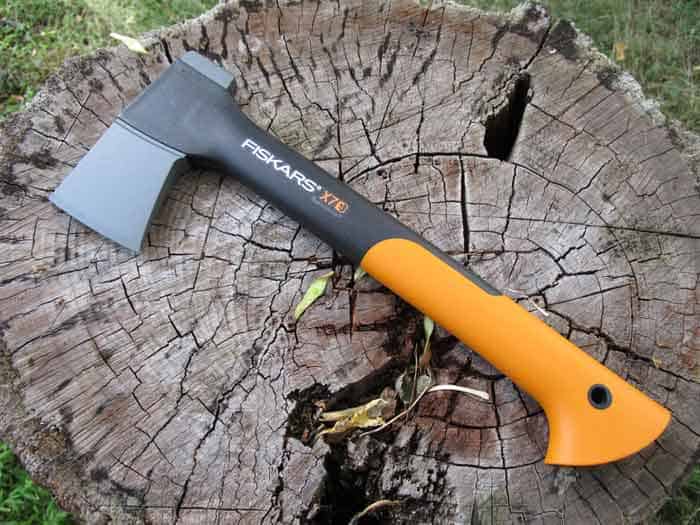 After years of going through rusted tools and broken handles, there's nothing your outdoorsman wants more than a tool that will last.
Fiskars offers the 14-inch X7 Hatchet, an unbreakable woodsman tool with a handle so secure, an ax head so sturdy, you'll never need another one.
The Fiskars X7 Hatchet easily chops up small or medium-sized logs, and will chop three times more sharply than other leading brands. Its lightweight build weighs in at only 1.4 pounds, making it simple to carry with him on hiking or camping trips.
Overboard iPad Case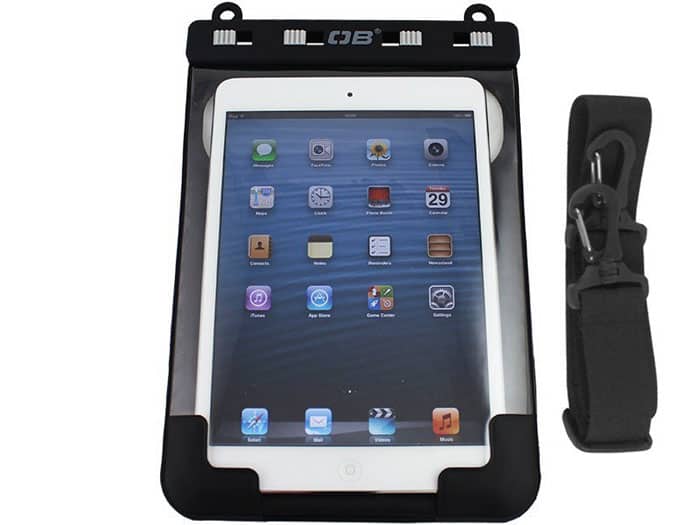 Take your iPad poolside, on the lake, at the riverside or wherever is water with this waterproof case from Overboard.
The Overboard iPad Case fits either iPads or the 8.9-inch Kindle Fire and weighs little more than a pound.
This soak-proof case features the material poly-urethane, sealing the case tight; the case can stand depths of up to 16 feet and will float back to the surface when dropped in water.
The case's durability does nothing to deter you from using the touchscreen so that you can take underwater photos or watch movies in the hot tub.
You'll never have to worry about water damage again! The only downside, it doesn't protect against dropping it after one too many poolside beers.
Survival Bracelet
Many of us wish we had a survival kit that could fit in the palm of our hand, but what about hanging it from your wrist?
The Friendly Swede Paracord Bracelet is an adjustable bracelet that disassembles in a flat minute to become a 16-foot paracord.
Created specifically for your outdoorsman in mind, this cord can hold up to 350 pounds without breaking. The Friendly Swede also comes with its own fire starter so you won't be left out in the cold. Swede's compact design and durability make this a practical, and possibly life-saving, gift.
Aeropress Coffee and Espresso Maker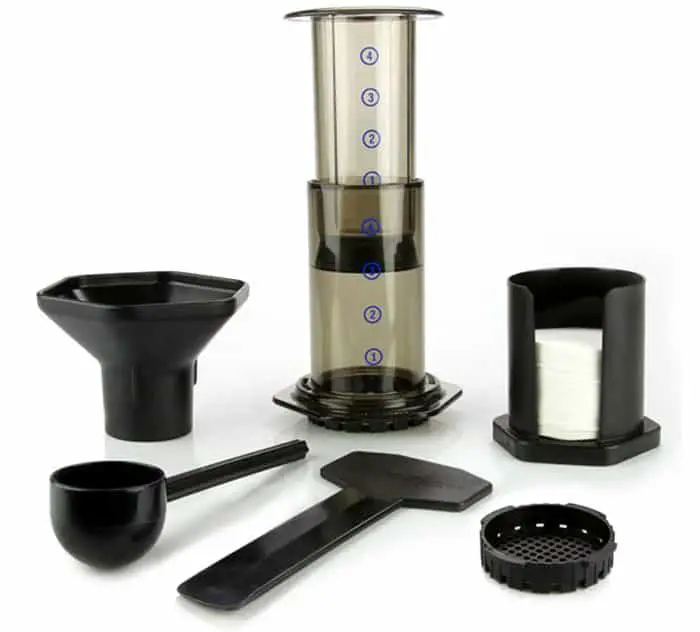 The search for the perfect cup of coffee comes to an end once you've tried the Aeropress Coffee and Espresso Maker.
Having a well-brewn cup of java when you're out in the middle of nowhere makes all the difference between merely surviving and being in your element. The ingenious, highly popular Aerobie Aeropress is a must-have for every coffee lover, even if there is a Starbucks around.
The Aeropress brews a rich, flavorful cup of coffee in just one minute, leaving traditional coffee makers in the dust. The microfilter on this press makes sure your coffee is free of grounds and grit; it also allows you to adjust the strength of your coffee or espresso depending on your tastes and comes with a set of 320 filters.
Aeropress' filter is easy to clean, and the brewer's lightweight design allows you to take it on the go. Purchase here.
Blues Band Harmonica

When the riveting conversation around your campfire slows to a dull whisper, bring out the Hohner Blues Band Harmonica and put on a show.
When the fire is crackling, the sky dark and the stars bright, a long tradition needs to be kept alive. The blues tones, along with some liquid spirit, will make the night like it's intended to be enjoyed.
This harmonica is perfect for beginners just learning the harmonica, but it also lets more advanced players spin a tune with ease.
Its sound quality may not cause envy among your seasoned, fellow harmonica players, but the price is a steal and it will ensure many evenings filled with atmospheric sounds under the starry sky. Get one here.
Grand Trunk Ultralight Hammock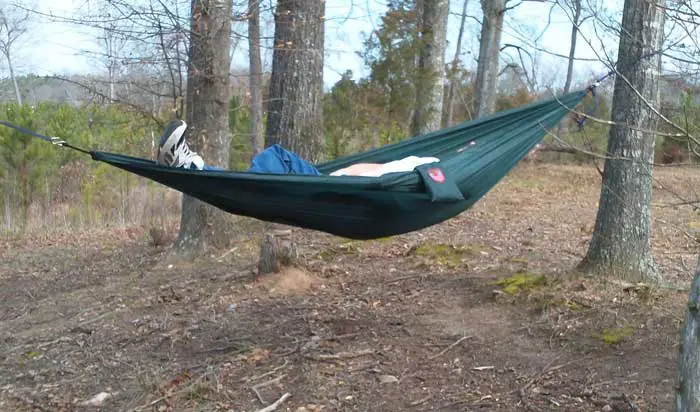 Camping gear can get pretty heavy, especially when it comes to what you've packed to sleep on. Skip the bulky sleeping bag and go for the Grand Trunk Ultralight Hammock.
The qualities of hammock sleep combined with the outdoors air will provide him with best sleep he's ever had.
Unlike typical hammocks that require a metal stand to hold them up, the Grand Trunk uses S-hooks to easily attach the hammock to whatever supports are nearby, making it ideal for both camping trips and use around the home.
The hammock's mildew-resistant material is easily washable and strong enough to support up to 200 pounds.
Ka-Bar Hobo Utensil Kit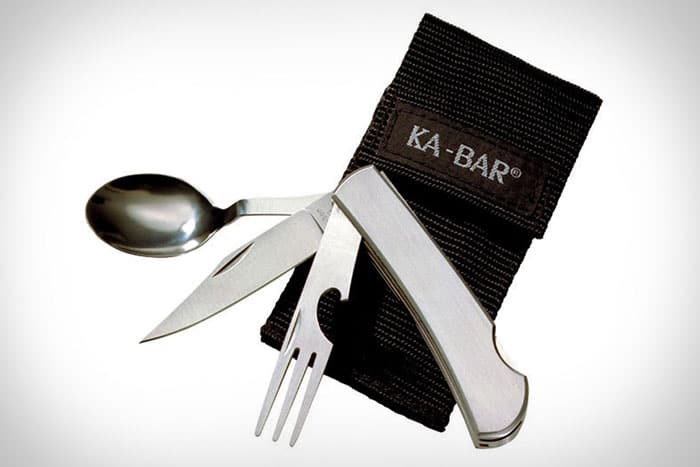 The Ka-Bar Hobo Utensil Kit saves you the time and money of packing an entire utensil set in an already overloaded backpack.
Made from high quality stainless steel, the Hobo Kit includes a fork, spoon and knife that smoothly slide in and out. It also comes with its own nylon carrying case.
When you're really thinking in terms of multi-functionality, the knife's sharp blade can be used for personal defense as well, making sure your family and friends stay safe. No need to throw etiquette overboard when he's out in the wild. With this nifty kit he may still cook like a hobo but he will eat like a gentleman.
LoopRope

When it's time to tie up your camping gear securely for the night, LoopRope does the job with speed and efficiency.
This pliable rope comes in 3-foot and 5-foot options and is the perfect alternative to unreliable bungee cords.
LoopRope's design has eight loops you can fasten your gear onto using the LoopClips at whatever length you need.
This versatile fastening system isn't just for camping either; you can use the LoopRope to tie down cargo, secure your boat when docking, and you can even use it as a pet leash.
Kombo Fishing Tool

The Kombo Fishing Tool takes the mess and stress out of killing your fish for cleaning.
Not only does the Kombo's heavy head kill the fish quickly and humanely with a single blow, but it also includes a fillet knife for gutting and cleaning, a knife sharpener, and a cleaning spoon.
The razor sharp blade cleanly cuts through the fish with high quality Japanese steel, and the cleaning spoon makes it easy to get all the insides of the fish out so it's ready to cook.
The Kombo Fish Tool also floats, so you won't have to worry about dropping it and losing it in the depths of the lake. Grab one here.
Stanley Adventure eCycle Flask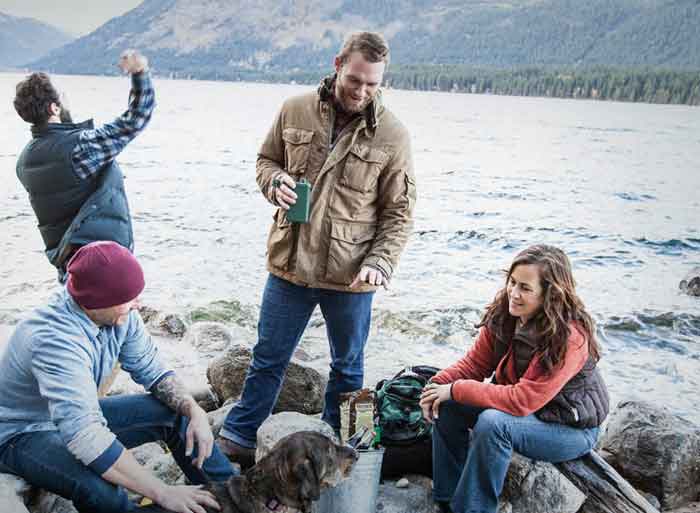 Like St. Bernards in the Swiss Alps, we humans like to carry some spirit improving goodies with us. Especially when it's freezing cold out. If you want a more environmentally-conscious way of toting around your favorite adult beverage, the eCycle Flask from Stanley is a great solution.
Made of 100% recyclable plastic, this flask is itself recyclable for when you decide to retire it.
Don't expect to do that too soon, though; the eCycle Flask has a lifetime warranty and is guaranteed to be leak-proof.
Although it's dishwasher safe, hand washing is made easy with the two stage lid that provides enough space to give a thorough, spotless cleaning. Being stuck in a blizzard isn't dreadful anymore, as long as you've got  your eCycle flask carrying the good stuff on you.
Grandpa's Firefork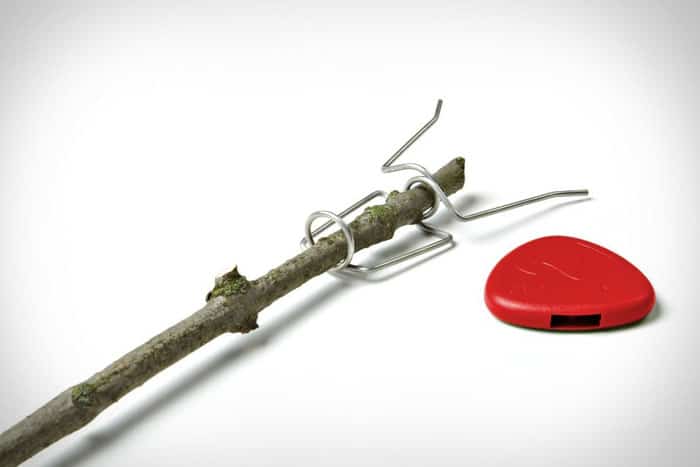 Packing cumbersome fireforks is just another item you don't want weighing you down when you go on your next camping trip.
Luckily for you, there's the Light My Fire Grandpa's Firefork. This compact, clever design consists of only wire formed into two prongs, but the ingenious part is that you can attach it to any stick you find laying around, creating an instant firefork.
Use it to cook whatever suits your fancy, grill your freshly caught rabbit or go for the classic marshmallows or hot dog (no one will judge you). Just be aware that you might have to share.
Grandpa's Firefork comes with a safety cap to make sure no sharp ends are left out, and the stainless steel materials in its design will let it last you for years to come.
Superior Emergency Radio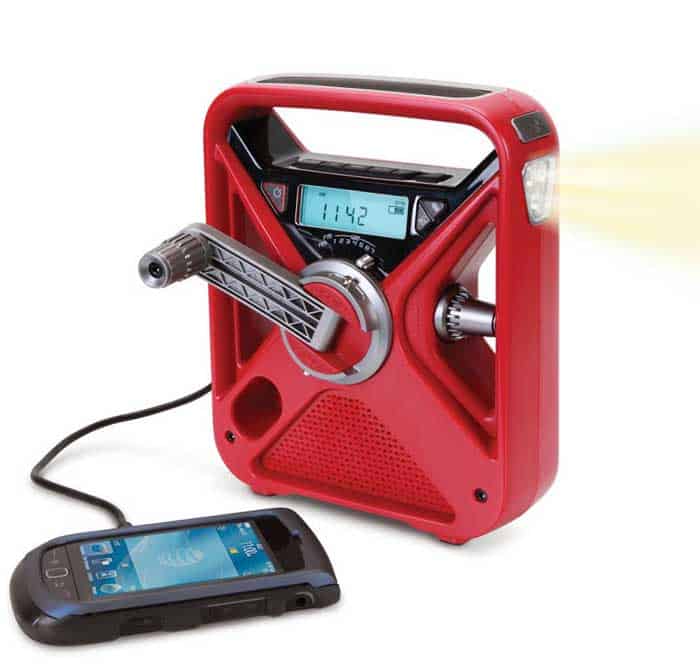 When enjoying the outdoors, or when storms knock out your power, you need a way to know what's going on.
The Superior Emergency Radio from Hammacher Schlemmer lets him tune in on the latest weather reports to keep safe and anticipate on potentially dangerous situations.
This radio provides clear, static-free audio with an easy-to-use radio tuner, and the crank used to power it won't tire your arms out.
A solar panel attached to the radio provides an extra power source, and the radio even includes a flashlight and a USB port with a cord for charging your mobile phone.
Price: $59 (okay, it's slightly over 50 bucks but safety is worth something right? And this hand crank radio can make the difference between life and death.) Get it here.
BioLite Kettlepot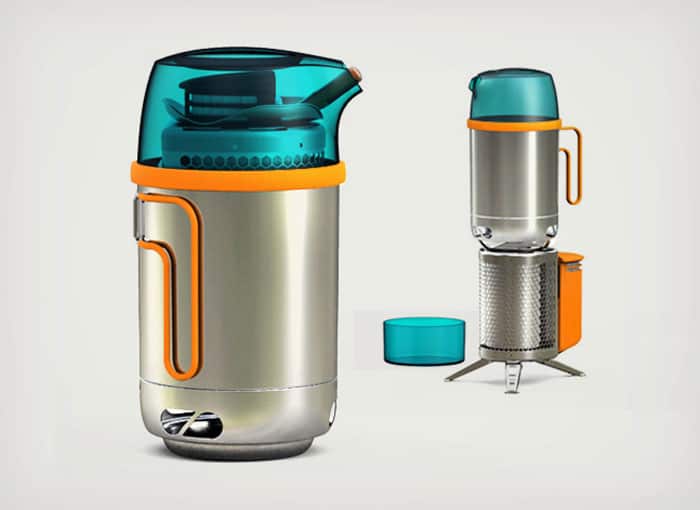 Multifunctional and lightweight, the BioLite KettlePot is a cooker, coffee brewer and kettle all in one. In fact, it's a portable outdoors kitchen.
Designed to be a companion to the BioLite Wood Burning Stove, as well as a carrying case for it, the KettlePot allows you to easily cook whole meals and serve up a nice hot cup of coffee, all with the same device.
The KettlePot serves up to four people, and it even has a USB port on its base. The aesthetically pleasing design and easy-to-use functionality of the BioLite makes it a necessity for the outdoorsman. Put the kettle on, wherever you are.
Which outdoors man gift idea do you like best?
Have suggestions or questions? Share your thoughts below.
Featured image: Cutco Ka-Bar Explorer Special Zombie Killer Edition Outdoor Knife.