A tool bag with wheels is an excellent investment in your own health. Rather than carrying a heavy tool box in one hand, or having to make multiple trips to move all your equipment, you can load everything you need into a rolling tool carrier and move it easily to where you're working.
Less strain on your back and less time wasted. And although they're marketed for home repairs and the construction industry, there are dozens of different occupations and hobbies in which a rolling tool tote will be useful.
Hairdressers, dog groomers, cleaners, AV technicians, teachers… if you have to carry heavy equipment for your work, a rolling tool bag will make your life easier.
1 CLC Custom Leathercraft L258 TechGear tool bag with wheels
not the most durable bag but highly customizable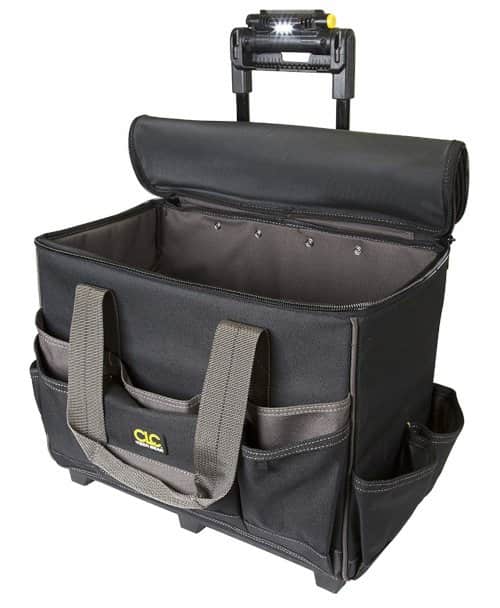 The battery-powered LED light in this handle can be turned inwards to spotlight the bag and its content or outwards to light up your rolling direction. Being able to light up the inside of the bag is useful for finding things quickly, and while the light isn't quite bright enough to function as a proper work light, it's useful if you're often walking to jobs or setting up equipment in the dark. Be aware that the light isn't fully water-resistant, so if you work outdoors you might prefer an unlighted model.
The inside pockets have a low profile and there are no interior subdividers, so the inside of the bag is basically a big empty trough. This makes it highly customizable: you can fill it with large tools, padded cases, or smaller pouches.
The 11 exterior pockets are large and deep with an open top, so they're better for carrying hand tools rather than tiny bits like raw plugs which would fall out easily.
There's also a useful magnetic clasp to hold the lid open when in use, meaning you can easily reach in and find the tool you want without having to use your other hand to hold the lid open.
At just over 11 pounds unloaded, this bag is one of the lighter rolling tool bags we looked at, and some users have reported that it feels a bit flimsy when loaded to maximum capacity.
The 3.5" wheels are threaded for use on uneven ground and stand up well to heavy use despite having plastic axles. The light weight and high degree of customization make this one of the most popular inexpensive rolling tool bags. Check prices here.
2. Klein Tools 55452RTB tool bag with wheels
heavy duty, robust, high quality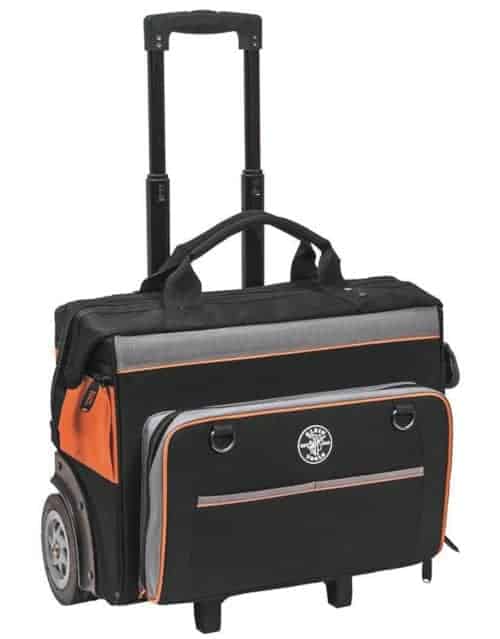 The Klein is one of the toughest rolling tool bags on the market.  It can carry 100lb internally and the hard top can support another 100lb, meaning it's theoretically possible to transport 200lb of kit in a single journey – hell, you could sit on top of this thing to eat your lunch and not do it any damage.
It has an internal metal frame, which not only strengthens the sides of the bag but also means the top can lock open for easy loading. The wheels are 6 inches in diameter, meaning it travels easily over the roughest terrain, and a molded metal kickframe means you don't have to worry about damage caused by knocking it into things.
The interior is wide open to accommodate large tools, with only a row of narrow internal pockets which are sized to hold small hand tools like screwdrivers.
The exterior fabric is 600D ballistic-weave polyester and fully waterproof, while the orange-lined interior makes it easier to find what you need at the bottom of the bag.
The exterior pockets are set inside a flat zippered compartment, which reduces how much you can fit into them, but this is a small disadvantage to one of the sturdiest rolling toolkits on the market. Read reviews here.
3 Milwaukee 48-22-8220 24″ hardtop rolling tool bag
ultra tough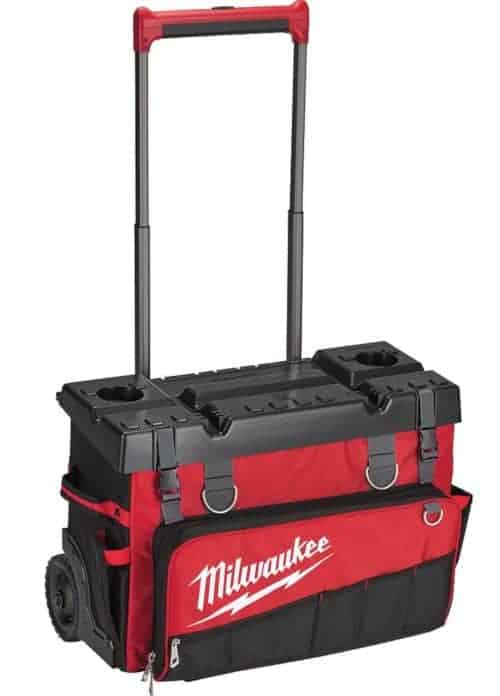 This beast of a bag is 24" wide and weighs 27lb. It can carry up to 250lb and there's plenty of space inside to store everything. The extra-wide handle spreads the load and it also telescopes up to 42" off the ground, meaning it's ideal for taller users – a standard tool bag with wheels will extend to 39" max.
The hardtop lid flips up and stays open easily, and has handy drink-holder indents on the top. There's no handle on the lid, so there's no comfortable way to hold it from the top.
Given the weight of this box, you're unlikely to want to carry it far, but having no top handle makes it tricky to lift into the trunk of a car or the back of a truck.
In addition to its internal and external pockets, the Milwaukee comes with metal and fabric loops sewn to the outside, so you can easily attach a carabiner of keys or a pouch to hold smaller items. There's a padded tablet holder inside, ideal if you need to read plans or record invoices online as well as doing heavy-duty work.
The wheels are 6 inches and threaded, great for uneven surfaces.  Although the area around the wheels is reinforced with skid plates, there's no kickplate at the bottom of the bag to cover the axle and handle supports.
Combine this with the relatively low clearance (despite the size of the wheels, the bag only sits about 1" off the ground) and this means that the base will quickly get scuffed if you habitually drag it over very rough ground. Check prices here.
4. Husky GP-44316AN13 14″ water-resistant tool bag on wheels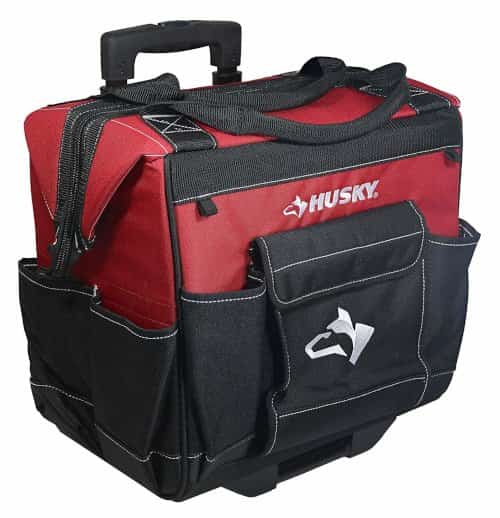 This rolling tool tote is one of the smallest we've reviewed, 14x13x9 inches and just over 10lb in weight.  The small size means it's highly agile and easy to maneuver into tight spots, and also means the bag feels nice and stable even when it's fully loaded.
The capacity is 80lb, which is about the weight of an eight-year-old child, and should be sufficient for all but the most heavy-duty jobs. The telescoping handle is plate reinforced, so you can balance extra items on top of the tote without making the weight uneven.
There's plenty of room inside to fit large tools, as the internal pockets are neatly lined up at the sides of the bag. The external pockets are a mixture of open-topped designs, great for quick access to hand tools, and velcro-closed styles for holding tiny items like nuts and bolts. Read reviews here.
5. Husky GP-44449N13 22″ rolling tote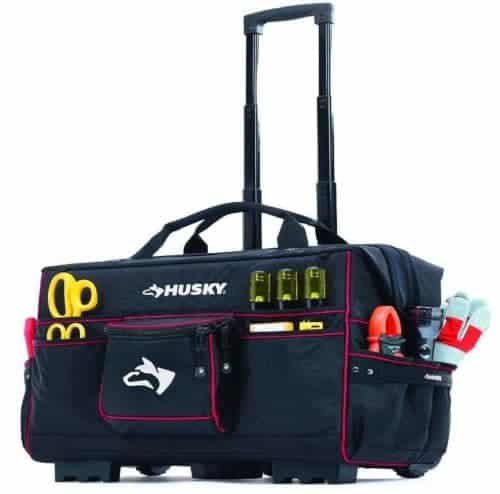 This extra-large rolling tool bag is designed for heavy outdoor use.  Design features include three steel-reinforced wheels, for greater stability on uneven ground, and a fold-over rain flap and waterproof zipper to keep your tools dry in all weathers.
With 38 pockets inside and out, as well as plenty of straps and loops to attach other items, you'll have plenty of space for all your kit.
All these impressive features come at a cost, which is that the bag weighs over 30lb unloaded.  Combine that with the 150lb load capacity and this bag could easily weigh as much as a large man when in use.
If your job involves a lot of traveling between different sites – so you'll be lifting your tool bag in and out of vehicles all day – you'll probably prefer something lighter and easier to manage.
If, however, you need a heavy-duty bag with enough space for multiple large tools, this is one of the best on the market in terms of bang for your buck. Check prices here.
6. XtremepowerUS  18″ heavy duty tool bag on wheels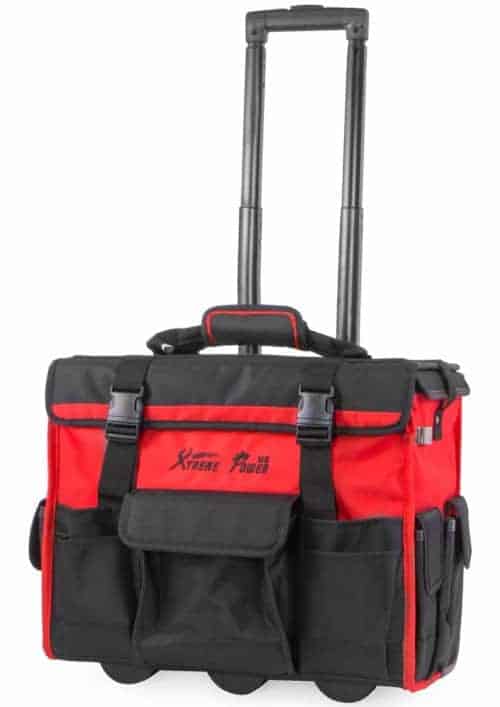 This 18" rolling tool bag is a comfortable middle size, large enough to hold your whole kit but small enough to weigh just 13lb unloaded. It has 19 internal and external pockets, which are all roomy and carefully placed to maximise storage.
Several of the external pockets fasten with velcro for extra security, and internal pockets aren't just stitched to the edges but riveted to the sides for extra strength.
The adjustable handle can be locked at three different heights – 26", 34", and 41" – so it's comfortable to carry regardless of your size.  The hard top has a cushioned carry handle, so you can easily lift it across any height which is too much to roll.
The mouth opens wide for easy loading and closes with a two-ended zipper, and the lid is reinforced with plastic clips to reduce strain on the seams and zipper when you carry the bag by its top strap.
Weight is distributed evenly across the bag, so it stays stable when you're loading it and doesn't rock or tip over as you take things out. Read reviews here.
7. Snap-On 870113  18″ rolling tool bag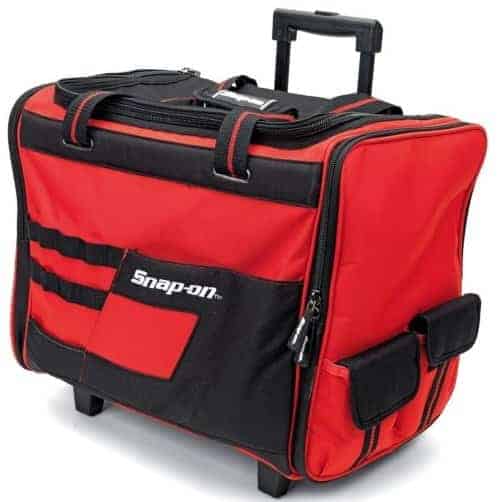 This rolling tool bag is designed for easy loading and unloading – instead of a single straight zipper, it has a curved zipper which opens up the entire top of the bag.
There's even a concealed slit at the top of the lid so you can pull the handle through the open lid, which means you can roll the bag around while it's open at the top. The telescoping handle locks securely, so you can not only pull but push the bag.
This model has a huge, unsegmented inner space, so there's plenty of room to stuff in large items.  There are also dozens of pockets and hooks, both inside and out, so it's easy to keep smaller tools separate. One unique touch is two large zippered compartments, one at each side, ideal for holding a small laptop or tablet.
The four-inch wheels are heavily threaded for pulling over debris and uneven surfaces. Each wheel is attached to an individual bearing, rather than both running on a single metal axle.
This means that despite its large size, the bag can't carry quite as much weight as some of the other models on the market – 80lbs seems to be the upper limit reported by users. Check prices here.
8. DeWalt 17″ rolling tool bag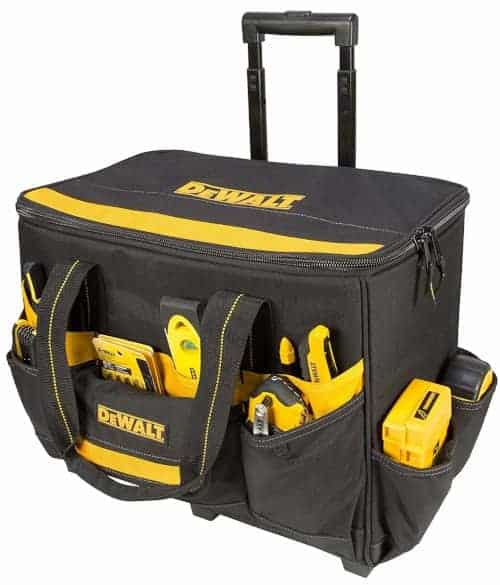 At 17x12x15in, this bag is on the small size but packs plenty of storage.  There's a big central chamber without any compartments, to maximize the space inside. The 17 pockets (6 inside, 11 outside) are big and roomy, leaving plenty of space for hand tools, and there's a velcro compartment for small items you don't want to spill.
The zippered flap is designed to magnetically attach to the carrying handle, so that you can prop it open and it stays out of the way. In addition to the rolling handle, there are padded web carrying handles so you can easily lift it up and down stairs or over uneven ground.
Since the bag has relatively small wheels (2.5") and no kickplate, it's better suited for rolling over level ground. However, weighing under 10lb unloaded, this tool bag with wheels is light enough that you should easily be able to carry it up stairs or lift it over debris. Read reviews here.
9. Bahco 4750FB2W-24A  24″ closed bag on wheels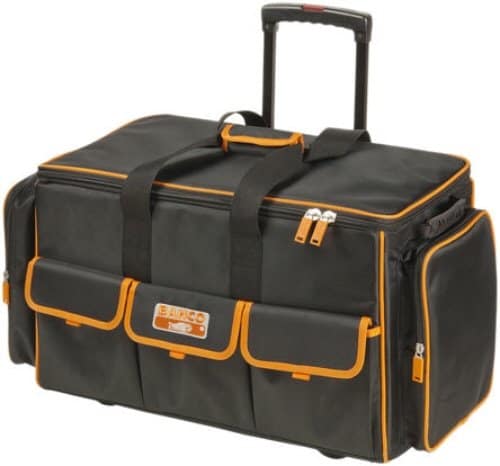 This 2ft-wide bag is one of the more expensive rolling tool totes on the market, but it's loaded with clever design touches which justify its high price.
The seams are double-stitched and the bag is guaranteed 100% waterproof, great for working outdoors. It features a plastic hard bottom instead of the usual cardboard lining, meaning that it won't bow or sag even when heavily loaded.  All the outside pockets have closures, meaning small items won't get lost.
It has two zippered pouches at the sides, each sized to hold a 10" tablet.  One of the pouches is detachable, so you can remove it and use it to keep small items safe in the main compartment of the bag.
In addition to the telescoping handle and padded carrying straps, this bag is the only model we've seen with side handles. This makes it much easier to lift and load into the trunk of a car or the back of a van, so it's great if you have to regularly travel between jobs.
One downside is that the telescoping handle only extends to 38", which might not be enough if you're 6ft or over. Check prices here.
10. STKUSA 20″ wide mouth rolling tool bag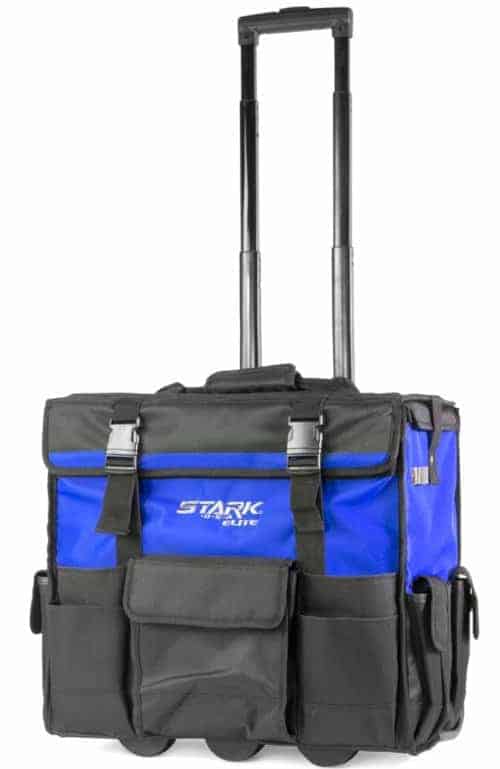 This rolling tool kit has five internal dividers, attached with strong velcro. They are adjustable to create sub-sections of different shapes, meaning there's plenty of space for all sizes of tools.
If you've got to carry something big that needs more space, just pull the dividers out. External pockets are a mixture of open-topped for easy access and velcro-sealed for security.
It stands on three plastic feet for stability, which have been cleverly positioned in the middle of the bag (where most of the weight is) rather than the edges, to reduce strain on the base.
At 19" wide and 18" high, it's taller and more square than other wheeled tool bags on the market, making it ideal if you carry items which have to be stored vertically (like bottles of fluid).
It has a hard lid which closes with velcro, rather than a zipper, so it'll shut and seal automatically without you having to use a hand to close it. Read reviews here.
Rolling tool bag buying tips
---
How to pick the best tool bag on wheels for your needs?  There are dozens of different styles on the market, starting at under $50 and going all the way past the $200 mark, and price isn't always an indicator of quality.
Consider the wheel size.  It sounds obvious, but there's no point getting a rolling tool bag if it doesn't roll well. Cheaper models usually feature two-inch wheels, which work well on smooth surfaces like sidewalks and interiors.  If you're likely to be dragging your bag across a lumber-strewn yard or through mud, look for four or even six-inch wheels, with plenty of clearance so the base of the bag doesn't drag through the debris.
Wheel position. It's not just the size of the wheels which makes a difference, but also their position.  The further apart the wheels are, the more stable the bag will feel. Closer-set wheels give greater agility while increasing the risk that the bag will wobble or tip.
Turn the bag over and take a look at the axle: the best-quality bags have both wheels attached to a single metal axle, which makes the bag tougher, and also means that if a wheel does get damaged it's easy to swap it for a replacement.
Other bags have each wheel attached to an individual plastic axle, which saves both cost and weight, but usually makes it impossible to replace a broken wheel. If you're shopping online, you'll soon find that stores tend not to list information about axle quality; you may find that you need to order a bag and give it a close inspection in order to find out this information.
Capacity. How much storage do you need?  That's a 'how long is a piece of string?' sort of question.  Rolling tool bag sizes range from about 14 to 24 inches wide.  The largest bags often have fabric panels inside to make subdivisions, so if you're planning to carry large tools, make sure to check it'll fit inside the compartment even if the measurements suggest it should fit inside the bag.
All models come with pockets, usually inside and out. Internal pockets are handy for organizing small bits of equipment and stopping things getting jumbled together, but every internal pocket means a bit less space for large tools. External pockets are useful for little items that you need to have to hand, like nuts and bolts – look for pockets with Velcro fasteners to stop things dropping out.
Stitching quality. The seams on a tool bag with wheels are put under a lot of stress, and the seams of outer pockets are a common failure point. Check the stitching on a bag thoroughly before you start to use it: don't be afraid to give the pockets a hard tug in the store and see if the stitching holds up.
A kickplate makes the bag much sturdier and reduces everyday damage from things like dragging the bag up stairs or pulling it across rocky surfaces. By covering the axles and handle base, it also stiffens the box, meaning you'll feel less drag when pulling the bag behind you.
Some bags have a hardtop lid, which allows you to stack things on top and move more items per trip.
You may find this useful too..
https://www.hobbr.com/best-portable-rolling-tool-box/
Last Updated on April 21, 2019 by Tyler