The outbreak of Covid-19 has caused a surge in the use of sneeze guards in the public space. The glass or acrylic screens, designed to protect against the virus are becoming more and more common near checkout registers, aisles, counters, and desks.
The protective barriers prevent droplets emitted via coughing, sneezing, and talking from reaching customers and employees.
The sheets used to make protective dividers and partitions thus forming shields have to have the following characteristics; light transmission, high clarity, and visibility as well as allow for easy cleaning and sanitizing.
Sneeze guards come in various shapes, sizes, and implementation methods. There's standing (feet, suction cups) retail barriers, hanging shields, roll up shields, floor standing sneeze guards, and custom made PPE partition protectors.
This overview is intended to give you an impression of the top rated, best reviewed sneeze guards out there. Plus it will show you which different types of sneeze guards are available to help you make a well-informed purchase.
Content: types of sneeze guards

Putting safety first in these perilous times is why sneeze guards are a must-have for schools, offices, hotels, banks, supermarkets, hardware and grocery stores, hair and nail salons and many more places where people interact with each other.
1. Pixelverse Design floor standing sneeze guard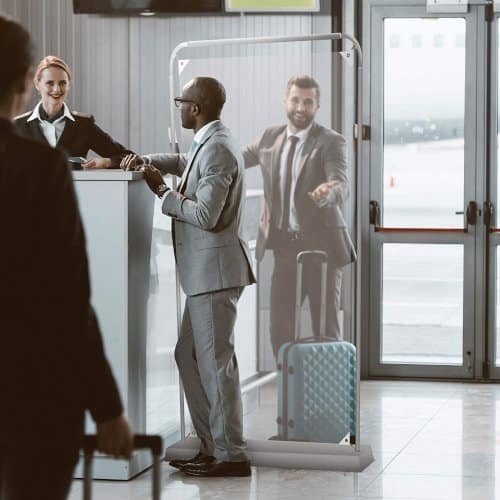 Did you know that sneeze guards have been around for a while? Salad bars and pizza restaurants have been using the see-through dividers for decades. Busy restaurants in hectic city centers were able to reduce exposure from people thus reducing the spread of germs and other unwanted microbes.
Pixelverse freestanding sneeze guards are designed for quick setting up and taking down. This way they make a great addition to counter screens in case you need extra area protection. Since these are easy to set up and move around while offering protection for a person standing up they are useful in many situations.
Looking to buy a sneeze guard for a nail salon so you can safely give manicures? Need a protective barrier in a dental clinic,  hotel lobby or your store's counter? This might be your best bet.
The interlocking tubes make sure you don't need tools, nor drilling in the floor to secure the screens. The high quality PVC plastic film barrier with reinforced corners allows for a clear view while being scratch and wear resistant. High grade anodized aluminum rails and a wide base ensure the shield stands firm.
2. Amazing Abby hanging sneeze guard
Even though it's made of industrial-grade 1/4″ (6mm) thick, shatter resistant acrylic plexiglass this sneeze guard is light-weight, easy to clean, and a breeze to put together, install, or to move if necessary. No breaking nails while peeling off protective films. No drilling or grabbing your tool box.
This face shield helps you minimize your exposure from the virus. Great for small stores, hole in the wall restaurants, and many more locations where protection is needed. Hooks, clips and cable to install it are included. Available in various sizes and thicknesses.
3. Portable sneeze guard for desks, counters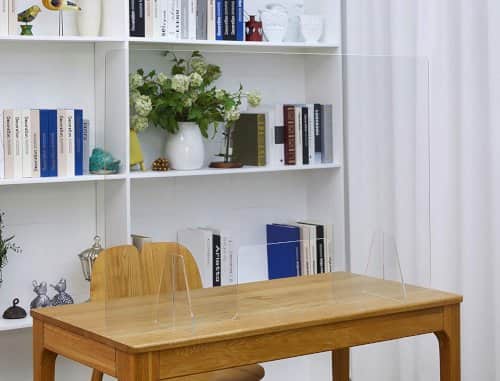 It was all the way back in 1959 when a restaurateur, inventor, and germophobe named Johnny Garneau invented filed his patent for the  "sneeze guard". Initially called the "Food Service Table" it was designed to protect food on display in self-service bars from germs emitted by people sneezing and trying to smell the food with their noses close by.
This particular sneeze guard features a 14″ x 8″ transaction window cut-out so there's still the ability to transfer items back and forth. Thus, making it great for front desk and hospitality workers, cashiers and store counters among other applications. The plexiglass acrylic shield is 1/6″ thick and has rounded corners.
Despite its modest size and portability this plexiglass protective barrier is very stable and doesn't tip over. If you're considering purchasing this barrier, make sure to contact the original seller via this listing.
See customer reviews for more info.
4. Desktop protection shields for student desks / restaurant tables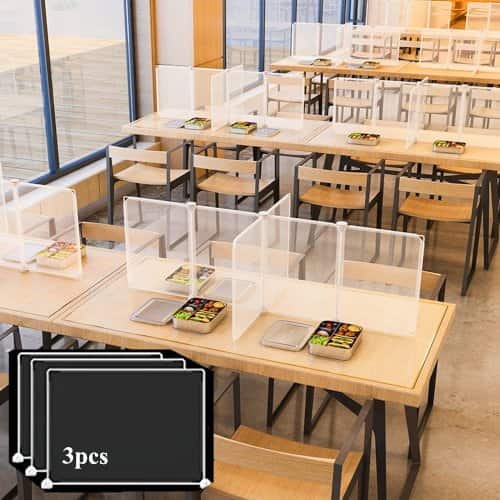 Classroom sneeze guards hinder the spread of sick-making micro-organisms, germs, and viruses by providing a physical barrier. The beauty of these sneeze guards is that they are just as useful in the classroom as well as in the school cafeteria.
The plastic desk dividers ensure the students feel safe while not obstructing their view or interaction as the screens are fully transparent. Besides a wide range of education and testings settings they can be used in medical facilities, call centers, and office buildings as well.
A smooth surface makes them easy to clean whether they are scrubbed or sprayed. Robust legs securely slide over the surface they will be placed on. Made of clear acrylic plastic they are only half the weight of glass but ten times more impact-resistant.
5. Best sneeze guard for kindergarten classrooms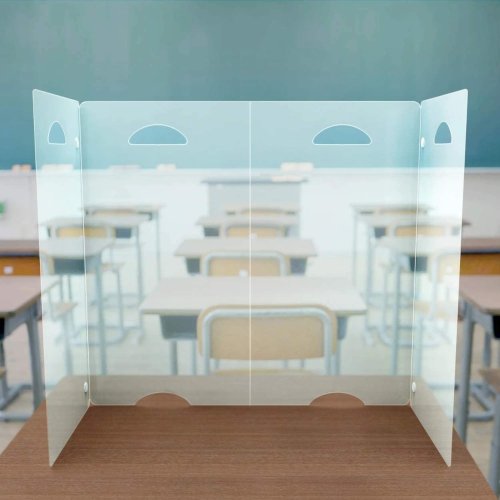 A toddler's father who was worried about his child returning to kindergarten after the first lockdown created these sneeze guard desk shields.
The light-weight, portable plastic divider can be placed on a table, on the floor, or wherever the kids' activities occur. Great for individual activities as well as group work. Very handy for when tutors are doing home visits during the Covid-19 pandemic.
Since it's so light weight and easily fits in a backpack, older children can bring it home effortlessly to get cleaned every night. Cord cutouts allow for easy computer cable management.  Can be effortlessly affixed into place with suction cups or clamps.
Check prices and availability here.
6. Cubicle sneeze guards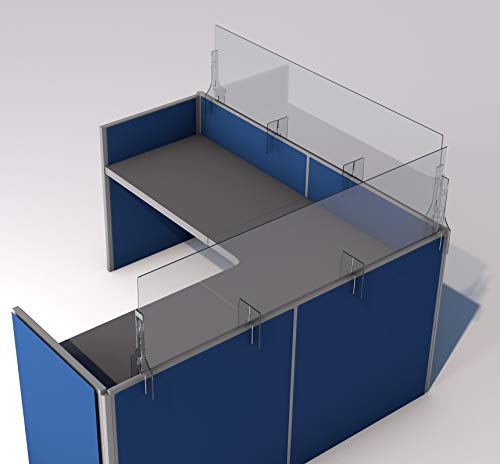 SneezeDefense cubicle barriers are heavy-duty yet portable plexiglass sneeze guards that offer two-way protection while in the office space from coughs and sneezes. Meanwhile your productivity won't suffer due to interrupted collaboration or communication.
Cleverly designed clips and clamps ensure the barriers can be removed without causing any lasting damage to the cubicle walls.
The leg length can be customized for your cubicles. More customization in terms of sizes and with or without pass-through cutouts to pass cash, cards, or documents is possible too. Apart from cubicles they are used all over the country on counters and desks. Made in the USA so fast shipping and you'll support your nation's economy.
Check prices and availability here.
7. Viral Blockers no cut-out portable sneeze guard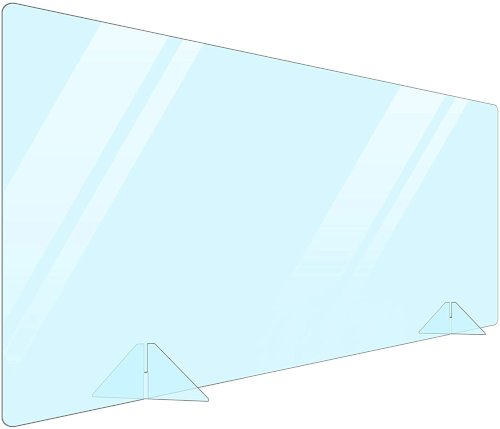 Despite its impressive size this durable plexiglass shield doesn't weigh much so it's easy to move around. Create a solid yet non-intrusive barrier between employees and customers for extra protection. Cleaning is a breeze, just wipe it with some glass cleaner of your choice.
Set on top of a cashier table, or a desk in the office as a clear barrier. Discretely helps you increase interpersonal hygiene and safety when social distancing isn't feasible.
The Viral Blockers portable sneeze guard for counter tops is helps increase public safety and aids an overall peace of mind.  Hang from a ceiling with foot chains and carabiner clips.
8. Clear plexiglass barrier for counter or desk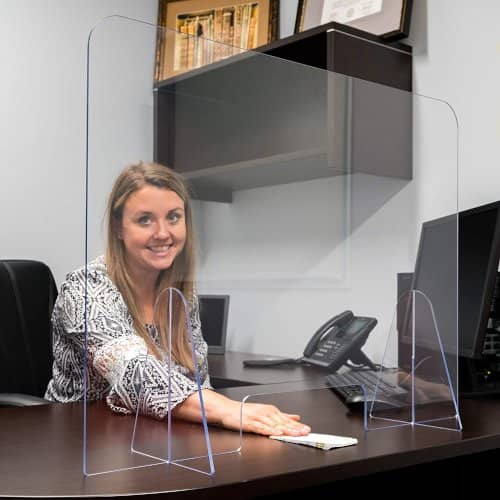 The SteriWand durable, unbreakable, acrylic plastic sneeze guard makes sure you don't have to constantly ask customers to keep their distance when they approach you for inquiry.
Verbal communication is possible without having to worry about speech droplets passing on an infection by a potential virus carrier. No need to fret about respiratory droplets landing on surfaces like your desktop or phone either due to the solid barrier.
The sneeze guard is simple to setup. Simply slide the triangular bases into pre-cut slots in the bottom of the barrier.  The shield measures 31.5″ in width and 23.5″ in height featuring a 11″ wide x 3″ tall cutout along the bottom.
9. Tickas car isolation film sneeze guard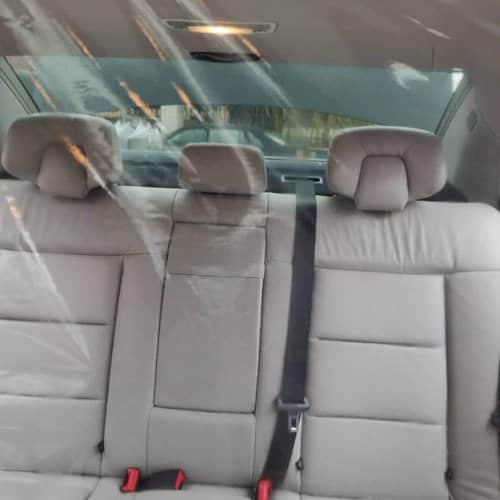 If you're a taxi or Uber driver searching for protective film to isolate you from your passengers you might have noticed that a durable sneeze guard for cars can be daunting to find. There are many different brands and types available online and you can get them in regular, van, and SUV size, but most lack quality.
They are either too thin, adhesive deteriorates quickly or come with insufficient adhesive strips, leave permanent marks on the car's ceiling, or just fall apart. Let's be honest here, most are simply cheap pieces of plastic with some velcro strips.
One of the few products we found that doesn't seem an immediate waste of money is Ticas car isolation film. This anti-droplet partition curtain seems to do an okay job in avoiding cross infection between drivers and respectively passengers or customers (in case of delivery vans and trucks).
Still, we'd like to stress that it could be rewarding to make your own covid car curtain by getting some pvc film and double-sided adhesive tape at your local hardware store.
10. Shield Geek premium table divider sneeze guard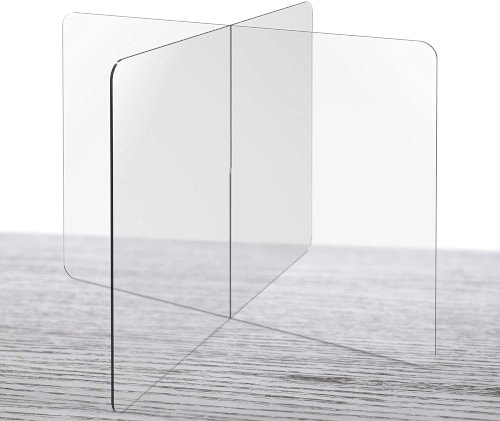 Having to shut down your restaurant during lockdowns can be devastating. With certain rules put in place such as distancing tables 6 feet apart and limiting sit-down guests to 8 per table, eateries are often allowed to open up again. Yet this still reduces revenue. Table dividers can provide social distancing while still allowing guests to sit at a table in a traditional manner.
This table divider sneeze guard is similar to the aforementioned student desk dividers except these by Shield Geek are quite a bit larger and, as such, more suitable for adult applications such as; restaurant tables, cafeteria tables, library tables as well as in bars and breweries. Apart from that they can be a great option for covid-proofing workstations and shared office desks as well as schools.
FAQ
Q: What is a sneeze guard?
A: A plexiglass or acryclic protective barrier that blocks spray, spittle, and droplets from people's mouths and noses from reaching and thus infecting other people and surfaces.
Q: How thick should sneeze guards be?
A: In theory, the barriers can be ultra thin, as long as they form a barrier between persons that keeps droplets from spreading. In practice, though, you'll probably want to go with material that's up to an inch thick as this is much more durable, resists impact better thus prevents shattering and cracking, and easier to disinfect.
Q: What sizes are common?
A: Standard sizes for sneeze guards used on counters and desks are 30″W x 24″H. Wider screens, often up to 42″ wide, as well as narrower screens often up to 23″ are common too. The height is commonly 24″.
Q: How to clean sneeze guards?
A: Use window cleaner and apply with a soft cleaning cloth. Additionally you can use a sanitation fogger, spray device or an UV light in case you feel you need to do more. Keep in mind to not contaminate yourself by allowing the germs to end up on your hands or face. Prevent this by wearing safety goggles, disposable gloves, and a face mask.
Q: What materials are sneeze guards made of? Are there different types and if so, which is best?
A: Sneeze guards are generally made of transparent acrylic plastic. You might know it by its commercial name; Plexiglas. The chemical denominator for the same substance is Poly(methyl methacrylate). Another material used to make sneeze guards is Polycarbonate. This is a less flammable and a bit more flexible plastic. Then there's the even more flexible vinyl..
Q: What's more affordable, plexiglass or acrylic sneeze guards?
A: Plexiglass generally costs less than acrylic because making acrylic plastic is more labor -intensive. The plexiglass manufacturing process doesn't involve cell casting but instead is made through a less time consuming process called extrusion.
Q: What other 'emergency relief products' a.k.a. PPE (personal protection equipment) are there?
A: Besides disinfectant soaps for frequent hand washing, full face safety face shields are a popular means to help ensure a safer reopening after lockdowns as well as a general way of preventing droplets from spreading. They prevent glasses from fogging and allow for more freely breathing when compared to cloth face masks.
Last Updated on November 24, 2020 by Tyler