Sore wrists? Stiff hips? Achy back? Anyone who does a lot of desk work knows the agony the sedentary life can cause. Incorrect posture caused by sub-par furniture will eventually wreak havoc on body and mind.
You wouldn't be the first one who lost their sanity because of the crippling effects of sitting disease. As a result you might have been wondering; how to set up an ergonomic workstation?
Whether you're a freelance writer working mostly at your kitchen workstation or an executive spending your professional time at the corporate office, the best ergonomic workstation setup is the one that's geared towards your body and activities.
As such it will be the backbone of a flourishing professional life. Not only can it help you get rid of suffering right now, but can also spare you a heart attack 30 years from now.
Moreover, implementing ergonomic adaptations in your workplace can make you more comfortable and increase productivity.
The good news? These days there's a plethora of innovative ergonomic solutions you can combine to create an ergonomic workstation and thus avoid incorrect posture and repetitive unnatural movement.
So which elements does an ergonomic workstation consist of?
What's the best ergonomic workstation setup for the home office depends on your specific situation. It may consist of an (adjustable) desk, an (active sitting) chair or stool, an ergonomic keyboard and mouse as well as phone holder/ headset or a combination of these and some other elements such as foot rests, exercisers, lap boards, and task lighting.
The crux in setting up ergonomically correct workstations, besides being the right fit for you is adaptability, and in some situations portability and versatility.
Create your ideal ergonomic workstation with the following elements:
Hit the links below to go directly to the corresponding chapter you're interested in.
Use these essential components (and perhaps some clever additional items) to set up the best ergonomic workstation for your needs:
To save you some time from scrolling through this article, here's an overview of all the products listed here. So you can jump right to the items you're interested in by clicking the links below.
The key is to maintain a neutral, pressure relieving position from which you can almost effortlessly switch to doing some intermittent exercises. If only getting up to the water cooler. The following products will help you do just that.
A. How to set up an ergonomic workstation at home: Desks
Ergonomically friendly desks are designed for optimal mouse, keyboard, and monitor placement. As such they can help you reach your business goals gracefully.
Best ergonomic workstation desk risers
---
Simply standing behind your desk has shown to be a wonderful solution to many as sitting 8 hours a day can be killing your hips (it did mine).
People who switched from a traditional desk to a sit stand desk report that their back, neck, hip, and leg pain vanished. Partially because it helps avoid computer hunch (postural kyphosis).
Healthline.com refers to studies reporting that standing instead of sitting each afternoon will make you burn 1000 calories more during a week.
Especially after lunch it can lower blood sugar levels. Standing also seems to lower the risk on heart disease, improve energy levels and mood and productivity.
what to consider in a sit stand workstation?
Effortless height adjustability is an essential workstation desktop riser feature. Switching from seated to standing and vice versa should be quick and easy.
Items on the work surface shouldn't need to be removed before lowering or raising. The minimum desktop height for a standing position is 1100 mm.
Keep in mind what the seated height of a desk riser is. Make sure it'll be low enough when set in its lowest height during seated work. Some might be too high as they will add height to  your existing desk surface. Then, the top of the monitor might not be at eye level anymore which could cause neck strain or shoulder cricks.
If you're looking to purchase in bulk for a company instead of an individual it's helpful to look at health standards such as ANSI/HFES 100-2007 and BIFMA GI-2013 which guarantees the products are ergonomically sound for people on a wide height spectrum.
Below are the best selling ergonomic workstations for the (home) office out there. These hybrid sit stand desks essentially allow for easy transforming a static desk into a desk that can be raised as high as a stand up desk.
1.
VIVO ergonomic workstation standing desk converter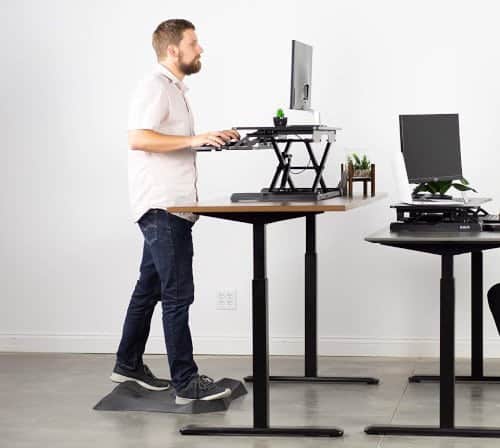 Convert your current workstation with the robustly built Vivo V000K dual monitor workstation which lifts and lowers smooth and easy. Simply by squeezing the handle the pneumatic spring lift assist is almost effortlessly operated.
Pros. It comes with a removable yet stationary (non sliding) keyboard tray that is wide enough to accommodate an ergonomic keyboard and mouse.
Cons. Keep in mind that it has just the one assist arm which might be an issue for those who can use only one arm.
Specs:
work surface: W 31.5" x D 15.7"
max load: 33 lbs
lift force: 13 lbs
lower force: 3 lbs
adjustment range: 4.2″ to 19.7″
single handle lift
2. VariDesk Pro Plus 36 ergonomic sit stand workstation converter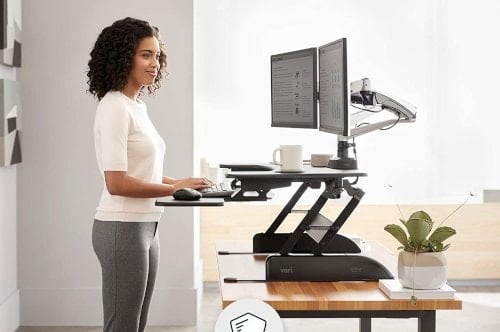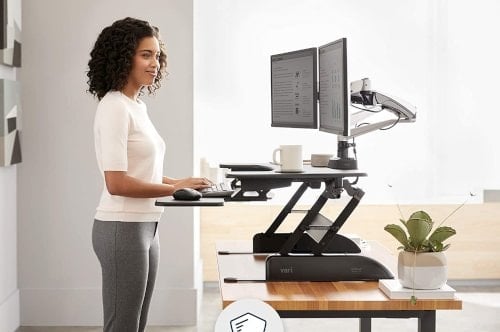 Contrary to the aforementioned Vivo, the Varidesk sports an ergonomic contoured front edge. (The Vivo V000V also has this feature). This workstation can not be raised or lowered in any position but has 11 pre-set height settings.
Pros. The Varidesk features a rowing lift mechanism which lets you raise the desktop with your lower half, ensuring you can maintain your upper body's current posture.
Cons. This workstation isn't the best choice for taller people. Up to about 6′ it's great. If you're taller it might be too low although opinions differ on this particular matter. It's sturdy but not enough to lean against. Monitors may slightly wobble or bounce when you're a heavy-handed typer, keying fast and hard. Doesn't have cable management features.
Specs:
work surface: W

36"

keyboard surface: W36″ x D20″
max load: 35 lbs
lift force: ?lbs
lower force: ?lbs
adjustment range: 17.5" off your desk  – keyboard tier: max. 13″ off desk
dual handle lift
3. FlexiSpot M2B platform height adjustable workstation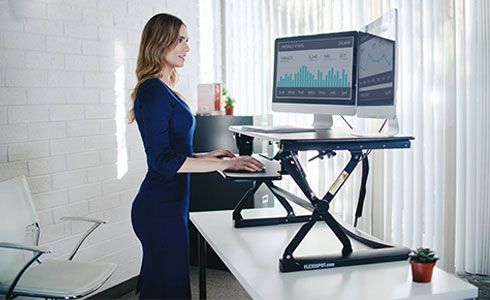 Pros. Via a light squeeze of the single handle operating a gas spring the FlexiSpot M2B is almost effortlessly raised or lowered from 5.9" to 19.7" with the use of just one hand. The keyboard tray can be removed without taking out screws. The desk doesn't wobble even when typists with violent fingers operate it.
Cons. Keyboard tray is not retractable. 12 fixed height levels. If you're adamant on setting a very specific height, up to a fraction of an inch, this workstation might not be your best bet.
Specs:
work surface: W 35″ x D 31.5″
keyboard surface: W 35″ x D 12.8″
max load: 35 lbs
adjustment range: 5.9" to 19.7"
lift force: 13 lbs
lower force: 3 lbs
single handle lift
4. Curved front edge desk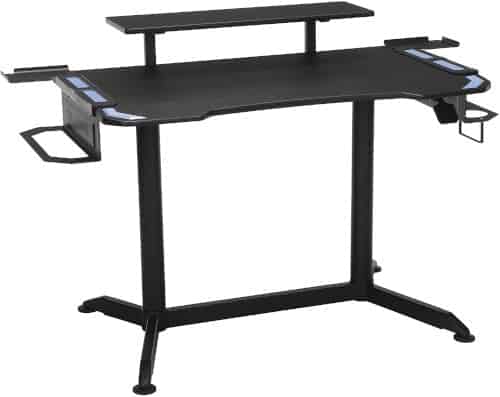 The desk's shallow curved cutout can help reduce contact stress. Contact between hard objects such as workstation edges and soft body tissue creates pressure which can inhibit blood flow, nerve function, and restrict muscle and tendon movement leading to muscle fatigue and potentially inflammation.
Especially, forearms, palms, and fingers are exposed to contact stress. Research shows that desks with contoured edges offer more forearm support, increase the user's reach within the desktop space and better promote correct posture when multiple screens are used.
The ergonomic, height adjustable Respawn gaming desk is suitable as an office desk too.
adjustment range 28. 125″ – 43. 875″
5. Portable ergonomic workstation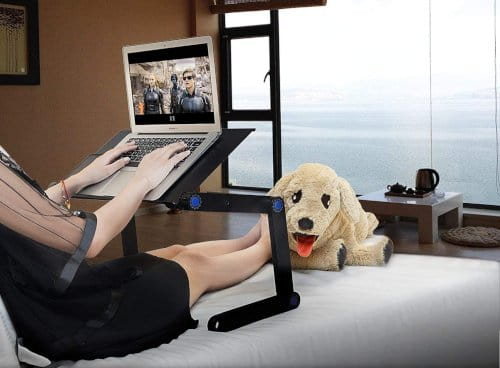 A.k.a. a lap desk or couch desk let's you rotate between your main workstation and a setup for when you're working on your laptop on the couch, in bed, or wherever it's convenient at that moment.
Its adjustable joints allow you to turn this couch desk 360 degrees around. The completely adjustable legs and frame let you set it to any height and angle you want for an ergonomically correct keying position. This modest yet cleverly designed piece might be the best ergonomic desk for a laptop.
Pros
Stable. Highly configurable. Mouse tray can be height adjusted. Ample leg space. Each adjustable hinge has numbered markings to help you remember your most ideal ergonomic setups. Two built-in laptop cooling fans.
Cons
Not suitable for larger laptops. Cooling fans are noisy.
Specs:
desktop size: 16.5″ x 10″
max. load: 33 lbs
max. height: 18.9″
B. How to set up an ergonomic workstation at home:
footrests, mats, boards, exercisers
---
A balance wobble board a.k.a. stability rocker may seem like a quirky gimmick at first but since these rocker boards keep your legs moving when you're behind a stand up desk or a counter it's actually a valuable addition to a proper ergonomic workstation.
Plus, if you've ever tried standing behind a desk you'll know it, especially in the beginning, involves leg pain. Standing mats solve this.
Standing is healthier when you're stimulated to keep your legs active because you'll be squeezing your veins, pumping blood back to your heart which helps prevent varicose veins.
A standing desk mat that both supports your legs and back as well as, due to its varied terrain features stimulates leg movement is basically a must-have add-on to any stand-up ergonomic workstation.
6. Topo Comfort movement encouraging standing desk mat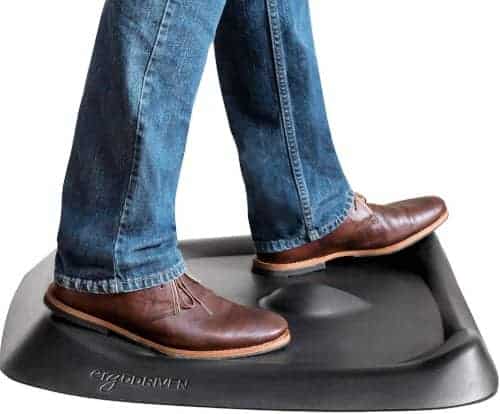 Pros. If you're looking to buy an anti-fatigue mat because of its leg movement stimulating aspects then the Topo is the one you'll want. The so called 'terrain feature' a.k.a. 'ergonomic topography' stimulates (subconscious) movement.
Besides keeping those legs active due to its different levels, you'll be stretching, massaging foot soles, calves, toes, and more without even having to think about it. Its clever design makes it easy to pull it toward you or push it away with your heel or toe from under your desk.
Cons. Smaller people might find it too large encouraging them to stand too wide. It's expensive but worth it.
7. Fezibo wobble board for stand-up workstations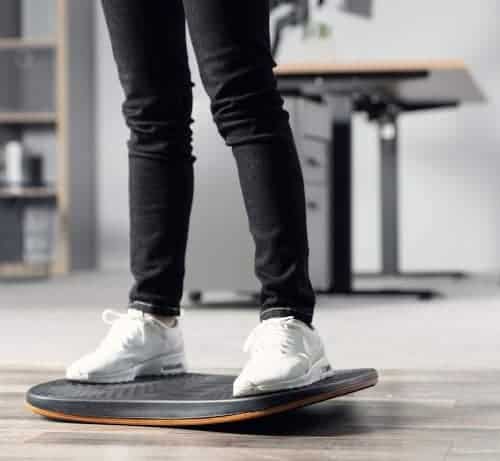 Another 'keep moving while you're standing' approach offers the balance board. A wobbly board designed to encourage you to keep your balance will make you use and relax your muscles. As such it stimulates blood circulation and reduces stress.
Pros. It sports a kind of acupuncture non-slip textured surface that invites to use the board on socks or your bare feet. The wobble is such that it's not daunting to stay on the board.
Cons. Its fun factor might be a distraction from your work.
8. Under desk elliptical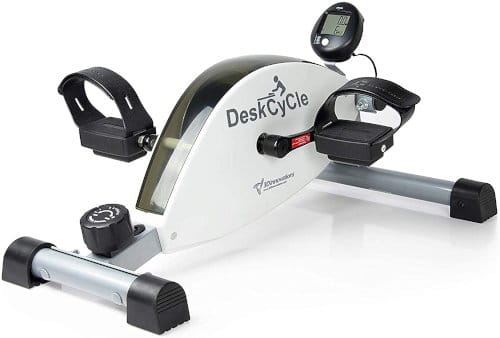 Similar to wobble and balance boards for stand up desks there are devices designed to keep your legs working while seated in a regular office chair too.
The DeskCycle exercise bike operates quiet, even when you're pedaling like a pro, it fits under desks from 27″ and up and has demonstrably helped desk workers shed pounds.
White-collar workers love it because it allows them to burn hundreds of calories easily a day. It's popular among those who want to mix things up; a few hours pedaling while seated behind the desk. Some standing up on a mat or board. Some stretches in between and 'bye bye sedentary lifestyle'.
9. Footrest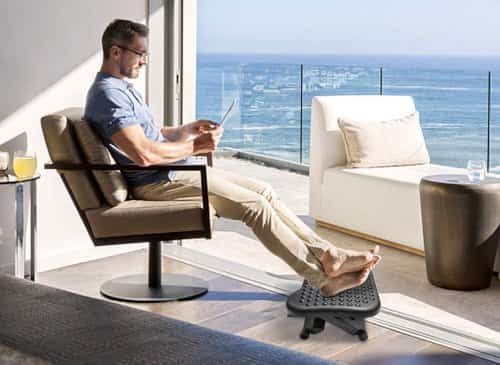 Footrests are another item that has shown to reduce occupational fatigue so common in sedentary jobs where people are tethered to their computer screens. Also known as foot stools, these devices come in different shapes and forms.
From under-desk foot rests with massage rollers and acupressure points to velvety soft memory foam rests. Just like for standing desks there are rocker footrests for normal desks too (i.e. the StrongTek).
Consider what you need in a foot rest to complement your ergonomic workstation. Height adjustment, non-slip on the surface and bottom, and tilt are probably the most important features.
A simple, effective foot rest is the Huanuo ergonomic foot rest.
C. How to set up an ergonomic workstation:
seats, chairs, stools, cushions
---
A good ergonomic seat is an essential part of an ergonomic workstation. The seat should meet the following requirements.
Does the backrest -if there is one- support your lumbar area? Can you remain seated all the way back in your chair comfortably while the chair supports the lower back curve?
Some of the traditional ergonomic requirements are outdated. The adage that your feet should be rested flat on the floor for instance. Your thighs don't have to necessarily always be horizontal anymore either.
Elbow support isn't recommended for computer use. It can help avoid neck strain, however, leaning on armrests is detrimental to your spine and shoulders. They may also run into the desk and thus lead to incorrect seat height.
Are your thighs horizontal and your knees at a roughly 90° angle while somewhat below your hips?
In case of a perching stool, a sit stand desk chair, or an active sitting chair there are other requirements. These seats, often without backrest and armrest, need to allow for controlled movement while being stable enough to ensure safety.
10. Duramont ergonomic workstation chair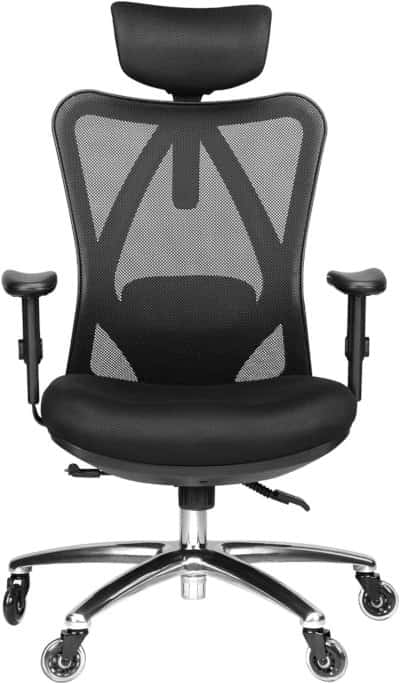 This chair offers tremendous quality for its price. It has lumbar support, you can adjust the distance from the seat to the back rest (a feature normally limited to much pricier high end chairs).
No sweaty back thanks to the mesh. On top of that it has rollerblade wheels allowing you to swiftly move away and back to your desk. It's great for the tall and small.
Specs
seat height: 16.9″ – 20.8″
lowest armrest height: 25.6″
lowest seat height: 16.5″
pneumatic seat height adjustability
360 degree swivel
lumbar support adjustability
seat depth adjustability (either by moving the seat pan or the back of the chair )
Active sitting, a.k.a dynamic seating chairs are popular as second chairs or for specific situations. The ability to uninhibitedly lean and turn.

 
11. Learniture stool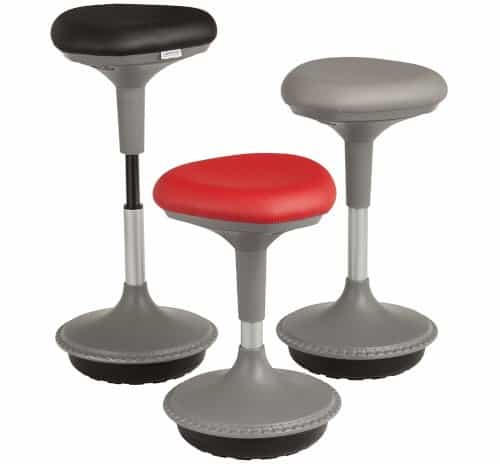 Allows for free movement while seated thus increasing your reach. Avoid twisting and bending your upper body by using this stool's curved base that encourages a natural rocking motion. Thanks to its design you'll be training your core muscles. Easily shift from sitting to standing. At 28″ maximum height it might not be high enough to be used as a leaning chair.
Because it's lightweight it makes for a great dynamic ergonomic workstation setup. Grab it when using it suits the occasion. Switch over to another type of seat when appropriate or you feel you need more comfortable seating. Because, after all the Learniture Active Learning Stool is a kind of exercise chair.
12. Trideer exercise ball chair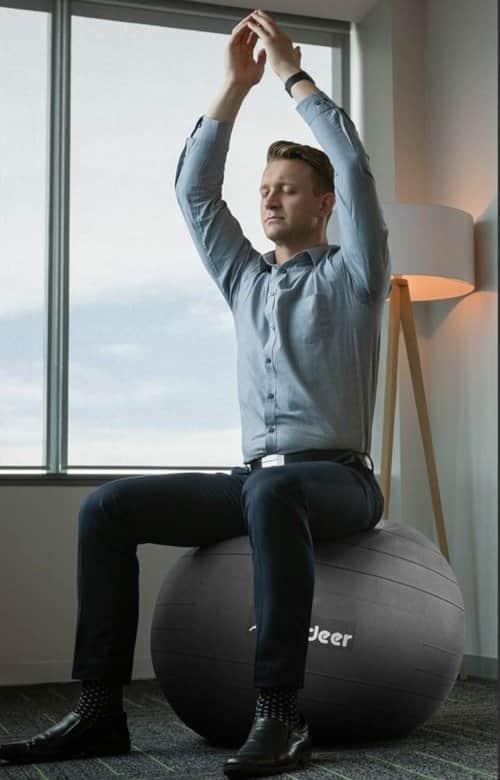 The last thing you'll want to happen is your new balance ball chair bursting underneath your buttocks. It w0uld defeat the whole purpose of boosting productivity and enhancing posture. Which is why the extra-thick, ultra-strong Trideer stability ball will give you confidence. Even if you weigh a bit more.
Improve your posture, train your core muscles, relief your hips and back on this non-slip, ergonomic workstation seat. And when it's time to grab your gear to do some exercises in between your desk work, you're literally on it. Great for the home office as well as the corporate environment.
13. Kore wobble chair for kids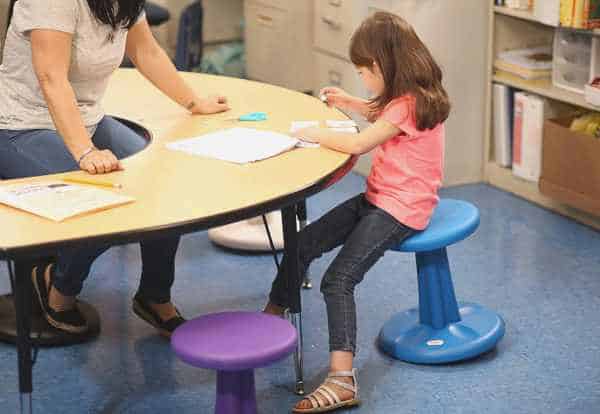 They might have slightly different needs, but kids can benefit from sitting at ergonomic workstations too. Children often thrive when they are able to channel their energy by fidgeting and wobbling on an active sitting stool.
A common question is; are wobble stools good for you? The answer; it depends on your situation, your potential ailments, but in general the continuous movement helps increase secondary focus, thus productivity. Plus there's the simple fact that movement in itself is healthy.
The Kore Wobble Chair allows for more natural, dynamic positions, can't tip over, and is available in fixed height options ranging from 10″ to 18.7″
14. Kneeling chair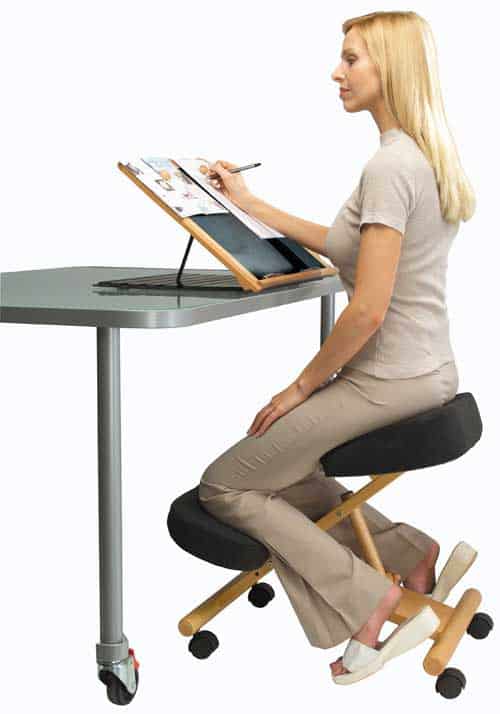 Another nifty element with which you can build an ergonomic workstation is a kneeling chair or posture stool.
Pros. The typical kneeling position promotes a more upright posture which benefits your back, neck, and shoulders. Because your hips are eased forward- allowing the front of the hips to stay open- your pelvis is tilted.
This in combination with your thighs pointing downward, causes your body weight to be largely distributed to your legs, particularly the shins and knees. Which leads to reduced disc/ spine pressure.
In addition, the downward angle reliefs the muscle group called hip flexor from tightening which is commonly involved with prolonged sitting in a 90-90-90 position. It's this stress on the hip flexor (aka psoas) that often causes back pain.
Cons. In this form of active sitting your legs are confined to one position which makes you can't get up as quickly and easily as, say from a yoga ball.
A popular choice is the Himimi ergonomic kneeling chair.
       How to create an ergonomic workstation:
seat add-ons
---
15. Office chair gel enhanced seat cushion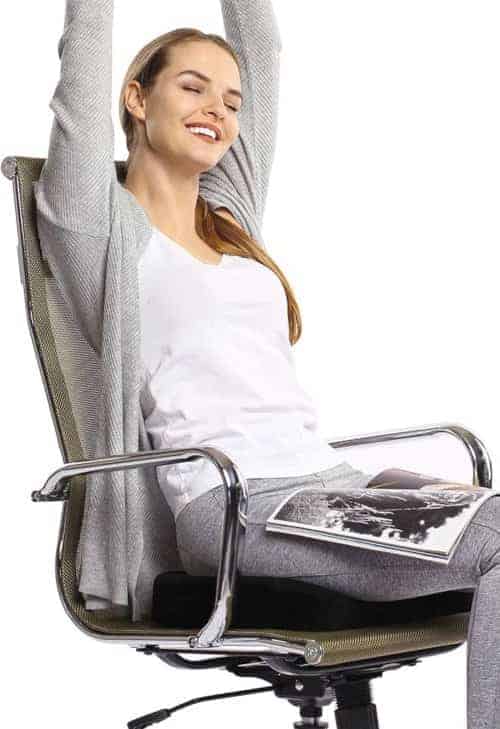 Sometimes you won't need a whole new chair to improve your seat comfort. This orthopedic desk seat cushion enhances posture, reliefs back, coccyx, piriformis, hemorrhoids, and sciatica pain, and reduces tail bone pressure. In addition it enhances recovery from spinal issues, herniated discs, and other lower back issues.
Its U-shaped ergonomic design is the gold standard according to orthopedic surgeons and other medical professionals for pain relief by reducing pressure in strategic areas.
The high quality memory form doesn't squish when you sit down and keeps its shape when not in use. The Everlasting Comfort seat cushion transforms your average desk chair into a highly comfortable chair and allows those who couldn't sit to sit again.
16. Lumbar support pillow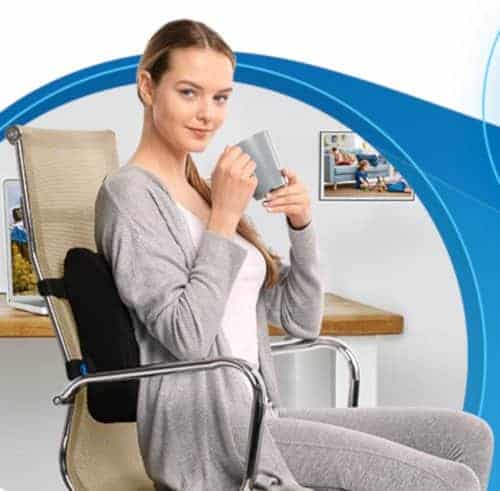 When you're content with your current desk seat but it just lacks built-in lumbar support the Everlasting Comfort lumbar pillow can be a godsend. Good support of the lumbar region is one of the first rules of ergonomics.
A more natural lower spine position, especially when your chair's back doesn't offer much support is almost guaranteed with one of the best pillows in its kind. By conforming to the natural curvature of your back it helps reduce back pain and other ailments caused by sitting all day long.
D. Ergonomic workstation setup:
peripherals
Ergonomic keyboard and mouse
---
Are you maintaining correct keying posture when at work? Wrists should be in a neutral position, level with your forearm. Elbows at about a 90 degree angle. A bit more is okay but it shouldn't be less. Ideally, your mouse and keyboard are level and shoulder-distance apart. Dominate your competition with the best gear you can get.
17. Ergonomic keyboard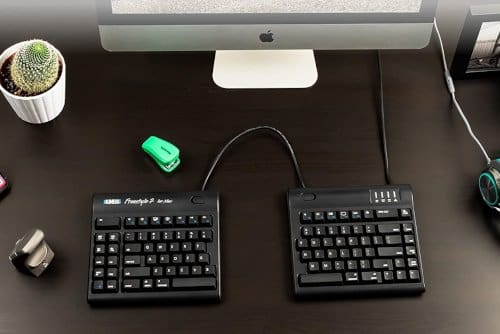 What's an ergonomic workstation without an ergonomic keyboard? Of course, if your current keyboard doesn't cause you discomfort or pain you can do without upgrading. But if you experience pain and strain in your fingers, hands, wrists, or under arms you could benefit from an ergonomic alternative.
If you'd want to go full geek you could go ortholinear. Meaning, opting for a keyboard with a matrix layout. It does involve a learning curve. Some people swear by it, others don't see the benefit.
The Kinesis Freestyle Edge RGB  mechanical keyboard offers split, splay, and tenting and is highly customizable and programmable.
Pros. Designed to alleviate keying related ailments such as CTS (carpal tunnel syndrome) ergonomic keyboards position your extremities in a more natural position.
Cons. Modular tenting accessories and palm supports need to separately purchased.
Pro tip: Depending on how your ideal workstation is kitted out you might want to use your keyboard on your lap. For this purpose a so called lap desk, lapboard, or an extended mouse and keyboard pad can be useful although these are designed to put your laptop on.
18. Ergonomic mouse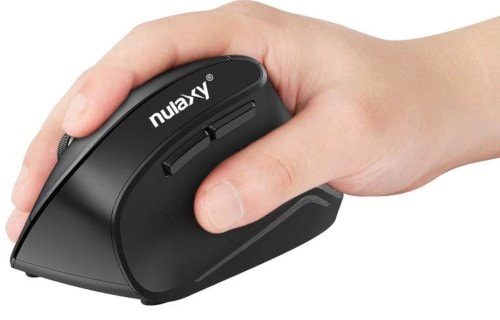 There's quite the variation when it comes to ergonomic mice. Different types include; button mice, small puck-shaped mice that lets you easily manipulate the cursor, trackball mice which let you move your palm over the ball, mice you wear as a ring on your finger which are controlled with your thumb, and mice with removable palm rests. A popular version that's not too different from a regular mouse is the vertical mouse.
Ergonomic mice require less grip strength which reduces tension on the wrist tendons. Thus lowering risk on fatigue and aggravation and as a long term result chronic pain, carpal tunnel syndrome and the likes.
The affordable Nulaxy vertical ergonomic mouse provides a simple yet effective solution to cramped wrists and forearms due to the unnatural bend required to operate a conventional mouse. There's no latency caused by interference with the wireless signal -which can be a huge annoyance- and it has a velvety texture making it even more comfortable to use.
Keep in mind: if your mouse and keyboard are on the same surface your vertical mouse will likely be higher than your keyboard, which is not ergonomic..
E. How to Set Up Your Ergonomic Home Office:
a step by step guide
---
Here's an easy, step by step guide on how to create an ergonomic workstation that will boost both your wellbeing as well as your productivity.
A synergy of sound ergonomic principles geared towards your specific day in day out needs is what makes the perfect ergonomic workstation setup.
A good ergonomic workstation should meet two basic requirements;
promotion of correct posture (when seated, standing, typing)
stimulation of movement (via active sitting, on the spot leg movement, easily moving away from the desk)
Every individual has different needs. Questions that may rise during the planning phase include; What's correct office chair posture?, How high should a desk chair be? What's the best chair for long hours or back pain?, Which desk is best for tall people?
To determine which setup is best for you, you could start with posture assessment. In other words, becoming aware of your natural posture.
Sit away from your desk, both feet on the floor, put your hands on your lap, relax your shoulders. This is your "natural posture", the posture your your workstation should encourage.
Now you can try to recreate this posture at your work spot. First with makeshift  solutions such as cardboard boxes or books to raise screens or your feet, normal pillows to enhance various seats, and so forth. This will help you get an idea of which kind of aforementioned options would be best for you.
Determine which kind of switching up your sitting, standing, perching or the frequency of under-desk or intermittent exercising works best for you.
Do a task analysis to determine what your core tasks are. Is one of them reading? Consider getting an ereader and move away from your desk altogether.
Keep some exercise equipment next to your desk. Seeing it will motivate you to get up and use it. A good stretch or some lifting will help break the monotony of desk work.
When you're at it also pay attention to your immediate surroundings. Is sufficient natural light without glare available? Are the ambient temperature and relative humidity adjustable. Can you cancel potential noise out for better concentration?
We hope these ways to make your office desk more ergonomic. New equipment doesn't have to necessarily be expensive, it just needs to be well-equipped for the tasks you'll be performing. Sometimes, very affordable or even cheap items can mean a world of difference in terms of ergonomic wellbeing.
No matter how well set-up your workstation is, remember to get up often and stretch and move.
Additional ideas on how to create the perfect ergonomic workstation setup
Besides aforementioned products and tips you could expand the overall atmosphere of your workplace by placing plants. Just the mere activity of looking at plants is beneficial to people.
Even a photo on your desk or a screensaver works but it's hard to beat the real deal. Apart from that you could consider adding a essential oil diffuser to improve productivity, health, and your overall sense of wellbeing. More on these soon.
References
Ergonomic guide to computer based workstations. Source: Office of Industrial Relations.
7 Benefits of a standing desk. Source: Healthline.com
Ergonomics of Alternative Keyboards Source: Risk Management & Safety Office – Texas State
Last Updated on September 3, 2022 by Tyler