Last Updated on November 6, 2020 by hobbr.com
Leaning chairs allow you to actually lean back while working behind a standing desk or in another workplace setting. They are also called "angle sit stand chairs" as you can let your body 'rest' under an angle while standing or are referred to as "assisted standing chairs".
Lean back sit-stand chairs allow for a wider variety of stances and postures than conventional sit stand stools or perching stools.
Besides active sitting which commonly includes sitting, standing, wobbling, perching, and moving your legs and hips while being seated you can now actually lean back while standing. This makes these active seats the most versatile office seats available, offering more positions than any other office or workplace seat.
Keep in mind that leaning is not the same as perching. While perching you are simply resting your buttocks on the edge of a seat, leaning lets you lean back without much effort into keeping your balance or having to worry you will topple over.
Top 4 Best Leaning Chairs
---
1. ErgoImpact LeanRite
this sturdy chair let's you lean back without worrying you'll topple over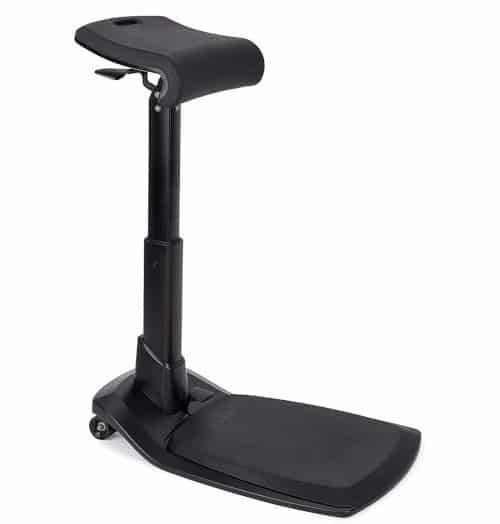 Of all the angle sit-stand chairs we looked at, the LeanRite is most similar to a traditional perching stool.  Unlike a perching stool, though, it's designed so that you can lean your entire weight against it without toppling over.
It offers a lumber lean position (at around belt height) with the seat flat. Another leaning position is the so called 'Wall position' made possible by flipping the seat into a full vertical position. The latter is quite similar to the former position with the difference of more coverage on the lower back.
Other, non-leaning, positions are the 'Angled perch' and of course you can use the LeanRite as a stool and a 'full seat' for a more traditional, relaxing seating position.
Both the height and the seat are adjustable, with heights from 22.5" to 46" and a choice of 3 seat angles. At a full 45 degree tilt, you can stand against the LeanRite with your legs straight and use it as a leaning chair.
The gentle 15 degree forward tilt option is great for keeping your back aligned and your pelvis engaged while working at a desk. With the seat flat, you have two choices: either lower the height and sit on it like a normal stool, or raise it up and lean against the padded waterfall edge for lumbar support while standing.
The base incorporates an anti-fatigue mat, which supports the feet when standing for long periods. The broad base and 37lb weight make the stool extremely stable, so it's great for big or tall users.
2.  HealthPostures' Stance Angle Chair
one of the few leaning chairs on the market that lets you lean with your back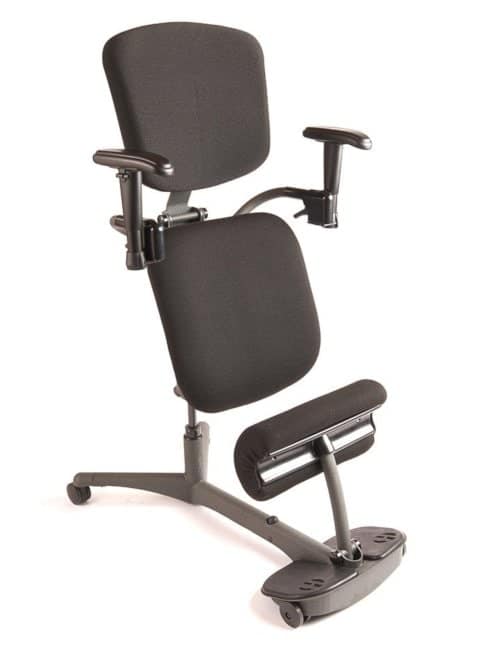 This transformer chair is the only chair in its kind. The Angle Chair can be used either as an sit stand chair, a leaning chair, a kneeling chair, a conventional office chair, and many positions in between. The touch of a lever allows for seamless transition between the virtually endless positions.
Position it at 90 degrees, and you've got a classic office chair, with a cushioned foot-rest that allows you to put your feet up.
Slide it up to 135 degrees, and the foot-rest becomes a kneeling pad that allows you to sit at an angle. Extend the chair to its maximum angle, and it becomes a near-vertical flat bench which allows you to lean back while standing.
You can relax your entire body weight into the Stance, unlike a classic perching chair which requires you to stay more or less upright. Contrary to the LeanRite, the Stance even lets you lean back while standing with your shoulders supported.
The heavy-duty steel frame keeps you feeling secure, and putting your shins behind the kneeling pad means there's no fear of slipping forwards while leaning.
This makes it ideal to use for long periods of time, especially if you have a sit-stand desk at work. A quick-click mechanism means you can swiftly move between different positions, keeping your body engaged and comfortable throughout the long work day.
The Stance has add-ons available to make it more comfortable for a variety of different body types. There's a bolt-on seat extender which makes it more comfortable for taller users, and the variety of different positions mean you can experiment with different postures until you find one which is perfect for your needs.
The seat, contoured back-rest, and foot-plate (offers support during sitting and assisted standing) are all ergonomically shaped, and the arms and height are fully adjustable for comfort.
The Stance Angle Chair is a truly unique office chair that could be a lifesaver for many including those with back and posture problems, fidgety screen workers who move around in their chair a lot, and anyone who wants to enjoy maximum mobility behind their desk.
Learn about all of its possibilities in the short video below.
3. Focal Safco Mogo seat 
an alternative that's easy to take with you, however admittedly, not a true leaning chair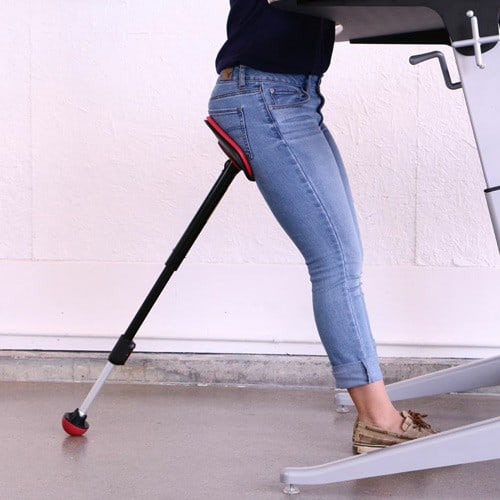 When extended, this leaning stool looks a little like a pogo stick. It has a breathable contoured seat, with a single foot at the bottom of a pivoting adjustable leg. The narrow base means you need to keep your muscles constantly engaged while sitting, so you lean your weight against the seat but can't slouch or laze.
The design is very different to a conventional chair, different even to an angle sit stand chair, so it takes a bit of getting used to. After a bit of experimenting with different angles and heights, most users find that leaning back while standing helps to encourage good posture and reduces backache after long periods at work.
Health benefits aside, the big appeal of the Mogo is its portability. This leaning chair has a collapsible design and folds down small enough to fit in a handbag. At just 2.5lb with a carry case included, it's easy to carry around with you and use anywhere, so your ergonomic seating options aren't limited to the office.
The double-sided foot makes it suitable for either indoor or outdoor use: just flip the foot to put down either soft rubber (for floors) or textured fiberglass (for turf and gravel).
4. Focal Locus Leaning Seat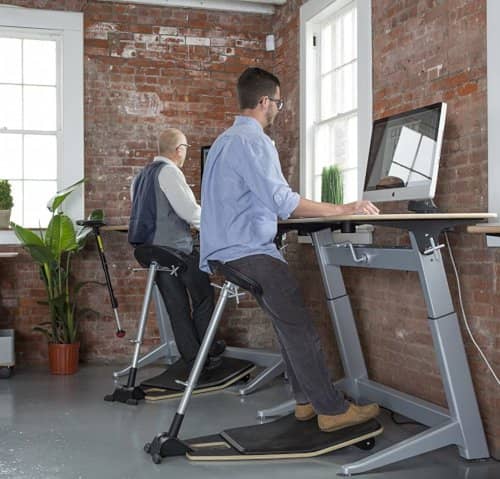 This seat, again, is a genuine leaning chair. A healthy alternative to a traditional office chair. A desk chair that allows you to lean back while standing so you'll reap the benefits of an active posture while still being able to take the weight off of your legs for more comfort.
More specifically, the Locus leaning seat stimulates a more natural hip-to-torso range which alleviates pressure on your spine and spinal muscles. This open hip angle aligns the back, improves circulation, and reduces pressure on the lumbar area. So no more stiff legs, an achy back, swelling, or other physical discomfort.
The Locus of Focal's Active Collection series, moves with your body while leaning back. One of the main advantages if you ask us is that it offers you the most effortless way of resting your legs when working behind your standing desk as you don't have to lower your sit-stand stool and desk. The hardwood base sports an anti-fatigue mat which brings some extra fatigue reduction to the table.
Didn't find what you were looking for?
You were searching Google or Duckduckgo for leaning seats but didn't find the product you have in mind? Check out these posts listing the best reviewed seats that combat the ill effects of prolonged sitting.
Leaning chairs and stools vs. 'conventional' sit stand stools
A quick note to avoid confusion; keep in mind that there's quite a few products on the market that have leaning in the name;
Muvman Leaning Stool.
Biofit Bimos Fin Leaning Chair.
Varier Move Leaning Chair.
According to us* these are not actual leaning chairs but perching stools and chairs that fall into the category of active seating. In other words, by utilizing spring joints, swivels, or simply sitting on a rubber ball you are incorporating healthy movement into your inactive, seated workday.
Like mentioned before, a leaning stool or chair allows you to actually lean, not perch. (*This is merely the opinion of the authors)
What do you think of leaning seats?
For the office, the work place or at home. Got experience with them? Looking for something else? Drop your comment or question below.