The health benefits of active sitting desk chairs for the office and home are well-studied. Prolonged sitting has almost become a taboo the past years with new research findings showing its health risks including greater risk on hernia, colon cancer, heart disease and mushy abs.
No wonder sitting is called 'the new smoking'.
Creative solutions to this healthcare issue abound. From working behind standing desks (trust me this takes a while to get used to but certainly does have it's appeal) to active sitting desk chairs. These chairs allow you, or force you even, to engage your muscles while sitting behind your desk.
Content:
Things to consider when buying one include:
Lightweight chairs have the benefit of quick and easy switching between your regular chair as well as among your coworkers. Especially when you are still getting used to your new seat and will be swapping a lot this can be a huge consideration.
Is it height-adjustable? This allows for use as both a chair as well as a standing aid to lean back on. It allows for use among various office workers as well. This way you can alternate among colleagues.
Just that we have to improve upon our daily sitting habits and be more active doesn't mean we have to go totally Spartan. That's why cushioned, comfortable seat won't harm anyone.
Find out about the best active sitting chairs and stools you can get, as well as the (health) benefits of these dynamic chairs.
1. Swopper Stool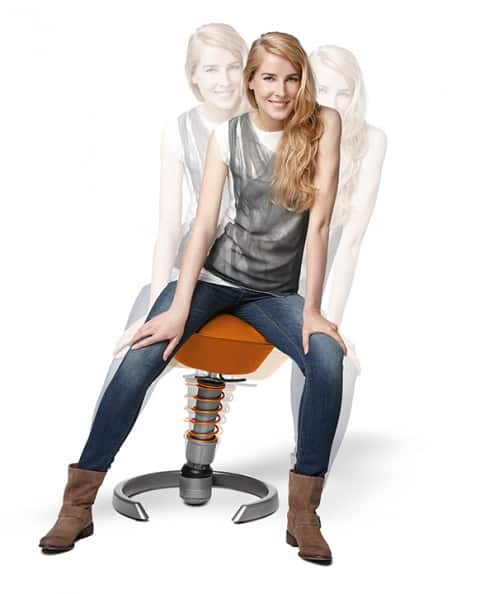 As fashion changes with the times, furniture pieces are starting to look more futuristic. The Swopper Stool by VIA Seating is one of these contraptions, but don't be fooled by its complicated appearance. This active sitting chair is simple and easy to use, though the same can't be said for its assembly.
It's worth the hassle though, and a standard gas lift makes the chair's height customizable like a barber's chair would. The resistance of the chair (how easy it is to lean or tilt) is also adjustable, so you can customize the key elements of the chair to your liking. It has a cushy seat and reviewers find it sturdy.
What's especially great about this active chair is that you can adjust the flexibility of the stool. This means more wiggling and bouncing as you become an active sitting expert.  Novices, don't be fooled, after a few hours, you'll be feeling the burn. Don't worry; it's how you know the chair is working!
2. Locus Leaning Seat

Rather than using a normal office chair, your entire body can benefit from the Focal Upright Locus Seat. You lean into it rather than stand, and though this may seem odd, it truly is comfortable. Most office chairs press into nerves in our legs, and we lose circulation in those areas.
This can lead to what is called the "sitting disease." The Locus Seat engages both your back and legs while letting you rest comfortably against its strong support; it's basically like exercising without even knowing it. The Locus Seat is perfect for promoting proper posture and excellent blood circulation.
Perching on the Upright, instead of sitting on an old-fashioned office chair, takes pressure of off your spine. Its contoured seat may help distribute sitting pressure while the included anti fatigue mat is intended to relieve standing stress.
Not sure about this particular model? Hit this link to view our overview of the best leaning chairs on the market.
3. Gaiam Balance Ball Chair

Anyone who has used exercise balls is familiar with the brand Gaiam, one of the leading exercise balls in the world. Gaiam has come out with a chair that lets their exercise ball rest in the middle, giving you a comfortable seat that improves your posture.
You can adjust the chair's height by increasing or decreasing the level of inflation, and the metal support bar on the front keeps the ball firmly in place. There's also a backrest for extra support.
Not only does your Gaiam exercise ball help you work your core muscles when used alone, but it also provides a healthy workout as you use your computer. Even idle, this unrollable Gaiam Balance Ball Chair is improving your health and spine minute by minute.
4. Buoy Active Sitting Task Chair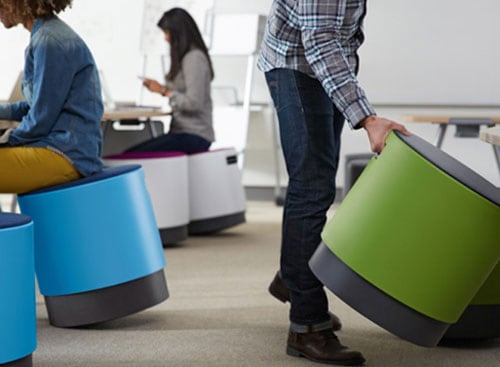 The gentle rocking of the ocean waves against a buoy is a soothing sight. As it bobs and spins with the motion of the ocean, you'd never guess that the physics of this harbor essential have been boxed up and brought into your workplace. The Buoy Chair with it wobbly yet stable physics is the ultimate office core workout experience.
This cylindrical chair has a full range of motion that moves with you as you shift from side to side, causing you to pull off a balancing act. It exercises both your legs and core while giving you better posture as you go about your work day. Not the most cushy seat but balanced and comfortable according to reviewers.
5. Mogo Portable Seat

A lot of active chairs fall short in one area: hip rotation. Although you're working your core and maintaining a healthy balance, your hips aren't using the motion they need to to stay limber and avoid getting stiff. With the Mogo Seat you can get the full range of motion you need to stretch key muscles while supporting proper posture.
The seat is designed to cushion pressure points so that you don't feel pain in those points while sitting. Although the chair looks like it's precariously propped up with something not much bigger than a pogo stick, it's actually very sturdy and can be used both indoors and outdoors, on concrete floors and grass turf.
6. Zenergy Ball Chair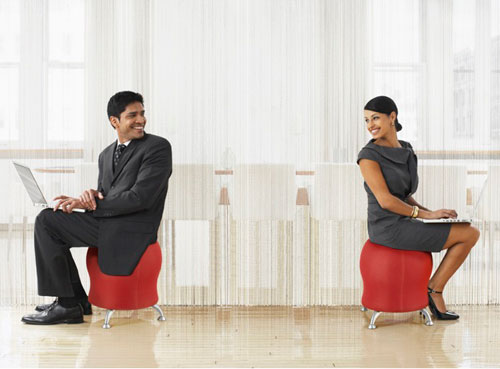 Nothing is scarier than the sudden pop of a balloon when you're not expecting it, so just imagine how terrifying it would be if your exercise ball chair did the same thing. Luckily, the Zenergy Ball Chair has an anti-burst design with a mesh net to hold it securely in place. It has the benefits of a sitting ball without the annoyance of being able to roll away.
Since the chair is designed to train you to sit with better posture, it's a good thing there's a security measure in place to keep it from bursting and giving you a lifetime fear of exercise balls. The Zenergy chair has four legs to give you extra balance while still working your core muscles, and it comes with an easy-to-use pump for inflation. If we have to make a critical remark, it may not be the most active sitting chair available.
7. Wigli Chair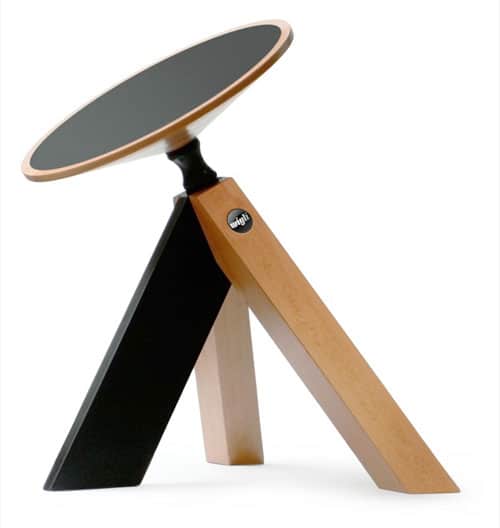 It almost looks like a synthetic drum set, doesn't it? Don't be fooled. The Wigli Chair is a powerhouse designed to give you the ultimate workout while keeping your spine aligned to relieve pain. This chair uses a full range of motion, and the aptly named chair isn't kidding when it says it's "wiggly."
This hardcore active sitting chair is not for everyone though. You have to give it everything you've got to stay balanced unless you want to slip and slide right off of it. While this can become distracting, the seat actually does remain sturdy and balanced the whole time and won't cause you to fall off. Just make sure to take standing breaks; the chair's limited cushion leaves much to be desired.
8. Core Chair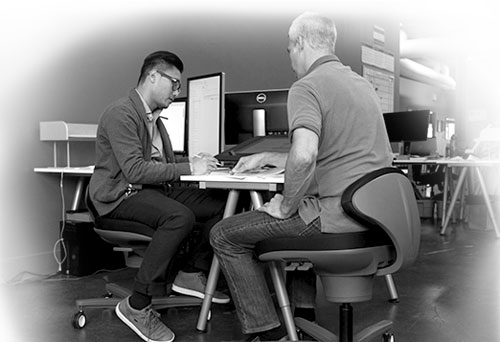 Scientists have found that a person's core (the abdominal muscles) has a lot to do with proper posture and back support. If your core muscles aren't regularly exercised, they grow weak and cause your back muscles to strain to keep up with your spine.
The Core Chair is a revolutionary active sitting chair that leans with you, forcing you to work to keep your balance, thus exercising your core muscles. The back of the chair's seat is just enough to support your lower back while encouraging proper posture with your feet flat on the ground. Although standing breaks are always a necessity, this chair is a workout and a comfortable office chair all in one!
9. ErgoErgo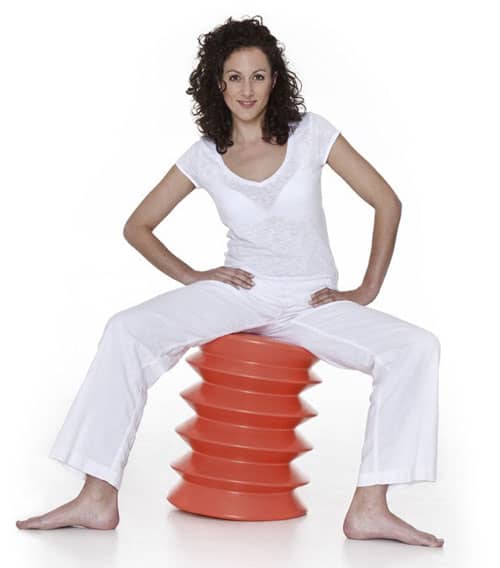 The ErgoErgo chair might just be the most ergonomic chair we've seen. After all, "ergo" is in the name twice, so it's hard to mistake it for something that's ergonomic. This chair is quite springy, so you'll have to stay focused if you don't want to bounce right off of it.
Though it's perfectly balanced, you have no choice but to constantly use your muscles to stabilize yourself in an upright position. This not only strengthens your muscles, but it also increases blood flow to vital areas of your body. More blood flow means healthier organs, including brain-boosting oxygen which is carried by your blood vessels to the brain. The best thing about the ErgoErgo chair is that it's available in kid size too!
10. Wobble Stool

The Wobble Stool may sound like an accident waiting to happen, but this chair uses its "wobble" to exercise muscles you don't find yourself using in a regular ergonomic office chair. Due to its rounded bottom it tilts in a 360 degree fashion providing you with an effective 'workout'. You'll be feeling the burn before you know it as you engage your core, back and leg muscles to balance while you work.
The Wobble Stool can be used as an active desk chair and standing desk aid. It doesn't sport the most plushy seat but is a winner among many office workers.  It moves front to back and side to side in a range of motion that will leave you feeling like you've accomplished more while answering a few emails than you normally due during your two hours at the gym. You can also adjust the height to use it as a support if you use a standing desk.
11. Muvman Sit-Stand Stool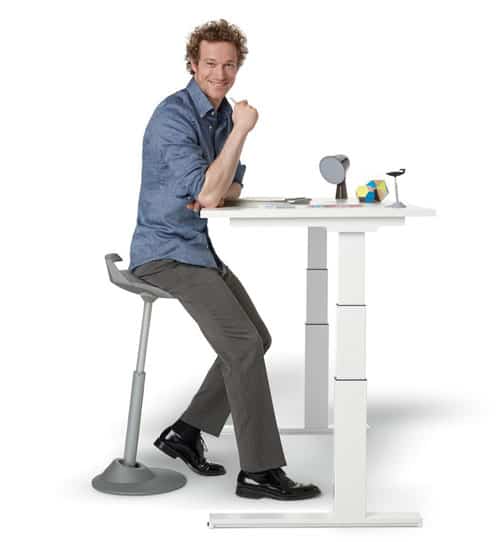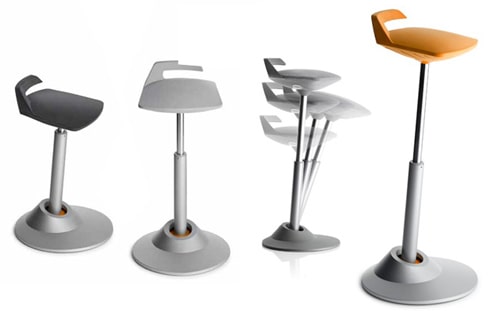 Some active sitting chairs are too stiff, and some chairs are too wobbly. The Muvman Sit-Stand Stool happens to be just right. The wide base provides a firm foundation for the seat, allowing you to feel more secure when sitting or leaning against it.
The seat itself allows for a range of motion that is enough to keep your muscles engaged, but it's subtle enough to keep you from getting distracted by the balancing act. It's about as effortless as it gets, which makes sense since it's many people's active sitting chair. Suitable for use as a sitting chair and standing desk support. Though it's a bit pricey at $700, it's worth the money to get a full workout and muscle strength while answering those tedious emails.
12. Rockin' Roller Desk Chair

It's not an oversized Tribble (thank you to the Star Trek fans who got that reference!), it's a chair! PBTeen's new Rockin' Roller Desk Chair is a perfect addition to your teen's room, or if you fancy the design, you can use it in your office. These furry creations come with a foot pump to easily adjust the volume and height of your chair, meaning you can also inflate or deflate the chair to the right cushion level (to some extent).
The Rockin' Roller Desk Chair is also available in shorter fur designs, or you can remove the cover to use the chair with just the plain cloth color underneath. It's capillaceous exterior may be less suitable for dark colored custom made business suits and piece suits.
13. Humanscale Freedom Saddle Seat

Saddle up with the Jobri BetterPosture Saddle Chair ! Most people don't think of a saddle as an overly comfortable device, but Jobri's revolutionary design uses the shape of a bike saddle to improve your posture. The seat forces you hips to open up more while lowering your thighs, thus increasing the space between your hips and helping your spine align properly.
Aside from this, it reduces pain from pressure points by encouraging a healthy curve of the lower back called the "lordotic curve." The Jobri BetterPosture seat is height adjustable with wheels for mobility, is robust, has a relatively soft seat, and is available in black and red.
14. Kneeling Posture Office Chair

We've seen several active sitting chairs that use either motion when sitting or support when standing, but the Sleekform Austin Kneeling Chair is decidedly different from the others in design. Rather than sitting or leaning against a support, the user kneels on a knee pad while supporting their backside with the seat cushion. Many users find that kneeling chairs alleviate their back.
By using this positioning, the chair lets you breathe more deeply using your diaphragm and improves blood circulation. A set of four wheels allows you to scoot the chair with your feet to work your leg muscles. It collapses while weighing 15 pounds making it completely portable.
Although this unique chair only holds up to 200 pounds, its benefits rival any of the other active sitting chairs. It's height-adjustable, let's you move in various directions while still giving you a balanced feeling and is relatively affordable.
15. OngoClassic Chair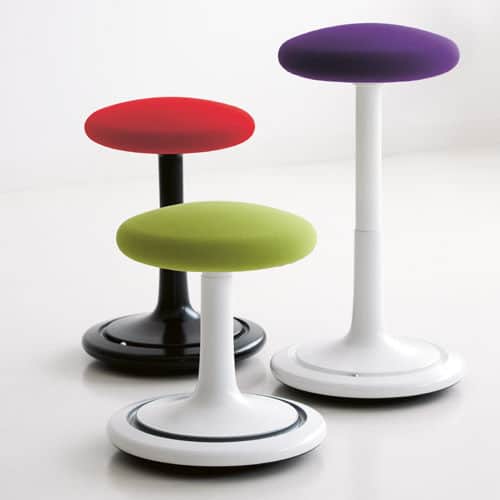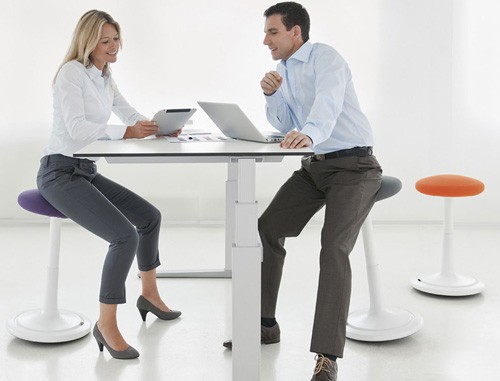 The Ongo Chair looks curiously like an ordinary stool. After seeing the vast plethora of uniquely-designed active sitting chairs, one might find this chair rather unextraordinary. However, users have but to sit down on this cushioned stool to find out it's not what it seems.
The Ongo Chair has a range of motion that also provides feedback on your body movements. The metal ball in the rounded base of the chair can be removed to provide a broader range of motion, allowing you to decide how much of a workout you want to get on any given day.
Because you are sitting higher on this chair there's also the benefit of an increased hip angle. Activation of your core muscles and a more naturally curved spine are the result of this innovative way of sitting while doing desk work. It avoids the risk on back pain caused by disc pressure as a result of our pelvis being pulled under us which is common to traditional sitting.
16. ECR4Kids SitWell adjustable stool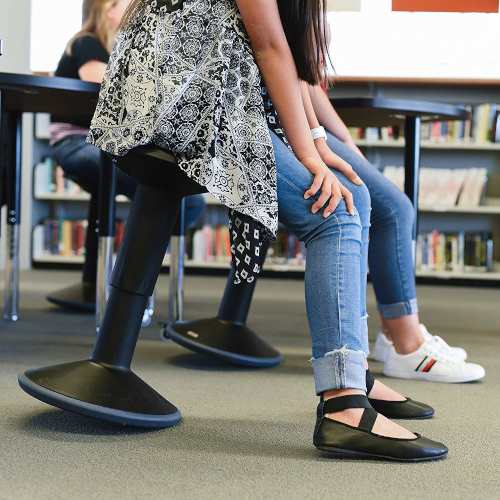 Dynamic seating has proven a huge success in schools too. It's not just "spine-friendly schools" and "special needs classrooms" that reap the benefits of this fairly recent trend. Kids everywhere are found to obtain better school results thanks to properly channeled excess energy, improved focus, increased engagement, and active learning. Obesity is reduced and bodies are strengthened.
One of the best active sitting seats for children is the ECR4Kids SitWell active sitting stool. It's sturdy, lightweight, and comfortable. Suitable for adults too. For kids from age 12 and up as at least 105 lbs is required to lower the seat.
17. Learniture Active Learning Stool (RIA3052BK-SO)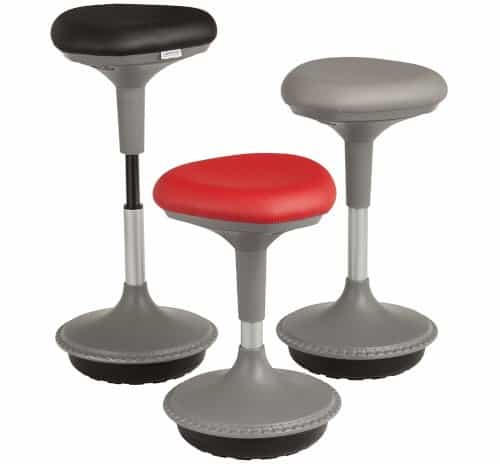 This robust, portable, active standing stool/ leaning stool works well behind your (adjustable) desk. However, it might not be suitable as a "perching stool" to use behind your standing desk as it's probably too short.
Nonetheless, it's one of the most positively received, well-reviewed seats in its kind. This stool is considered by many to be more stable and comfortable than pricier versions such as the Hokki stool. It's moderately padded and height adjustable which makes it suitable for adults as well as taller children.
The Learniture Active Learning Stool LNT-RIA3052BK-SO doesn't just improve the classroom environment as it enhances the experience of designers and engineers behind the drawing table, when used behind a sewing machine, or at home when tinkering with model railways. To name just a few wobble chair applications.
Keep in mind that the Learniture Active Learning Stool comes in various types. There's a 12 inch high variant specifically designed for young students of age 3 to 7 (model nr: LNT-3046-12BK) This stool, designed to keep wiggly kids focused and engaged, is also available in 15″, 18″, 20″ models for older students .
In sum
Like your mother or teacher told you, sit up straight. Make sure not to lean forward, keep your arms close to the sides, shoulders relaxed, elbows in a 90 degree angle and your feet flat on the floor.
These chairs will not only help you do your work better (there might be a raise in it for you), they reduce serious health risks and strengthen your abs as well as other muscles, thus reducing back strain.
They bounce, wobble, and tilt in order to avoid the hazardous inactive position that has been found to cause all kinds of problems. What's more, these modern desk chairs increase productivity too. More concentration, focus, less physical strain and a more active attitude help you get the work done.
Getting used to active sitting desk chairs may take some practice. Especially at first, frequent breaks are recommended to maintain the benefits and avoid poor posture. As soon as you get tired and are losing your intended posture and start slouching it is recommended to switch to a chair with more support.
By gradually increasing active sitting time you will build up stronger muscles and more core strength (something most of us lack) resulting in a better overall posture and health.
Editor's note: This publication has been updated in Nov. 2020 with the latest products since it was originally published in October 2015.
You may also like
Last Updated on July 13, 2022 by Tyler