Fed up with hauling gas, changing spark plugs and oil before and during mowing your lawn? Not to mention cleaning carburetors and replacing filters. Sick and tired of untangling that dreaded cord on your mower? Or maneuvering around all the trees and obstacles while messing with the cord?
Always wished for a cordless electric lawn mower? Perhaps now is the time to switch to a less noisy, less smelly, easy to operate, easy to maintain lithium ion powered mower.
Lihium ion battery technology is making its way into our lives in the form of more efficient electric appliances. It's the go-to power source for energy-hungry devices mainly because of its value for money. This is certainly true for lawn mowers.
"Today, the best battery-powered push mowers cut as well as comparable gas versions"
According to Consumer Reports lawn mower test engineer Frank Spinelli.
Lithium-ion powered lawn mowers still too expensive?
It's true that lithium powered lawn mowers are generally more expensive than gas powered mowers because of the price of the lithium-ion battery.
However, the money invested in a lithium ion battery pays off considerably once you use your lawn mower's battery to power other electric equipment from the same brand.  (i.e. chainsaws, leaf & snow blowers, edgers and trimmers).
On top of that, you can currently buy a well-reviewed, top quality electric mower for around $400.
What to look for in a lithium-ion lawn mower?
General features to consider:
self-propelled (Keep in mind that self propelled mowers have shorter battery life. Reduced up to approx. 15 minutes per cycle.) (Also, because they are so lightweight, many electric mowers are easier to push than their self-propelled gas-powered counterparts.)
brushless motor
deck size
vertical storage
mulch, bag, side discharge
Lithium ion powered lawn mower specific features to consider:
charge time (quick charge feature)
battery capacity (larger amp hour batteries increase run time)
battery life (both official as well as what reviewers find)  Battery life is generally rated on flat, straight operation. Battery run time varies with the load put on the mower.
Most lithium powered lawn mowers have optional fast chargers. This ensures that if set one battery to charge when you start mowing it will be full by the time the current one runs out. Thus there's no downtime because of empty batteries.
Smart chargers prevent overcharging the battery and thus potentially damaging the battery in case you would leave it in all the time.
Top rated cordless electric lawn mowers
---
1. EGO Power+ 20″  lithium-ion lawn mower
high quality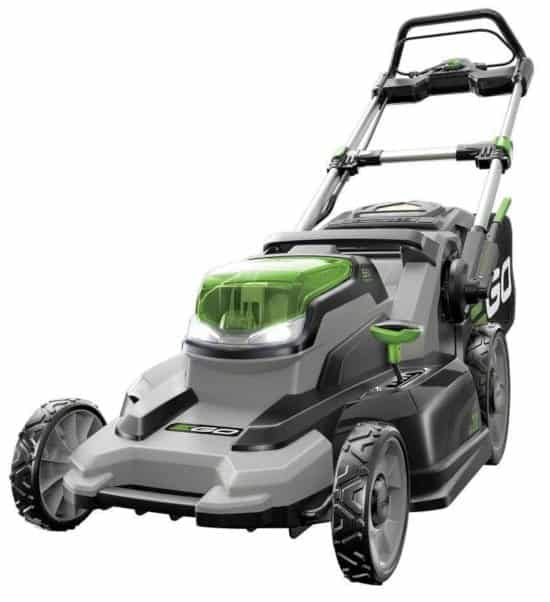 Not only does this mower work with a high-end Briggs & Stratton battery, it's also the first 82V lithium ion walk mower. EGO mowers are hailed as the "Tesla of lawn mowers".
This electrical machine with plastic deck cuts wet and tall grass like a heavy gas powered mower would. Some claim it does it even better, and with much less noise and harmful fumes.
Battery life being one of the most important aspects of these mowers, the EGO runs for about 45 minutes to an hour on a fully charged battery. Once drained, it takes about 30 minutes to fully recharge the battery.
It's a light-weight mower especially if you opt for less powerful batteries. If you're used to pushing loud, heavy machines you this mower might feel flimsy to you. On the other hand, because it's so silent and light-weight it pushes effortlessly and chances are you won't need to opt for the self-propelled version.
Adjusting the blade height is intuitive and easy. What's more is that it can be folded for convenient storage, offers mulching, bagging and side discharge. On top of that it has LED lights which allow you to mow at dawn or dusk which may be quite handy in case you'd want to avoid having to put on sunscreen.
2. Greenworks Pro 80V 21″ lithium ion lawn mower
powerful electric mower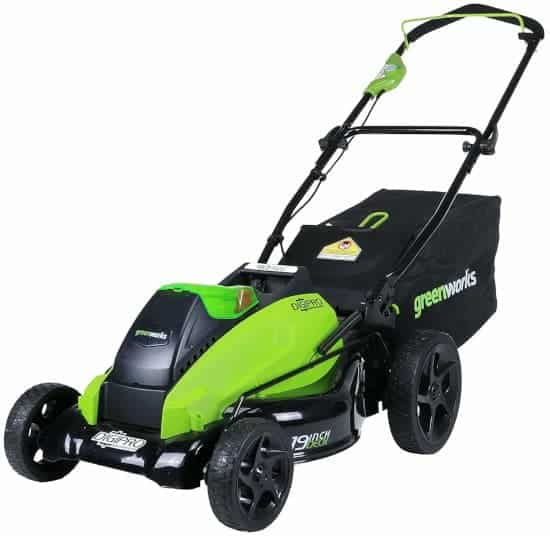 The steel deck Greenworks Pro is easy to maneuver, and powerful. It's reputed to cut tall grass and hilly lawns without much effort where gas-powered mowers would stalled.
Its handlebars fold for easy storage although does not fold as small as the EGO. It can be stored in upright position, however. Its single lever height adjustment feature is something that once you're used to it, you don't want to do without anymore.
The 80V battery charges from empty to full in about 30 minutes and lasts at least as a tank of gas on a 6hp mower.
With two 2Ah batteries you can mow endlessly (one charging, one in use). That is, except in case of more demanding situations such as mowing really tall grass because then the spare battery might still be charging when the other is depleted. Compatible battery and charger models GBA80200, GBA80400 and GCH804. Not included.
3. BLACK+DECKER CM2043C 20″ Cordless Lithium Ion Mower,
budget buy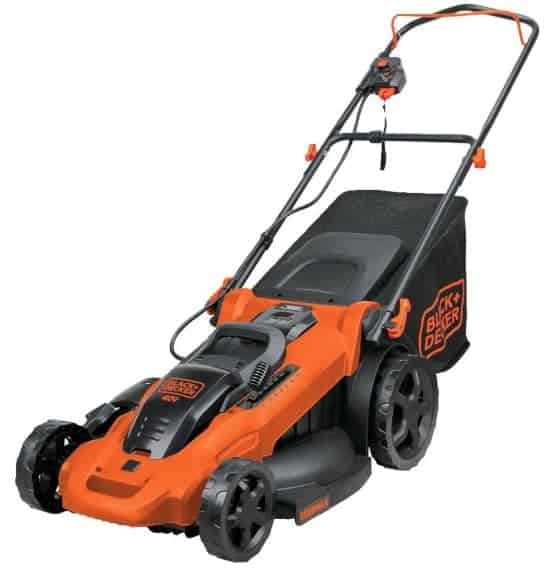 The Black and Decker CM2043C isn't the most powerful lithium ion mower on the market but it's very affordable mower. Despite its low price it cuts well and has a few clever design features.
Such as a spare battery storage compartment allowing you to quickly change batteries once one is empty. Another example of great design is the large lever conveniently located at the top that lets you raise the deck.
Even more, its child safety feature comprising of a key that needs to be inserted before the motor can be turned on. The Black & Decker EdgeMax feature ensures you don't have to trim edges separately anymore.
Many mowers are sold with batteries not included. The B&D comes with two 40 volts batteries.
Cons of this mower are that due to the mediocre charger it takes up to 4 hours to charge the batteries. If you already own a B&D charger belonging to another lawn tool you might want to use that one instead. And, as aforementioned, it lacks a bit of power so if you regularly need to cut tall or wet grass this might not be the mower for you.
4. Worx WG779 40V 14″ cordless lithium ion lawn mower
budget buy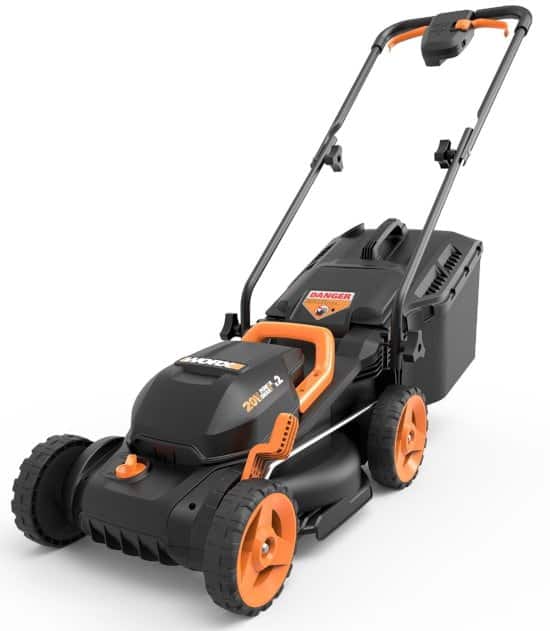 In full disclosure, of all the mowers we've listed here the Worx WG779 is the only one that did not make the cut so to speak on the most recent Consumer Reports test. The reasons we're listing it here nonetheless are as follows.
It's a very affordable cordless electric mower. The already low price includes two 20V 4.0Ah batteries as well as a dual port charger. Most mowers cost about twice as much and then you'll have to spend additionally on batteries and a charger.
The batteries as well as the smart charger work in all other Worx power tools/ Worx 20Volt batteries. A convenient feature are its battery level indicators  (flashing/solid LED lights), not just on the charger but on the mower itself too allowing you to continuously monitor how much juice you've got left or how much more time charging will take.
Obviously there are downsides as you get what you pay for. One of its cons is that it takes approx. 4 hours to recharge drained batteries. Another con, you need to use both batteries simultaneously when operating the mower. So no charge one, use one for continuous run time.
All in all, the Worx WG779 isn't the most powerful cordless electric mower but for smaller lawns (it has a relatively small 14″ blade) it does a pretty good job. You get a lot of value for your money considering it has most of the basic features (i.e. mulching, decent clippings bag, etc) other mowers have as well.
5. Snapper XD 82V MAX 21″ cordless lithium ion lawnmower
powerful and hardy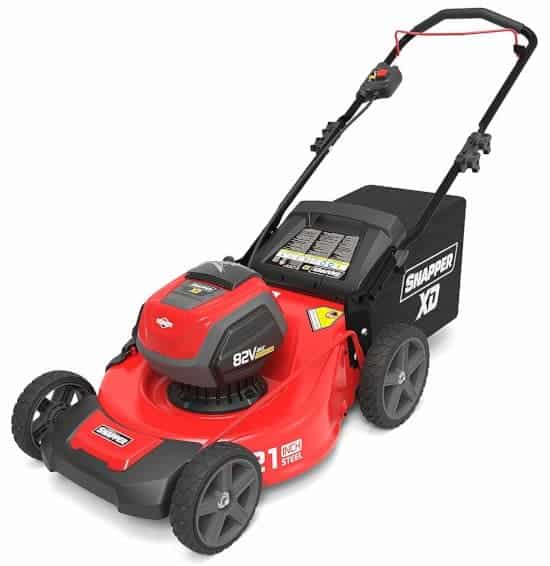 The Snapper is a high end mower which feels like operating a gas mower. This is partially due to the high quality batteries which is noticeable as they provide full power until depleted. So no diminishing power that results in a a more weakly spinning blade once the battery drains.
But also because of the way the mower itself is built. It's robust with a lot of metal parts making it feel not too light. Many competitors, especially the cheaper ones, are largely made out of plastic which may give you the sense you're operating a kids toy.
This also ensures it's quite powerful and is able to effortlessly cut down thick weeds and though thick grass. Of course there's cons as well. For one, this isn't the most silent mower in its kind and battery life in the self-propelled version is much less than the standard version (20 min. vs 45 min.). The Snapper XD 82V MAX comes without battery and charger.
More gardening tools:
Last Updated on April 8, 2021 by Tyler