The human body was not built to sit. From an evolutionary point of view, we should either be moving or lying down, nothing in-between. It's no wonder that so many of us are plagued by bad backs, stiff shoulders, sore knees, and more.
Schools expect students to sit still because that's easier for the teacher, not because it's better for the kids. Many kids struggle to stay in their chairs, whether that's due to special needs or just an abundance of energy.
When kids use adaptive seating, like balls or wobble cushions, they can fidget with their bodies and leave their minds free to learn.
For some children with ADHD, or autism, it takes so much effort to sit still in a traditional classroom chair that they can't focus on learning; for these kids, a simple wiggle seat can be a game-changer.
And the need to move doesn't disappear with age. Adults can also benefit from wiggle seats and wobble cushions.
Most people find that sitting at their desk for long periods leaves them feeling fidgety and they lose focus: ever found yourself drinking a latte you didn't want, just because you wanted to go for a walk to the coffee machine?
The chance to wiggle and wobble while working can help to boost concentration and productivity while increasing core strength and reducing back and neck pain.
In order to help you pick the best seat for your situation we've compiled an overview of the top rated, best reviewed wiggle seats and wobble cushions on the market.
Content:
1. Bintiva inflatable stability wobble cushion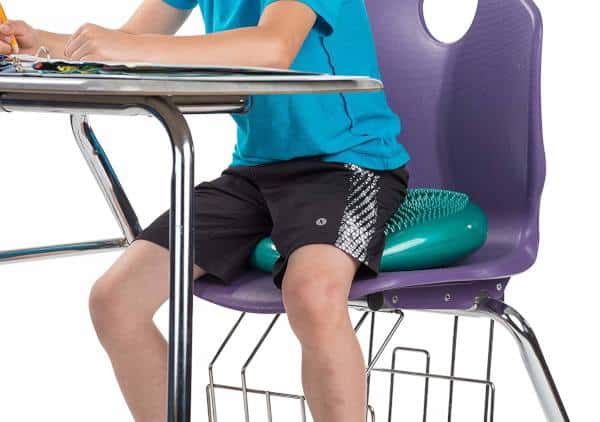 It's a brilliantly simple idea. The Bintiva is a flat wobble cushion, which can be slipped onto a chair to allow kids to wiggle and adjust themselves without getting up out of their chairs.
Since it's small and portable, kids can use it to sit on classroom chairs or on the floor, and it's discreet enough that older students won't feel self-conscious about sitting in a 'special chair'. One side has tactile nubs, which provide sensory stimulation, and the other side has smooth bumps as an alternative.
Although it's marketed as adaptive seating for children, this wobble cushion is also a fantastic tool for desk workers. The adaptive surface moves with your body, making it easier to get your spine in the correct alignment while seated.
This means less strain on your back, hips, and shoulders. It's also recommended for long journeys – putting it under your feet on a long flight means you can push and flex your feet, an exercise which stops swollen ankles and reduces the risk of deep-vein thrombosis.
2. Sensory wobble cushion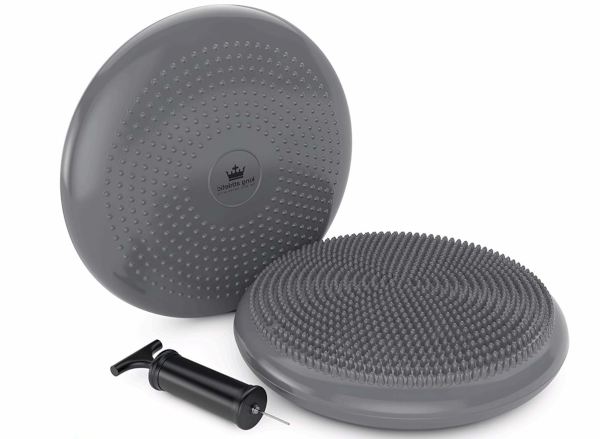 The King Athletic wobble cushion has a similar design to the Bintiva, with a deeper profile on the nubs. A soft, flexible PVC surface means that the 1cm nubs provide gentle sensory input rather than uncomfortable prickling.
The cushion comes in plain grey, making it great for use in the office. At just 13" across, it's small enough to carry in a laptop bag, so you can easily move it from work to car to home. It's designed to work best when not inflated to capacity. When it's left a little slack, there's a wider range of motion to engage your muscles.
It doesn't just work as a wiggle seat: this cushion is also ideal for exercise. Standing on it engages the core and legs, ideal for improving balance in older people. A few gentle stretches are great for aiding recovery from knee or ankle injuries.
Or if you're seeking a more challenging workout, leaning on a wobble disc can dramatically increase the difficulty of familiar exercises – imagine doing a push-up with your knees on a wobble cushion, or standing on it to do a pistol squat.
3. Trideer Ball Chair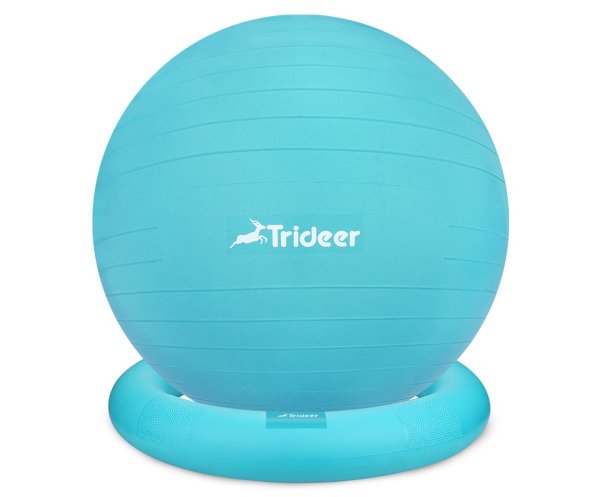 Stability balls are great for your back, but they're not always a practical seating option. The insecure base means that it's often hard to feel comfortable for fear of rolling. The Trideer chair combats this issue by having an inflatable donut around the base.
The donut stops the chair from rolling away but leaves enough clearance that you can still wobble from side to side. This is particularly useful if, like many people, you only sit on your ball chair for part of the day and need to stow it away securely the rest of the time.
The chair comes in two sizes, a smaller one for people 5'3 to 5'10, and a larger one which is suitable for up to 6'4. It's guaranteed to hold up to 2000lb of pressure, so even if you've got a big frame you'll be comfortable.
It blows up quickly with the included foot pump, and also comes with a tape measure to help you work out exactly how much to inflate it. This means you can easily get it to the correct height, putting your knees at exactly 90o with your feet flat on the floor.
4. Gaiam Kids Stay-N-Play flexible school chair
This yoga-ball-style chair has five stabilizing feet are designed to hold the chair in place when not in use. They squash into the chair when you sit on it and then pop back out when you stand up again. This is an ideal compromise – the chair can roll when it's in use, but it'll hold still as soon as you stand up.
The Gaiam Kids Stay N Play wiggle chair also makes it great for small children to use in the classroom, because the five stabilizing feet prevent it being a fun ball to play with when not in use.
It comes in two sizes, one aimed at ages 5-8 and one aimed at 9-12 years. You can further adjust the size by changing how fully you inflate the chair – inflate fully for taller kids, a little less air for smaller children.
5. Kore Wobble Chair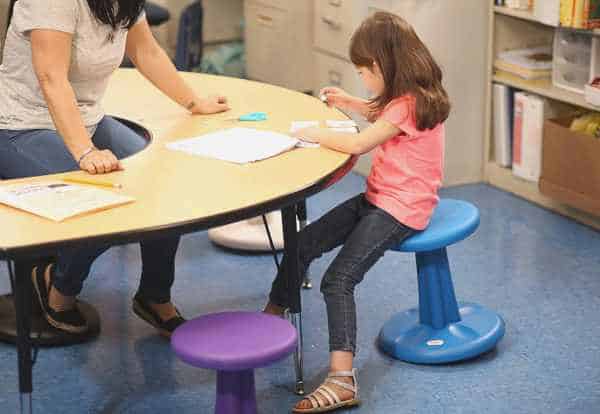 This children's wobble chair has a single leg which flexes gently on top of the static base. The base has an anti-roll lip, meaning that you can rock freely without tipping over: this makes it ideal for kids who like to perch on the edge of their chair or sit cross-legged.
Kore Wobble Chair™ comes in four fixed seat heights, from 10" to 18", suitable for anyone from toddler to teen, and all sizes support up to 250lb in weight.
Amazingly, even the largest stool is just 4lb in weight, light enough to carry one-handed: kids can easily bring their special seat to school and then bring it back to use for homework.
6. Hokki Stool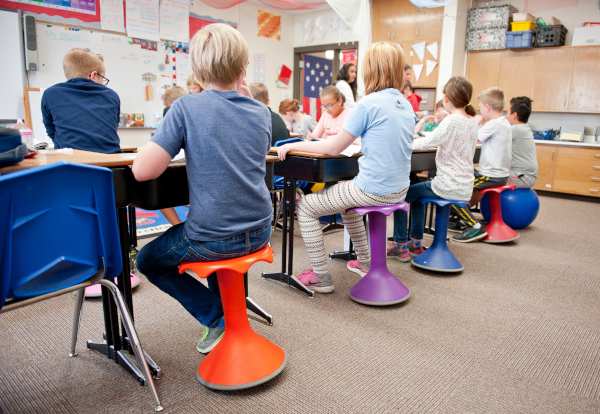 The Hokki Stool is 20" tall, ideal for high schoolers or adults up to about 5'8". The rubberized base rolls gently as you sit, encouraging correct posture.
Since it has one central leg rather than four narrow legs like most classroom chairs, it's easier to let your legs hang into a natural position. It's made from antimicrobial plastic and has a fully wipe-clean surface, suitable for a classroom full of paint and glue and sticky fingers.
7. Learniture Active Learning Chair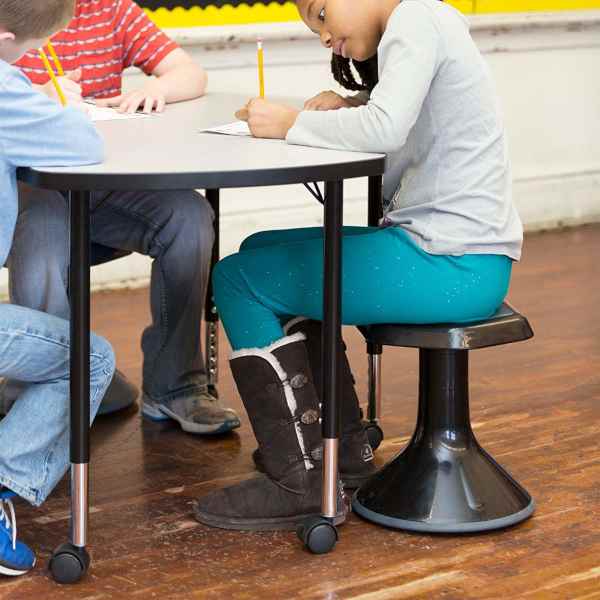 The Learniture stools are renowned for being some of the most stable on the market. The non-slip rubber base has a gentle curve for a controlled range of motion.
It's designed for heavy use in a classroom environment – the polypropylene shell is wipe-clean and tough enough to resist anything a fidgeting fifth-grader can hit it with.
The active learning stool has a 15-year warranty available, meaning it's tough enough that your students' children could well be using the same chairs in two decades' time.
8. Learniture Active Learning Chair for Adults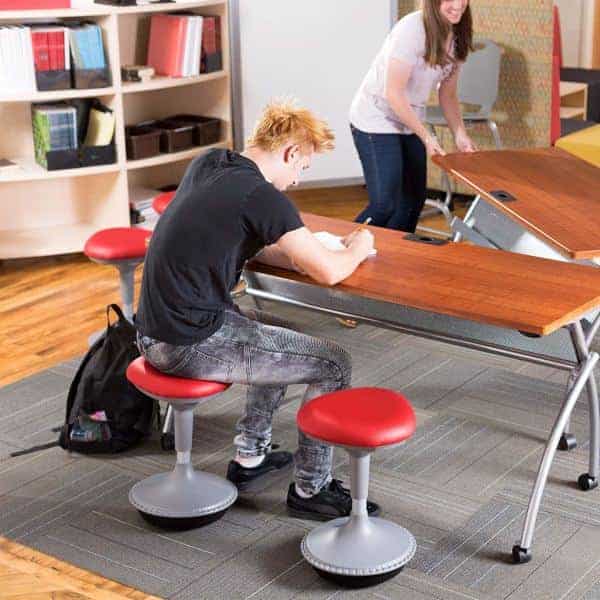 This wobble seat takes all the great features of a students' active learning stool, and streamlines them into a smart piece of office furniture for adults.
The seat adjusts from 18.5" to 28" – the smallest size is comfortable for a 5'0 person to use as a desk chair, the largest size is about the height of a bar stool.
The taller settings are great for quick meetings in a breakout area, and this stool is great to use with an adjustable or standing desk. The seat has a curved non-slip base and is designed to work with your body's natural contours for maximum comfort.
This Learniture Active Learning Stool is suitable for wiggling 5th graders to wobbling adults. The seat is a rounded triangle shape, with a slightly concave surface, which minimizes pressure on your coccyx and thighs, and gently shapes your back into a healthy posture. This feature makes it great for those looking to improve their posture at the office.
9. Bouncy Bands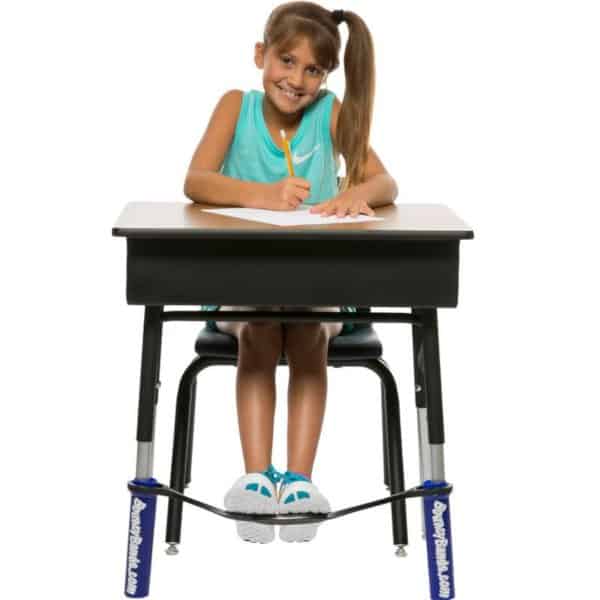 These bands aren't technically a wobble seat at all, but they fill a similar niche by allowing students to wiggle away their excess energy. A Bouncy Band is just a giant elastic band which wraps around the two front legs of a chair, for kids to boing and kick under the table.
This keeps their bodies still and their hands on-task, while still giving them a physical distraction to help them focus. The manufacturer claims that kids stay on-task for 10% longer when using these bands.
It's great for fidgeting in situations like exams, when using a traditional wiggle seat might be seen as a distraction for other learners.
The bands are also unobtrusive, portable, and fairly cheap, meaning that they're an easier idea to sell to teachers who are resistant to the idea of wobble stools.
The only risk to look out for is that if you tilt your chair backwards and kick hard, it's possible to ping the band across the room at high speed – so if you think your child will enjoy causing chaos in that way, they might get on better with a one-piece wobble stool.
10. Waliki Children's Ball Chair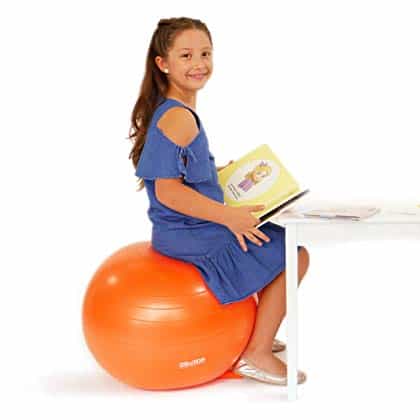 This wiggle chair is like a cross between a yoga ball and a hopper. It has four soft legs which offer minimal resistance: they fold into the ball when it's in use, to allow students to roll, then the legs pop up when it's not being used so that the chair doesn't bounce around the room.
The Waliki comes in two sizes, for ages 5-7 or 8-12, but you can adjust the final size by inflating the ball more or less to get the correct height.
11. Scoop Rocker wiggly kids classroom chairs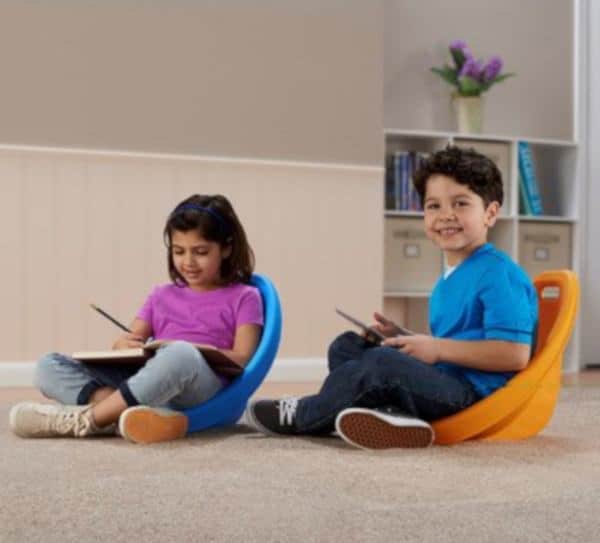 These rocker chairs for classrooms are a neat alternative to floor cushions or benches, suitable for ages 4-7. They're shaped a little like a plastic sled. Kids sit in the scoop and can rock gently back and forth, giving them a range of motion while stopping them from sprawling all over the floor.
This helps keep kids focused when doing floor activities like stories or circle time – great for little ones who are still learning how to sit still and listen. Note that this product is aimed at educators, so at the moment you can only buy these seats as a set of 12.
12. ECR4Kids ACE wobble stool for kids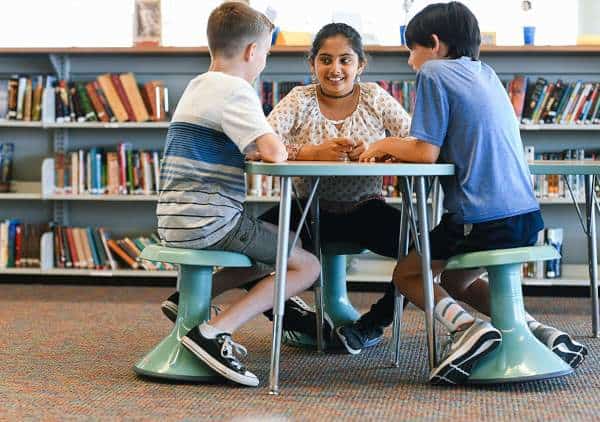 This wobble stool is designed to allow a 360o range of motion, ideal for fidgety or restless kids. Designed for students with special needs such as ADHD and ASD, it's manufactured to be tough and safe, exceeding American National Standards Institute limits for furniture. The non-slip base is made to resist damage to floors and the non-slip seat keeps kids from sliding off.
13. Comfify active kids wobble chair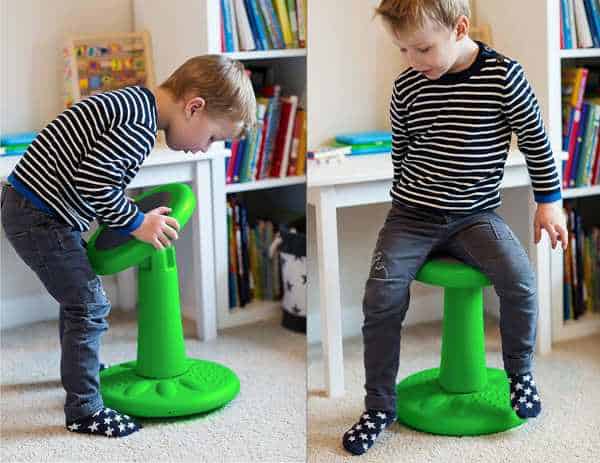 This wiggle seat provides just enough wobble to keep energetic kids on task. It's designed in three pieces – top, leg, and base – so it can be easily assembled and put away for storage when not needed.
Assembly is simple enough that kids can do it themselves, with no dangerous parts to trap little fingers, but when the seat is being used it holds together sturdily.
The top part of the base has a bobbled top to provide extra vestibular input, and the underside has an anti-slip base which is great for tile or linoleum floors.
14. Turnstone Buoy Stool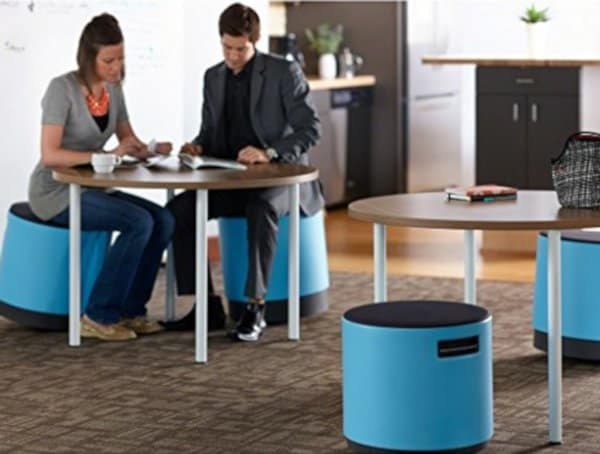 This drum-shaped stool has a curved base which allows up to 12" of tilt without tumbling. Armless, backless, and legless, it has incredibly smooth lines that give it a modern look. Tucked inside the carry handle is a lever to adjust the height of the seat by up to 5-1/2" with a pneumatic cylinder.
The outer part is fabric covered and cushioned for comfort, with a plastic inner and base for easy cleaning and maintenance. Turnstone Buoy encourages wiggling and is suitable for adults and teenagers as it's probably too large for younger people. It wobbles quite a bit so if you're looking for something that lets you wiggle moderately this seat might not be for you.
15. Zenergy Ball Chair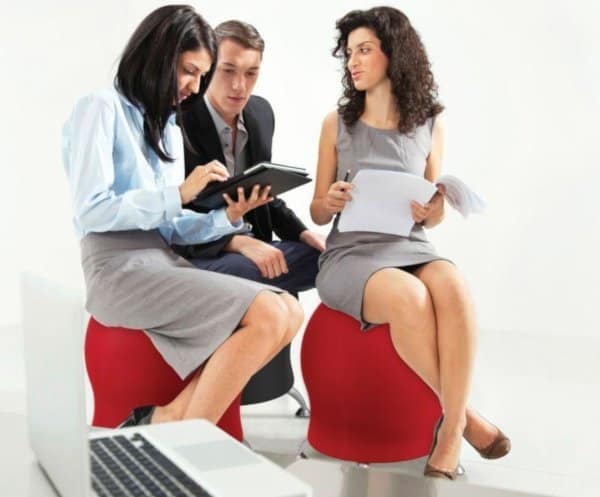 It's shaped like something from a science-fiction movie. This 'jellyfish' chair has a yoga ball hidden inside a cladding of plain black fabric, which provides all the benefits of active sitting in a design which will get you envious glances from your colleagues.
It is backless with a low profile, which allows it to fit neatly under most desks; it stands at 23" fully inflated, but the height can be adjusted slightly by letting some air out.
It has four powder-coated steel legs with stationary glides to hold the hidden yoga ball in place, which means it's comfortable to sit in all day. The Zenergy is more stable than ball chairs yet allows you to wobble making it great for ADHD adults who want to channel their energy yet value stability.
16. CanDo Inflatable Donut Ball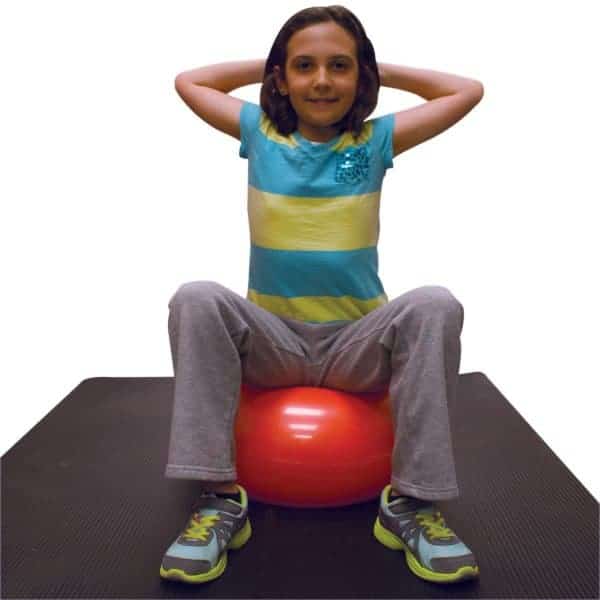 Sitting on a yoga ball is phenomenal for your core strength and helps fight the urge to fidget, but the balls can feel quite insecure due to the rounded base. This donut provides all the sensory benefits of a ball chair, but the dimpled shape means it stays securely in one spot.
The sizes are color-coded, so you can buy several for different family members and tell them apart at a glance. Adults could use a smaller donut as a wobble cushion on top of a normal chair, or use a larger one as a full-sized adaptive seating option. Donut balls are also suitable for core and stability exercises – try leaning on one to to a press-up to upgrade your workout to a new level of challenge.
17. ErgoErgo stool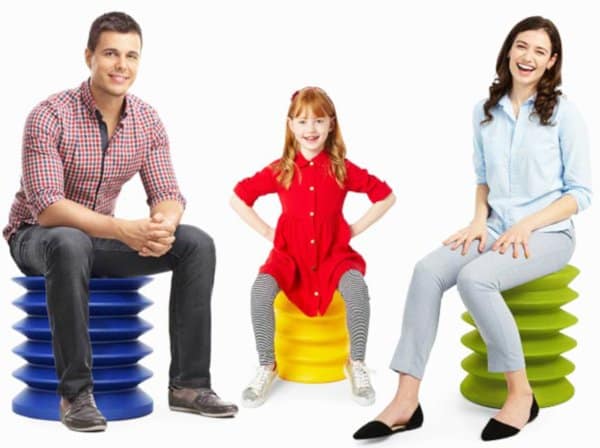 Do you find a yoga ball is a bit too bouncy or big for your taste or workspace? This seat can provide you with the benefits such as enhanced lumbar flexion and pelvic tilt while still feeling stable on the ground. What's so great about this wobble seat is that there's an inner bounciness that makes sitting on it a lot of fun.
Wiggle and wobble all you want on the ErgoErgo stool. By doing so you'll build strong core muscles and a more flexible waist and hips. This accordion-shaped active sitting stool comes in three different sizes; the original ErgoErgo (age 9 to adult), the KidsErgo (age 4 to 9), and the ExtraErgo for large, tall adults from 5'7" up to 6'4" tall (1.70m to 1.93m). The latter has a weight capacity of up to 250 pounds/102 kg. 
Besides classrooms or as an addition to an ergonomic workstation this clever form of public seating can be used in dorms, libraries, dorms, hotels, hospitals, and many more locations.
Initially there were some issues with the seats collapsing. This seems to be solved. If in doubt, contact their customer service. It's excellent.
Last Updated on November 20, 2020 by Tyler