Last Updated on December 1, 2020 by hobbr.com
Electric lift massage tables use hydraulic motors to allow therapists to raise, lower, and reposition their clients. This is both more comfortable for the therapist and allows the client to get a more effective massage.
An automatic massage table is a big investment, so you want to choose the right table for the type of massage you practice.
Here's an overview of the best rated electric lift massage tables and automatic massage tables on the market. Also some recommendations on which tables are best suitable for which type of massage as well as other spa treatments. Scroll down to read our concise buying guide.
Electric Lift Massage Tables
---
1 EarthLite Ellora electric lift massage table
a strong yet silent workhorse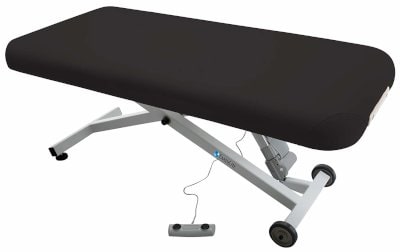 The Ellora is a beast of an electric lift massage table, designed for heavy use in a clinical environment. It weighs in at an enormous 190lb and the powerful motor has a lift capacity of 600lb.
The powered height is adjustable from 17" to 36", meaning it's easy to access from a wheelchair.  It's adjusted with the hands-free foot pedal, so you can move clients without interrupting their massage.
The whisper quiet motor has a two year warranty and the sturdy frame is guaranteed for life. The foam is relatively thick, at 3", but the triple-density texture means it's still suitable for fairly intense massage.
2 Spa Luxe electric lift massage table with headrest and arm shelf
full-fledged flexibility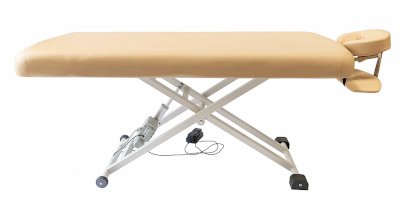 This comfortable electric lift table comes with an adjustable face cradle and arm shelf, meaning that clients have a greater choice of positions during face-down massages – for example, they can bend and raise their arms to allow you easier access to treat their chest and ribs for deep tissue massage.
It's 73" x 30", big enough to be comfortable for clients without being so broad that the masseur has to stretch. With the height adjustable from 17-39" so, like the Ellora, it's suitable for clients who use wheelchairs.
The German-made hydraulic motor is motor is fairly small and fixed to one of the crossover legs, which means there's legroom at head and feet for a seated practitioner – great if you need space for things like cranial-sacral massage.  The Spa Luxe is delivered fully assembled, so you can just plug in and go with no setup required.
3 SPA Tech-Classic electric power lift massage table
powerful budget buy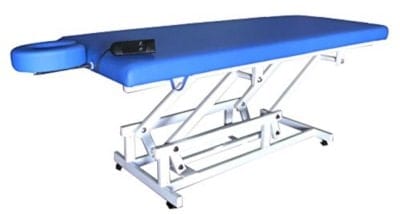 This table is relatively light at 115lb, but still supports a static load of 2400lb and a lift weight of 600lb – despite it being one of the cheaper models on the market, it's stronger than many models which cost twice as much.
The scissor-legs design offers a quick and quiet lift, at the cost of giving you less legroom underneath the table – this makes it more suitable for practitioners who usually work standing. It lies totally flat with no sections or tilting option. The table is 31" by 72", or 87" with the included headrest, and powered height is from 21" to 31".
The cover is oil and water-resistant, which means it's suitable for treatments like Ayurveda and aromatherapy which often work with heated oil. (Although if you usually give 'wet' massages, you'll probably want to invest in a removable wipe-clean cover to prevent the surface getting discolored over time.)
The Spa Tech is operated by hand controls, which can be a bit of a fiddle to work when you've got greasy hands, but it isn't a huge inconvenience to pause and wipe your hands on a towel before lowering the client down.
4. SkinAct Opal electric lift massage table
dual motors for ultimate convenience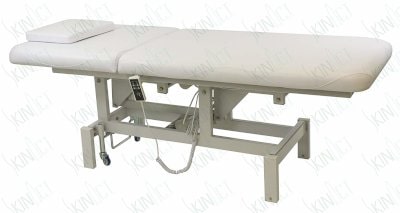 This 28"-wide sectional table has both the back and height adjustable independently. When used as a flat table, there's a breathing hole built in for face-down work, which can be covered with a removable cushion that attaches from below.
At the touch of a button, the table folds in half to create a chair with its back at a 75 degree angle. Featuring two actuators (motors), the backrest recline is automatically adjustable as well.
The Opal Electric is one of the higher tables on the list, with a hydraulic lift from 26" to 35" off the ground, so it's great for taller masseurs to work without straining their backs, or treatments like Thai and sports massages which involve manipulating the limbs rather than pressing down from above.
5. DIR's Mar Egeo electrical lift massage bed
sports a soothing smooth surface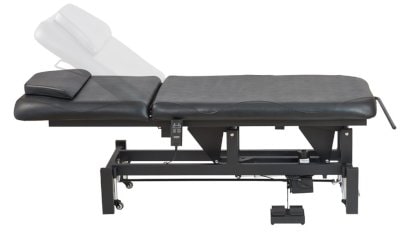 This table is coated in high-density memory foam which 'melts' under the heat and weight of a client's body, making it a great surface for super-relaxing treatments like Swedish massage.
It can be used flat, with a 6" breathing hole covered by a removable pillow, or the back can be raised. The four-legged base makes the table feel sturdy, although they take up so much space that it's really only suitable for practitioners who work fully standing.
The Mar Egeo is a practical choice if you work in a clinic where you share tables with other practitioners: it comes with a double set of retractable wheels so it's easy to reposition, and to match your preferences it comes with both hand and foot controls supplied as standard.
It also has clever features like a roll holder at the end of the bed, to keep your disposable table cover paper handy.
6. SkinAct Monet electric lift massage bed
sheer unlimited positioning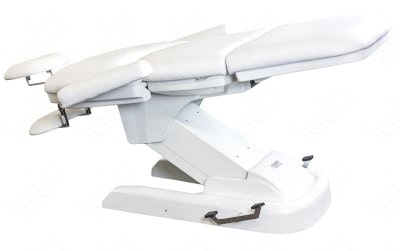 Rather than an electric lift massage table which folds into sections, this is more like a hydraulic massage chair which flattens into a table. The 4 motors move height, tilt, back, and armrests all separately: combine that perfect positioning with the super-plush 4" cushion and you've got the basis of a seriously relaxing treatment, ideal for Shiatsu or Swedish massage. Its adjustable height: 20″ to 35″.
It's best suited to face-up work, such as facial lymphatic drainage and Indian head massage, as the protruding armrests make it a bit awkward to get comfortable when lying on your front. It's delivered in parts, but home assembly is fairly straightforward, just click together the joints and plug in the motor.
Although the SkinAct Monet weighs 140lb it comes with hidden retractable wheels, so once you've put the chair together you can still move it around easily. One thing to note is that the motor is only available in 110V settings, which isn't suitable for therapists working in Europe or Asia.
7. SkinAct Venus electric lift medical spa treatment table
uplifting esthetics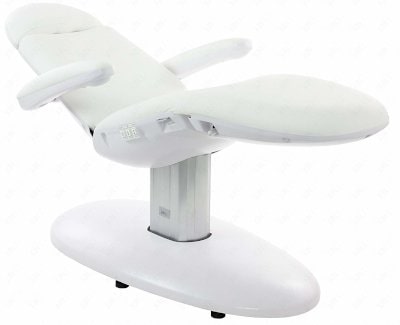 The Venus electric lift treatment bench is marketed at estheticians, but it is suitable for any massage treatment which is administered sitting. It lies flat, tilts, inverts, and folds up into a chair with the back raised to 90 degrees – a rare feature which is extremely important to many estheticians, since facial injections can only be safely administered when people are sitting up perfectly straight.
The single-leg construction means lots of space under and around the chair for the practitioner to get in close to the client, and there are both side and back remotes so you can control the position from two different angles. The base has six adjustable casters for uneven surfaces.
It has a 350lb static weight capacity (not lifting weight), which is on the lower side of what's standard for massage tables, but it should be sufficient for most needs. The soft-touch fabric cover is the same as is used in automobile interiors, so you can expect up to ten years' lifespan.
8. SkinAct electric lift massage table, facial chair
keeps massage therapists on the straight and narrow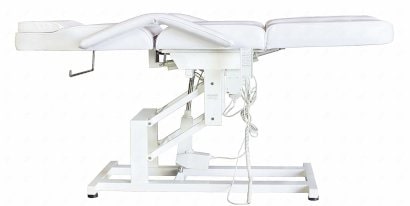 This electric lift massage chair tilts at the backrest and knees, transforming at the touch of a button into a flat massage bed with a removable face cradle. The armrests are removable, so you can take them off them when lying flat or keep them in position for the client to hook their arms into.
At just 24" wide, it's one of the narrowest massage beds on the market, making it ideal for treatments like acupressure massage which require close contact and accurate positioning.
Some of the design features make it easier to use in a seated rather than a flat position – for example, it's designed for 300lbs working weight or 500lbs static, but the head and foot parts aren't as well supported as the center of the table so your clients will have to make sure they get on from the middle.
9. SierraComfort electric lift massage table
low rider keeping a high profile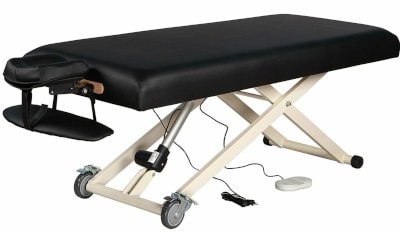 The SierraComfort goes the lowest of any table we've looked at, starting at just 16" off the ground and moving up through a huge 19" range of powered height. It's adjusted with a foot pedal, so if you're treating clients with major mobility impairments you can move them automatically into position while having both hands free to offer extra support.
It's a comfortable 30" wide, with a small motor and narrow scissor legs underneath, so gives you plenty of space to work. The 3" foam padding means it's better suited to relaxing massage than tough trigger-point treatments.
It comes with a variety of interchangeable accessories, such as a memory foam face cradle and an armrest – this gives you the option of quickly changing the layout of the table to suit different clients' needs. It also has two pairs of lockable wheels so you can move it around your therapy room easily.
10. Spa Luxe electric lift massage & spa table
a jack of all trades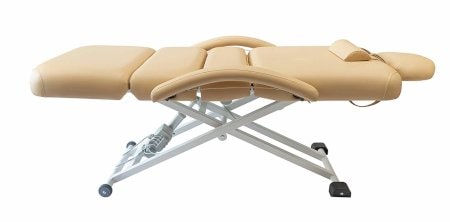 This is a real mix-and-match hydraulic massage table, with lots of options for positioning, making it ideal for use in clinics which offer different styles of massage rather than specializing in a single technique. It's fully sectional, with backrest, leg rest, and foot section all adjustable, and the chair has 3 separate motors for extra power.
The Spa Luxe comes with lots of optional extras – a neck rest to use in the seated position, an arm shelf and face plate to use while lying down, and flexible side arms for either position. Many of the parts are interchangeable with other popular brands of massage table, so if you already have a favorite face plate you can reuse it with your new chair.
11. SkinAct Cloud electric lift massage table
gives you a leg up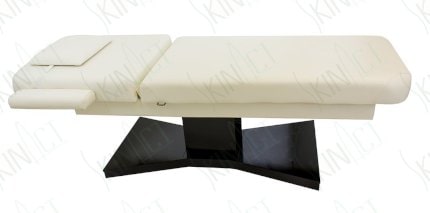 This bed features two motors hidden within a single-leg base, allowing lots of legroom underneath the table. This is a really useful feature for practitioners of things like reflexology, who often work seated and need enough space to get their legs under the table.
The range of height is relatively limited, at 25" to 33", but this is likely to be enough for most masseurs unless you're very tall or you treat clients who need to get in from a seated position.
At a narrow 28" across, the bed offers excellent access to the client's body without needing to stretch over the table, which is great for things like deep tissue massage which require a lot of pressure.
This electric lift massage bed isn't fully sectional: the backrest and footrest can only be adjusted at the same time, when folding between a chair configuration and a flat bed. So, for example, you can't have the back raised while the legs remain flat.
Automatic Massage Beds (Non-Lift )
---
Automatic massage beds offer you the chance to get a soothing massage without needing a therapist. They're great as home treatments for chronic conditions, when you want the benefits of massage without the costs of getting daily treatments.
They can also be a good introduction to massage for people who are uneasy with physical contact. Most combine physical pressure, such as automatic rollers, with heat treatments such as far infra-red (FIR).
12. Jade therapy automatic massage bed with infrared heat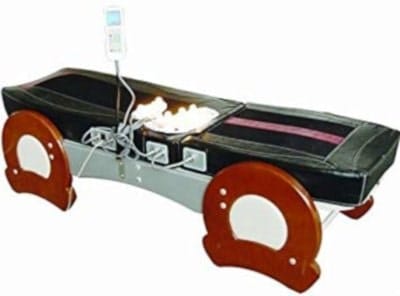 This automatic massage bed combines two forms of heating. The center of the bed is lit up with space-age-looking bulbs which emit FIR radiation, designed to penetrate more deeply into the tissues than standard infra-red heat.
Underneath the cloth cover are nine rollers made from jade, which heat up to warm your skin as they massage the entire length of your body.
The WP Jade massage bed comes with an LCD control handset, so you can easily adjust the settings to focus on lower back, upper back, or whole body. This model is popular as an office perk, as it's great for working out the stiffness and tension which results from sitting over a keyboard all day, and it's easy to adjust to users of different heights.
13. Armedica AMQ400 intersegmental roller massage Table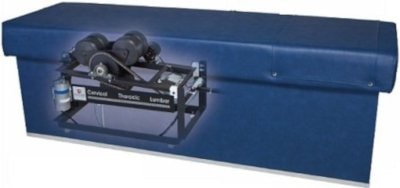 Chiropractors train for years to learn how to roll out the subluxations (dislocations) of the spine, using gently varying pressure to slowly ease apart the vertebrae and release deep-held tension in the back. This table uses inbuilt rollers to do the same trick for home use.
Simply lie on the table and the rollers move up and down the length of the spine, and can be paused to work on specific areas to give a trigger point massage.
If you find a certain point needs deeper work, you can use the hand control to raise and lower the rollers for a more or less intense treatment.
The Armedica massage bed is also suitable for professional use: once you've programmed the correct settings for the user, it's possible to lock the bed so that they can't change the program.
14. Migun physiotherapy jade massage table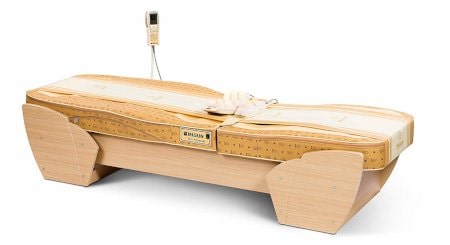 This automatic massage bed uses smooth jade stones to provide a deep massage over your whole body. Suitable for a variety of conditions, from osteoarthritis to trapped nerves, this table comes programmed with eight pre-set massages to treat everything from sore abdomen to lower back strain.
It's designed to work with your body's acupressure points, eliminating pain and stress by targeting certain trigger points such as the shoulders by utilizing spinal traction. It also uses FIR, long-range heat radiation which warms your body from the inside out to provide a feeling of deep relaxation.
Electric lift massage table buying guide
---
Here's a few things to consider when buying a hydraulic lift massage table.
Dimensions
Your first consideration will probably be size. Standard hydraulic massage tables come from 26" to 34" wide and seven to nine feet long: the best size for you will depend on what you're using it for. Narrower tables allow the therapist easier access, without having to stretch and bend, but wider tables are more comfortable for the client: nothing ruins a peaceful trance faster than the fear that you'll roll off the side of a too-small table.
As a general rule of thumb, therapists under 5"4 will probably work most easily with a table of 29" or below, whereas if you're 5"10 or above you'll be comfortable with 32" or above.
Height is another important consideration. Most electric lift massage tables have a range of about 12" from top to bottom, which is fine if you want an height adjustable table just to save your own back strength during massages.
However, if you work with clients who have limited mobility, then you'll probably want to choose a table which goes down to 20" or less off the floor, allowing easy access from a wheelchair without having to use a winch.
Think about your own legroom, too, especially if you do seated work such as head massage or rolfing. Some tables have a complicated system of criss-crossed legs, or a boxed-in motor which takes up most of the space under the table. If you need plenty of room to move under the client, consider a single-leg table which leaves more free space underneath.
Types of electric lift massage tables
These massage tables come in two main designs, flat or sectional. The flat ones just go up and down, sometimes with a tilt feature. Sectional ones come in parts – armrests, headrests, legs, and back may all move separately. Sectional designs allow you more options to reposition the client, and they're great for use in salons where they can be folded up into chair form and used for beauty treatments.
However, some sectional tables have awkwardly-positioned joins which make it harder to get comfortable when lying flat. Think about the weight the table will support – not just the static load that it can bear, but the amount of weight that the motor can lift.
If you do intense treatments such as Thai massage, there are likely to be times when you're leaning a fair proportion of your weight onto your client's body, and a table which supports less than 350lb is likely to feel a bit wobbly if either you or your client are heavy. And can it support that weight all over, or do the head and foot end feel less secure?
Features
While no adjustable massage tables are portable – even the lightest ones weigh as much as a small person – some of them are easier to maneuver than others. If the table has one pair of lockable wheels, you'll be able to shunt the table into a different position; with a pair of wheels at each end, you'll be able to move the table fairly easily.
If you're ordering online, remember that a lot of retailers only offer curbside delivery, which means they'll lift the package off the truck and then leave it on the pavement in front of your delivery address. If you're ordering a heavy table, you'll probably want to fork out extra for white-glove delivery, which will get the whole thing carried right up to the spot you want it.
What other features you choose will depend largely on what type of massage you practice. The thickness and density of the foam will affect the comfort of the massage. If you specialize in relaxing massages, like Swedish massage or aromatherapy treatments, then your clients will probably prefer a foam of 3" or more to allow them to get really comfortable.
For more strenuous massages, like deep-tissue treatments or osteopathic massage, a 2" layer of foam will allow you to exert more pressure without straining your hands.
Extras, like a breathing hole or head cradle, armrest, or inbuilt pillow, may or may not be useful depending on what sort of positions your clients usually lie in for their massage.