Whether you're a professional master craftsman or an pastime artisan, overhead lighting can be a go-to option, but often it doesn't cut it. A quality task light should support your arts and crafts by increasing your accuracy, productivity, and overall contentment.
Which craft light is best for your craft depends on its character. In general, however, we can list the following requirements.
Light output needs to be sufficiently bright and color-true as poor lighting causes eye strain and other discomfort such as sore neck and shoulders, headache, blurred vision and difficulty with concentrating on your task.
The human eye sees some light wavelengths with high contrast. Edges of objects appear sharp which is perfect for seeing fine details yet you'll lack color accuracy. Other light wavelengths reproduce vibrant colors but emit a bright glaring light which causes you to squint your eyes.
A crafting lamp needs to hold position effortlessly, if it does not, constant adjustment would distract you from your work.
1. The magnifying clamp lamp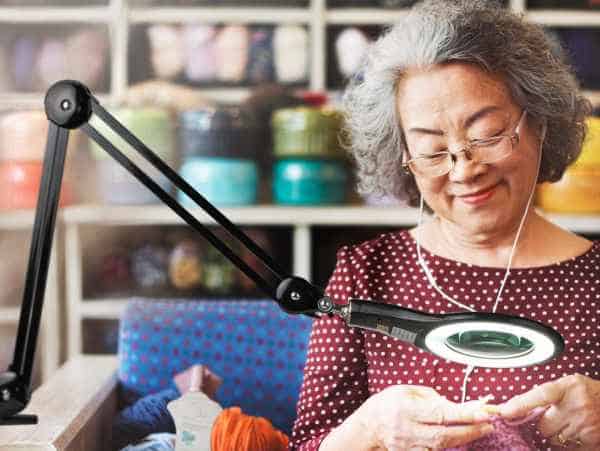 Whether you're looking for a lamp to brighten your macramé, quilting, patchwork, ikebana, origami, or papier-mâché activities, the Brightech LightView Pro LED magnifying lamp offers a flexible solution. It lets you focus evenly distributed, non-blue-tinged light on your work area.
Angling the head makes it easy for you to position your craft lamp at a helpful height while it prevents you from being blinded by the bulb. It emits bright light without producing glare. Its magnifier reduces eye strain.
Its robust steel gimbal and sturdy overall build let you rotate this crafting lamp into position easily. So no precious time or concentration is lost because of obligatory fiddling with it.
2. The hands-free, flexible light you can adjust in all directions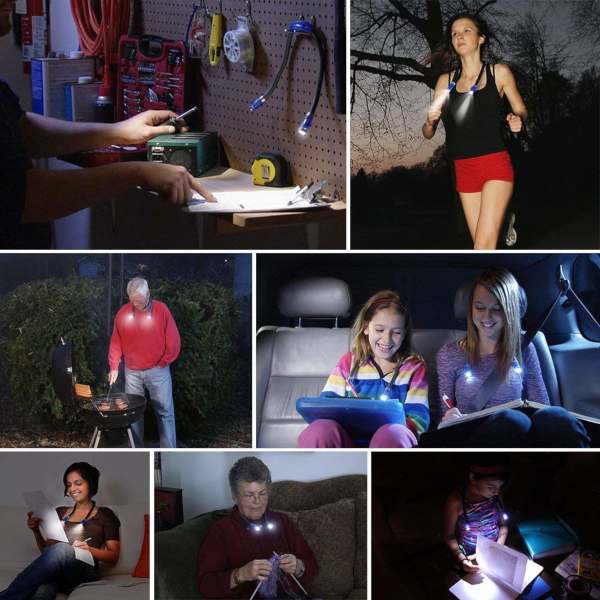 Like two antennae you can direct its flexible arms at any angle to create the perfect lighting for your craft. Simply hang the Ledgle LED light from your neck, the wall, or or put it down on your table. Choose between wide angle and spot light.
For many hobbies and crafts such a versatile lamp makes perfect sense. Especially to deal with spots where shadows might fall. As well as for crafts where you're moving around quite a bit. When your lighting needs continuous adjustment. When overhead lighting doesn't suffice, this little lamp makes a practical, affordable alternative to larger task lights such as table lamps and floor lamps.
3. The full spectrum daylight lamp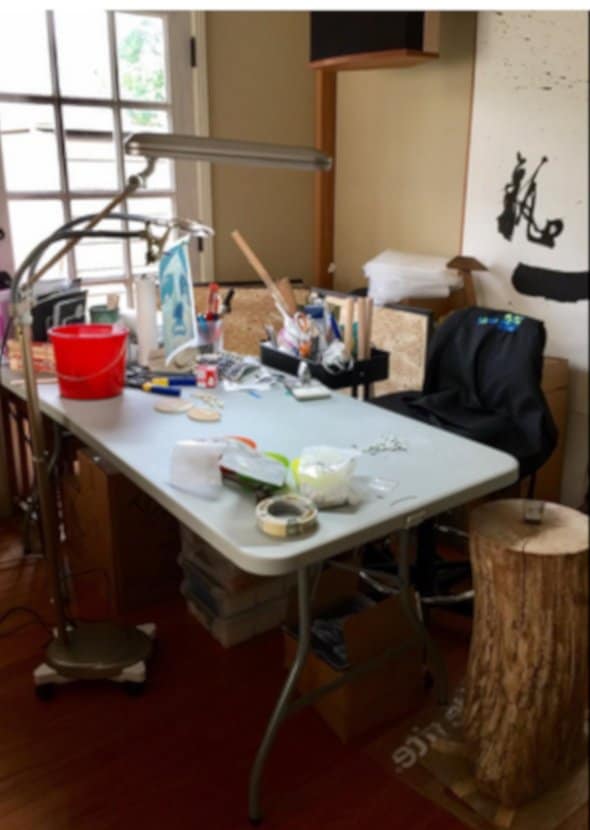 A full spectrum, a.k.a natural daylight lamp is a must for crafters and artists who depend on color fidelity. Whether you're a painter, indulge in embroidery, mosaics, yarn crafts or simply want to take indoor photos of your yarn stash without having to edit the yellow tones out afterward.
The OttLite K94CP3 3-in-1 adjustable-height craft floor lamp is essentially 3 lamps in 1 with an adjustable magnifier and pattern clip making it ideal for a sewing room or a jewelry making space, just to name a few applications.
This bestselling craft lamp emits soft, eye-soothing light, not the harsh yellow tones so common in traditional artificial light (incandescent bulbs). Energy saving bulbs and common LED lights, on the other hand, are often harsh white whereas full-spectrum light provides authentic, natural color rendering.
If absolute stability is a requirement for you make sure to get the locking casters wheel base accessory. Mount the magnifying glass upside down in case you need it at a lower position. The clip lets you hang patterns and instructions while the magnifying glass is there to enlarge sections if necessary making it a great addition to a drafting table.
Pro tip: Maintain a proper balance of illumination in your work space. Do not solely brighten the area where you perform your task but make sure your surroundings are well-lit too. Working in a focused illuminated area while the rest of the room is dark for long periods of time can cause discomfort.
4. The optimally facilitating ceiling light fixture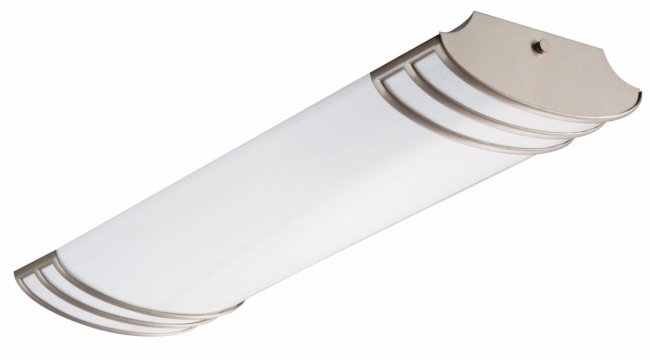 You might've been wondering, "what's the best light fixture for craft rooms?" One general guidline indicates that a fixture needs to emit clear, diffuse light, thus reducing hard shadows and glare.
A popular choice for this purpose are linear light sources such as tubular, fluorescent or LED bulbs as they emit diffuse output from the lamp surface.
Of course there's no cookie cutter answer to which solution is best for because that depends on your situation. More specifically, the type of craft you indulge in as well as the physical attributes of your craft room largely dictate which lighting option is most suitable.
However, in many situations, adjustability is key. Being able to hang the light lower to mitigate a high ceiling can be a huge win. Additionally, a fixture with tracks to focus the light on the area in the room where you're currently working on your project can make all the difference to you.
For your hobby room, consider the following options.
In many craft rooms, a simple flush mount light will suffice in providing even illumination to support various types of crafting (make sure to get a 45 watt LED instead if you need really bright light).
A retractable, height-adjustable, fully dimmable multiple pendant light ceiling fixture. This model features a metal hanging rod that adjusts in three places so you can adjust according to your needs.
If you need something even more customizable, a multi-directional adjustable track light with flexible, foldable arms might do it for you. If necessary complimented with a wall spotlight to ensure every corner and crevice of the room is illuminated properly.
"After replacing the halogens with LEDs, I can now land airplanes in the room. All the dark areas and shadows have disappeared."
5. The 'perfect for crafts and pretty much everything else' desk lamp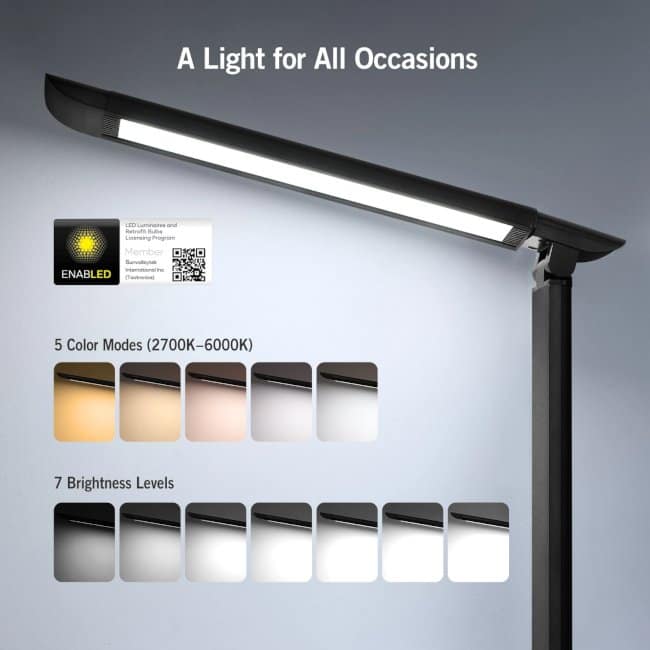 With a solid 4.8 out of 5 star rating on Amazon, it's nearly impossible to wrong with the TaoTronics TT-DL13 LED desk lamp.  Its sleek design ensures it will fit right in pretty much any craft room.
As any crafter will know, a harsh glare, working on intricate details, or just visually concentrating on your work at hand for long periods of time can cause eye strain. A burning sensation, watery eyes, or other forms of eye fatigue can be avoided by ensuring high quality lighting is available.
The TT-DL13 is designed with being gentle on the eyes in mind. It emits a wash of non-flickering, stable light that makes both focusing on tiny details as well as on the big picture a breeze. Stringing beads with tiny holes? Using flat knit on no-stretch yarn? Frogging mohair yarn? The TaoTronics desk lamp won't let you down.
Not only does it feature a slider that allows you to control 7 brightness levels, there's also a small button to pick from one out of 5 color temperature modes (2700 – 6000 K) to ensure you're indulging in your craft under the best circumstances for your eyes.
Looking to cast the perfect spotlight? The lamp is highly adjustable as you can swivel the head 90 degrees and tilt 135 degrees while the base can be swiveled 45 degrees and tilted down 150 degrees. What's more is that it has a USB-port so you can charge your phone or tablet while working.
What's your favorite craft light? Share below..
Last Updated on November 25, 2020 by Tyler