Which desk is the best craft station for adults depends largely on the type of craft you indulge in. Are you into drawing, drafting, scrapbooking or sewing?
Want a desk for some simple doodling, graphic design or YouTube or BitChute video editing? Need a table that fits the description "a quilters dream"?
By thoroughly analyzing hundreds of reviews, we've gathered a selection types of craft stations that are not only top-rated but best suited for specific crafts.
Before you make a purchase, it might be helpful to decide which features are essential to you. Scroll down this page for a more extensive buying guide.
tiltable tabletop. to which degree angle should it tilt?
rolling table  (casters or rubber feet)
can be used as an easel? does accommodate canvases?
has table extender(s) to increase table top surface?
has lots of storage
Here we go, the..
Top 10 best craft stations for drafters, crafters and other artists
1. Best large station for drafting
large surface craft station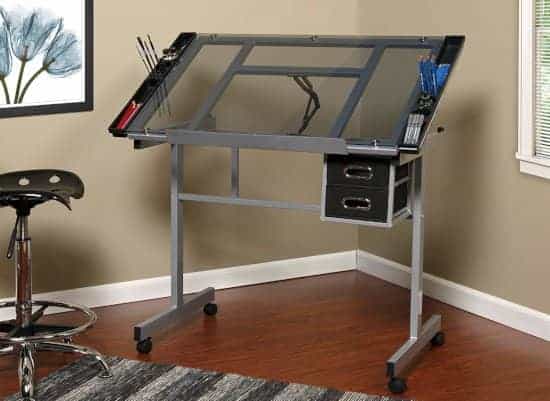 This tempered-glass craft station offers over six square feet of work surface, and can be angled up to 62 degrees from flat.
There's a metal lip to hold your work in place on the slippery glass when angled. Legs adjust from 32" to 41" high, so it comes down low enough that you can easily use it while lying in a recliner if you so wish.
Four casters underneath (two are lockable) mean that you can move it around the room to chase the best light.
There are two small drawers underneath for long-term storage of art supplies, and removable multi-slot storage trays on each side to hold the bits and bobs you're using for your current project.
The storage trays have extra-deep recesses to help prevent your stuff from falling out when the table is raised at an angle. Read reviews of the OneSpace 50-CS01 Craft Station.
2. Best simple art table
good old classic look and functionality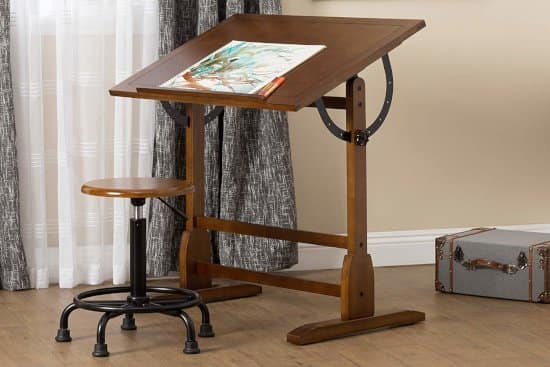 This is a moveable tabletop on legs: no drawers, no pencil holder, no lighting.  It's certainly simple, but it isn't basic.
This minimal, rustic oak draft table has the largest range of motion we've seen, rising up to almost 80 degrees.  Since the tilt axis is in the middle (rather than at the front), you can angle it either forwards or backwards.
And without any storage to get in the way, you can easily move around the table to use it from any direction.  At 36" x 24", the tabletop is just the right size to hold a large piece of drafting paper, making it ideal for working on blueprints.
The solid-wood design of this drafting table makes it particularly good for occasional use. It looks just like a normal side table, which means it won't dominate the space when you put it in a rec room or study. View its current price here.
3. Best craft station for storage
large work surface – various storage spaces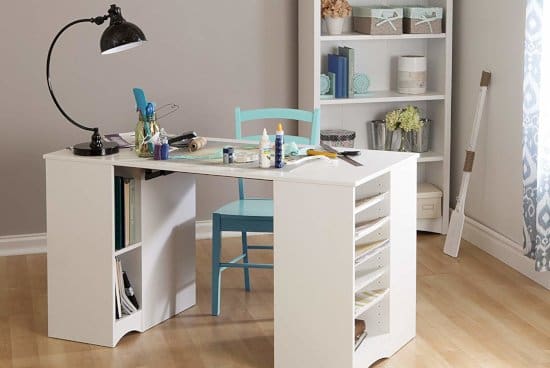 If you want to keep all your craft supplies in one convenient place, this is the table for you. This flat-topped table has two front cabinets for large items, and a central drawer for smaller bits.
One of the cabinets has shelves at the back to hold less-used items, and the other has racking at one side to hold books and folders. The cabinets are interchangeable, so you can swap them around to get the most useful configuration for you.
The desk also comes with two sets of holders for the inside of a door, which are great for storing small tools like pliers and fabric scissors.
The work surface is an enormous 53" x 24", making it suitable even for space-hungry hobbies like quilting. More info about the South Shore artwork craft table.
4. Best cutting mat for crafts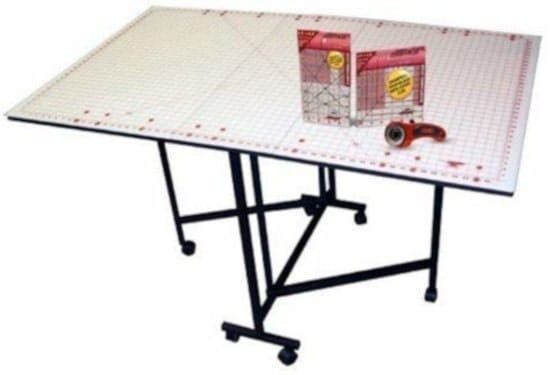 There are two types of people who use a cutting mat: the hardcore crafter, and the absolute beginner. If you do crafts like linocutting or leatherwork, which use sharp tools and a fair bit of force, you probably prefer to lay a cutting mat over your table to protect the surface.
This gridded cutting mat is made from low-density polyethylene, which is strong enough to withstand cuts without getting shredded, but gentle enough that it won't blunt your tools.
Alternatively, if you've only just started getting into crafts, you may feel apprehensive about buying a full craft table. You don't necessarily have to search for a dedicated cutting table as a home hobby table will often suffice as well. Cutting tables take some time to assemble and they take up a lot of space – what if you lose interest?
Marked out into one-inch segments with guidelines to help you cut at an angle, this 36"x59" mat can turn any home hobby table or dining table into a craft area.
If you're living in a cramped apartment, you can even lay Sullivans cutting mat out on the floor. When not in use, you can roll it up into a tube like a yoga mat for storage.
5. Best craft station for sewing
sturdy and stable yet easy to move around thanks to its wheels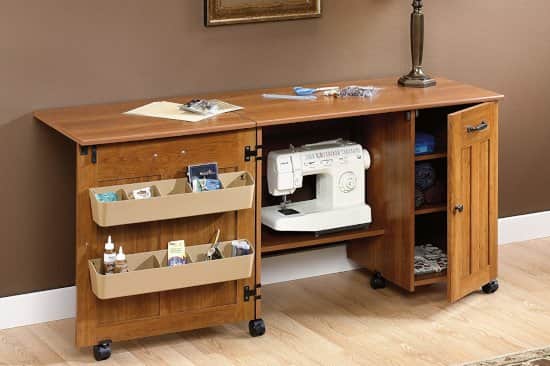 The trickiest thing about sewing is how much space you need. If your spouse is tired of you cutting out patterns on the bedroom floor, a folding sewing table could be the answer.
This table looks like an oak cabinet when not in use. Swing it open along the side hinge, and it turns into a long, narrow sewing table. There's a space to sit comfortably in the center, and it's the right height to work comfortably with any standard chair.
Mainstay's Sewing Craft Center has locking caster feet, so if space is really tight, you can store it in a corner and wheel it out when needed. Despite its sturdy construction, the particleboard is fairly light, so it's easy to open and move.
6. Best sewing storage table
sewing workstation and discrete storage solution in one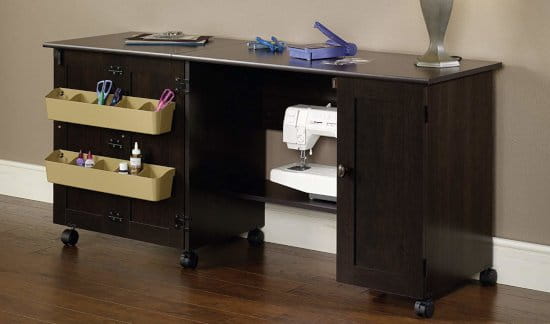 This storage table is inspired by old-school sewing tables. It comes with a drop leaf to provide increased surface area when needed.
It's just the right size to hold all your equipment for a current project: there's a cabinet at right to hold fabric and pattern pieces, and two shallow storage bins at left to keep at hand small items like fabric scissors and seam rippers.
What's more, it has a footrest, the wheels make it easy to move around, and the carts allow for ample storage .
When not in use, you can store your sewing machine on the handy shelf underneath, and hide all your equipment by pulling the roll-open door across and turning the table into a cabinet.
7. Best multi-purpose craft station [bestseller]
most versatile, hobby and crafting station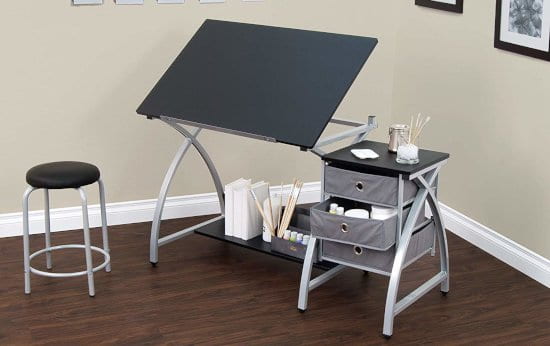 There's a reason this set is the best-selling craft table on Amazon, and it's not just that it costs barely $100 with a matching stool thrown in.
It's a great all-rounder, suitable for most crafts, so it's ideal if you're sharing the table with other family members.
The table has two adjoining parts: a broad tabletop which can be raised up to 20 degrees, and a smaller flat side-table to hold your equipment when the main table is tilted.
Underneath the side-table are three stiff fabric drawers, and there's a flat shelf at the bottom which can either be used as a foot-rest or for extra storage. The six feet all have floor levelers for stability.
8. Best cutting table for sewing
folding multipurpose craft, cutting and hobby table with drawers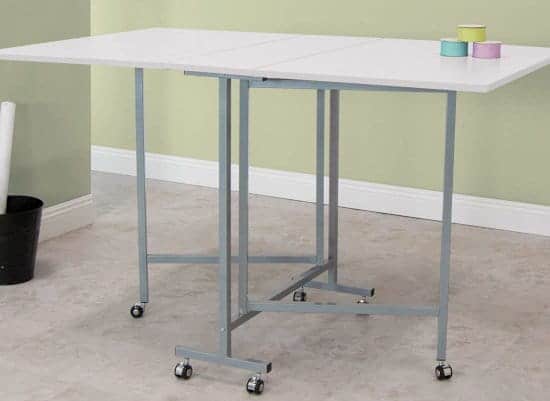 When you're piecing together a quilt or laying out a pattern, what you need is a wide expanse of flat space. You could always use the floor, but all that crouching and stretching is tough on your back – and nobody wants dropped pins getting lost in the carpet.
This expanding table offers a 3ft-by-5ft surface, enough to lay out a dress or a small quilt, and at 36" high it's the perfect height to use while standing.
The great thing about this table is that although the surface is enormous, it folds down small. With both drop leaves lowered, you're left with a surface that's just 13" wide, so you can push the collapsed table unobtrusively against the wall or slide it into an alcove.
Sew Ready Studio Designs craft table's six locking casters on the feet mean it's easy to move and reposition.
9. Best cutting table for quilting
folding multipurpose adjustable height craft table with drawers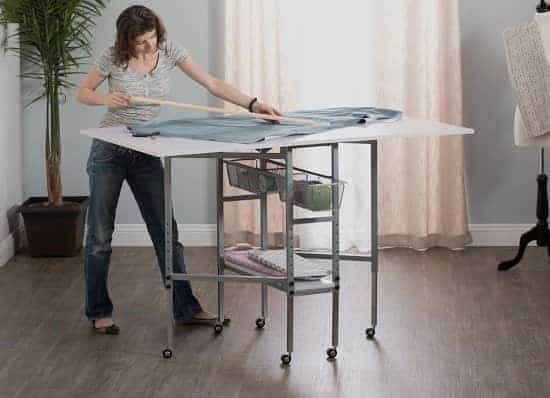 This is a high-sided table with a large surface area, ideal for laying out and cutting cloth. There's a sliding mesh drawer in the center which is just the right size for holding spare quilt blocks, and a bottom shelf which is great for keeping your sewing machine out of the way until needed.
The height can be adjusted from 30" to 39", which really saves your back on long projects. This gives you the option of standing at the table to lay out your pattern but sitting down to stitch everything together – or even just moving the table up and down by a few inches every hour, so you're not bending at the same angle all day.
When you've finished working, the table folds to just a foot wide and can be easily rolled into a corner on its six casters. Many tables in this category tend to be flimsy but this table is heavy, and sturdy and stable. It's Amazon's choice in cutting tables for quilting. Read reviews here.
10. Best craft station for painting
height-adjustable, tilting drawing table with stool and drawer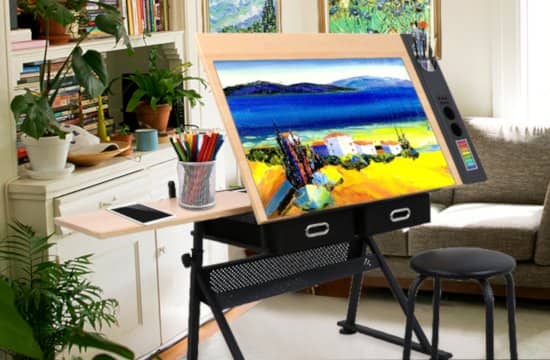 With a double-layered work surface, this table is particularly suitable to use as an easel. The top layer adjusts from 0 to 45 degrees, with a bottom lip to hold sheets and canvases in place.
The lower layer remains flat and can be slid out to one side, giving you a convenient place to put paints and brushes.
The top layer is also fitted with slotted storage trays to hold pens and pencils. Underneath are two generously-sized drawers, and a perforated shelf which is great for holding damp canvases out of the way while they dry.
Keep in mind that the drawers are made out of cardboard and cloth which might not be the sturdiest but aids the lightweight characteristics of this table.
The Amazon bestseller in the category drafting tables offers great value for money making it a highly popular drafting station for beginners and for leisure time activity. Learn more about the Zeny draft desk here.
---
Which craft station is best for you? A buying guide
There's nothing more frustrating than trying to put together a craft project on a cramped kitchen table, then having to pack the whole thing away so someone can prepare dinner or do their homework.
If you're serious about your hobby, you need your own craft station. A good workstation will give you space to create and a place to keep your most-used equipment to hand.
Of course, the term 'craft' covers dozens of different activities. If you do something small-scale and highly focused, like calligraphy or jewelry-making, you'll probably prefer a small table with floor levelers for stability.
Drawing and painting need a tilting table with a large surface area, and a lip at the bottom to hold canvases in place when at an angle. Fabric crafts like quilting usually work best with an extra-large surface for laying out patterns.
Just as important as function is space. You need a table which is large enough to work on, of course – the bigger the better, since you can do small-scale projects on a large table but not vice versa.
However, unless you're lucky enough to have a very large house, you'll probably need to put it away when not in use. Many workstations can be folded down for easy storage; others can do double-duty as study desks. If you're planning to move your table around often, look for one with lockable casters to save effort.
When thinking about the size of your table, don't forget about the height. Do you like to work seated or standing? A height-adjustable table will give you options – especially if you're tall – but the extra comfort comes at an extra cost.
If you choose a fixed-height table, make sure that it's high enough to fit your favorite chair. Be careful with fixed-height tilting tables: some of the cheaper models go so low when angled that it's impossible to get your legs underneath, so make sure to check the measurements before ordering.
Think about storage, too: do you want to keep all your equipment in one place? Some craft tables have lots of drawers and shelves, but this means the table is too heavy to move and too big collapse.
For you, the trade-off might be worth it, especially as a table with lots of shelves will free up space in whichever of your cupboards are currently stuffed with jelly rolls and die-cut machines.
If you're happy storing most of your equipment separately, then there are plenty of inexpensive tables with little or no storage underneath.
Last Updated on April 11, 2020 by Tyler