There's no one item of furniture which is best for a craft room, because different activities need different equipment.
Bright light and magnification is necessary for close work, like embroidery or lacemaking. For heavy-duty activities like leatherwork or whittling, you need a comfortable seat and a very tough work surface.
If you're a visual artist, you might want space to stretch a canvas, or even a couch for life drawing.
It's not just the craft you practice, but also your own personality and work style. Are you someone who works best when you can scatter your equipment everywhere, and see your entire project at once?
In that case, you might benefit from equipment like folding tables and deep storage boxes, allowing you to spread out your work and then tidy up quickly at the end.
Or perhaps you're more meticulous in your approach, finding it easier to get creative when all your equipment is carefully organized and you can immediately lay hands on the right tool for the job.
In that case, you might prefer items like folding art boxes, which have small spaces to hold everything you need.
For some of us, a craft room is a distant dream, and we have to squeeze our hobby into a shared space.
But even if you have a tiny space and an even smaller budget, cleverly-designed furniture can help to keep things tidy and organized, allowing you to store more stuff with less mess: no more arguments with your roommates or spouse about your hobby.
Pro tip. If you're on a budget, many regular items of furniture – like kitchen storage units – can do double duty as equipment for the craft room.
Popular multi-purpose craft room furniture suitable for small spaces
---
1. Wire Rack Storage System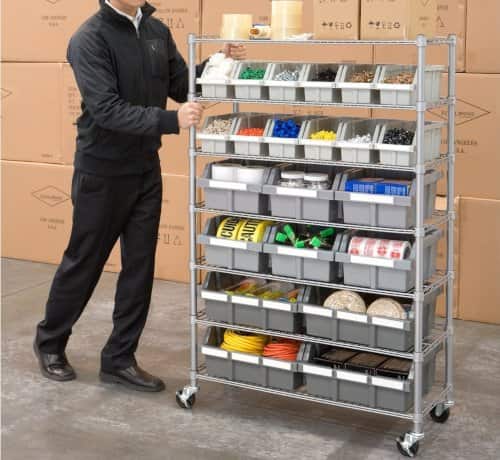 Here's a great example of a piece of equipment which can be easily repurposed as furniture for a craft room. Originally designed for use in a commercial kitchen, this storage system features wire shelves with sturdy plastic baskets of varying sizes.
The open-topped baskets allow you to keep your tools neatly contained but still visible. For safety and easy access, the bins slide forwards and lock into place, so you can rummage for the item you need without having to lift out the whole container.
Locking wheels and a lightweight frame mean that the unit is easy to move and store away. The storage bins can be adjusted – insert dividers to make smaller containers, rearrange the configuration to suit your needs, even swap them out entirely for different colors.
And if you'd, for any reason, decide to not to want to use it in your craft room anymore, hubby will be eager to use this storage system in his garage.
Click here to read reviews and buy.
2. Sauder Sewing and Craft table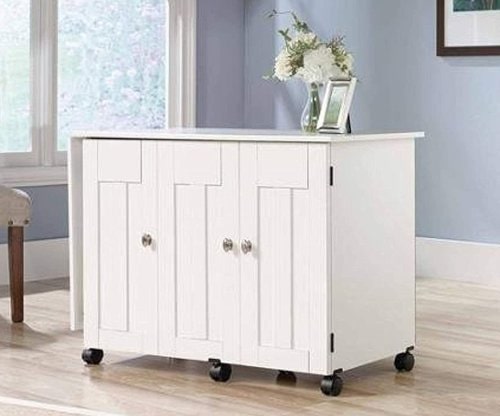 Sewing takes up a lot of space. Ever start cutting out a pattern on the kitchen table, and then have to clear the whole lot away half-finished because it's time for dinner?
Maddening. This folding sewing table has a drop-leaf which lifts up to provide extra space: when it's not in use, the whole thing folds up to look like a small wooden side cabinet.
The latter aspect makes it's great for those who don't have the luxury of a dedicated craft room but are setting up their center in the living room. Once done, this piece of craft room furniture is transformed back to its discrete form.
Underneath the table is a shelf to keep your sewing machine out of sight, and storage bins attached to the door are great to hold small notions.
3. Two-in-One Quilt Display Rack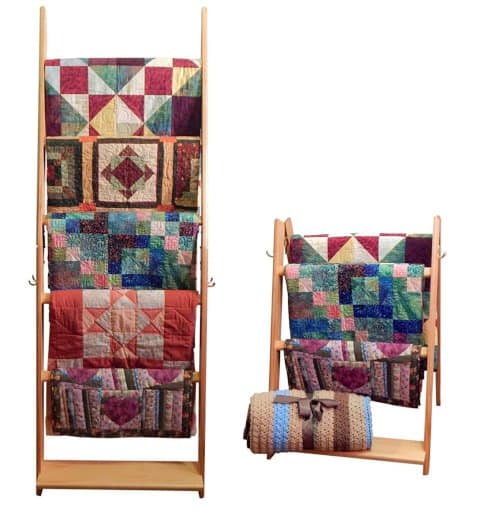 Handmade quilts are beautiful works of art. They're also big and heavy. In the heat of summer, nobody wants to sleep under an heirloom quilt, however beautifully made – besides, many keen crafters have more quilts in their homes than beds to display them.
But after all that work, it seems a shame to roll a quilt up and stuff it into a cupboard. This rack offers a clever and practical way to store your quilts, keeping them tidied out of the way but still visible to admire.
This clever gadget folds between a tall quilt ladder and a folded A-frame quilt rack. The A-frame formation is handy to use while crafting: use it to hold up the components of the quilt you're currently working on, keeping everything to hand so you don't have to dig in your sewing basket the other half of a quilt block.
When you're finished, unfold to make a ladder which leans against the wall, which gives you a compact and unobtrusive way to display finished quilts.
4. Rolling Utility Cart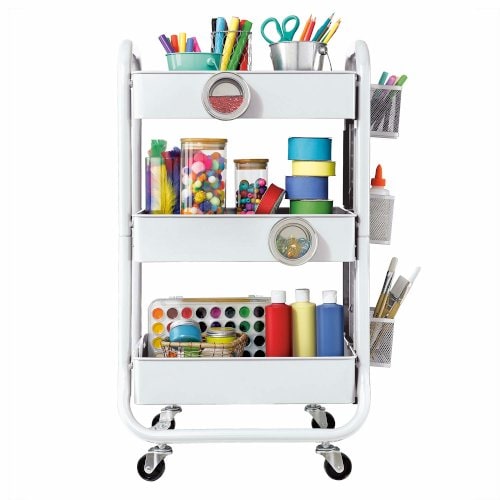 Here's another clever example of a piece of furniture which is designed for general use, but works perfectly as furniture for a craft room.
This storage cart has three-tiered shelves – keep your most-used equipment on the top where you can grab it easily, and put other useful things underneath. The strong frame and wheeled coasters mean you can roll it against a wall or under a table when not in use.
The shelves have solid raised sides, to keep everything safely contained and stop anything slipping to the floor.
The end-plate is perforated like pegboard, so you can attach the three smaller mesh containers (included) in whatever configuration works for you – great for storing things like stationery or paintbrushes.
5. Universal Craft Stand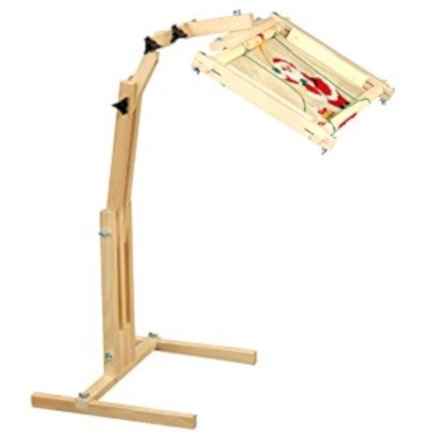 Doing fine craft work can be surprisingly hard on your body – holding tools at the perfect angle is tough on your hands, bending over to see delicate work strains your eyes and back. What if you could make the work come to you, rather than the other way around?
Officially designed for embroidery, this clever craft stand is suitable for all sorts of lightweight craft activities. The adjustable grips hold hoops, frames, canvases, and stretcher bars, and can be easily adjusted for height or angle.
Use it right-handed, or left-handed, or both. What's useful is how adjustable it is: stretch it upwards to use while standing, pull it forward to use while sitting on the couch, and it folds small enough to stash under a chair when not in use.
6. Adustable Sewing Chair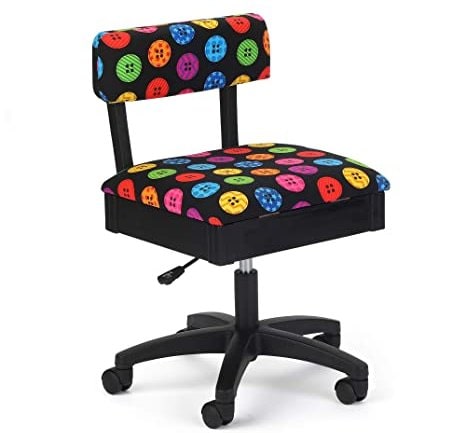 Although the manufacturer calls this a sewing chair, this seat is great for any craft which requires close attention – from painting D&D miniatures to jewellery making.
The height adjusts with a hydraulic lever from 18" to 22", so you can find the right position for both your body and your work surface, and the lumbar support encourages correct posture. A 360 degree swivel seat and five casters allow you to move easily without stretching.
The chair is designed to fit conveniently into a small space, making it ideal as furniture for a craft room. There's a hidden compartment under the seat to hold equipment, like tools or thread.
The seat itself is large enough to be comfortable, but the shape is designed with small spaces in mind – it sits flush against a table when not in use, with no extra handles to stick out awkwardly.
7. Portable Quilt Display Stand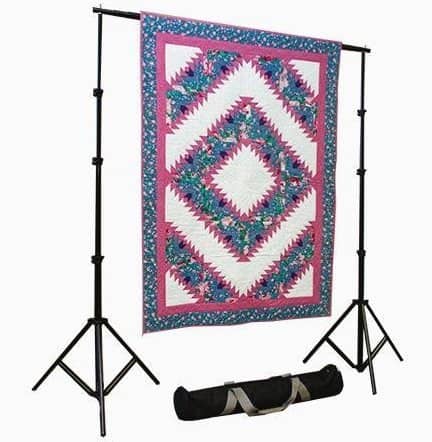 Whether you're a competitive quilter looking to take first prize at a show, a local group looking to display your opportunity quilt, or just a proud hobbyist looking to display your work at home, a quilt display stand is a must.
This design is adjustable, with telescoping rods to hold quilts up to king-size – just use the heavy-duty clips to hold your work in place without damaging the fabric. Most importantly, it can be taken down for transport and easily reassembled at your destination.
8. Four-Drawer Art Supply Storage Box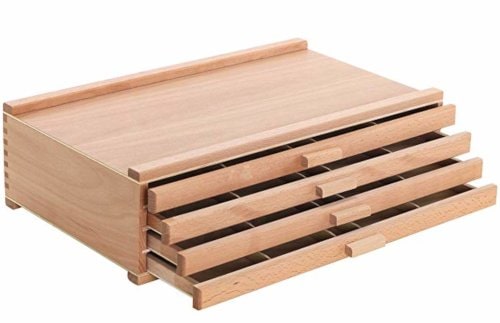 If you've ever had to empty out an overstuffed jar of pencils to get at the one stubby little crayon that's fallen to the very bottom, you'll understand why storing your equipment horizontally is such a game-changer.
The super-shallow drawers in this box mean you can lay equipment in a single flat layer, and the drawers can also be taken out entirely for easy access to the contents.
Ingeniously, this box is designed so it can be stood on its side when not needed. So if you need to clear your work surface to use the space for something else, you can close the drawers of the box and stand it up at the side of your desk.
Each of the drawers is split into sub-compartments, which means that tools will stay separate even if the box is shaken up.
9. Extending Craft Table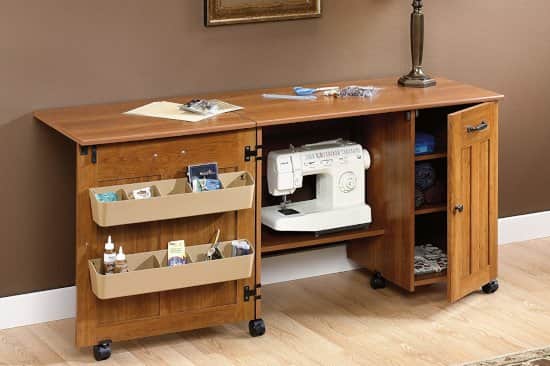 This storage table is a perfect piece of craft room furniture to hold all your equipment for a current project.
There's a two-shelved cabinet which can hold fabric or tools, and the small storage bins inside the door are great for holding small useful items like scissors or erasers.
The door rolls open to support a drop-leaf table, essentially doubling the size of your work surface. When not in use, the table converts into a cabinet which sits unobtrusively against the wall.
Click here for price and availability.
Don't Forget About Craft Room Lighting!
Last Updated on April 11, 2020 by Tyler