In order to create the best game room setup for your taste it's essential to know what's out there in terms of table games, arcade games, sports games, rec room furniture, essentials and accessories.
With pingpong, board games, pool and much more, there's a wide range of activities to keep all ages entertained in a home setting. So let's dive in. Here's a collection of rec room ideas so you can make a considered pick.
The Best Rec Room Games for the Perfect Setup
---
To help you pick optimal games for your recreation room, we'll start with an overview of what's available in terms of table games, arcade game cabinets, and game machines.
Arcade game machines
---
1. Cocktail arcade machine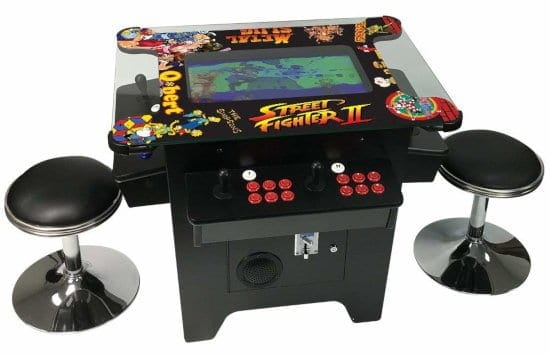 If you were a teenager during the 80s and 90s, hanging out and putting quarters in the machine at the local pizza parlor, the Prime Arcades commercial grade game console is for you.
Fans of coin-operated games will be able to relive good memories by playing the 1162 games it offers. Get filled with nostalgia by reliving your Tekken and Mortal Kombat days. Play all your beloved games from the past, and much more. Immersed in your favorite classics you'll be fourteen years old all over again.
Whether it's for a game room or a man cave, whether you opt for a sit-down arcade machine, upright arcade machine, or cocktail arcade machine, whether you play alone or have friends over, these belong to every self-respecting game room.
2. Arcade pinball machine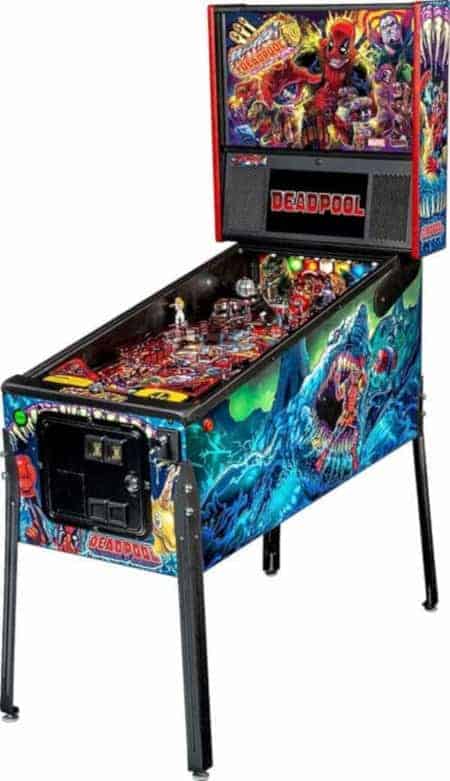 A game room without a pinball machine is like a bird without feathers. Unless, of course, you never really cared for pinball. But it's never too late to give it a shot!
Pinball machines, with their masterfully themed designs, blinking lights, and exciting sound effects, are playable pieces of art. The interaction never bores as the unpredictability of the ball makes the gameplay addictive.
The tactile feeling of the hard-hitting flippers and bumpers, the thrill of hitting targets and ramps, triggering the loud sounds will make you get lost into flow.
Stern's Deadpool Premium Edition pinball machine features striking hand-drawn art by rock and pinball artist Zombie Yeti. Nolan North, the voice of Nathan Drake in the Uncharted-video games, stars as Deadpool's voice.
3. Arcade boxing machine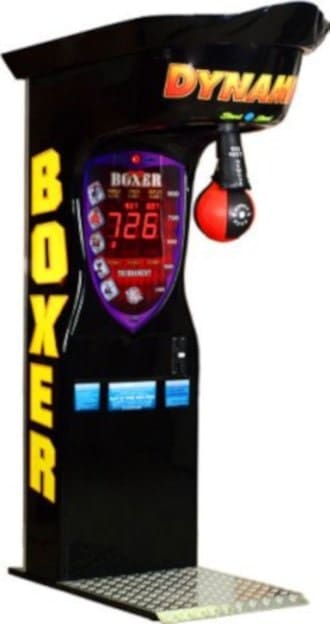 Compete with your friends. Show off that Fedor-style swinging hook you've been practicing on. Vary between elbows, big winding haymakers, and swinging backfists or simply try to improve your record high score with a straight right.
With a boxing machine and some buddies in your rec room, a chest pounding testosterone fest is guaranteed. It's time to set once and for all who of your bros is the manliest. And then, next time again, and again.
Pssst…! Let me reveal to you the secret to beating your friends on the punchboxer machine.. It's not so much about proper boxing technique but more about using your body weight leveraged by twisting your legs and core.
4. Arcade arm wrestle machine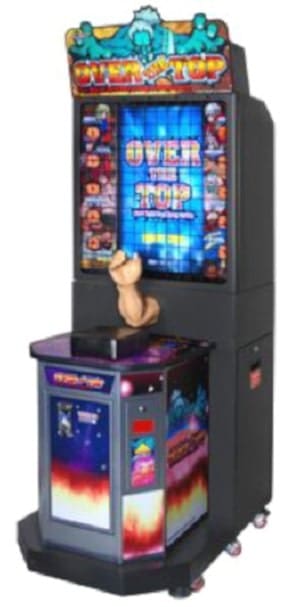 Who doesn't have fond memories of past holidays combating the arm wrestle machine in the boardwalk arcade. Admitted, they are a bit biased against lefties but hey, how about a chance to train your other arm?
They are a must have for any self-respecting frat house. Depending on whether it's a machine for kids or adults, these might be pretty hard to beat so prepare to be humiliated. Or don't invite anyone over until you're sure you can beat the robot. Deffo belongs to the cool rec room games league if you ask me.
5. Arcade crane claw machine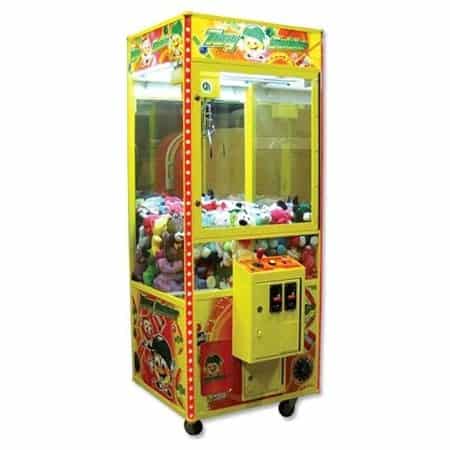 Especially for kids, a crane claw machine makes for an exciting addition to the game room. It might bring back nostalgic feelings to adults too, because who didn't love these things when they were a kid?
Plus, you might become really good at it, ending up utilizing your skills by emptying claw machines on location, adding the loot to your machine at home.
What's more, a carnival crane keeps the kids occupied so the grownups can play pinball,  making it the life of the party. Part of the fun is that you can fill it with pretty much anything, from squishy animals, plush prizes, finger puppet toys, to Duplo Legos to trading cards.
Or how about attaching $5 bills to the plush animals during Christmas? Hey, you can even fill it for adults with mini booze bottles and beef jerky. Check out the Toy World Jumbo, the Bingo Bean Prize, and the Coastal arcade crane claw machine on Amazon.
Arcade sports games
---
Tip: did you know you can also get 3-in-1 arcade sports centers? So you can play indoor basketball, football, and baseball without taking up too much space.
6. Classic arcade alley game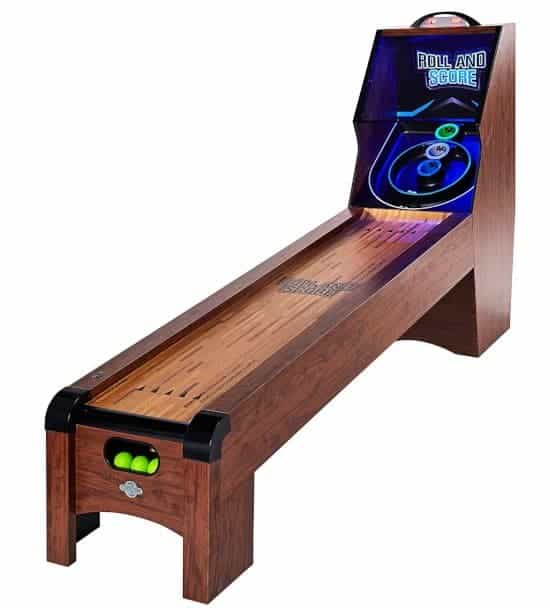 Bring one of the most beloved arcade games into your home's game room for that special touch of nostalgia. Roll the balls down the alley to score with the Classic Arcade Roll and Score Game and have sensational fun during parties, family gatherings, or a competitive game night
7. Dome rod hockey table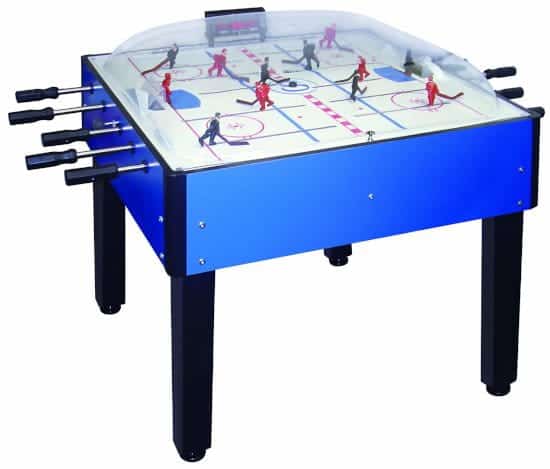 Bubble top gameplay closely resembles that of foosball as they both have rods you twist, turn and slide in and out of the table to move your players. Stick hockey, however, only has one player per rod. Arguably, foosball has quite a steep learning curve when compared to rod hockey.
Oftentimes people with no experience end up spinning the rods around. Which makes the case for a bubble & rod hockey table to play with friends and family. What's more, a foosball table doesn't have a boo button! The sturdy Shelti dome hockey table features an electric score board, goal sounds among other things.
8. Air hockey table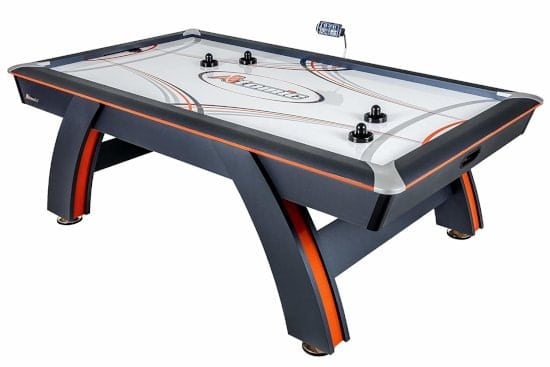 Okay, let's be honest here, an air hockey table deserves a spot in any hockey buff's game room or man cave. Actually, any well-rounded rec room can't do without one. The classic game that reached the peak of its popularity in the 1970s is nowadays still incredibly popular. No wonder it's one of the most awesome rec room games out there.
The air-powered indoor hockey table offers a blend of ice hockey and billiards. While the clinking sounds soothe your ears you try to keep up your Triangle Defense. Often a feat that's  hard to accomplish. It's like the 1974 ad for the game warns: "Puck actually floats on a cushion of forced air . . . and often travels faster than the eye can follow."
Bonus: When the table is not in use it makes for a large spot that can be used to build games out on. Just make sure to put the lid on first.
9. Shuffleboard table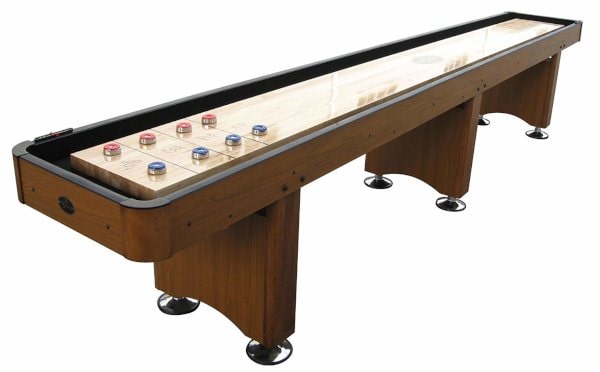 Shuffleboards make for a great game room addition for the whole family because they are a ton of fun even if you don't have a clue what you're doing. It's one of those iconic bar games that's fun to engage in in pretty much any setting.
Playing, and mastering, shuffleboard is all about aim, control and power. Especially control. A shuffleboard stroke is supposed to be measured and restrained. Pro tip: next time, keep an eye on how skilled players release the pucks in a controlled slow manner. Newbies, however, are prone to launching pucks off the table.
10. Pool table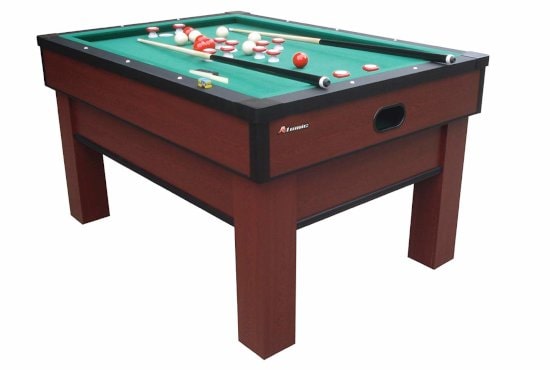 If you love the game, owing your own a big ol' green table is a bliss. Which one to buy obviously depends on your goals as they vary considerably in price. Serious players who want to shoot with their buddies living nearby might want to invest more than someone who just wants a table for game nights or for the kids to play on. Don't want to break out the big bucks for an Olhausen table? Looking for an inexpensive yet great table? Consider the Atomic Classic Bumper Pool Table.
11. Billiards table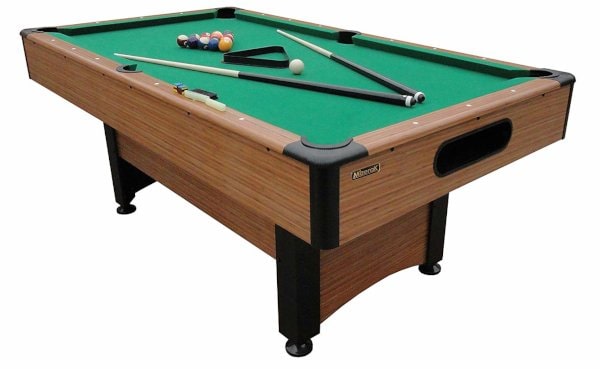 Having a billiard table in your home's rec room can provide you, your family and friends with countless hours of fun. For some, billiards is a pretty solitary game as it's you and the table. They are attracted by the actual game. Others play more for the socializing aspect of it. For both groups, a billiards table at home can be a true source of pleasure. Either for improving your skills or as a way to spend good times with family and guests.
Sports arcade games
---
12. The original arcade basketball game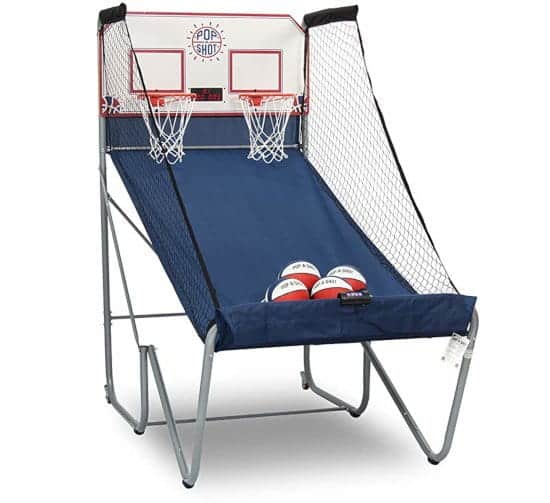 With its arcade branding and classic color scheme the Pop-A-Shot makes an attractive addition to a family recreation room. It features a well-designed control panel that lets you play 10 different games while it keeps track of high scores for all of these games. The announcer feature ensures it's like having a professional announcer in your home, commenting about your game.
13. Foosball table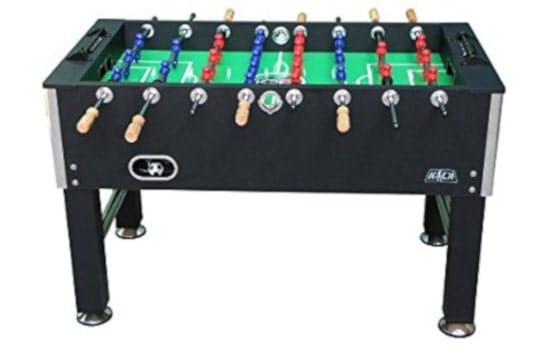 Skill and strategy play a pivotal role in this game that's characterized by fast-paced* fun and camaraderie (* balls can move up to 35 mph!). The multiplayer game is based on challenging other teams while constantly trying to improve your techniques and out-thinking your opponent.
What makes this game so suitable for game rooms is that spectators on the sidelines can join any moment or simply cheer team members on. Watching proficient players make their trick shots is fun on its own. It's a game that stimulates dexterity and mental focus. The sturdy KICK foosball table with high quality rods is one of the best in its kind.
14. Indoor table tennis table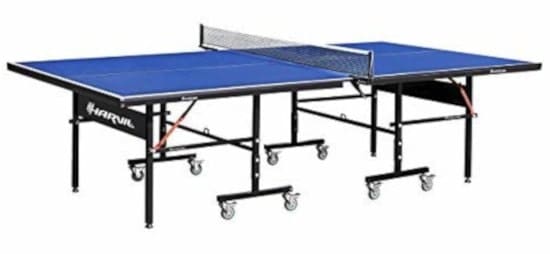 Ping pong, or table tennis, is great for your health as it offers a good workout. Besides a healthy physical activity it promotes brain  health too as it keeps you mentally sharp. There are no age barriers as young and old can play ping pong. It might be hard to master but table tennis is easy to play for pretty much everyone making a ping pong table a wonderful addition to a home rec room.
15. Indoor golf putting mat
Whether you're an avid golfer who's passion takes him to the club every few days, or you never had a golf club in your hands, dabbling in the sport on an indoor mini green can be quite appealing. Whether it's to practice your putting or just for the fun of it, adding a putter blanket, some clubs, and balls to your game room might just turn out to be a swinging success.
16. Electronic dart board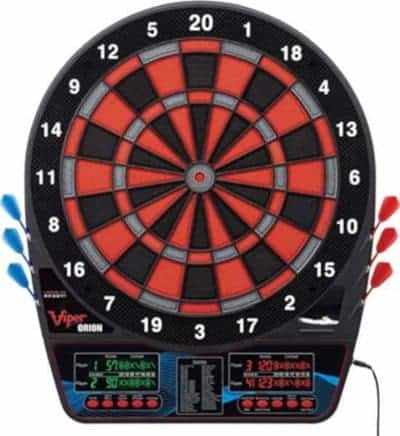 It might not be a surprise that darts requires a steady hand, as well as high level of skill and accuracy. But did you know that playing darts actually brings health benefits? Among other things it improves (eye-hand) coordination, concentration, promotes relaxation, and reliefs stress. But who cares because darts is simply a whole lot of fun to play with friends and family. The Viper Orion electronic dartboard lets up to 8 players play 32 different darts games.
17. Beer pong table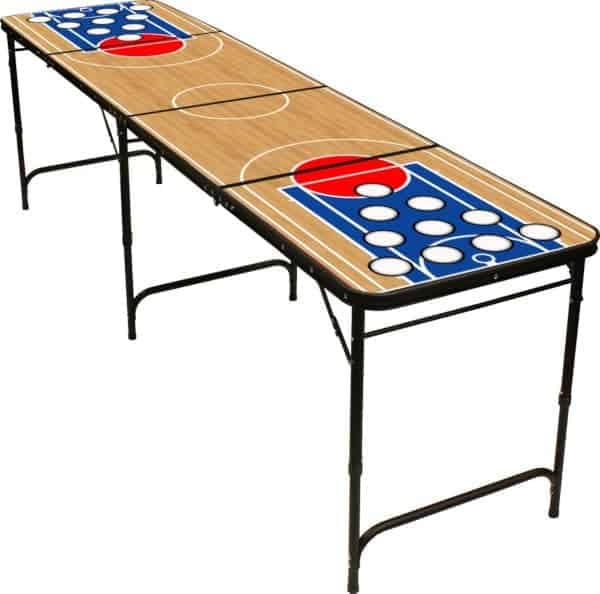 Beer pong, sometimes by heavily intoxicated players called 'Beirut', is usually played by two teams of two players each. Mistaking the name of this drinking game with the capital of Lebanon is emblematic of the character of the fun it brings.
Of course that's just a lotta BS, but what's there to say, really? Beer pong's a fun game because who doesn't like playing a competitive game while getting pissed? Okay, okay, let's cut the crap, beer pong originated as ping pong with beer. When it evolved without paddles it was called Beirut, later renamed to 'Beer Pong'. Shoot your arcs, fastballs, and bounce shots in (basketball) style on the Red Cup Pong table.
Casino table games and furniture
---
18. Poker table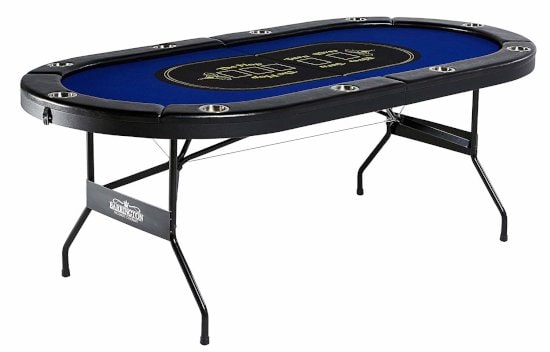 Back in the good old days of the genesis of Texas Hold'em, the game was played for gold coins, gold nuggets, and gold dust. Nowadays this ultra popular card game is played all over the world, from casinos to bars to homes.
Especially if you like to host small poker tournaments or play with a bunch of friends, a poker table is a must-have in your recreation room. This quality 10 player poker table offers good value for its price despite the fact that actually seating 10 people might be a challenge.
19. Roulette wheel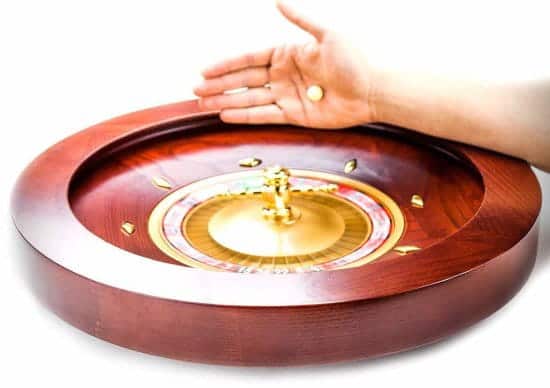 Roulette, French for the 'little wheel', is also known as 'The Devil's Game. That nickname has nothing to do with the fact that playing against the house is generally a losing battle. Yet still, or perhaps because of this fact, a deluxe, casino quality roulette wheel can be valuable asset to your rec room. By the way, did you know that the sum of all numbers on a roulette wheel is 666?
20. Craps and dice table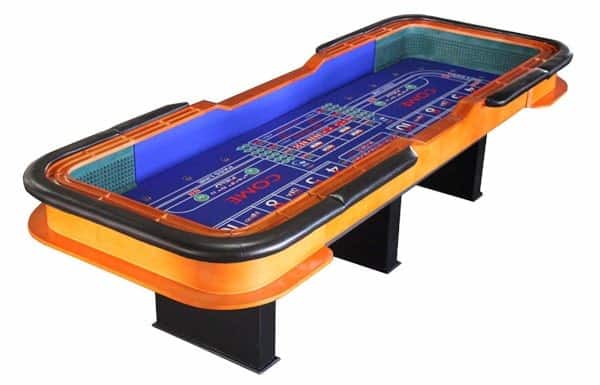 A craps buff, or casino game enthusiast in general, will love to add a craps table to their den. Craps in a favorite among many casino-goers as it's offers the quickest way to win. However, it's also the fastest way to lose tons of money. Are you ready for a lucky streak? Can you handle repeated snake eyes? Save yourself a trip to Sin City with a 12 foot deluxe craps & dice table.
Game Room Furniture
---
Perhaps not the most exciting equipment to add to your dedicated game room but seats and tables are the most essential items in a rumpus room.
In addition here's an overview of some more furniture and equipment as well as some ideas that may seem nonessential but that will take your room to the next level
21. Classic game table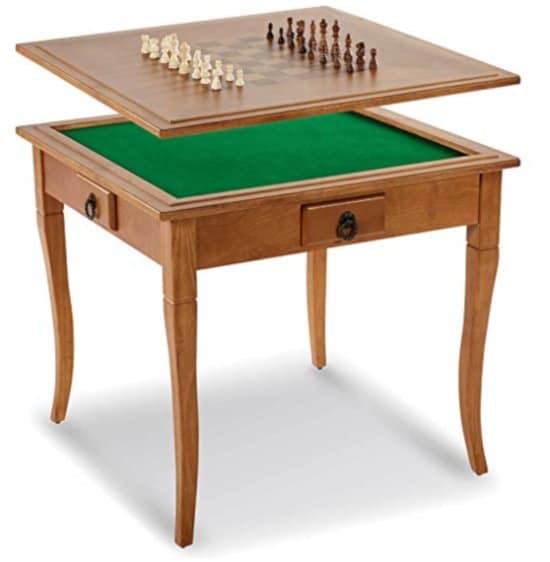 This sturdy, stable classic game table lets you play chess, checkers, Mahjong, board games and tile games while its traditional furniture look adds warmth and familiarity to your game room.
Flip over the top to uncover the felt side for card games. The solid wood game table has drawers for keeping the pieces, chips or cards and the surface has plenty of room on the sides for pieces and clock. Chess set included.
22. Multipurpose board game table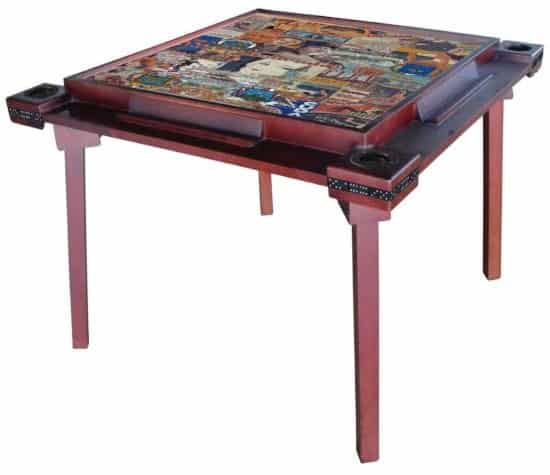 When it comes to choosing the perfect board game table for you it obviously comes down to which games you play. Play really big games such as miniature war games? Get a at least 4 feet wide table.
As a general rule, consider how much space you'll need by using your biggest game as a reference. For most games, 6×6 will be more than sufficient. Tip: consider a table with leafs so you can extend it when seating more people or playing larger games.
Don't forget to take the size of your game room into account. Other things to consider; a recessed playing area prevents pieces from falling on the floor, cup holders to prevent spilling drinks on your games, card holder slots, and drawers for pencils, score papers, extra dice. Perhaps a velveteen or speed cloth surface to let cards slide across the table smoothly is essential to you.
If you value cup holders, domino holders, foldable legs, a padded surface that makes it easy to pick up cards and pieces, as well as an intricate gaming theme, this multipurpose board game table might be for you.
23. Comfy seats you can move around easily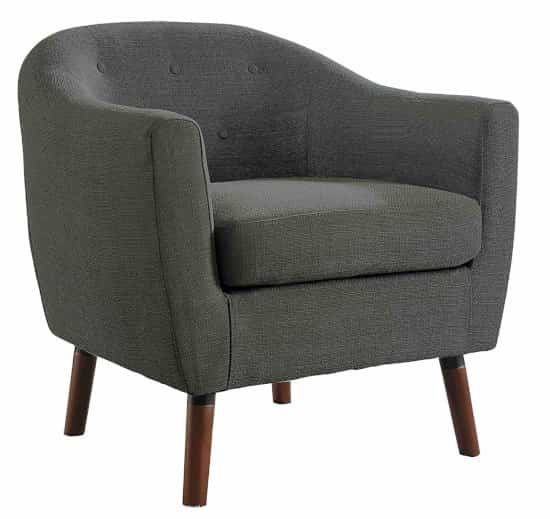 The perfect play room would have a comfortable seating area such as a huge sofa where you can lounge and in addition seats you can almost effortlessly move around the space. The comfiest seats for the latter purpose are probably tub barrel club seats.
Other options are furnishings that double as seating such as stools or ottomans that make it easy to pull up a seat to wherever the action is. There's even ottomans that convert to a game table. Meeple pillows are a great option for board game fans.
24. Bar stools /swivel arcade stools
Bar stools are easy to move around the room and are ideal for use at pinball and arcade video game machines for both players as well as onlookers. For a bit more comfort, opt for bar stools with backrest.
A bar top table functions as a gathering point for guests who are currently not playing. On top of that it can function as a convenient place to keep side items such as chips on.
25. Bar / mini fridge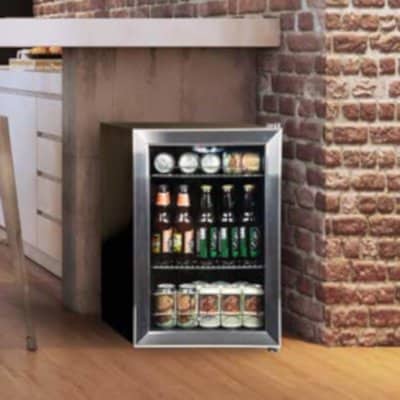 If space and budget allow for it, having a dry or wet bar in your rec room is the pinnacle of entertainment. Both types of home bars provide an area to prepare beverages, whereas a wet bar has a sink to rinse glasses.
If budget or space is limited, a mini fridge is the next best thing. Keep in mind that there's a difference between a mini fridge and beverage coolers. The latter are only suitable for cooling beverages and not snacks and other foods.
A popular beverage cooler is this hOmeLabs fridge which is quiet, looks appealing, and is a bit larger than many other beverage coolers. Silence is critical in case your rec room has a theater.
26. Neon signs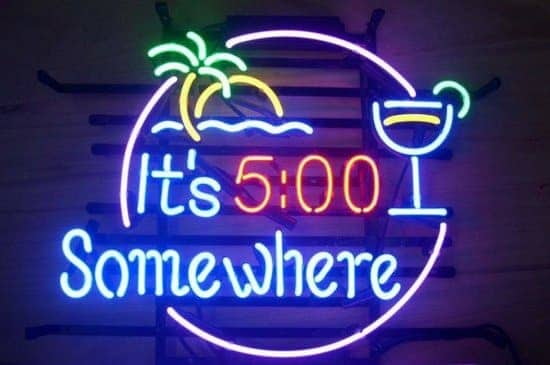 Light up your game night with an iconic neon sign. The fixtures, known all over the world, capture the playful spirit of the arcade, barcade and urban world. Neon signs, beacons of entertainment, come in all kinds and shapes. From pool room, to game room, to pinball, arcade, to neon beer signs and more classic bar signs.
27. Mirror bar signs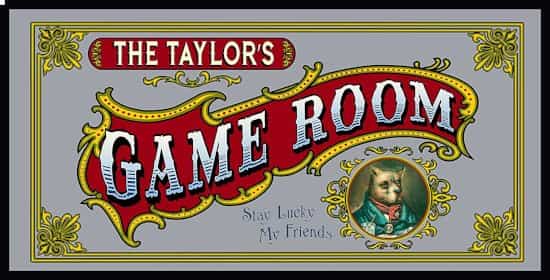 Recreation rooms are often located in the basement or other windowless parts of the home. Mirrors make such spaces look bigger and reflect the light around which adds to the atmosphere. Whether you opt for bar mirrors, other types of framed mirrors, or mirror walls, they are a simple addition that contributes positively to the overall feel of the space.
28. Jukebox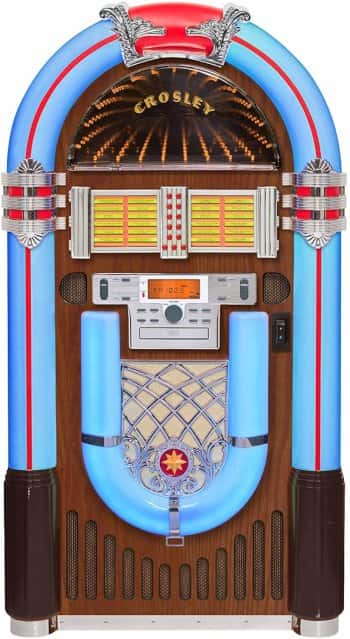 Step back into the 1950s with its iconic diners and drive-ins. Whether it's a classic vinyl-playing jukebox or a digital version, a a jukebox adds a sports bar type atmosphere and makes an attractive centerpiece for your game room. It's a surefire recipe for a whole lotta shakin' goin' on. Are you hep to the jive? Check out the full size Crosley iJuke Jukebox.
29. Warm nuts dispenser machine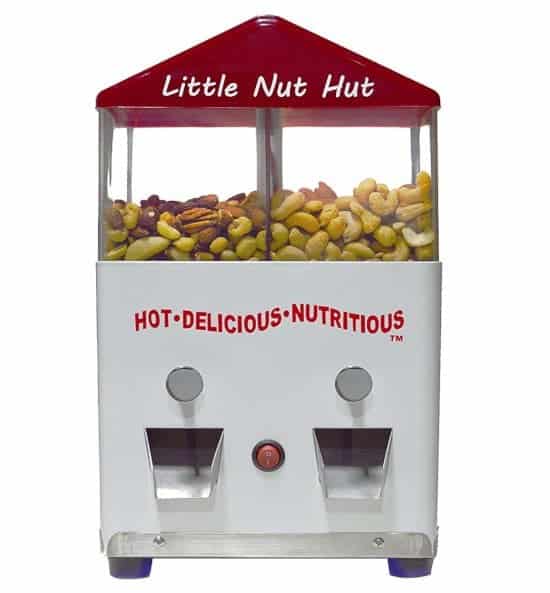 Warm nuts make for a convenient snack and an easy appetizer. Contrary to what's been always told, the unsaturated fats nuts contain are actually very healthy. Nuts could actually help with weight loss as their high protein content makes you feel fuller thus helps curb hunger.
What makes nuts an ideal game room snack is that they don't crumb as much as chips. Moreover, nuts make for a classy snack, just like the warm nuts served in on private jets and five-star hotels.
The Little Nut Hut warm nuts dispenser brings fun and convenience to the space as it drops nuts in a cup for hygienic distribution (tell the kids to 'drink from the cup' to prevent them from greasing up boardgame pieces).
30. Popcorn vending machine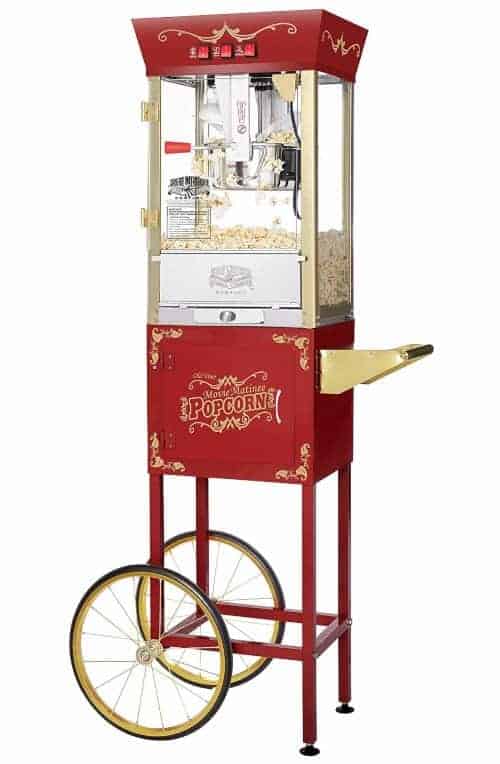 This nostalgic popcorn cart is a guaranteed source of fun during family game night and parties. It's a conversation starter that provides your guests with hot, freshly popped popcorn to munch on while having a good time. On top of that, it's quite the showpiece, isn't it? In reality it's a bit smaller than it might appear but that could very well be a benefit depending on the room you've got.
What's your favorite recreation room game?
Shout it out below..
Last Updated on May 7, 2019 by Tyler