"A backpack belongs in a classroom, not out in the field." There's some real resistance to tool backpacks from some of the more old-fashioned pros. But they're gaining in popularity amongst people who realize how useful it is to have your hands free.
Once you've got over the teasing from your team – "You off on vacation, pal? Is that your daughter's lunch bag?" – you'll find that a backpack tool holder is the most practical way to carry a lot of equipment comfortably.
A backpack toolbox leaves your hands free, which is great if you're often going up ladders or working at height – ideal for HVAC engineers or roofers.
Dragging 30lbs of wrenches in a traditional one-handed toolkit will hurt your back, but a backpack will distribute the weight in a more balanced way.
Unlike a cart or dolly, backpacks don't stop you climbing stairs or pushing through crowds.
They're fantastic if you have to carry a lot of stuff but can't drive to the job site: if you work in a large facility and need to walk around a lot, or do jobs in wooded areas, or even if you do call-outs in a city like New York with no parking.
One thing to bear in mind, though, is that a branded backpack tells everyone that you're carrying a lot of valuable equipment.
Pro tip: 

if you're traveling to a job in a rough area, you might prefer to put your stuff in a tool wrap and carry it in an plain bag instead.
You have to choose carefully.
Hard-sided toolkits sometimes rub against your back; soft-sided ones sometimes let a bit of sharp equipment poke through.
Some backpacks have too many pockets, leaving you with nowhere to put your lunchbox; others have too few, meaning that your tools lie in the bottom getting jumbled up and damaged.
Manufacturers usually err on the side of making the pockets too big rather than too small, so you may find that your tools knock against each other as you walk. Probably not an issue when you're carrying wrenches, but if you work with delicate equipment (like insulated screwdrivers for electrical work) that can cause a lot of expensive damage.
What to look for in a backpack tool kit
Different jobs need different tools, so a welder will have different storage needs from an electrician. Here are a few things to think about when you're looking for a tool carrier backpack.
There's a balance to strike here. A good tool backpack has plenty of loops and pockets to store your tools safely, but too many fiddly internal sections can make the bag less practical to use.
You want enough empty space that you can throw a bottle of water in the top, without having to find a pocket which is just the right size to hold it.
Too-small storage sections are useless, and too-large sections allow your valuable tools to knock into each other.
If the loops inside the bag are too narrow for your needs, it's easy to customize the bag by slicing through the stitching with a razor blade and combining two adjacent loops into one wider one.
Some tool carriers are bucket-style, open at the top for easy access. If you're going to be taking your tool kit up ladders or squeezing into tight spaces with it, then you'll probably want something with a zip closure so you don't risk tipping out all your tools if you slip over.
It's also useful to have a few internal pockets with zip or Velcro closures, to hold small things like screws or fuses.
A full tool kit can easily weigh 40 pounds, and a premium quality bag might be 8lb without anything in it. Look for firm padding on the back and straps to stop the bag digging in, and a stiff back plate to reduce drag.
Hip, waist and chest straps are the best way to spread weight across your body, but unfortunately you see them more often in hiking kit than in work gear.
Obviously, you need heavy-duty fabric and tough fastenings that won't pop open. Water-resistant fabric is a useful feature; since most people aren't out using their toolbox in the pouring rain, manufacturers tend not to make bags which are 100% waterproof.
Some backpacks have a rubber 'tray' at the bottom with raised sides, like a shallow washing-up bowl. This means that you can put your bag down on wet or muddy ground without worrying that it will soak up water, and the friction from the rubber means it won't slide around on the floor of your vehicle when you're driving between jobs.
Most tradesmen need a backpack tool holder which stands vertical when they put it down, to make it easier to grab what they need without rummaging.
Some styles have zips which go all the way to the bottom, allowing them to open totally flat; others unzip only at the top, with a deep compartment inside.
Generally, the flat-opening backpacks are best if you're carrying a lot of small tools in the internal pockets; the top-opening ones are more suitable if you're carrying a few big pieces of equipment.
Elasticated loops hold your kit more securely, but they shrink closed after you remove the tool so you need both hands to put it back.
Stiff fabric loops keep their shape, which means you can easily remove and return kit one-handed, but there's more a risk of delicate tools falling out or knocking into each other when you're carrying the bag.
Top 10 most popular tool carrier backpacks
---
1) Simple Sophistication: Open Toolbag by Snickers Flexi tool bags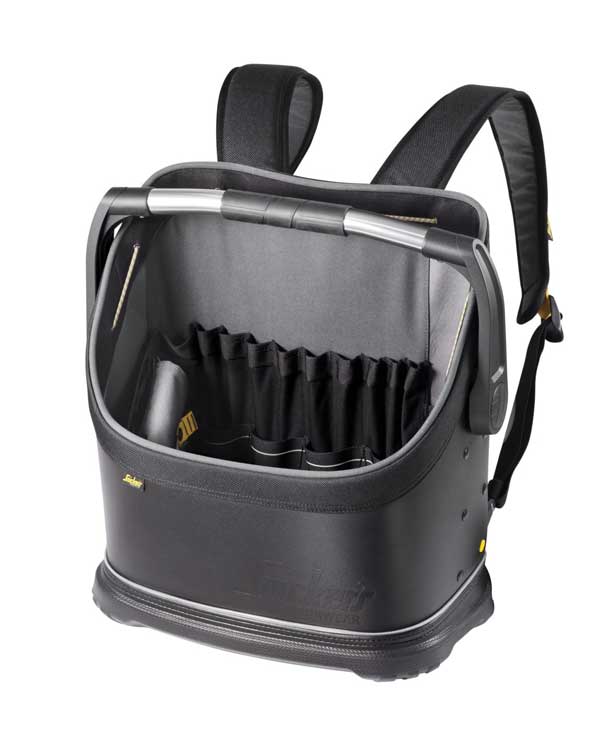 This is the simplest type of backpack tool kit – basically a bucket with straps and loops. The hard frame is lined with tight elastic loops to keep tools in place, as well as a long stretchy cord designed to hold long tools like spirit levels.
It has padded shoulder straps so you can wear it like a backpack, and a folding aluminum handle that lets you carry it in your hand. The bottom is flat with rubberized feet, so it stands up when you put it on the floor and won't skid around the van while you drive.
Apart from a small internal pocket with Velcro closure, the entire bag is open-topped. This means it's easy to grab the tool you want without fuss, but it's obviously not practical for carrying tools long distances.
The Snickers is best for people who generally like to keep their tools in an open-topped tool tote, but occasionally need a hands-free way to transport things.
More info here.
2) Heavy Duty Workhorse: Veto Pro Tech Pac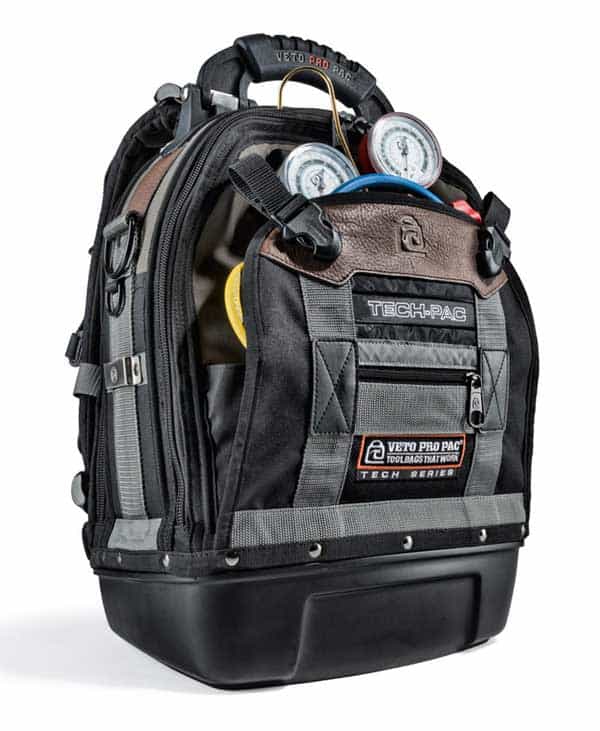 Some tool backpacks are just hiking bags with a few more pockets. Not the Tech Pac. Before designing this bag, Veto's head designers spent several weeks on-site with tradesmen in the field, making lists of their requirements. The result? This tool carrier is everything but a one trick pony.
In addition to the tough construction and over 50 pockets, this soft-sided bag has some innovative extra features. There's an extendable metal hook so you can hang it up, a quick-release clap that lets you open one of the sections without fiddling, and a plastic base which is waterproof and won't tip over when the bag is opened.
The Pro Tech has two roomy compartments with a variety of pockets and loops, all placed so you can easily remove and replace items one-handed. And with a 5-year warranty, you know it's reliable.
The downside is that since it's a premium quality piece of kit, it is both expensive and very heavy: for that reason, it's probably not a good choice for someone who only needs to carry a few tools.
More info here.
3) Little Bag Packs A Punch: DEWALT DGL523 Lighted Tool Backpack Bag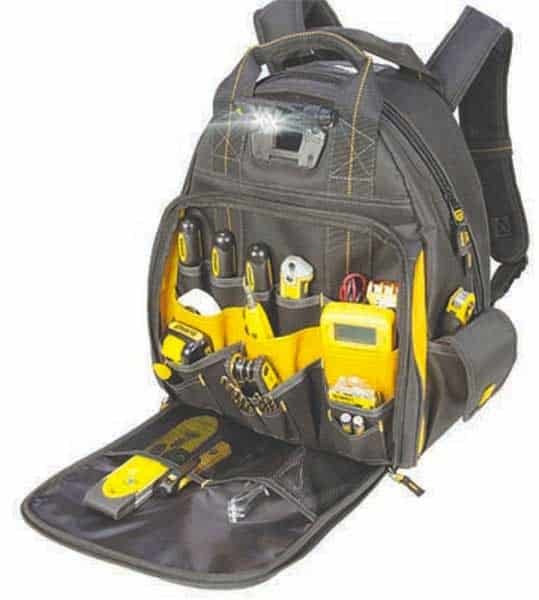 The Dewalt is a small bag with big ideas. Despite being under 9 inches tall, it has as 57 pockets, as many as the much larger Tech Pac, with enough internal space to comfortably carry a cordless drill, battery, and charger.
It also comes with a movable LED light, which can either be used to illuminate your work or to find things at the bottom of the bag.
The straps and back are padded for easy carrying, with a heavy-duty cross-strap for even carry and specifically designed not to pull off when the bag starts to get worn.
Since it's small and square without a waist strap, it tends to pull away from the back when it's heavily loaded, meaning it's probably not the best choice of bag if you carry a large weight or have to walk long distances between job sites.
Apart from that caveat, this is one of the best tool kit backpacks you can find in its price range.
4) Eclectic Electric: Custom LeatherCraft 1132 75-Pocket Tool Backpack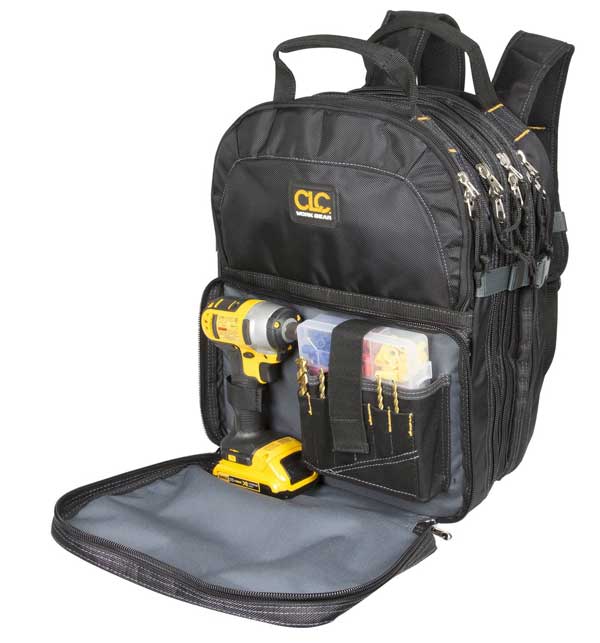 The Leathercraft is a real love-it-or-hate-it piece of kit. With 75 pockets, it's great for holding small tools. But the pockets are arranged in 4 flat sections; although there are scores of pockets, the sections are too narrow to hold large tools, and there's no way you could fit a cordless drill in here.
This style of bag is popular with electrical engineers, who tend to work with a lot of small hand tools.
In the past, LeatherCraft customers have had some complaints about the strength of the zips on the bag. The weight of heavy tools in the bag puts a lot of strain on the fastenings, and either the zips themselves have pulled apart or the stitching around the zips has given way.
This one's probably best if you have a lot of tools which are small and relatively light.
5) Goes a Long Way: Klein Tradesman Pro Organizer Backpack 55421BP-14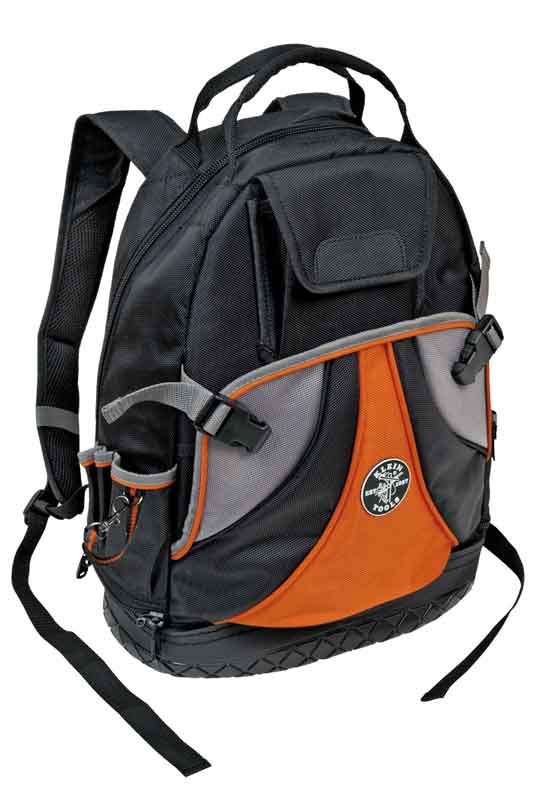 The Klein is a roomy backpack featuring a single internal compartment, meaning you have plenty of space to carry work gear. Most of its internal loops are stacked inside each other, meaning that they don't take up much space when empty.
Which is really useful as it's annoying to find half your internal space taken up by storage that you aren't even using. It has two front zipped pockets to hold small items; one has molded sides to protect your safety goggles or cellphone.
With a 2.5" moulded rubber base and dense ballistic nylon fabric (http://www.topvaluefabrics.com/1680-denier-ballistic-nylon.html), the Klein can take a lot of punishment and you don't have to worry about putting it down on wet ground. At 20" high, the Klein is one of the tallest tool backpacks out there, allowing you to carry long-reach or long-handled tools.
6) Revco Industries Revco GB100 BSX Extreme Gear Pack with Helmetcatch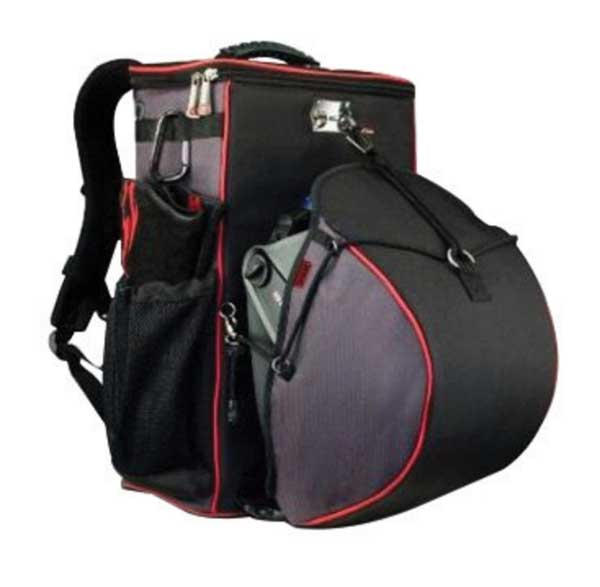 The Revco is a little different from the other bags reviewed here, as it's designed to hold personal protective equipment (PPE) as well as tools. The helmet pouch is designed to hold welding gear but would work for any kind of hard hat.
With a quick-release catch, you can get your helmet without having to rummage; the pouch is also removable for when you're on a job which doesn't need it.
Instead of opening down the sides, the bag has a flap at the top which unzips to reveal the rectangular interior.
There are loops to hold small tools around the side, with plenty of free space in the middle for a high-viz jacket or bulky equipment, as well as a separate pocket at the top to store things like your wallet and cellphone away from the tools.
Since the Revco only opens at the top, you have to rummage around in the bag to get things out; and since it's lined in black, it can occasionally be hard to see what you're looking for. But as long as you remember to put a flashlight in the outer pocket, this is a handy piece of kit for welders and anyone else who works with a helmet or mask.
Learn more here.
7) Heavy Duty: Rugged Tools Pro tool backpack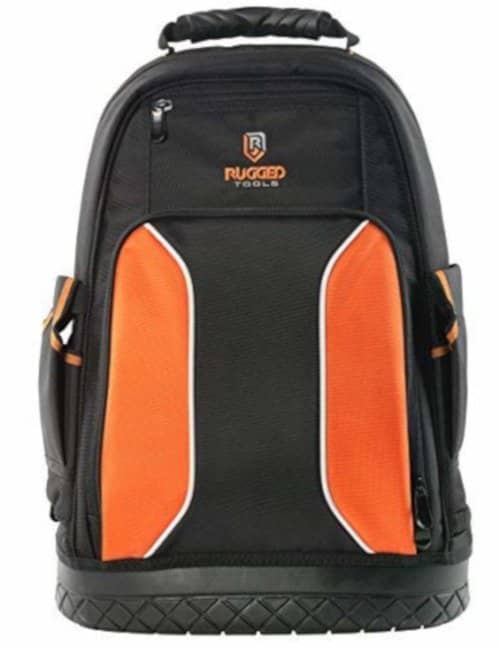 This American-made bag is designed for heavy-duty use.  It comes with a semi-rigid shell and treaded rubber base, which not only protects your equipment, but means you can stand the whole bag on its base to unzip and access your tools.
The back and shoulder straps are padded for lumbar support, and it comes with a sternum strap to evenly balance the weight when full. The flat front pocket is ideal for storing loops of cable where they won't get nicked by your tools, and with 40 pockets in total there's plenty of storage room.
Most of the pockets are internal, so from the outside it looks like a plain rucksack unless you recognize the logo: if you ever do jobs in rough areas of town, you'll appreciate having a bag which doesn't make it obvious that you're carrying valuable equipment on your back.
At 19" tall but only 7.5" deep, it's broad but shallow, so if you need to carry extras like personal protective equipment or a hard hat, you might prefer a deeper rucksack.
8) Milwaukee jobsite backpack with laptop compartment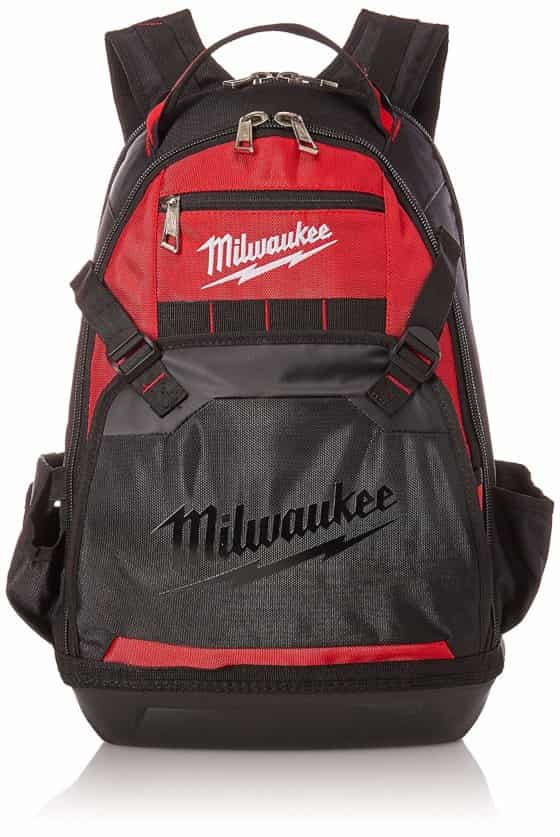 Wrenches and drills aren't the only tools needed to do a job: these days, you're likely to reference conversion tables or blueprints electronically. This backpack features a padded laptop sleeve to keep your electronics protected both from the elements and collisions with your other tools.
It's ideal for professionals in industries like telecoms and electrical engineering, which rely equally on smart devices and physical tools.
At 7lb in weight and nearly 2ft long, the Milwaukee 48-22-8200 is a big one. It's heavy and bulky even unloaded, although the load-bearing harness and sternum straps means it's comfortable to wear. Its size and weight mean it's incredibly heavy-duty and it's designed to take a battering, with crosswise straps to reduce strain on the zipper when the bag is fully loaded.
Inside it has pockets in varying sizes: several large ones for storing big tools, along with dozens of zippered compartments and loops to hold smaller bits of kit. Most of the pockets have a low profile and there's a fair bit of unused space in the body of the bag, so you can also stuff in larger items without having to Tetris them into place.
9) Not Just for Carpenters: CLC 1134 tool backpack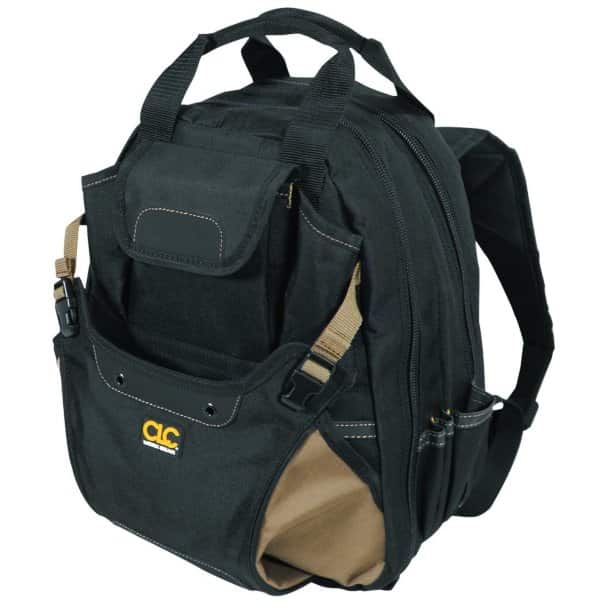 This "carpenter's backpack" is great for anyone who needs easy hands-free tool storage.  At 16" by 14" by 11", it's one of the smaller tool backpacks on the market, making it great for use in restricted areas – whether that's squeezing into a narrow spot on top of a ladder, or holding in your lap as you catch a ride to the next job in your buddy's van.
But with 44 compartments, from small Velcro containers to deep open-topped pockets, it can easily hold as much as a full-size toolbox and still leave space for your lunch. This model is particularly popular with female techs, as the shorter length is better for your back if you have a small build.
Most of the compartments are ranged in order of size and nestled inside each other, meaning it's easy to keep your tools organized and see at a glance what you've got. The Custom Leathercraft 1134 also features a large 'kangaroo pouch' at the front to hold your most-used tools during a job: just reach back and grab your tools by touch, without having to unzip the backpack.
10) Minimalist/ basic worksite tool backpack:  Klein Tools 55421BP14CAMO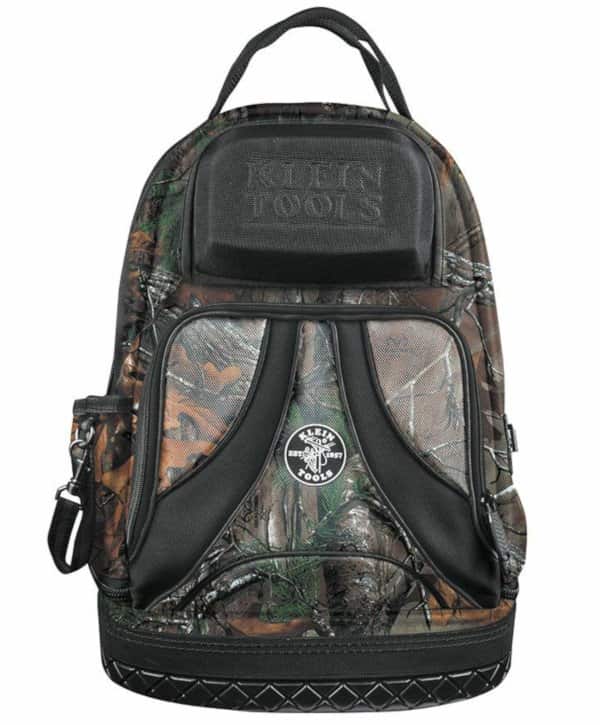 The camo print on this backpack makes it easy to hide in a forest – and, more importantly, it's easy to quickly differentiate your bag from your colleagues' near-identical plain black rucksacks.
It's made of 1680D ballistic nylon fabric, coated in polyurethane to make it weather resistant. There's also a thick rubber base so you can set it down on damp ground without ruining your tools.
The bright orange interior means you can see what you're doing even when the bag is stuffed full. There are a few other helpful touches which you won't find in other tool backpacks, such as a side clip to hold rolls of tape and a hard molded front pocket to protect your safety glasses or cellphone.
Still waters run deep as, at over 12 inches in depth, this worksite backpack by Klein Tools is one of the deepest tool backpacks we've seen on the market, and its interior pockets have plenty of room for long tools like screwdrivers.
Note: since its first publication this post has been updated for 2019 with the latest models and product features.
What do you think of tool carrier backpacks?
For decades, technicians have been carrying their gear with them in carts or open (soft side) toolboxes. Yet a high- quality backpack tool bag is a godsend according to sprinkler fitters, HVAC'ers, welders, data center engineers, service technicians as well as the DIY handyman.
Each design has its pros and cons. Some are more suitable for specific uses than others. What are your experiences with these carriers? Agree with our top picks? Want an item added? Do you have a favorite brand such as Ogio, Leathercraft, Oakley, or Klein? Share your backpack tool carrier questions or comments below.
Want more mobile tool carrier inspiration?
Hit the link below to check out the..
Last Updated on April 8, 2021 by Tyler