Sleeping safe and sound until you naturally wake up when the sun rises is a luxury not many have. For years and years on end a body-jolting alarm clock caused a disturbing end to my warm bed and sweet dreams too.
A wake up light, emitting light that progressively increases in intensity, changed that.
Not only did it put an end to setting three incessant alarm clocks in a row blaring in the middle of the night (so it seemed), it really helped  improve my well-being during fall and winter.
Research shows that the healthiest way to wake up is along with the sun rising and the world gradually becoming lighter. And there's the premise of a wake-up light alarm.
After all, still dazed yet frantically slamming that heartbeat-skipping alarm clock is not exactly a very peaceful way to start your day.
Did you know that the sudden, harsh sound of the alarm can cause your body to go into the acute stress mode called fight or flight response pumping it full of adrenaline?
A wake up light guides you gently out of a deep sleep phase towards awakening. They work because your eyes register light exposure even when they are closed. Early in the morning when you are still asleep your biological clock senses low intensity light.
The gradual increase in light intensity tells your body the sun is coming up. As a result the pineal gland reduces the hormone melatonin that makes you sleepy and secretes the hormones cortisol and serotonin into your bloodstream. These play an essential role in waking you up.
Without the sun or a dawn simulating bedside lamp these processes only start after getting up leading to early morning crabbiness and all sorts of related symptoms of the winter blues.
Basically,
traditional alarm clocks only disturb your sleep in a jarring and stressful way (some people tend to wake up before their obnoxious alarm clock goes because their bodies make the stress hormone cortisol that anticipates the stress of waking up).
Wake up lights gently wake you up providing you with more energy, productivity, and a better mood during the day. They can also be a fantastic solution if you don't want to wake up other household members or neighbors.
Update October, 2019.
Since the inception of this post I have been recommending the Philips gradual wake up lights. However, more recently various much more affordable competitors have entered the market. Many of which look similar in design to the Philips alarm clocks. Are these simply cheap knock-offs or actually good, cheaper alternatives? Let's have a look.
Affordable alternatives to Philips wake up light alarm clocks?
---
A. Titiroba Sunrise Simulation Alarm Clock (Recommended)
 less expensive alternative to the Philips sunrise clock
At roughly a quarter of the price of Philips' newest model, and a third of the price of its true and tested HF3520, the Titiroba sunrise simulator comes with quite a few features. Some features the HF3520 doesn't have.
It for instance lets you charge your smartphone with the built-in USB charging port, has battery backup, and functions as a mood light as it lets you choose between 8 different colors.
What's more, it too has the sunset feature which helps you fall asleep more naturally which the almost $200 costing Philips HF3650 has. It's stylish wood grain exterior might be a matter of taste but we think the natural appeal of wood doesn't harm the falling asleep and waking up process.
One downside, its buttons could easier to use. But that's a quibble I had with the Philips too. All in all this is a great alternative to the much pricier Philips devices.
LBell Wake Up Light
best low budget buy?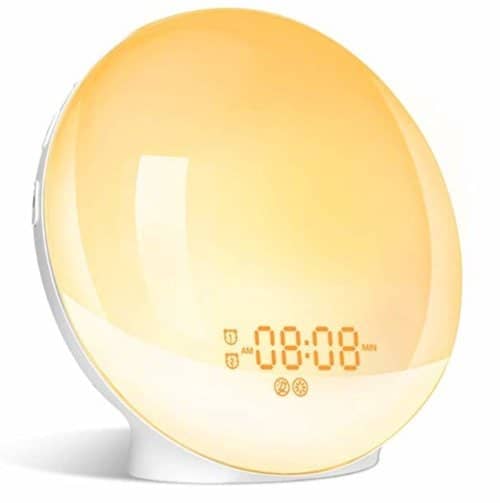 This device has some additional features that many of the high-end devices do not have. A white noise feature for instance to help you fall asleep and prevent being woken up by street or household noises.
Another feature; set the lamp at a fixed color. Or the ability to set the duration of the sunrise simulation between 10-60 minutes. In many devices this is fixed at 20 or 30 minutes.
Just like the top brands, this wake up light starts with mild red light, transitions into orange and finally bright white.
However, a potential downside can be that if  you're adamant on the most subtle gradual sunrise simulation, this clock might not be for you (in that case opt for a Philips instead).
For instance when you sleep in the pitch dark due to blackout curtains or there's long winters at your location or simply because you're sensitive to light coming up, waking you up quickly. Chances are LBell's dimmest setting might still be too bright for you. Many users, however, find the LBell increases gradually in brightness very effective in waking them gently.
Concluding; good price quality ratio, lots of features, yet not the best gradual sunrise simulation out there.
---
Currently the best wake up light alarm clock to buy is still the Philips HF3520/01, which is the same as when this post was first published. A few new developments in the market have occurred but no groundbreaking new innovations that have led to a new top pick.
Market leader Philips did release a new model with lots of additional functions which might be the best wake up light to buy for you if you struggle falling asleep at night. It's the number 4 on this list, the Philips Somneo HF3650.
Best Wake Up Lights 2019
---
1. Philips Wake Up Light HF3520 (Recommended)
makes you feel like you're woken on a sunny spring morning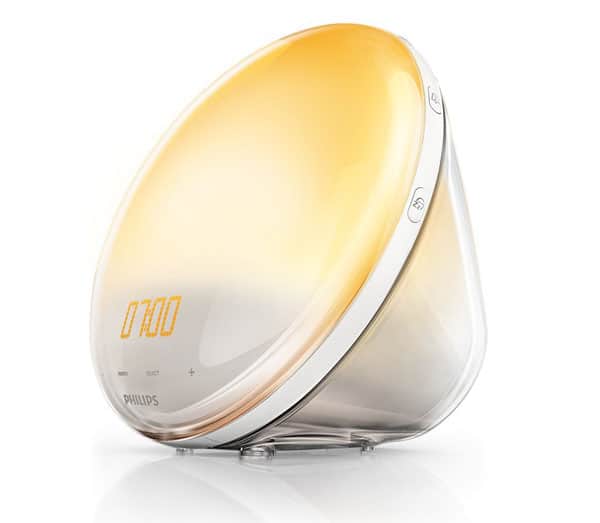 The Philips HF3520 let's you wake up with light and slowly in volume increasing nature sounds which add to the gentle awakening experience. The seaguls for example that occasionally appeared in my dreams, were gradually guiding me towards being wakeful.
I like this wake up light a lot. It emits a pleasant warm glow and often really eases me awake if it were a sunny summer morning. I'm generally not into hyperbolical expressions and I'm not starting now either when I say this device has changed my life.
The 'wintertime me' transformed from a groggy, zombie-like individual to a more clear minded, optimistic person all with the help of Philips' artificial sunrises.
I do have some minor issues though, but these are merely details. The buttons aren't visible from the front, they are behind the lamp itself, so you have to feel where they are in order to set an alarm or turn on the light. This took me a short while to get used to.
It's nice that the Philips has rubber non-slip feet preventing you from sliding it from your nightstand. Since it's round and has a relatively small base I do occasionally tip it over. It doesn't fall from the nightstand but just rolls over.
Philips have done extensive research on waking up with artificial dawn simulators. This light increases from soft dawn reds through warm orange to bright yellow light 30 minutes before your set alarm time. Exactly the colors that have been found to be most conducive to waking up naturally.
Pros
LED bulb (no need for replacement for 20 years)
Light intensity: up to 300 Lux (choose between 20 brightness levels)
Two alarms can be set and stored (workdays/weekend)
Colored sunrise simulation
Sunset and sunrise simulation
High quality nature sounds
Scientifically proven to work
Two separate alarms can be set
Cons
The lamp is a bit unstable
Controls could be more intuitive
Battery backup
Display can not be dimmed completely
Read its overwhelming positive reviews on Amazon.
2. Mosche Sunrise Alarm Clock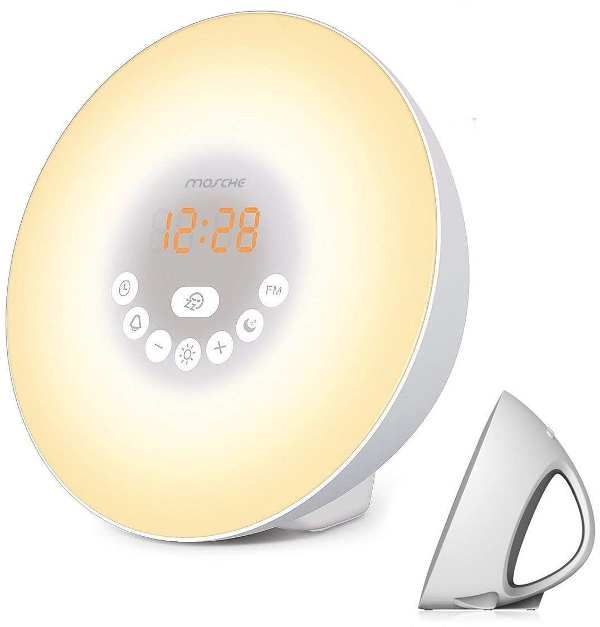 If you're on a budget but want a device that functions well,  "just as good as the $100 models", according to some users. Be aware that the more sensitive individual might not agree. Because in the end, as so often, you get what you pay for.
Logically, the more expensive devices have better tech which manifests in a more gradual shift in light intensity as well as a richer color palette with more natural red, orange, and yellow hues. Crucial here is, how smoothly will the light come up? A minimum brightness level of 10% might wake you up immediately.
In terms of operation friendliness the Mosche could be improved upon. Especially turning the alarm off when the light is in full sunshine mode can be daunting as the location of the buttons is near the light, effectively blinding you a bit.
Bottom line
Despite its minor flaws, if you're looking for an affordable wake up light that does its job, this one is probably your best bet.
Pros
Allows you to completely dim the time display (light-sensitive sleepers might need this feature)
Mood light
Powered by either wall jack, or USB, or 3x AAA batteries
Also available in a stylish wood finish
Cons
Not so gradual sunrise as it starts at 10% brightness
not possible to set multiple alarms
3. LittleHippo Mella Kids Wake Up Light
keeps your kids in bed while you wake up gently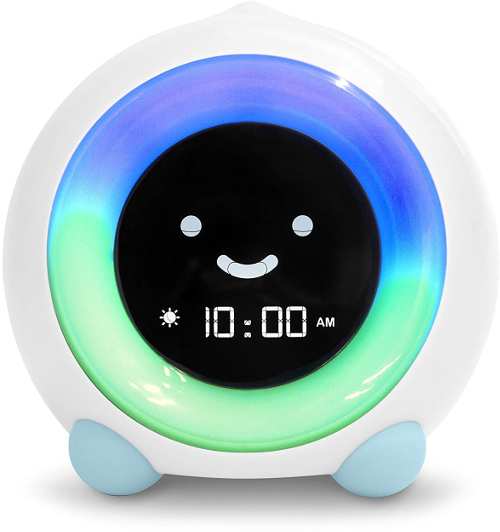 This is not an artificial sunrise alarm clock like the others listed here. Nonetheless, this gadget might just be the addition to your household you desperately need as it motivates toddlers to stay in bed.
Up to age 8, kids don't grasp the concept of time, studies show. Which is why it's so difficult to get the little rascals to stay in bed and not barge into your room when you're still sound asleep. The whole purpose of being gently awoken by your dawn simulator is rendered useless when your kids are waking you prematurely.
Mella teaches them when it's time to rise as well as when to sleep. The display communicates with your child by showing a happy or respectively sleepy facial expression. In addition its light color changes from a mellow yellow glow indicating play in bed time to a green glow accompanied by a smile for when it's time to get up.
The built-in sound machine simulates soothing ocean or rain, or emits calming white noise. Moreover, it's also a nightlight that can be set to a variation of hues.
Read customer experiences here.
4. Philips Somneo HF3650 Sleep & Wake-up Light
the most versatile wake up light you can buy right now (2019)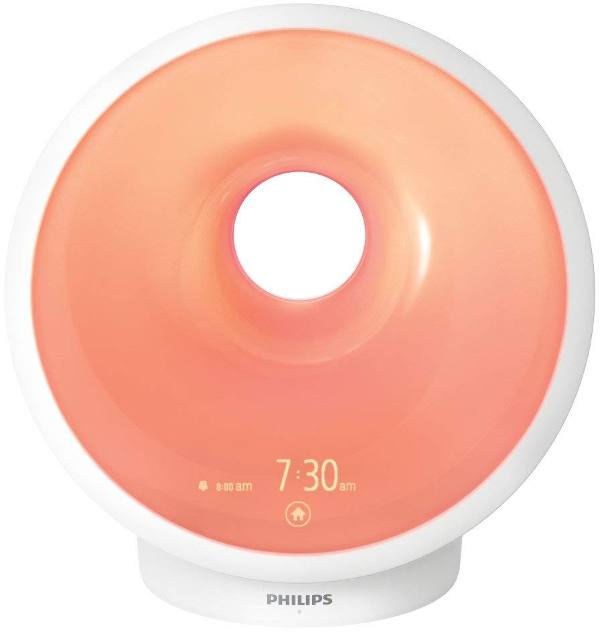 The Somneo Sleep & Wake-up Light is a next generation device that has all the benefits of a traditional wake up light and more. Philips have lived up to their creed: "Let's make things better". For instance, this new model lets you fully dim the display and has a memory backup battery.
Of course it gently enhances wakefulness with from red, to orange, to bright yellow ranging light. It naturally ushers you into sleep at night by creating an artificial dusk, respecting your circadian rhythm by emitting appropriate hues of light.
Great if you have trouble falling asleep at night
What's more is that it has special pulsing lights that guide your breathing, helping you wind down, eventually lulling you into sleep. This light and sound-guided smart breathing feature is dubbed RelaxBreathe+.
On top of that, it's a night stand light that helps you find your way in the middle of the night without disturbing your sleep by causing a melatonin spike like normal, bright lights do.
The Somneo has even more comforting nature sounds such as mooing cows that ease your transition from dreamland to being awake. Philips utilizes various hues of light to simulate sunrise and sunset (most wake up lights use only one color of light for this specific purpose).
Pros 
Additional, innovative features to help you fall asleep
8/10 Somneo users fall asleep easier according to independent research
Two alarms can be set and stored (workdays/weekend)
LCD display level can be set and automatically fades when it becomes dark
White noise feature
A single snooze tap activates a dim orange 'get out of bed at night light' feature
Charge devices via USB port
Sunrise duration can be customized
Warm reading light that does not disturb your circadian rhythm
Battery backup
Cons
No simple physical button to turn quickly the alarms on and off
Menu navigation takes some time and effort to get used to
Can't play your own music as the alarm
No Bluetooth
Pricey
Best wake up light alternatives
---
5. JBL Horizon alarm clock
if sound quality is your second most desired feature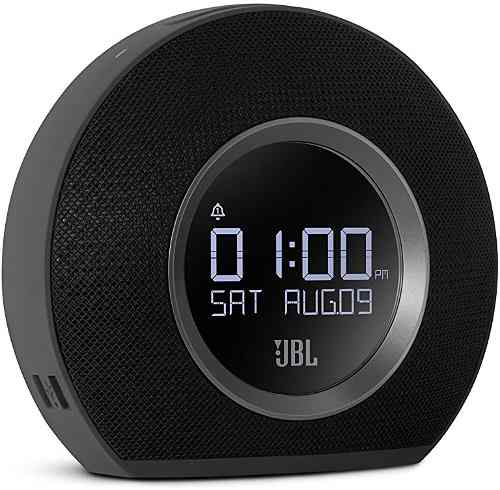 This one is a versatile beast too. The new JBL Horizon adds sensational sound to the mix. The front is a speaker and – in case you were wondering- the light is in the back.
The Horizon streams your music via Bluetooth from your phone, tablet or laptop allowing you to wake up with your favorite music instead of the alarm sound or FM radio (no AM).
It features two fast-charging, independently wired USB ports so it charges your devices and lets conveniently plug in your phone while you set the alarm before going to sleep. You can set two separate alarms. Programming alarms, like with many of these devices, can be somewhat daunting though.
Just like the other devices its ambient LED light slowly increases in intensity to wake you up gently. Similar to only some of the other devices the light gradually fades out in the evening. However, the artificial dusk/dawn quality leaves a bit to be desired.
The display brightness automatically adjusts to the ambient light intensity. It fades when it gets dark and brightens during the day. A useful feature for those who prefer a nearly pitch dark room to sleep in. However, this might be a problem if you're sight impaired and want to keep an eye on the time at night. Others may find the display too bright at night, however it can be turned off completely.
Bottom line
The JBL Horizon has a lot of bells and whistles and if high quality of sound is important to you this wake up lamp may be your best bet. However, with this alarm clock chances are you're woken by slowly in volume increasing music and not by light. So if the quality of the mimicking sunrise feature is critical to you, you might want to go with the Philips HF3520 instead.
Pros
Bulb: LED
Lets you set two separate alarms (i.e. week / weekend alarm)
Exceptional JBL sound quality
Doubles as a gadget charger
Display can be turned off at night
Cons
Soft touch buttons lack user-friendliness (intuitively placed tactile buttons would be an improvement)
Display not manually adjustable
Display rather dim
Not as much bass as other JBL products
No battery backup
6. BioBrite SunRise Clock Radio
Simplicity is the ultimate sophistication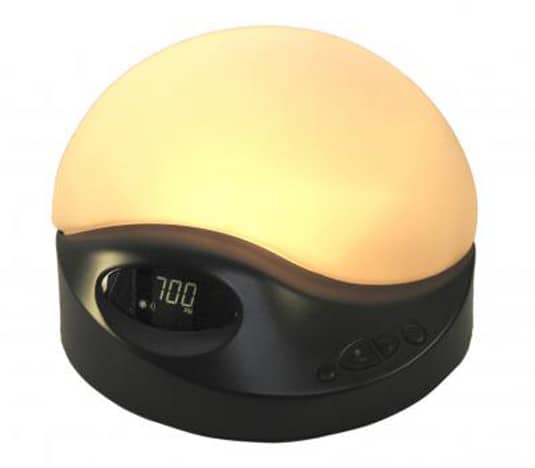 The BioBrite has both a gradual sunset and gradual sunrise feature helping you fall asleep at night and get up in the dark morning. If you find it helpful to fall asleep with some background sounds on, the BioBrite allows you to program the radio or white noise machine to fade out after a set time.
Like pretty much all of the devices, the Biobrite Sunrise Clock Radio too, can be somewhat daunting to program. Nonetheless, this is one of the most simple, easy to operate clocks of them all.
You can set only one alarm time so you may need to reset it at the beginning and end of your weekend. It offers the choice between dusk and dawn cycles of 15, 30, 60, or 90 minutes.
A common complaint is that clock display isn't visible when the light is in full intensity but this is hardly a flaw yet more a logical consequence.
Pros
Relatively easy to use
Only has 4 (tactile) buttons
Sunrise and sunset mode
Audible alarm can be turned off
White noise feature
Dim night light
Frosted glass globe
LCD display can be dimmed and fades to low level when you want to sleep
Backup battery for settings (light does not work on battery but audible alarm does)
Cons
Just one alarm setting option
Clock precision might reduce after a while
Rather bulky
7. Lumie Body Clock Active 250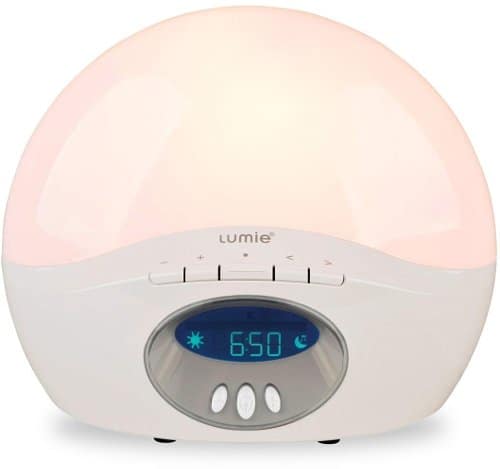 The Lumie Bodyclock was the first dawn simulator alarm made by a company that specializes in light therapy products. It resets your sleep/wake cycle and is claimed to help with SAD syndrome (Seasonal Affective Disorder), winter blues and other physical difficulties with waking and sleeping.
It can be used as a bedside lamp that shuts itself off after 90 minutes. It functions as a security light too. In security mode it automatically activates the light at random periods between 4pm and 11pm when nobody is at home.
The Lumie lets you set sunsets and sunrises from 15 to 90 minutes. You have full control over the time period you want the light to slowly come up and how bright you want it to get. Wake up with 6 different sounds including radio, traditional alarm sound, or nature sounds such as rooster call and crashing waves.
Pros
Highly customizable sunrise (more so than the others on the list)
Display can be dimmed completely at night
Audible alarm can be turned off
Battery backup
Class 1 certified medical device
You can set different volume levels for the radio alarm and for just playing the radio
Doubles as a security light
Cons
Pricey
Controls are hard to use
Difficult instructions
Audio lacks quality
8. hOmeLabs Sunrise Alarm Clock
affordable buy but has its flaws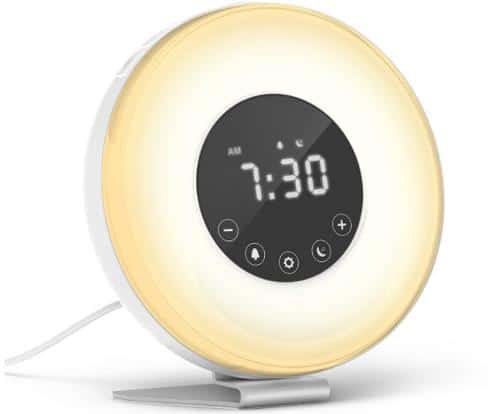 With its sleek looks the very attractively priced hOmelabs clock would fit right in a sleek minimalist condo. But how does it compare to other sunrise clocks in general and in particular to our best affordable buy recommendation, the Mosche?
Its biggest drawback is that it doesn't really produce a gradual sunrise as the light turns on at 50% intensity. This might still be subtle enough to not jar you awake but then it makes you wonder if the maximum brightness is sufficient. Chances are it will wake you suddenly or not wake you at all.
What makes matters worse is that the LED light is white and doesn't flow from red to orange to yellow. This makes the waking process a lot less gentle.
What's more is that hitting snooze turns off not just the audible alarm but the light too. So you're suddenly in the dark again, which defeats the whole purpose of creating an artificial dawn. Snoozing this way might be even more detrimental to your health than without a sunrise clock.
Pros
Sunrise and sunset mode
Option to use light function without audible alarm
Display can be turned off
Battery backup
Tactile buttons
Mood light
Cons
No gradual transition to light
Just emits white light
Alarm auto-shuts off 5 minutes into it
Snooze turns off the light!
Poor audio quality (sounds unnatural/ too loud)
Not all sounds are actually nature sounds
A lot of buttons might cause confusion
Difficult instructions
Short time window for adjusting settings
9. Use Philips Hue as a wake up light
a versatile option yet has its limitations when it comes to sunrise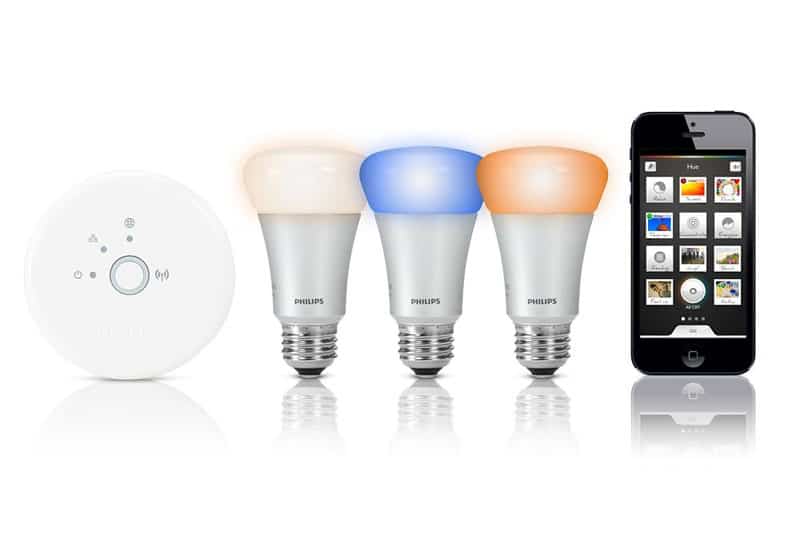 For a moment I considered getting Philips Hue, the Wi-Fi-enabled LED lighting system, instead of a wake up light, mainly so I could also enjoy its pretty cool other features. Moreover it seemed like an attractive alternative as it has voice-control via the smartphone app, so no more fiddling with buttons or toppling over the clock.
The main question that rises: Can you use Philips Hue just as well as a wake up light?
Well, it can be set as an alarm light that slowly brightens up over a pre-set period of time. It's a serious contender since Hue too, makes use of the knowledge that your brain chemistry is affected in different ways by different wavelengths of light (they really know their optics at Philips). Hue is created with the knowledge in mind that appropriate light settings can influence your mental and physical wellbeing.
What's more, wake up lights emit fixed light colors, Philips Hue's colors are customizable so you can create an artificial sunrise/sunset based on your personal preferences.
Besides software-based customization you can experiment with various bulbs such as the Hue Ambiance, Hue White Light and Hue Color ambiance. Or combinations by inserting one in the main light fixture and another in the bedside lamp.
The standard accompanying Philips Hue smartphone app does not really cut it since, at wake up setting, the light starts to emit at 30% brightness which is too sudden.
Third-party apps seem to do a better job. The iConnect Hue app, for instance,is better geared towards using Hue as a sleep timer and alarm function. It does slowly raise and lower your lights for smooth nodding off or waking up.
Bottom line
In theory, using a Philips Hue as a wake up light does sound attractive. However, a standalone wake up light is designed solely for the purpose of mimicking sunrise. It is able to fade in smoothly from no light to a room-filling "sunrise". Philips Hue has a higher minimum level which might interfere with the gradual, natural awakening process by either waking you up or stressing you more sub-consciously.
Pros
Can be used as normal lights that fade on before your alarm
Not the most affordable option
Controlled by smartphone app
Colors, fading time, and more are highly customizable
Can be used with any type of lamp just by inserting a Hue bulb
Cons
Hue's light is potentially brighter than a dedicated sunrise light (300 lux)
No nature sounds/ audio feature
No snooze function (although this might not be as bad since snoozing is unhealthy, science shows)
Not specifically designed as a dawn simulator
10. Withings Aura Sleep Tracker Wake-up Light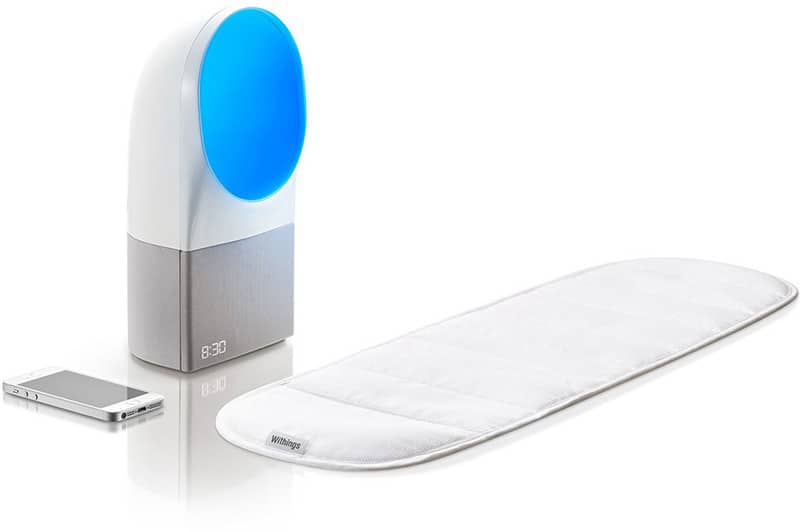 Another multi-talented device, The Withings Aura Smart Sleep System is a true nightstand multitasker. The wake up light helps you wake up naturally based on your sleep cycles.
It comes with the Sleep Sensor that's needs to be tucked under your mattress, an active light & sound Bedside Device, and a smartphone app. The device is designed to both monitor and improve sleep quality by tracking heart rates, breathing cycles and body movements.
Bulb: multi-color LED
Sunset lighting feature to let you doze off at night
Lots of sleep sensing functions (and environmental sensory features later on)
Compatible with a wide range of apps
Not very well reviewed.
Learn more about Withings Aura Smart Sleep System
11. Flux smart bulb with sunrise & sunset mode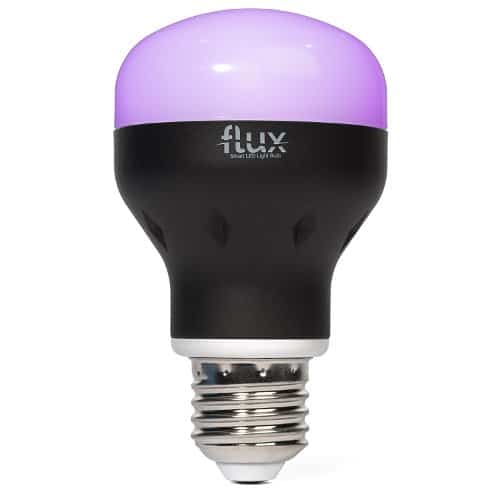 The Flux smart bulb is an app-controlled, dimmable 16 million color mood light bulb. It can be used for parties, mood lighting, and has a wake up and wind down setting as well.
In other words, it can be scheduled to turn on at a specific time and then gradually increase in light intensity.
Other features: Program the light to go on and off at set times so you can come home to a well-lit house or use it as a burglary deterrent.  Let it sync with music.
Might be a satisfactory solution if you live in a tiny home or are otherwise severely space constricted. Make sure its placement ensures your face is optimally exposed to the light.
However, when using the sunrise mode you are limited to using white light. There's no option to program an orange to yellow fade nor any other color transition for that matter.
Pros
Bulb: 400 lumen (equivalent to 40W)
No beside table needed
Multifunctional
Cons
dawn simulator only in white light
12. Verilux Rise and Shine Natural Wake-up Light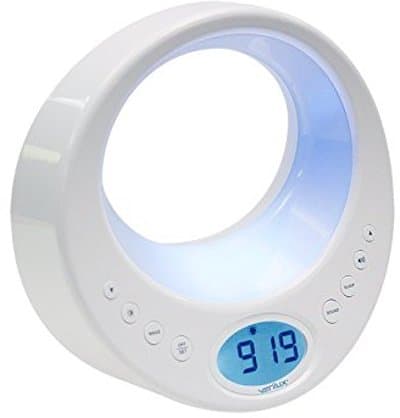 The Verilux Rise and Shine Alarm Clock and Sleep System has 20 different light settings, a fall asleep mode, four nature sounds (spa soundscapes), and FM radio. It can be used as a bedside lamp that simulates the sunset. This sleep cycle mode can be set to 5, 15, 30, and 60 minutes.
The maximum light output is quite weak. A quality sunrise alarm needs to emit approximately 300 lumen while the Verilux seems to put out a lot less. Reviewers describe sleeping through the alarm and snoozing. In my opinion this indicates a lack of quality as a proper device will definitely wake you up via the light and you are much less likely to snooze.
You have to set the sound level at 1 to prevent the audible alarm from switching on before the light is at full intensity. This seems somewhat counter-intuitive.
Pros
60W clear incandescent bulb (can be replaced by a dimmable LED bulb)
Display has two brightness settings and a blackout setting
Feature rich
Battery backup
Cons
Just one alarm can be set at a time
Sound lacks quality
Programming the alarm clock can be difficult without the manual
Light intensity does not increase smoothly but in 20 steps
Some users hear a buzz produced by the bulb
3 buying tips
---
1. About waking up before your set time
Some users complain that their wake up light wakes them up before they need to be up. Sometimes they are awake at the set time, other times they are woken earlier because of the light.
I have noticed this too however I do not find it a disadvantage simply because I feel great. I have never been woken as soon as the light started to glow but always after a while when it "seemed sunny" in my bedroom. If a light wakes you as soon as it turns on, the device's starting level might be too bright (common in some of the cheaper devices).
2. Wake up light vs. SAD light
Be aware of the distinction between a wake up light and a SAD light box. These are two different types of devices, each with its own purpose. Some of the alarm clocks listed here offer both features, which generally leads to a compromise in terms of quality.
Especially when you consider that a wake up light emits 250 – 300 lux whereas a quality SAD light box emits roughly 10.000 lux.
Moreover, various websites offer an overview of the best wake up lights available while listing both types of devices. This is misleading and may cause confusion. Keep this mind so you won't end up with a SAD light instead of a sunrise alarm clock.
3. Decide how important a sound feature is to you
Listening to the same soothing sounds every night during bedtime has synergistic benefits because eventually your body and mind start to anchor these sounds to your body clock, thus causing you to drift off. Remember, waking up gracefully is connected with going to sleep in time.
Since literally the dawn of mankind the darkness after sunset was the cue for us humans to go to sleep.
In our modern time we can use other things as cues to falling a sleep; i.e. going to bed at the same time every day, listening to the same sounds, practicing the same ritual every night. This practice is similar to cue words used in hypnotherapy or to anchoring in neuro-linguistic programming.
The quality of the sound feature might be of additional value to you and should not be thought lightly of.
Not convinced a dawn simulating alarm is for you?
4 Wake up light health benefits
---
1. No more snoozing
A wake up light helps prevent snoozing. You simply don't feel the need to snooze (at least I don't. Ever). Which is beneficial because snoozing causes sleep loss. Snooze sleep is low quality, less restful sleep.
If you snooze, you lose
Every time you snooze your brain starts a new sleep cycle so the next snooze alarm wakes you up in an early phase of that cycle in which you are very deep asleep. Thus you wake up more groggy and disoriented every time you snooze. To make matters worse, snoozing also interferes with falling asleep in the evening.
2. Revive your cortisol levels
Many people suffer from low morning cortisol levels with all kinds of nasty symptoms as a result. These include; sleeplessness, weakness, fatigue, anxiety, body aches, indigestion, weight gain, depression among others. One of the causes is blue light exposure from devices during the evening.
"It's not natural to wake up in the dark. Our ancestors woke up at dawn. Whenever dawn came." Dr. David Avery, sleep and light specialist, University of Washington
Daylight exposure early in the morning via a sunrise alarm enhances your overall cortisol levels by spiking the secretion of this 'stress hormone' like your body is supposed to do (the natural 'awakening cortisol response'.
3. Enhance your melatonin levels
Research shows, early morning light exposure enhances melatonin levels during the day and night. When you wake up in the dark, melatonin production is delayed with all kinds of undesirable side effects as a result.
4. Not only makes you feel better..
A wide range of studies as well as customer experiences indicate that you will feel happier, more active, more alert, making you more productive, more inclined to indulge in physical exercise, maintaining a healthy diet and social interactions.
In other words, a wake up light far exceeds just starting the day pleasantly, it can be the start of an upward spiral that positively affects all kinds of aspects of your life. It's simply one of the best sleep gadgets you can get.
Bottom line: Which wake-up light is the best?
Obviously it depends on your personal needs but I always recommend to people the Philips HF3520.
When I bought it 4 years ago I had done a fair bit of research and I think I made the best decision. I still use mine and am very content with it.
At some point I might want to upgrade* to a newer model but solely to get access to additional features such as network connection and smart features.
*Perhaps the new Somneo Connected Sleep & Wake-up Light which was expected to be released end of 2018 as it offers a wide range of control via the SleepMapper app over for instance; the sunset and sunrise mode, alarms, music choice. What's more is that it records sleep time, provides feedback on how you can improve your sleep. Its AmbiTrack sensor tracks room temperature, darkness levels, relative humidity, and logs noises that might disrupt your sleep during the night. All in all, a truly smart sunrise clock.
For now, if you want a really good sunrise clock that does just that, waking you up with 'the sun', the HF3520 is simply the most high-end device you can get.
If you can't sleep at night and or you want more features such as a discrete, one-touch night light, the Somneo HF3650 will be the best device for you.
If budget is a decisive factor, the Mosche Sunrise gentle wake alarm clock is a great, very affordable option.
If truly outstanding sound quality is important to you the JBL Horizon may be your best bet. Keep in mind that its dawn simulation abilities are sub-par compared to its competitors.
The LittleHippo Mella a must-have if your kids interfere with your gadget-induced sunny mornings.
Last Updated on April 8, 2021 by Tyler