Last Updated on February 7, 2015 by hobbr.com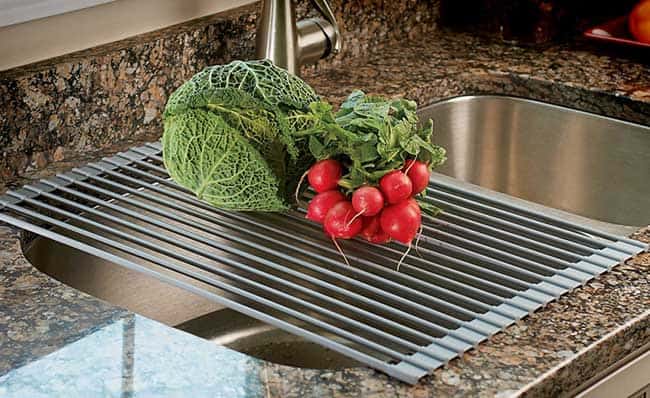 This is a great minimalist drying rack for cramped condos, RVs, yachts, and tiny homes. The rack rolls up for convenient storage which makes it a desirable item for the somewhat larger kitchen too.
Because, lets be honest here, those dreaded racks may not be true space hoggers, they do take up some of your precious kitchen space. And they often leak water when hastily tossed in the kitchen cabinet below the sink. Or am I the only one who, occassionally, throws the drying rack in there after another delightful session of doing the supper dishes? Well, nevermind. This thing just rocks (and rolls).
My little niece recently said about our previous bulky rack, there should be an Alladin version of the drying rack. One that appears when you need it and fades when not in use. Well, this space saving dish mat by Better Houseware is as close to magic as it gets.
The lightweight yet surpisingly sturdy rack, measuring 20.5 inch, fits on most kitchen sinks and rolls up quickly and easily. It's heat resistant to up to 400 degrees too allowing you to use it as a trivet to protect your table top (or kitchen counter) from searing hot pots and pans. You can use it do drain veggies and fruits after rinsing too. How about that for multifunctionality?
All in all a great addition to the kitchen for unclutterers, micro-dwellers, and just those who appreciate well-designed, useful products alike.
Get your Over the Sink Roll-Up Drying Rack on Amazon.
Want more space efficient kitchen utensils? Check out this list of storage cutting boards for an over the sink cutting board and colander.