Does your cutting board pile up quickly too? All those delicious veggies, herbs, and other ingredients that need to be cut often end up creating extra dishes. Or you have to walk back and forth risking some of the ingredients being spoiled on the kitchen counter or worse the floor.
Storage cutting boards are great kitchen tools. Not only for cramped kitchens with limited counter space but for more spacious kitchens alike.
A quality cutting board makes prep work as easy as possible. After all, cutting and chopping isn't the most popular phase in cooking. The best boards are durable, easy on knives, and resistanct to scratches and cuts.
They should also prevent bacteria from penetrating the wood or other material. Some boards also offer the feature of storing chopped ingredients.
Here are 8 of the best multipurpose storage cutting boards.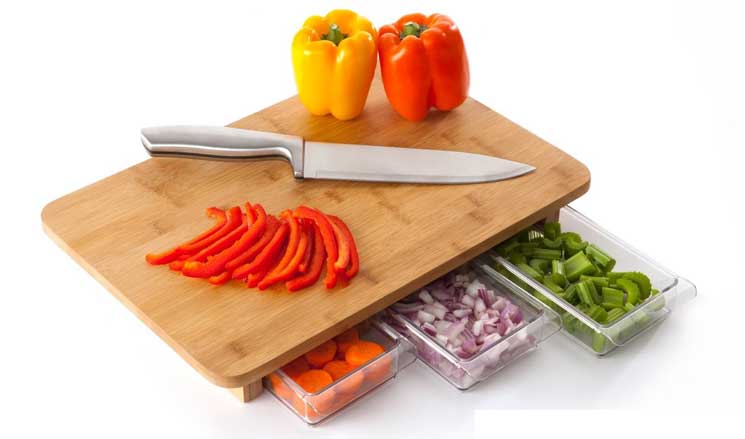 Keeping vegetables and herbs separate is essential because some cook faster than others. Mocubo's three drawers hold whatever you chop up until you're ready to use them. Keeping them enclosed will prevent drying out as well.
The stylish bamboo board can double as a serving tray too. Think about adding various dips in the drawers and chips or crackers on top.  Its rubber feet keep it from sliding. Watch the inventor use this board for the first time in this short Youtube video.
Get yours at Quirky. $39.99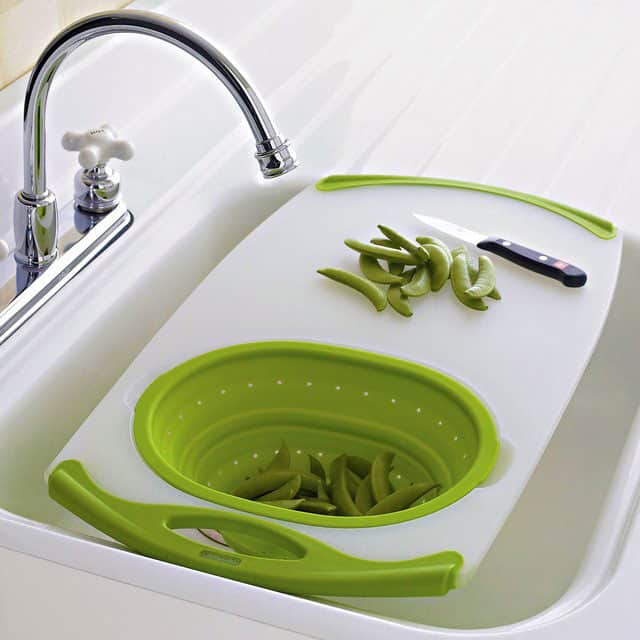 This Nonslip Over-the-Sink Cutting Board is such a clever innovation. This board allows you to chop and slice, store veggies and other ingredients, wash them under the faucet in the integrated colander while keeping counter space free at the same time.
What's also convenient is that the integrated 2.5 oz colander collapses for flat and space-saving storage. It's removable for cleaning. The board itself is stain- and odor-resistant; and won't dull knives.
Here's another cutting board with collapsible colander.
Find out more at Fancy. $45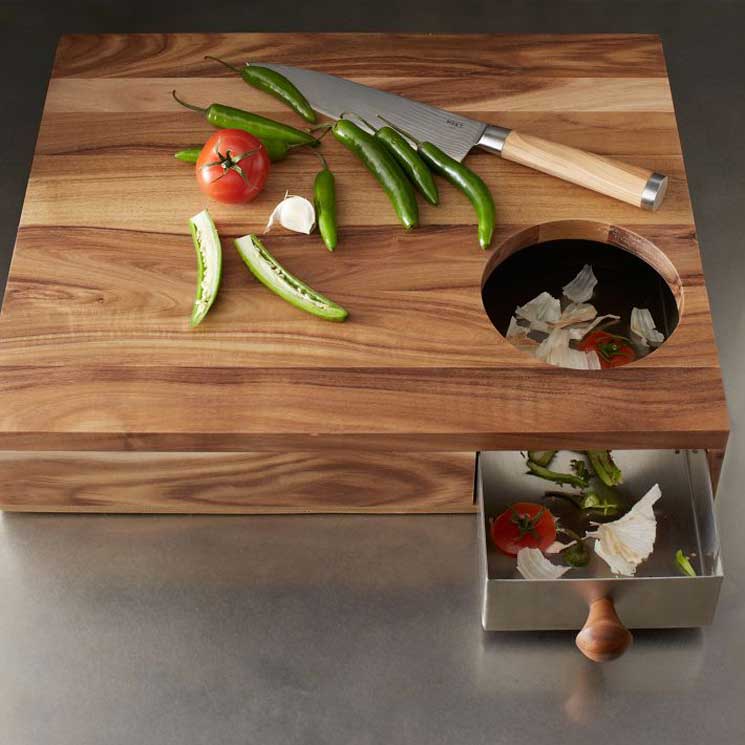 Ever since we say Jamie Oliver swiftly discarding the cutting discards with a sweep through a round hole in his cutting surface we wanted one too. Installing a whole new kitchen counter is tad bit undue but a cutting board such as this one by West Elm does the trick too. The acacia wood storage cutting board has a metal drawer that pulls out for easy disposal.
Find it at West Elm. 110.40 €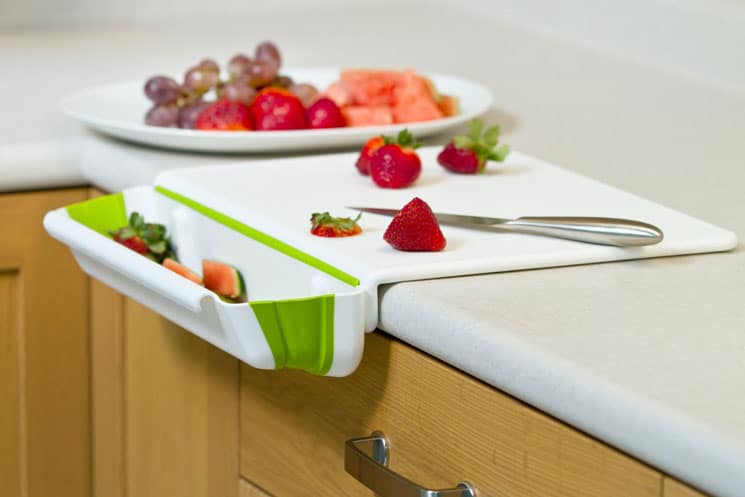 This counter edge poly cutting board features an integrated scrap bin allowing you to sweep trimmings, peelings and other discards aside.
The bin is easily removed for easy cleaning or for use the board without it. A seal between board and bin prevents liquid from leaking on the floor. 4-cup capacity.
Short review: This Prepworks cutting board by Progressive International is one of the top choices considering its price and convenient design. If you are pinned on a wooden board for looks this may not be your pick but it has a great price value ratio. Measurements: 11-Inch by 15-Inch.
Read its positive reviews on Amazon.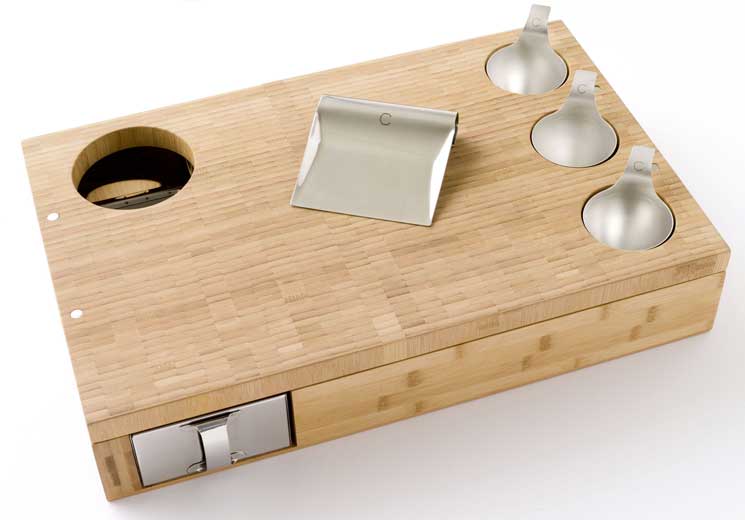 Popular Australian TV chef Curtis Stone created a premium cookware range designed to make things easier for home chefs. The Curtis Stone Workbench features a waste disposal drawer and comes with 3 stainless steel 1-cup measuring cups and an additional steel scoop.
"The Quiet Terminator" as is the nickname of the Australian celebrity chef created this board from Australian grown Victorian ash wood coming from an eco-sustainable plantation.
Short review:
According to a Gizmodo review it's heavy which makes it hard to store. "There's a ton of unused space in the bottom, and it's so big that it makes it awkward to put back together and awkward to clean." On the bright side: ".. the inclusion of the cups and the trash bin make it convenient if you're preparing something with a lot of steps."
Find out more here. $300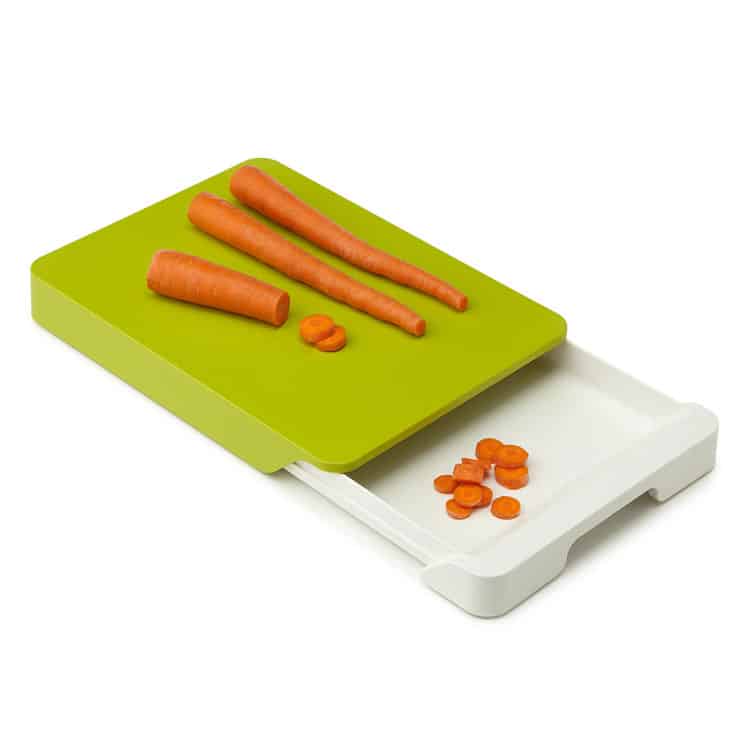 This cutting board by Joseph and Joseph is particularly useful because of its relatively large drawer. You can swipe all your unwanted vegetable scraps in there and don't have to worry if it's full.
Compared to most other storage cutting boards this one offers lots of space. In case it does get full,  just pull it out, damp the contents in the trash and put in back in. You could use the drawer to store knifes too.
Pick one up at UncommonGoods. $19.99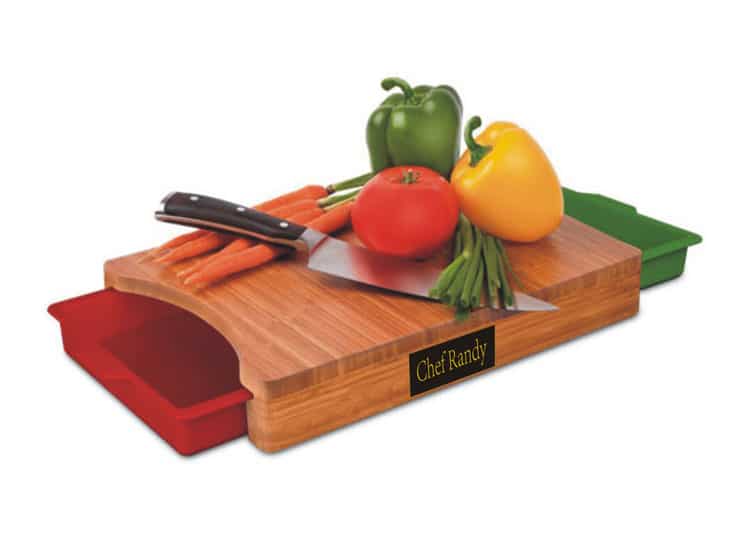 With its two inside trays this cutting board by Final Touch offers lots of storage space. The trays slide easily in and out making meal preparation a picnic.
The Slice n' Slide™ Bamboo 3-Piece Cutting Board Set allows you to cut, slice, chop, and slide the ingredients into the tray and transfer them right into your pots and pans.
Get it at Bar Products. $29.95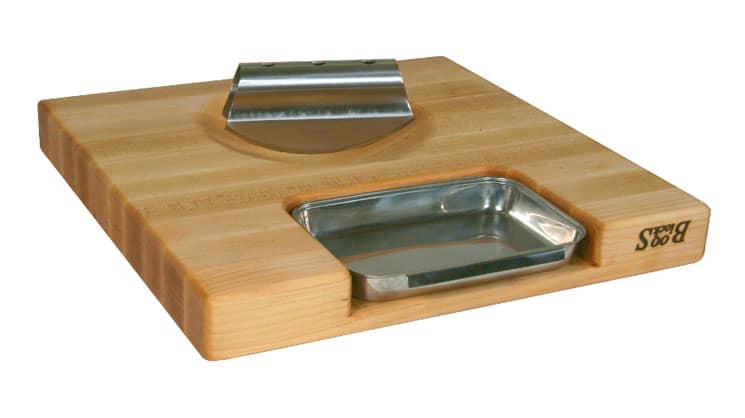 The Newton Prep Master II butcher block cutting board features a dished surface for chopping ingredients with the double bladed rocker knife.
In one swift move you"be able to tranfer the freshly chopped ingredients from the scoop-out to the nearby pan. Turned on the other side this board by John Boos sports grooves to collect meat and vegetable juices.
Pick yours up at Butcher Block Co. $199,95
We listed 8 of the most popular, well-designed cutting boards with storage. Which one did you like best? Shout it out below.
Last Updated on February 7, 2015 by Tyler