Last Updated on April 1, 2014 by hobbr.com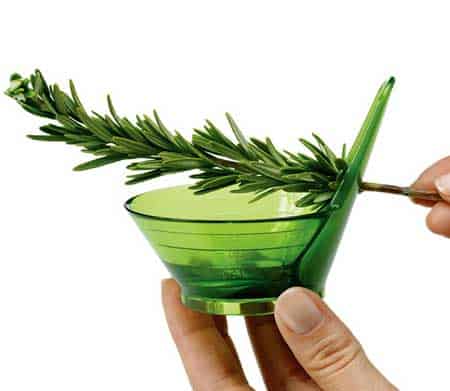 Stripping and collecting the leaves from woody stemmed herbs is now a cinch. This nifty gadget lets you deleaf herbs like a pro, faster and with less spoilage. No more green stained nails or half of the herbs sticking to your hands.
Simply pull the stem through one of the differently-sized holes and you are separating the luscious leaves from its woody stem.
The measuring cup collects the fresh herbs such as thyme, rosemary, lavender, tarragon, sage and more.
Before the Chef'n Zipstrip Herb Stripper, harvesting leafs from the stems was a time consuming task. By simplifying this tedious undertaking, herb prepping is a picnic.
As a result you might be more likely to add those delicious, health-boosting herbs to your salads, warm dishes, and herbal teas. You know what they say, "He would live for aye, must eat sage in May."
See how easy it is in this short video. Or order this gizmo at Amazon.