Last Updated on February 7, 2015 by hobbr.com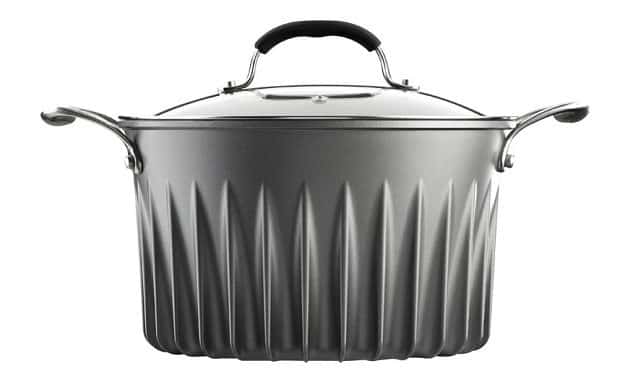 It's not rocket science to understand that a lot of energy is going to waste every time we put a pan on the stove. It did however take a rocket scientist to improve upon the conventional pan design.
Seriously, the special design of these innovative pans lets you heat food 40% faster and the cookware is indeed designed by a rocket scientist.
If you are an environmentally conscious and cost sensitive cook you already take energy saving precautions when cooking such as putting a lid on pots and pans, using the appropriate diameter pan on a hob, turning off the gas flame a few minutes before the food is ready, utilizing its heat.
And now you can save up to 40% energy more energy by cooking with these new Flare pans. The finned design channels heat from the gas flame across the bottom and up the sides of the pan, allocating energy that would otherwise be wasted.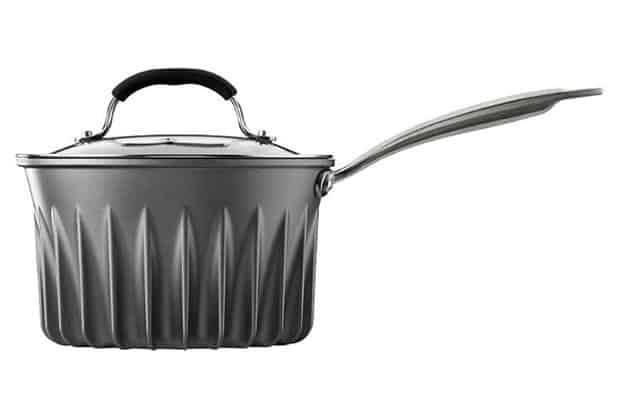 The 'finned' exterior which reminds of central heating is named FIN-X technology. Apart from channeling heat the fins also increase surface area thus enhancing energy efficiency.
This results in the pan heating up significantly more quickly and cooking food faster. Despite the pans heating up more quickly they do warm up evenly meaning without hot spots. (the reason many chefs use copper because of evenly distribution of heat).
Since a flame isn't round conventional pots and pans rounded pans are pretty ineffective which is why these 'scientific pans' are such a great improvement.
Oxford University's rocket scientist, Dr. Tom Povey and his team have been testing the design over three years, said comparisons had shown a conventional pan needed 40% more energy to heat up.
The pan has already won the 2014 Hawley Award from the Worshipful Company of Engineers for "the most outstanding engineering innovation that delivers demonstrable benefit to the environment".
Flare Pans are made of cast aluminum for efficient heat conduction, have stainless steel handles, and have a non-stick coating inside.
Flare Pans are available as fry pan, frying pan, saucepan, and a lidded stockpot
Prices start at £49.99. will be available in August at the Lakeland website and stores. More innovative kitchen appliances here.