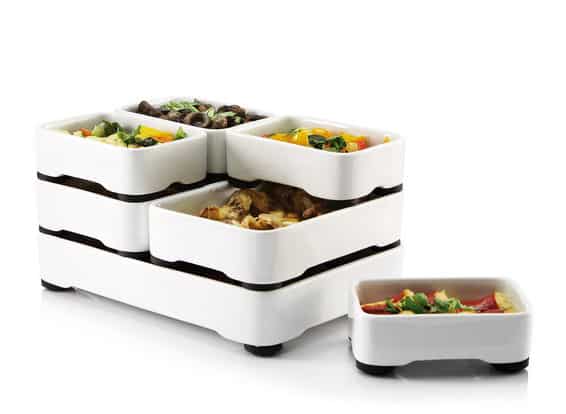 Multifunctional cookware in its best shape. These stackable porcelain oven dishes not only make the most out your oven space but are designed to use on the dinner table too.
Their heat resistant silicone feet function as coasters so you don't need trivets. There's room for a tealight underneath to keep the dishes warm while served.
If that's not enough, the cookware can be used to freeze in food and can be heated straight from the freezer.
The openings allow for heat distribution thus cooking the food in all the trays evenly in either your microwave or conventional oven.
Cook an entire multiple course meal at the same time in one oven.
Effortlessly transfer it to the dinner table.
Present it in a stylish manner while keeping the food warm too.
Preserve leftovers in the same dishes in the freezer.
Dishwasher safe.
What's more, this oven tray set takes up minimum space in your kitchen cabinets too.
Designer Christian Bjorn reminds us once again why Danish design is valued all over the world.
The elegant cookware is available in 3 formats, sold separately (if they are not sold out).
Last Updated on March 26, 2014 by Tyler