Last Updated on April 13, 2020 by hobbr.com
Gift shopping for new parents can be difficult. Especially if the new parents got organized well and already seem to have everything before their baby arrived. Quirky toys or whimsical gadgets can be fun for a short while.
Standard gifts such as plush toys and cute shirts are likely to be piled up already in the baby room. No need to bring more of those. Since there's so much needed by fresh parents you may want to give something useful. To help you out finding a great gift here are 15 fun and useful gift ideas all for under twenty dollars.
Baby Owner's Manual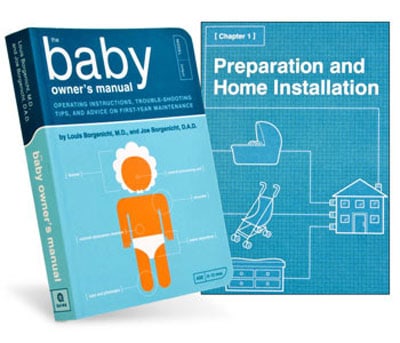 Just as babies aren't delivered by storks, despite some new parents wishes, they don't come with an owner's manual either. With all the hectics new moms and dads may not think about getting an instruction book. That's your task.
I've heard countless parents say that they wish that babies came with an instruction manual, and as someone who is lost without a guide on how to change a flat tire, I can definitely sympathise. At last, the Baby Owner's Manual is here, with instructions on how best to swaddle a baby, troubleshooting guides for when they just don't want to go to sleep at night, and an idea on how often it should be taken to the baby mechanic (ahem – doctor) for an oil-change and tune up.
$9,77 on Amazon.

Baby Food Dispensing Spoon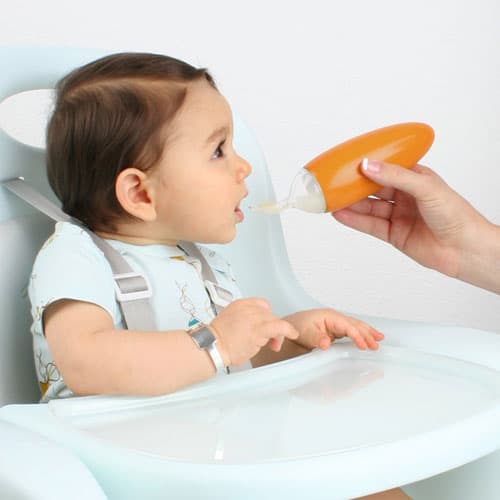 Babies are allowed to make a mess of their food. Moms and dads however, should lead by example. When all the attention goes to that cute little baby's mouth some additional spilling may occur. This nifty tool reduces the grown-up made mess to a minium.
Unless the new parents actually enjoy cleaning mushy pea spatters off the walls, dripping down the high chair, stenching their newborn and themselves, the baby food dispensing spoon is a delight. It takes the jar, spoon, mess and difficulty out of the equation and into one little revolutionary device that keeps parents and babies alike much happier (and sanitary).
For single-handed, joyful feeding hit up Booninc. $9,99
Molar Muncher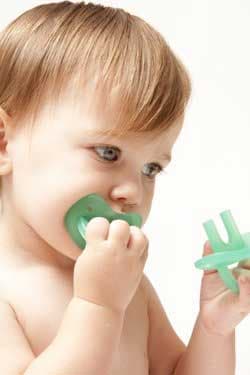 Moms and Dads everywhere know that teething can be a nightmare, but the molar muncher is here to help. It helps ease the gnawing, drooling and discomfort accompanying this process. Simply store the molar in the refrigerator and bring it out for the little one to munch on during any stage of teething.
$17.99 at ShopSugarBabies.
Go the F**k to Sleep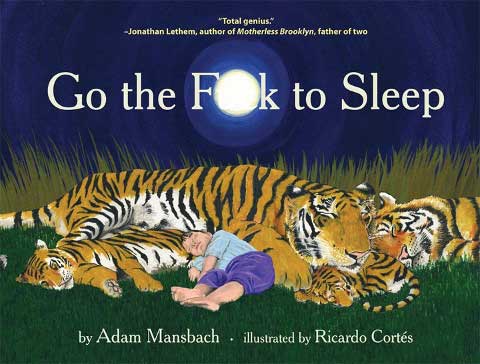 A little comic relief for the sleep-deprived parent. 'Go the F**k to Sleep' is a hilarious twist on classic children's books that any new parent can relate to. No wonder it's a huge hit. If consolation doesn't induce shuteye in your infant it still soothes new parents in their sleep-ridden life. This bestselling parody is a gift for the moms and dads more than the babies, it has shown many sleep-deprived parents getting a kick out of this best seller.
Click here to read its raving reviews. $9.73
Sound and Light Baby Soother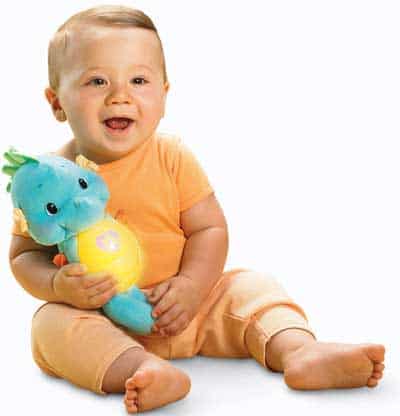 When baby is at ease, so are mom and dad. Baby rests? So can they. New moms know how valuable those quiet moments are. Soothing for both little one and themselves. The music, ocean sounds and light help parents and their fresh offspring both wind down.
Fisher Price Ocean Wonders Soothe Seahorse $9,99
Portachair Harness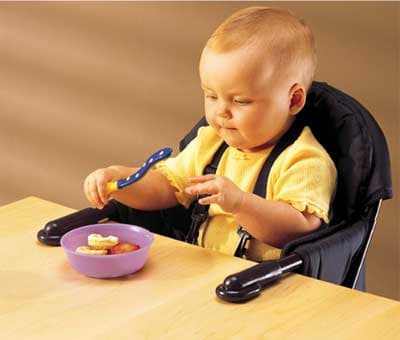 Packed full of safety features, this is a great gift for moms or dads on the go. It can latch on to virtually any surface and can be a lifesaver! No more hoping there's a high chair available or trying to stuff one into your car.
Portable High Chair $19,68.

Hands Free Bottle Holder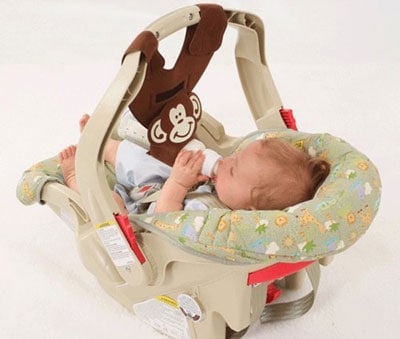 As any new parent knows, during long car trips, when you're trying to get dinner ready for the grown-ups, or even when you're just exhausted, feeding can be a little tricky. This hands free bottle feeder can take away a lot of the work, letting the little one feed themselves. Hands Free Bottle Holder by Bebe Bottle Sling goes for,
$19,95 on Amazon.

Sippy Cup Leash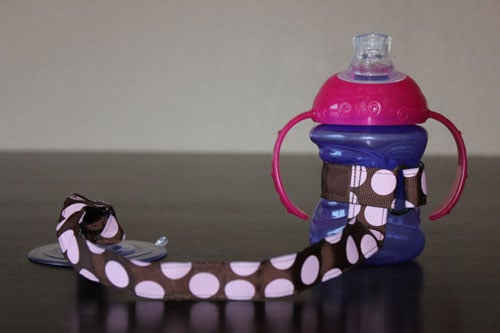 Sippy cups fall all the time. Those litttle hands, their undeveloped coordination, distractions everywhere make concerned parents have to be on guard for germs, sand and loss. This cute sippy-cup leash comes with a suction cup and will attach to virtually any surface, meaning no more tantrums when the favorite cup goes missing.
$13,10 on Etsy.

Mammary Minders Nursing Reminder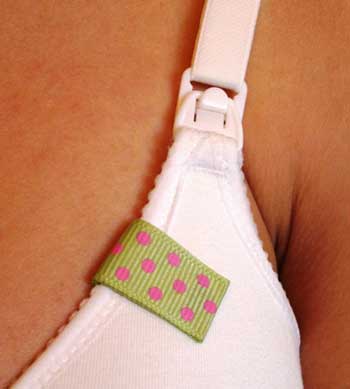 With the thousand different things that every new mom has to think about, the Mammary Minders Nursing Reminder is a little, discrete clip on tag to help her remember what side to nurse on. It comes in heaps of cute designs, and gives mom one less reason to stress. A cute little, yet very thoughtful gift.
$3,75 on Etsy.

Bathtime Easy Kneeler
Bath time should be fun for mommy and baby alike, and for those times when mom's struggling to kneel on the floor of the bathroom without her knees giving up, tub kneeler is here to help cushion mom and make bath time fun for everyone. This non-slip mat is cute, affordable and saves mom from a wrecked back and sore knees. Great for bathing Fido or Felix too.
Skip Hop Moby Bath Kneeler, $14,99.
Organic Sleepy Hat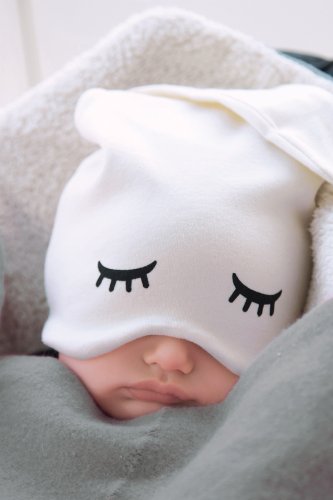 One of the most stressful times in any new parent's day is trying to get their baby to go to sleep. The Organic Sleepy Hat blocks light, keeps the baby's head warm, is super soft and is 100% breathable cotton. It's sure to make bed time easier.
Zoë b Organic On The Go Sleepy Hat, $18
 
Crawling Knee Pads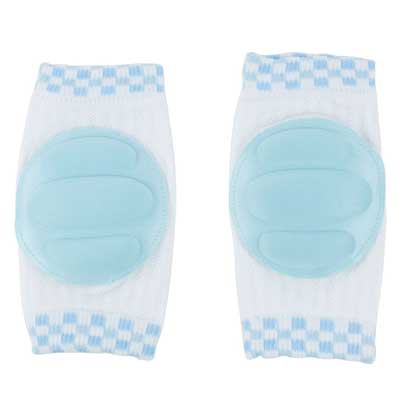 When your baby starts crawling their little knees can take a bit of a beating. Investing in a pair of these will help your little one stay safe and bruise-free.
Some parents think bare-knee crawling makes them tough but with these your kid can explore more without their little knees taking a beating. More crawling means more training giving your little one a headstart. Who knows where this will lead to, after good preparation with well-designed gear these little differences be the start to an Olympic carreer.
Niceeshop Baby Knee Crawling Pads, $2,49
 
My Quotable Kid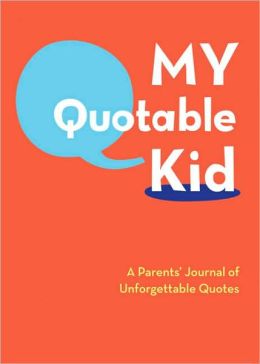 Toddlers come out with some pretty hilarious statements or questions such as "What is the baby wearing inside your belly?" or "Panties are just pillowcases for butts."
'My Quotable Kid' is a journal that gives parents a place to write down all the quips and questions that come out of their child's mouth, to share with family or save up for their 21st.
Go get this gift here, $9,97
 
Infant To Toddler Tub with Sling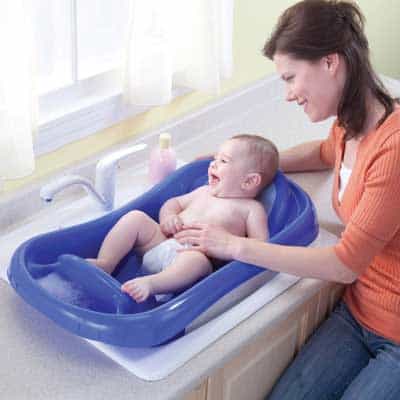 Baby's first bath is a memory that every parent will cherish, and a good tub is invaluable. This tub,  with its 'hammock feature' is voted best on the market and grows with the baby. If new moms and dads haven't already been provided this makes for a useful and fun gift. So many great bath time memories can be made.
The First Years Infant To Toddler Tub, $16,15
 
Baby shower protect cap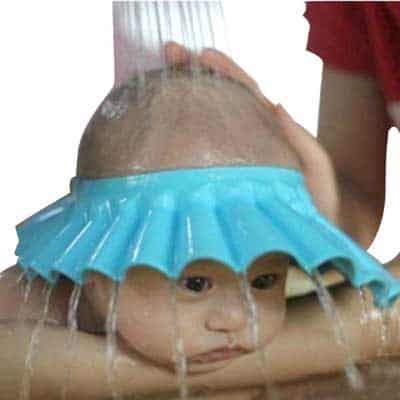 Susen Safe Shampoo Shower Bathing Protect Soft Cap Hat keeps your baby's eyes protected from shampoo and water. The high cuteness factor is just a bonus.
$1,92 on Amazon.

 
Uplift Body Scrub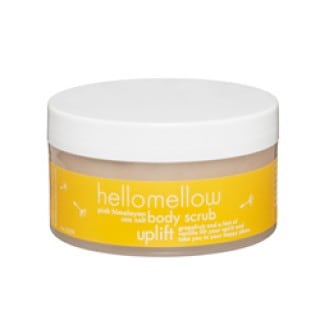 Post-baby skin is a little different to how it was before. Help a new mommy treat herself a little with this body-scrub – It's not quite a spa day, but it's close enough for many new moms!
$18 Vine Market.
 
Tie Bib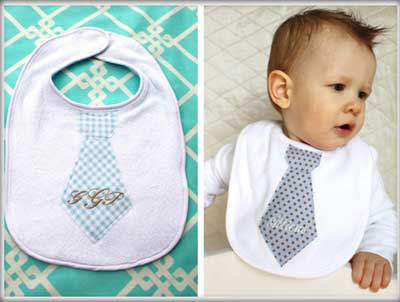 Keep your little one looking classy. This tie bib is the first step to helping your baby dress to impress. Find a matching baby tux, and you're ready for any formal event (or your little one is, anyway.)
 
Hit up Etsy for this one and more tie bibs, $16,50
Liked this list?
 
Have something to add?
 
Drop a comment below or shoot us an e-mail.