Reading books shapes your thinking. Books take you to imaginative worlds, let you crawl in the skin of the most intriguing characters. Books change and shape our lives.
Titles that have been read by millions for hundreds of years still inspire. And move us. Books make us forget the world around us. Spend 15 minutes a day reading and you'll expose yourself to over a million words yearly.
Reading books reduces stress, increases your knowledge, helps you concentrate, sharpens articulate thoughts, enhances your problem solving abilities, boosts analytical skills, and makes you a better writer.
But most of all, reading is fun. Which is why reading can be addictive too. Immersed in a fictional world, emotionally involved in the protagonist's life we forget our posture.
Unknowingly your neck hurts. Your fingers cramp up from holding the book. Squinted eyes can cause headaches or wrinkles. Unintentionally, you're lying in an unnatural position while turning yet another page to find out if Chinaski will finally get kicked out of the bar.
These 23 reading gadgets support your reading. They make you see better, help you find a more relaxed position, some even hold your coffee cup for you. Let's hit this list to see which gizmo will be your new partner in reading crime (figuratively of course, no crime in reading).
1. LuminoLite Hands-free Book Light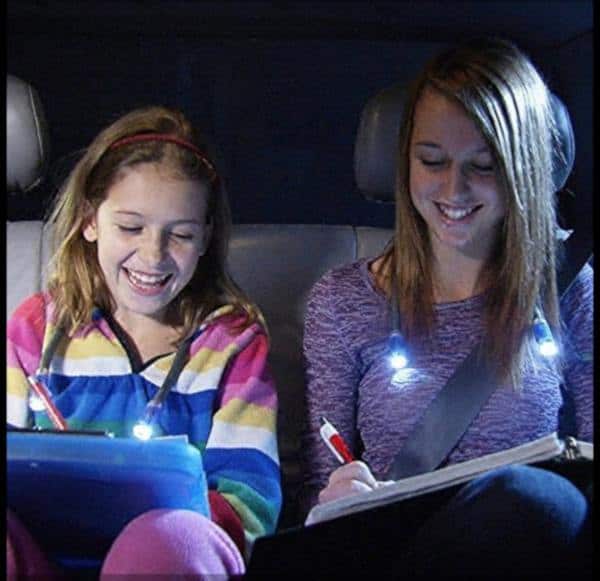 Experts generally recommend to avoid too bright light when reading at night. Also blue light isn't favorable as it interferes with your natural sleep pattern. The USB-rechargable LuminoLite emits both. At its lowest setting the light it emits is still quite bright.
Nonetheless, this neck-worn reading light can ensure you'll be enjoying the 450 – 1600 lumens light intensity required for reading (the older you get, the more light you'll need to read).
It'll be a great companion during cold, dark winter days snuggled up in your favorite chair. Or for shadow-free reading while camping, as a passenger in a car, during air travel, or virtually any place where sufficient ambient light isn't available.
2. Wide horizontal handheld magnifier with light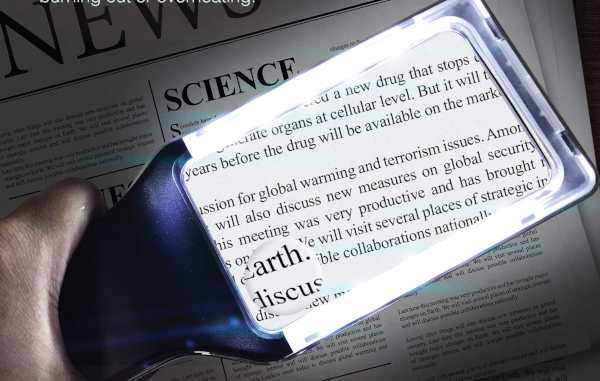 The amount of light your eyes need to read increases by 1 percent a year. At 10 years old, you can read by hardly any light, 40 watts. Once you're 60, you need around 100 watts which translates to at least 1600 lumens.
The MagniPros 3X magnifier emits up to 600 Lumen "making it the brightest handheld magnifying glass on the market". Even though it has a handle for hovering the magnifier over the page it can easily be layed flat on the page. Since it's a fairly light-weight device it makes a useful assistive device for elderly too.
3. EyeCard Reader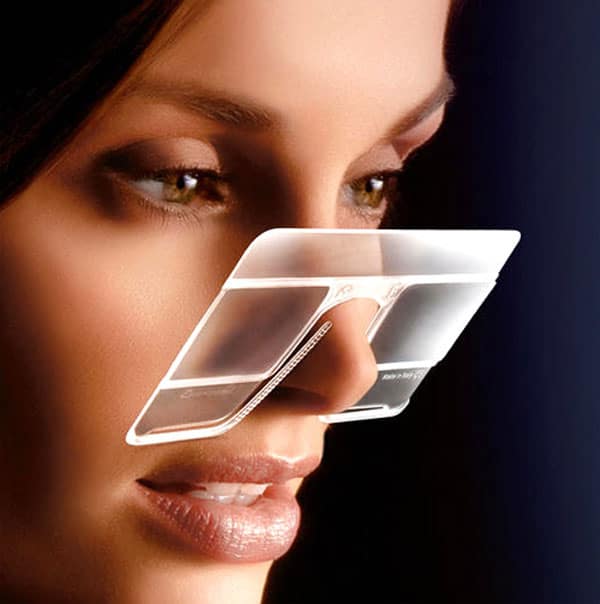 The name is a bit deceptive, but the eyeCard Reader is a nose clamp viewing gadget that allows a book reader to read small print without the extra hassle of having to hold it steady.
This is a good gadget for those who don't want to strain their eyes, but enjoy reading nonetheless. Stop squinting and squeezing to make sense of those way too little letters. Fits your wallet and your nose perfectly.
---
4. Illuminating Reading Glasses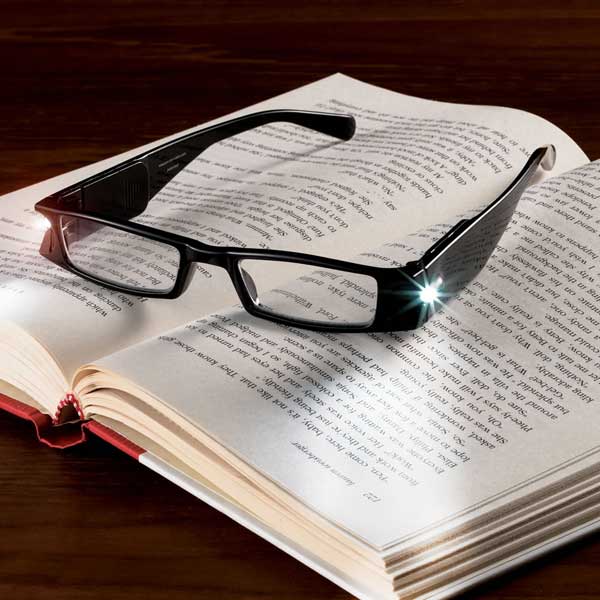 Reading glasses and book lamp in one, this illuminating gadget hits two birds with one stone to allow readers to clearly see text with light.
This is ideal for reading in bed so as not to disturb your partner with fumbling around for an extra clip-on lamp for your book.
These Illuminating Reading Glasses are not ideal for reading in bed without disturbing your partner but offer a safe way to read a map in the car without troubling the driver's sight.
---
5. Nap Massaging Bed Rest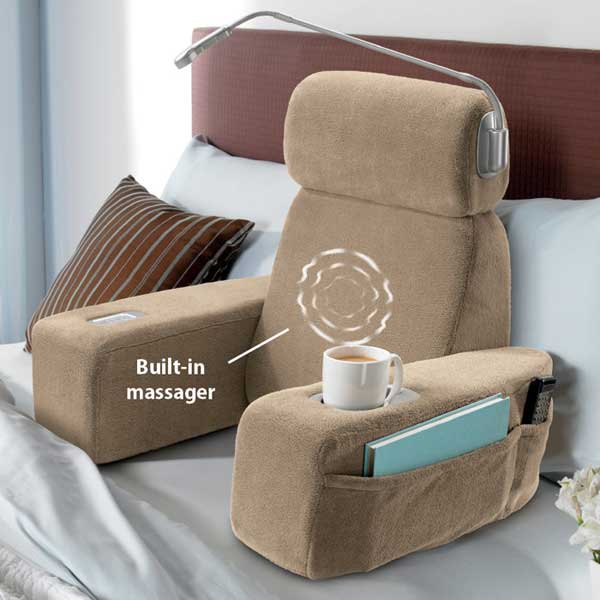 Want a luxurious and functional reading space that you can take wherever you want to go? The Nap Massaging Bed Rest is the ultimate reading gadget. It is perfect for the bookworm who loves a little a ridiculous amount of pampering with their reading. But who cares, you deserve it. Reading is good for you so why not make it as pleasurable as possible?
The Nap Massaging Bed Rest is portable, massages you, shines a light on your book, holds your coffee, and allows you to store your reading materials for an optimal reading experience. Like the idea of getting a massage while reading but don't fancy this particular device? Here's an overview of different types of massagers on the market today.
More info, reviews and buying here.
---
6. Lightmark Reading Lamp Bookmark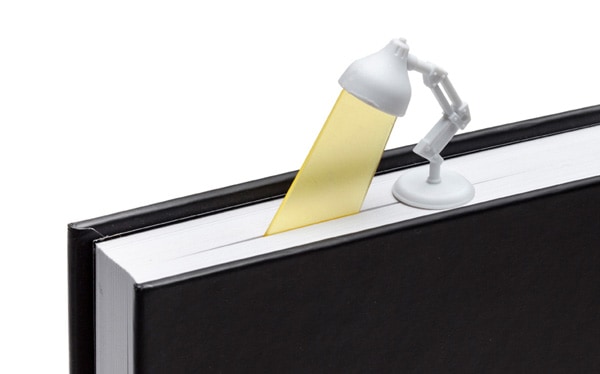 The Lightmark Reading Lamp Bookmark illuminates your pages and is perfect for those that easily lose their reading gadgets. Keep your spot in your book by leaving this reading lamp bookmark inside so that you can easily pick it back up and flip on the switch to continue reading while not disturbing others.
This cute little gizmo puts your pages and  you in the spotlight. Warning, it may make your peers jealous.
Grab yours at Amazon.
---
 7. Prism Glasses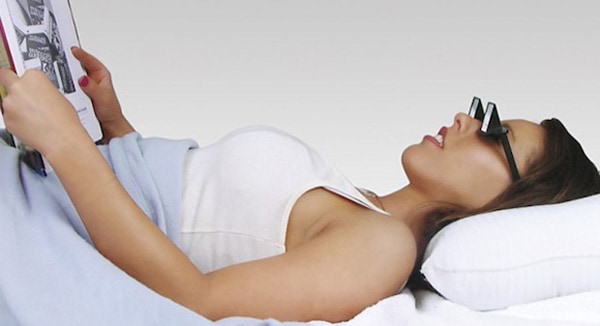 How many of us have wished that we could read while laying down?
It is no easy feat, but with prism glasses this is done easily and saves you from straining your neck to see the words on the pages.  This makes it easy for those with limited mobility or for those that need time to relax.
Great for when you are too tired too sit up or lean but still want to read a few pages in your exiting book.
Hit the link to learn more about Prism Glasses Eye Bed Spectacles.
---
8. LED Sensor Bookmark Night Light Lamp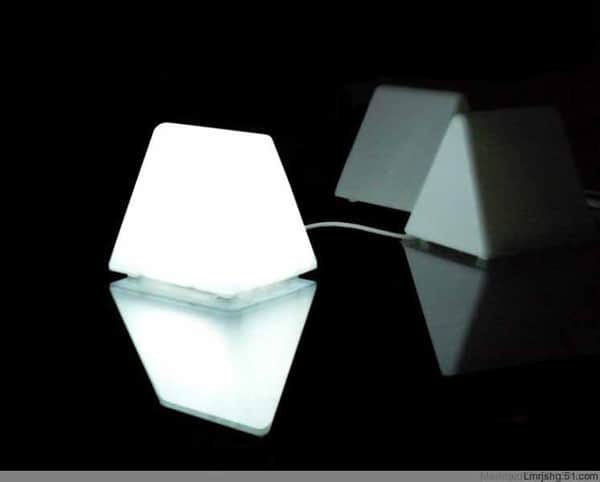 Love to snuggle in bed with a good book, but hate having to get up to turn off the light? It's a great feeling right? Dozing off while reading in bed. Yet there's always that big light to turn off, which wakes you up a little.
Use the LED Sensor Bookmark Night Light Lamp. It's a great addition to your bedtime routine because you can read more before placing your book down while gently drifting off to dreamland.
Ready to upgrade your nighstand? Head to Miniinthebox and order yours.
---
9. Kindle Paperwhite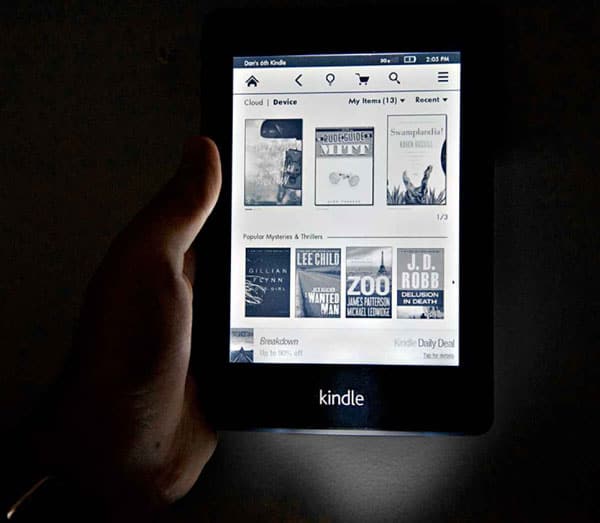 Don't you ever wish you could carry your entire library with one hand? You can with a Kindle Paperwhite, an ebook reader that allows you to conveniently store your literature on the go. Because it's so lightweight and easy to handle you will be taking your book(s) with you more often. Hence, more reading opportunities for you.
This e-reader is great for the tech savvy bookworm who wants to be fully immersed in a reading experience without worrying about bending or damaging a book. Great for when you're moving a lot too. No more having to give away your book collections.
Or when you're traveling overseas. No more exuberant excess baggage charges because you're carrying your favorite books, and then some. Store them all in one lightweight gadget. What's more, delve into the bliss of all those free and very cheap books available. Oh, and it doesn't emit light either, so you won't wake up your partner while reading at night.
Available at Amazon.
---
10. Night-Owl LED Reading Lamp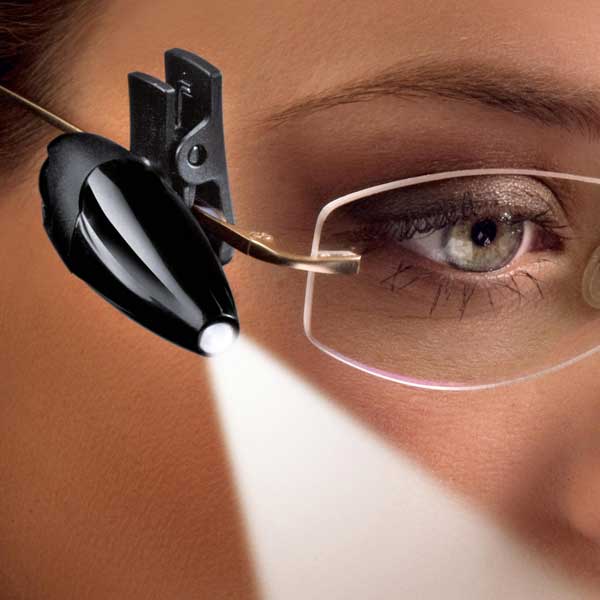 Don't like a clip-on lamp for your book or ebook reader?
The Night-Owl Reading Lamp clips on your reading or regular glasses so that you have more control of where the light shines on your book.
For more info and purchase visit Pro-Idee Concept Store.
---
11. WalterDrake Book Pillow Holder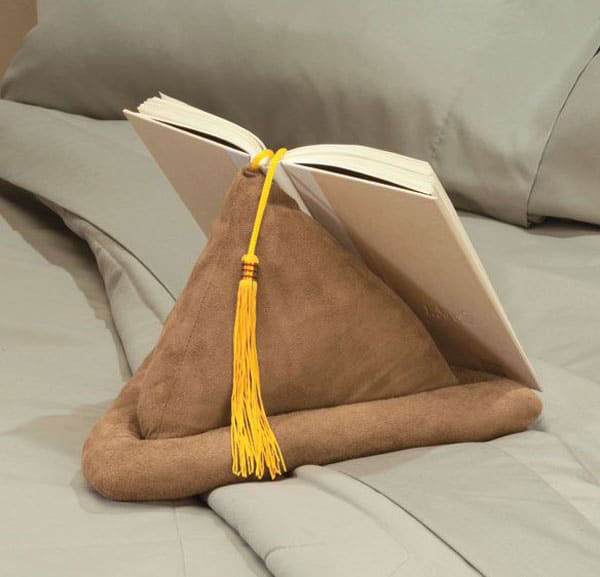 Book lovers enjoy reading in comfortable spaces like their living room couches, but their books should get the same treatment. Just so your hands and neck can relax too.
Wedge the WalterDrake Book Pillow Holder at the corner of your couch to create a nesting place for your book so you can take a nap and not lose your page!
Order at Amazon.
---
12. Reading Light Clip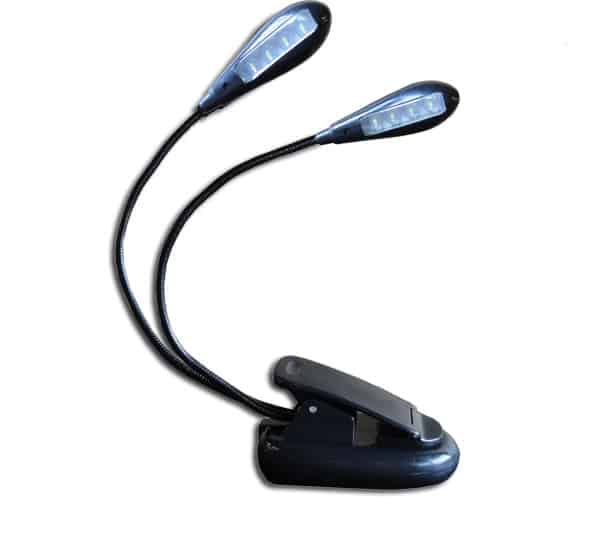 Whether you're a college student who needs to read while your roommate sleeps in the bunk closeby, or a business traveler on a red-eye flight, a clip-on book lamp can help bring a private and very much needed light to your reading.
The Reading Light Clip allows you to read with ease and portability wherever you may be.
More info here.
---
 13. Wireless Page to TV Scanner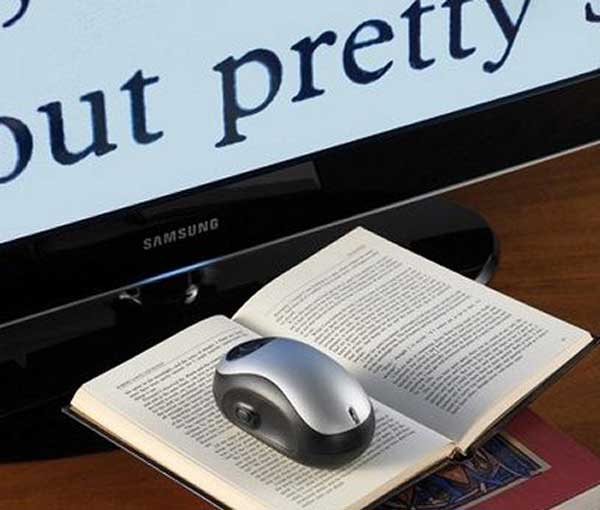 For the techie reader with slightly less than hawk eyes, use this gadget to magnify your book pages by up to 70 times!
The Wireless Page to TV Scanner is is perfect for those of us who strain our eyes a little for the simple pleasure of reading.
Strain them no more, as the LED inside the scanner ensures that the text on your TV is crisp and well lit so that you can read with ease. Who says TV can't be educational?
More info and purchase at Hammacher.
---
14. Thinking Bookchair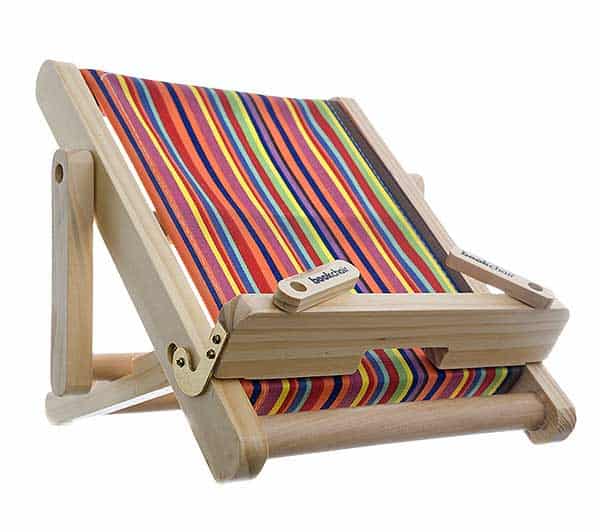 Our everyday lives sitting in a desk are full of bad posture and strain. Don't let your reading do the same to you. This chair is not for you, it's for your book. No more strain or cramped fingers.
Buy a Thinking Bookchair that allows you to easily read your book at an even eye level instead of craning your neck to read it laying on the table. Available here.
---
15. Tardis Book Light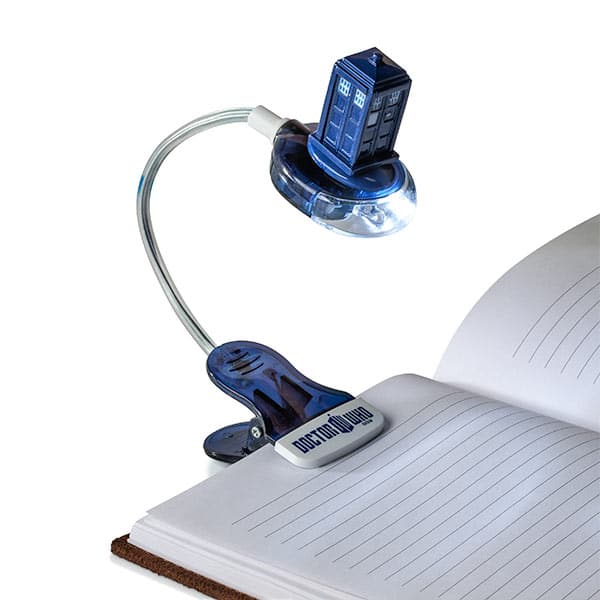 For the Doctor Who book lover, use this novelty book light to light up your book so that you can read without disturbing others while enjoy having your very own Tardis!
The Tardis Book Light also doesn't leave any unsightly marks on your book pages so you can go on your own Tardis adventures with no damage to your precious books.
For more info visit ThinkGeek.
---
16. iKross Clip-On Reading Light for eBook Readers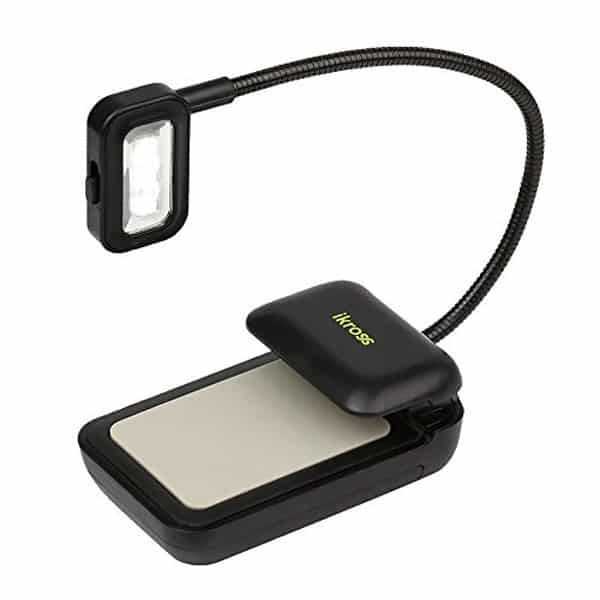 Much like its cousin, the iKross Clip-On Reading Light for your ebook reader helps you read in poorly lit places or in situations where you're unable to turn on a light. Imagine you're camping underneath the stars and because you can't part from your technology you need to get your night reading in.
The clip-on light helps you do this easily. Available here.
---
17. Thumb Thing Bookpage Holder Bookmark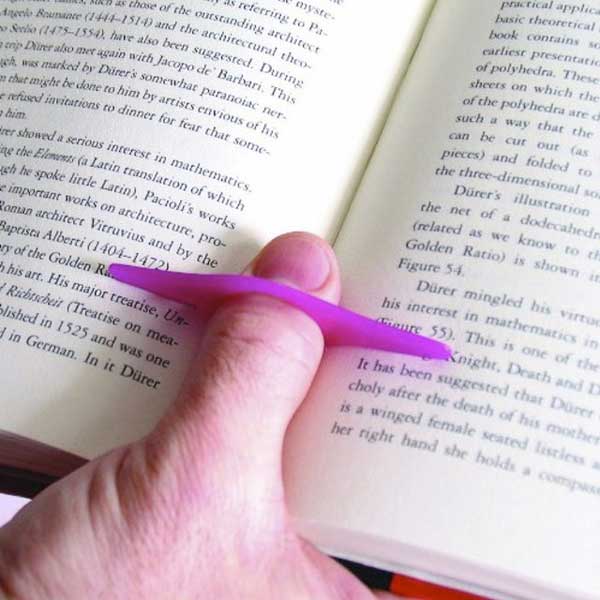 Ever relaxed on the beach with a book? Likely you held the book in front of your face with your thumb to block the sun from your eyes.
A few minutes later your thumb gets tired and the book smacks you in the face.
Prevent this scenario from happening by using the ThumbThing Book page Holder Bookmark, a one-handed reading gadget that keeps all your book pages open while you read.
Grab one here.
---
18. Tiny Night Reading Book Light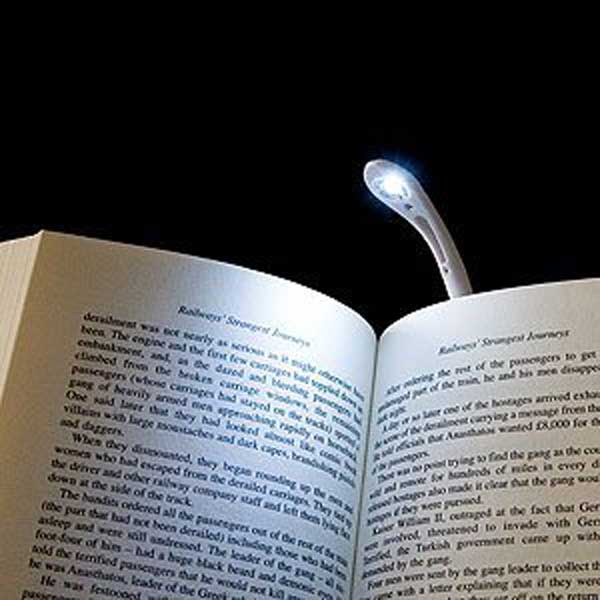 Sometimes clip-on book lights can be clunky and cumbersome. With the Tiny led night reading book light you get the same power of other leading book lights but within a more compact gadget.
This is perfect for bookworms that want a discreet but powerful light to read in whatever type of situation.
---
19. LightWedge Original Book Light Ocean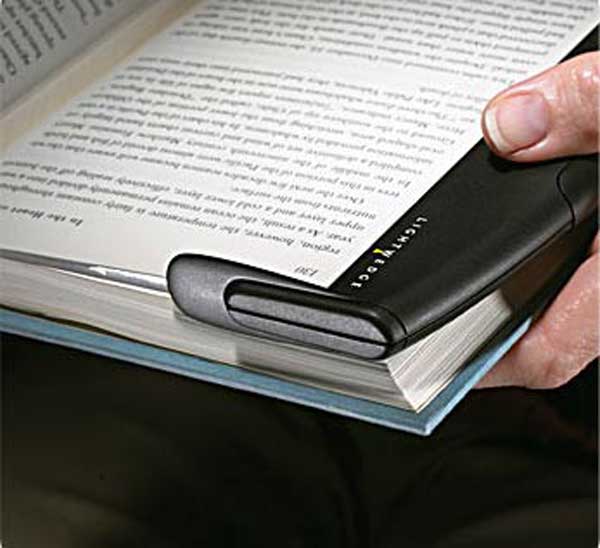 Sometimes you may want to only illuminate the pages of your books, and not the surrounding areas.
For these types of jobs, use the Lightwedge Original Book Light Ocean to clip on to the side of the book to shine light on the pages similar to the look of an ebook reader.
This truly prevents you from shining light towards any other person who may not welcome it. Order at Amazon.
---
 20. MuchBuy LightWedge Original Book Light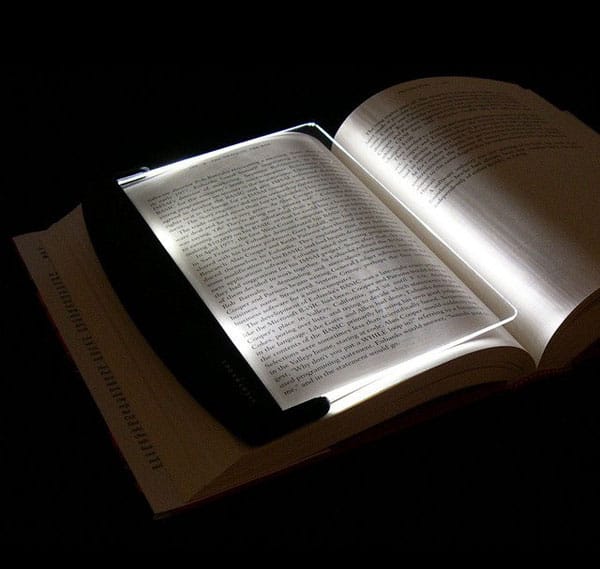 Very similar to the Lightwedge original book light, the MuchBuy version only lights up the pages of your paperback book so that it doesn't escape your book pages and bother anyone nearby.
This portable and easy to use book light is good for paperback book fans, as it is used exclusively for that book format.
Available here.
---
21. LightWedge Mini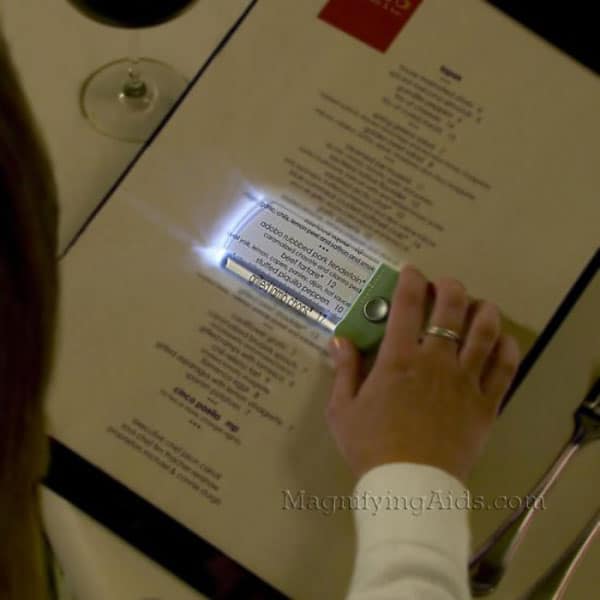 Magnify and light your books and maps with the LightWedge Mini light. This is perfect for the reader on the go, especially for ones that love to travel and need light in unexpected situations.
For the camper, road tripper, and world traveler this mini light allows you to pull it at a moment's notice so that when you need to read you have light and the magnification you need to enjoy the experience.
Get it here.
---
22. Mark-My-Time Digital Bookmark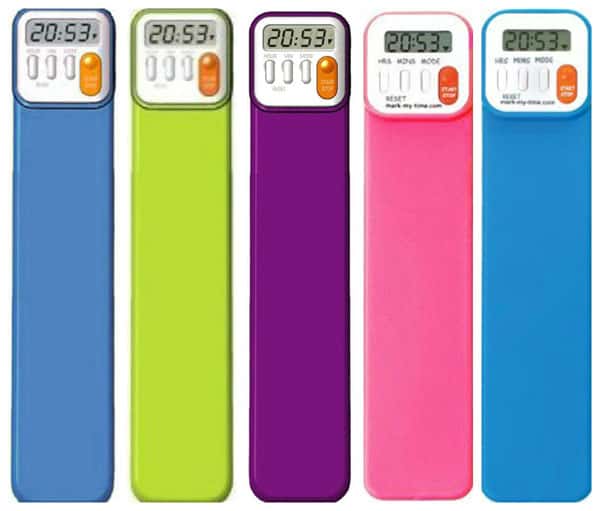 Parents concerned with timing their children's reading will find the Mark-My-Time Digital Bookmark handy.
Placing this bookmark in a child's book can keep him or her motivated to meet required reading times and parents can even set alarms on it. Great for keeping an eye out on their literacy efforts. Because no matter how good your kid's intentions, video games and browsing the web stay seductive.
More info on Amazon.
23. C-Pen Reader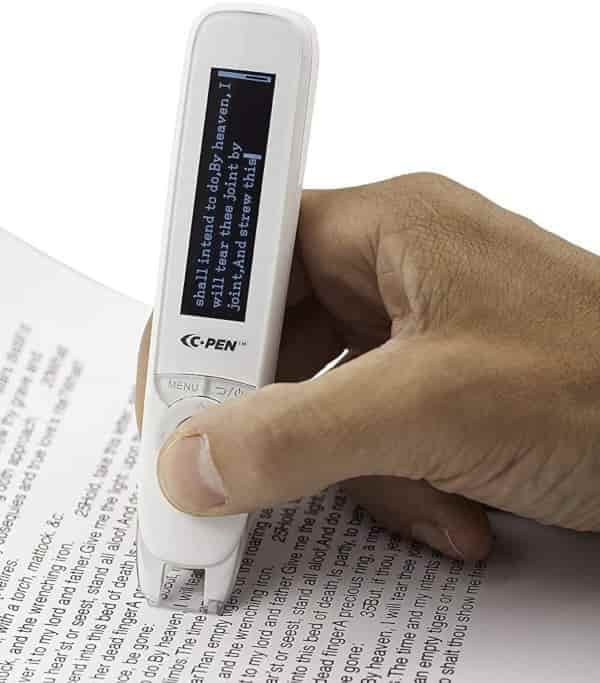 This nifty little gadget uses optical character recognition to read printed text out aloud. Simply let the portable reading assistant glide over lines of text and it reads out loud in English, Spanish, or French. The text scanning pen can aid those with dyslexia, the retention-challenged, or individuals with impaired vision for whom a magnifier doesn't suffice.
Another pretty cool feature is that the C-pen can store scanned text and transfer it to a computer, thus making this a great device for those who tend to take notes a lot from printed books. No more having to type in the words yourself. Or, as I find myself doing quite often, writing the notes by hand first, then type them up on my computer.
What's more, there's no need to worry about bothering your partner, colleagues, or other library visitors with the audio as you can opt for listening by using the earphone port as well as the built-in speaker.
One more easy and fun reading suggestion…
Try Audible Premium Plus and get up to two free audiobooks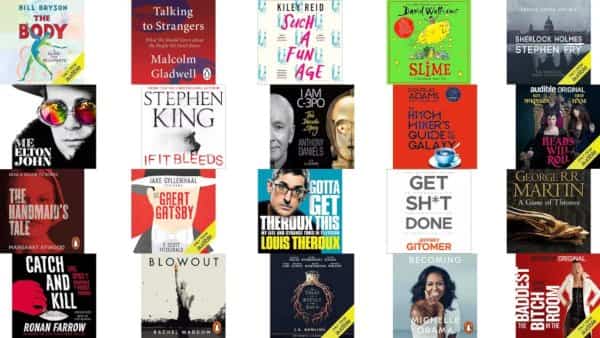 Do you too think of listening to audio books instead of reading actual books as cheating? Many people tend to do. After all, books are meant to be read, right?
If you're hardcore like the bookworm writing this you may even feel reading from an e-reader isn't the real deal. But let's face it, even though reading in a printed book has the most charm, its digital nieces and nephews (audio books and e-books)  each have their own merits.
Whether you read from paper, a digital device or listen to a recorded voice, the essence is that the author's thoughts are transferred into our minds. You see, audio books are a great addition to old skool reading.
Don't have time to read? Listen to an audio book. Listening to audio books when walking the dog, commuting, or in the waiting room ensures I get to expose myself to even more stories, knowledge, ideas, and insights that are revealed in the wonderful world of books.
If you've never tried it, perhaps now is the moment to do so.
Get yourself, or give as a gift to someone who you hold dear, an Audible (Premium) Plus 30-day free trial and see, risk-free, how you like it.
Editor's note: This publication has been updated with the latest and greatest reading gadgets since it was originally published in June 2015.
Last Updated on November 25, 2020 by Tyler