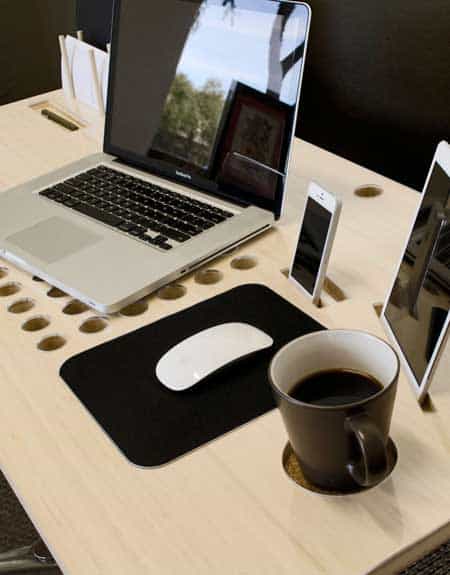 You could call this a desk sized docking station. The desk has dedicated space to display your smartphone, tablet, laptop, pens, magazines or files, and of course, your coffee mug.
The SlatePro is specifically designed to accomodate your hardware in the most convenient way. Every aspect is well-thought out and positioned deliberately.
The innovative TechDesk features multiple display docks, a filing rack, a pens dock, a recessed cupholder and air vents for cooling your hardware.
Its heavy duty mousepad is incorporated without a difference of height in the desk surface.
The SlatePro also comes in a healthy, high top standing version. (Studies show stand desks may let you live longer)
Made out of premium bamboo this sleek desk is both sturdy and lightweight.
As technology becomes increasingly integrated in our lives, wearables and tech facilitating furniture like the SlatePro are a sign of our times.
Dimensions: 47.75″ length × 23″ width (height: you can choose either 28″ or 40″)
Check it out at iSkelter.

Check out the video below to learn more about the SlatePro TechDesk.
Last Updated on April 16, 2014 by Tyler