Last Updated on August 11, 2016 by hobbr.com
It's been a while since the first robotic vacuums entered our homes. Not so much in terms of years – it was only 2009 when Neato Robotics launched the world's first robo-vac – but to the extent in which robot cleaners have evolved.
These household appliances have come a long way. From gimmicky, bulky wall-bumping devices scratching your chair legs to smart robots that actually and unobtrusively clean your floors.
For the latest high-end robo-vac you're going to spend up to $1000 or even more so you'll want a device that truly performs up to the latest standards.
Moreover, as technological developments unfold rapidly you'll probably want the latest robo-vac on the market. After all, each new release brings new features, smarter behavior, smoother maneuverability and more powerful suction.
Of course provided that that new release is the best for your specific needs (i.e. a vac for pets, allergens, or hardwood floors).
To help you make a well-informed purchase decision, here's a list with the most recent additions to the robotic vacuum market. We'll start with the newest. (updates with new releases and expected models will follow).
(Update:) The Latest: iRobot Roomba 960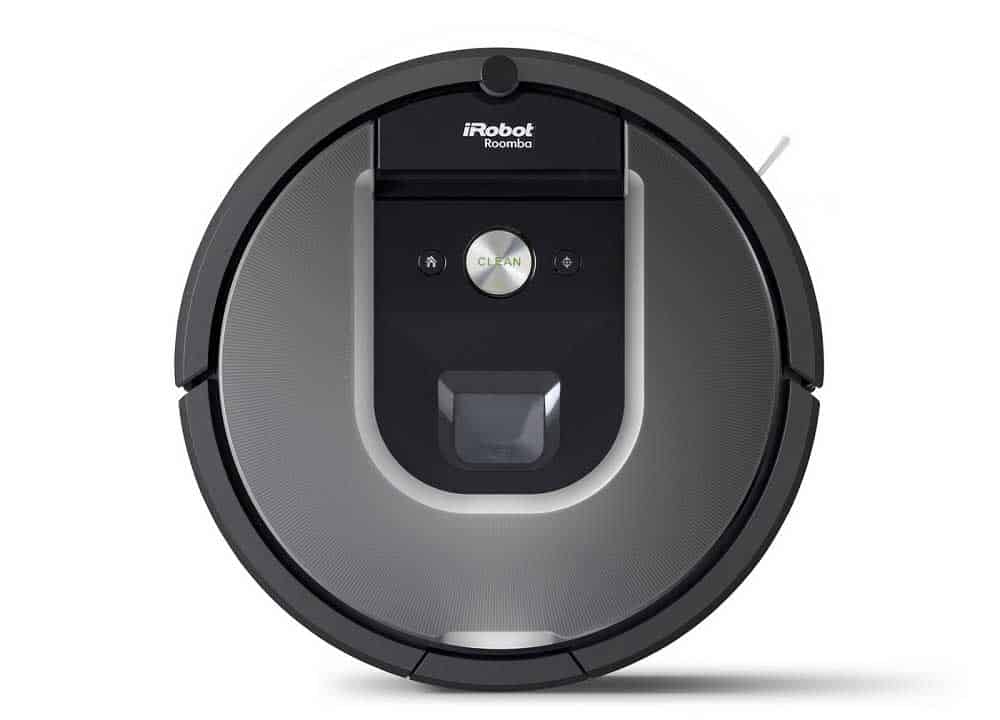 Launch date: August 6, 2016 in the US and Canada. Expected to be available in Japan as well as select countries in Europe, The Middle East and Africa later in the third quarter of this year.
With the Roomba 960 iRobot brings a more affordable ($700) robot vacuum to the consumer market compared to their flagship, the Roomba 980 ($900).
How does it compare to the earlier this year debuted Roomba 980?
Both are WiFi- and app-connected and sport iRobot's VSLAM (visual simultaneous localization and mapping) technology.
The differences:
The Roomba 960 has half the suction power.
The Roomba 960 has shorter battery life. 75 minutes compared to Roomba's 980 120 minutes.
The 980 still is the only iRobot vacuum featuring carpet boost technology.
The, no doubt impressive, technological features such as visual localization based mapping, adaptive navigation and further improved mapping that both models feature aside, there's one major development that iRobot fans will dig: 5 times more suction power compared to previous generation Roomba vacuum cleaning robots. Of course except for the 980 which offers 10 times the air power.
The Latest: Dyson 360 Eye
Launch date: August 2016 in the US.  Launched on trial in Japan in 2015.
By miniaturizing its patented cyclone technology, and inventing a way to incorporate that energy-greedy technology in a modest-sized autonomous vacuum, Dyson established the Eye 360.
The inception of this device took quite some research and development. Well over a decade actually.
It involved the merger of superior vacuum cleaning technology (Dyson's radial root cyclone) with a robot able to function long enough (it vacuums for 45 minutes before returning to the docking station) to vacuum large parts of your home
After the "successful beta trial" in Japan the Eye 360 is now ready to clean American floors.
A similar technology as Roomba utilizes, the Dyson 360 Eye uses SLAM (simultaneous localization and mapping) in conjunction with obstacle sensors and a 360-degree standard-definition camera.
The WiFi-enabled companion app for remote access lets you control your vacuum from anywhere. According to The Verge reporting on July 2016 this is the best you can get, which is why its price of $1000,- is justified.
Good to know – Pros and cons
fairly loud when cleaning
robust wheels allow it to cover more daunting surfaces (cables, rugs, etc)
considerably smaller than its competitors so it can reach spots robotic vacuums with a larger footprint miss
somewhat higher than the Roomba (may get stuck under chairs and other furniture sooner)
may not clean rooms in one session before moving onto another
cleaning cycle lasts 45 minutes. By comparison, the Roomba 980, vacuums for 2 hours
despite the recommended  20-inch perimeter 'clear of objects area' around the base it may have trouble docking.
double chamber cleaning technology enhances suction and prevents dust from being blown back into the air.
Been having some robo-vacuuming fun with the Dyson 360 eye. pic.twitter.com/lwsRXgY3Pn

— Lance Ulanoff (@LanceUlanoff) July 21, 2016

A few review snippets:
"Dyson's $1,200 robotic vacuum is expensive, but also the best"

"The only robot vac to buy"

"Good, but not as good as the Neato Botvac Connected and iRobot Roomba 980"
The Greatest: Samsung's SR2AK9350U Turbo Powerbot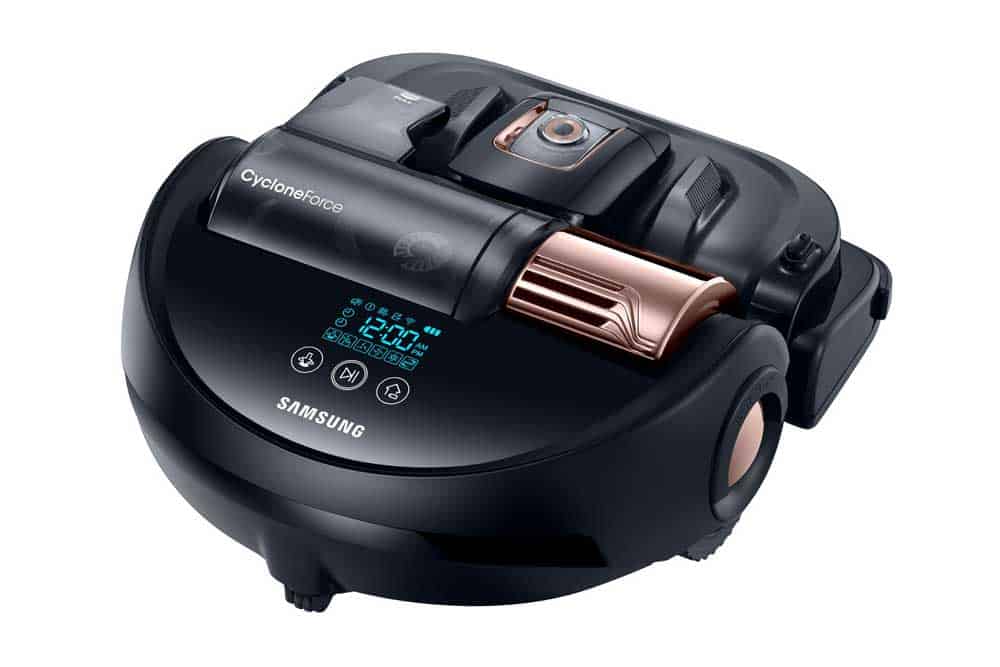 Launch date: Spring 2016 (introduced at CES 2016)
The Turbo Powerbot literally leaves his predecessors – yes even Dyson's high-caliber 360 Eye – in the dust. Until up to a few months ago (spring 2016) Dyson's first robotic vacuum (launched in 2015 in Japan) was deemed one of the best robo-vacs on the market by expert reviewers.
We can argue about which robot vacuum is the best as some reviewers will claim that the iRobot Roomba 980 or the Neato Botvac Connected perform equally well for less money. Anyway, that doesn't matter anymore with the attendance of the Turbo Powerbot.
What makes Samsung's Turbo Powerbot Robotic Vacuum outperform his forerunners?
Firstly its innovative CycloneForce system that offers superior suction. This feature also ensures less clogging as dust is separated out to keep the filter clean.
Samsung claim it's 70-times more powerful "the leading robotic vacuum brand" with which iRobot's Roomba is implied.
The Powerbot is truly smart as it learns your home's floor plan and syncs it with the app. Thus it creates a map of your home by itself. This next-level artificial intelligence allows you to simply tap a room on the app and the Powerbot knows you want it cleaned as well as how to get there.
The wide combo brush picks up pet hair and particles from carpets as well as hard floor surfaces. Its large wheels are optimally geared to take on obstacles and uneven surfaces.
Of course it's smart too. A WiFi connection lets you use your smartphone as a remote control: you can simply tell it which of the mapped rooms it needs to clean. But there's more, it's the most advanced self-maneuvering bot-vac in its kind.
Good to know – pros and cons
next-gen advanced smart mapping
comes with a physical remote control
WiFi-enabled smartphone remote control for remote operation and scheduling
Point Cleaning allows for manual laser-guided cleaning of spots that need some extra attention
40 Watt suction power (by comparison, iRobot Roomba 980 suction power: 33 Watt)
three power modes, run times respectively (approximately) 30, 60 and 90 minutes
Visionary Mapping Plus ensures it is aware of its environment.
The FullView Sensor prevents bumping into furniture and walls.
More affordable options include the Essential models (only 9.5 watts suction power);
Samsung SR2AJ9040U Wi-Fi Essential Powerbot
Samsung VR2AJ9020UG Powerbot Essential Robotic Vacuum
A few review snippets:
"The newest PowerBot takes mapping to a whole new level."

"Samsung's New POWERbot Robot Vacuum Is Even Better Than The Original"

"…one of the coolest justifications for packing Wi-Fi into a vacuum cleaner that we've seen yet. – C|Net"
Neato Botvac Connected
Release date: September, 2015.
Nearly a year older than the latest robotic vacuum on the market, Neato's high-end model, the Neato Botvac Connected is still a force to reckon with.
In fact, as we speak with the Samsung SR2AK9350U Turbo Powerbot and Dyson 360 Eye having entered the market, it's still deemed "the best-performing robot vacuum we've ever tested" by CNet.
This is largely due to its laser-based navigation which ensures a methodical cleaning pattern and the ability to clean really close to walls.  Its ability to pick up fine dust, pet and human hair also play a role. Especially if you consider its price; it costs $200 less than the connected iRobot Roomba and is even more affordable than the Samsung Powerbot.
Good to know – pros and cons
If price is a concern, this is the one to go for
In homes with pet dander, fur, and hair this may be your best bet as it's specifically designed for homes with pets. The combo brush cleans up hair and fur.
low noise level during operation
Performs exceptionally well on hardwood floors
battery life is limited
tends to get stuck under furniture
ease of use could be improved upon. Especially emptying the vacuum. Programming the vac is a breeze though.
More affordable alternatives:
Neato Botvac D80. Not the best option for homes with limited space and lots of clutter.
iRobot's Roomba 650 may suit your vacuuming needs just fine if you don't value smartphone app connection. It's the best according to The Sweethome's tests.
A few review snippets:
"This clever, connected robot is Neato's best yet"

Neato Botvac Connected aims for "a new standard for robot vacuums". – Engadget
With each new release the appeal of robot vacuums is getting more appealing to customers. The poor suction issue these devices initially were prone to has been solved resulting in devices that actually change the way we clean our homes and offices.
Which of the last-generation vacuuming robots do you prefer?
Or are you still in two minds? Share your thoughts below.
You may also like