Last Updated on August 4, 2016 by hobbr.com
Remembering to take out the trash is just one more headache most of us experience in our day to day lives. Even worse, forgetting to buy more trash bags often leads to towering stacks of precariously balanced trash, which looks bad and certainly doesn't smell great, either.
Luckily for many, new advances in technology have made smart trash bins no longer a thing of the future. No, they still won't take out your trash for you, but they do make your life that much easier. And, some are even great for the environment, so what's not to like?
Totem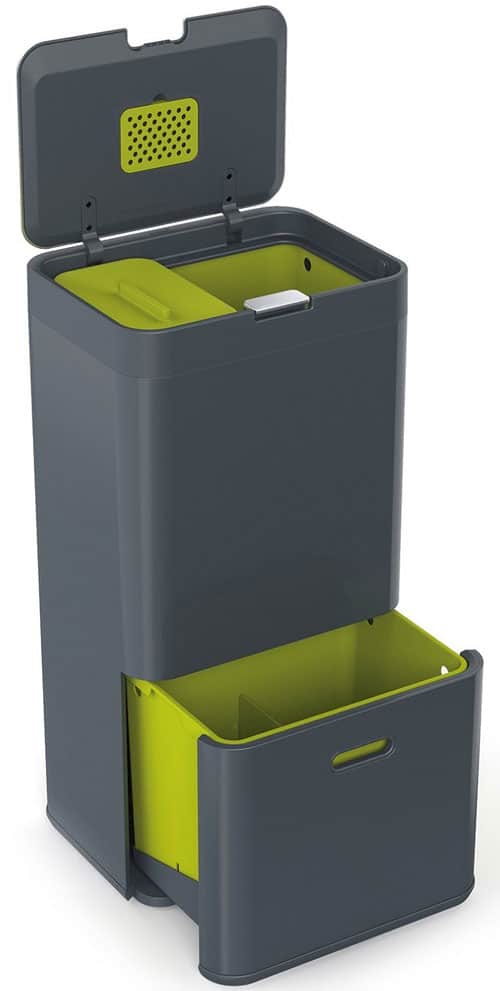 Although everyone wants to recycle, it's often not that easy. Recycling requires sorting your trash as you throw it away, which often takes up extra time and energy. You have to have at least two different dustbins, sometimes more.
Let's be honest here, with your full agenda, more often than not, it's easier to dump your trash and recyclables in the waste bin and move on with your busy day. Joseph Joseph hopes to remedy this situation with their new 'intelligent waste' garbage collector, the Totem Kitchen Bin.
The Totem is a smart trash can featuring multiple compartments that can be set up to hold trash, recyclables, food waste, and even cleaning supplies or extra trash bags. It's a slick system that lets you easily compartmentalize all of your trash in one garbage collector.
No more separate old paper crate, empty bottle basket, waste bin, and battery tray polluting your kitchen interior. The Totem offers a stylish all-in-solution.
It also features an odor filter, wheels, and breather holes for easy trash bag removal. It offers a convenient way to lead a greener life. And it looks pretty good too.
Joseph and Joseph´s Intelligent Waste Recycling Unit is available on Amazon.
Bruno Smartcan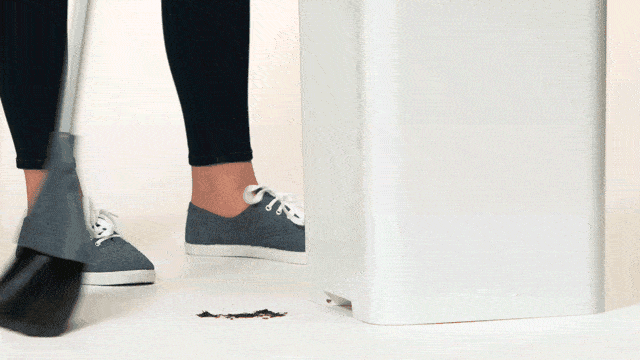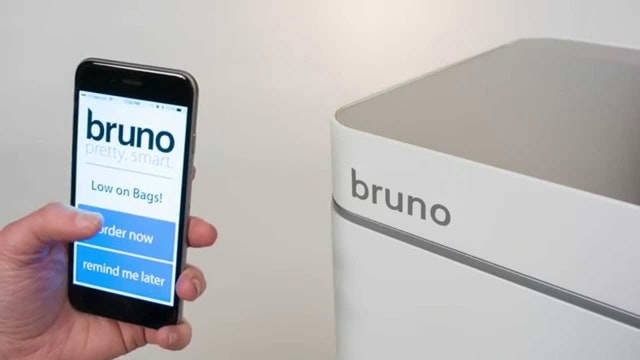 Straight out of a science fiction movie comes the Bruno Smartcan. It won't do much to help you lead a greener life, but it will help you lead an easier one.
With a useful smart phone app, your Bruno trashcan will send you a notification to order more Bruno bags (cheap bags you order online) or take out trash on trash day.
If you find yourself constantly cleaning up your kitchen, let the Bruno do most of the work for you. It features a unique vacuum at the bottom of the garbage collector.
Simply sweep any trash, food, or dirt into the slot and the Bruno deposits it into the trash for you. It also features a hands free lid and an integrated Bruno bag holder.
The Bruno Smart Can can also use regular 13 gallon trash bags if you decide you don't like to order yours online. It's a great system that makes cleaning up your life that much easier.
More info on the official Bruno Smartcan website.
GeniCan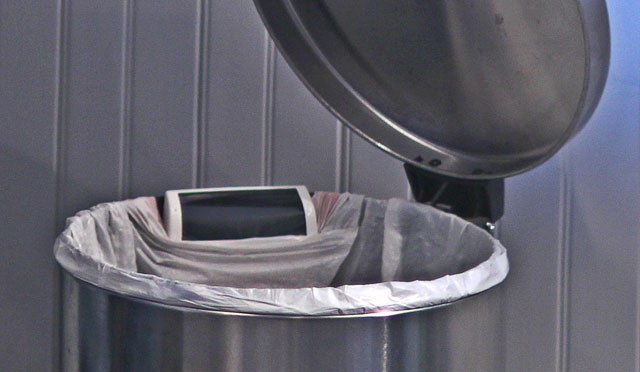 If your problems revolve around shopping as opposed to taking out the trash, the GeniCan hopes to remedy this issue. To use the GeniCan, simply attach it to any one of your trash bins and wait.
As you throw your garbage away, the GeniCan scans each product and builds a shopping list based on your previous purchases before sending it to your phone.
Use delivered coupons, sort your grocery list by aisle, and save time and money using GeniCan's features. It even sends you a reminder if your garbage collector is full!
The GeniCan won't help you recycle, but it will help you shop smart and save money, and who doesn't like that?
GeniCan was succesfully funded at IndieGoGo.
While these smart trash cans are more expensive than a regular trash bins, it is for good reason. All three offer great features that won't radically change your life, but they'll certainly make it that much better.
You may also like