Last Updated on April 15, 2014 by hobbr.com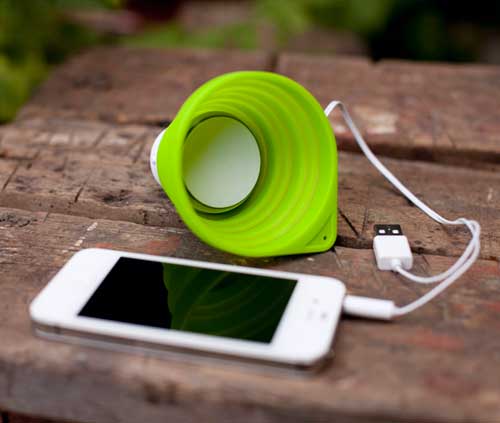 This tiny, bright colored speaker brings your smartphone, tablet, mp4 player, or laptop's audio to life.
It may not produce the stunning sound quality of a Logitech UE Miniboom or its slightly larger yet even better sounding competitor the Bose Soundlink Mini, yet due to its small size this little one is very convenient.
Sized smaller than a hockey puck the compact collapsible speaker fits easily in your pocket.
By stretching its soft silicone shell you can adjust its clear sound. Fold its funnel for diffused sound, stretch it for standard sound, or turn facedown for subdued sound.
Connect the 3-Watt SSSSSpeaker to any device via 3.5 mm audio jack. The built-in high-capacity battery allows for 8 hours of playing time and is recharged via USB cable.
The most portable among portable speakers brings music to dead moments, allows you to listen to podcasts, or facilitates giving a presentation to a  small group of people.
Check out the SSSSSpeaker by aiia here.