Last Updated on March 26, 2014 by hobbr.com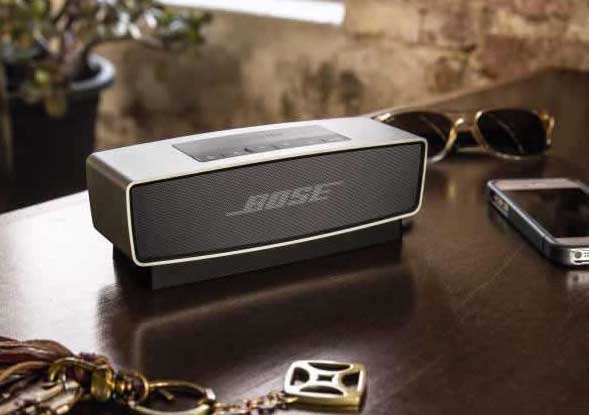 This Bluetooth speaker may not be the smallest in its kind nor has it the most features but according to expert reviewers and audiophiles this is the best you can get in terms of sound quality. Especially its powerful sound and deeper, warmer bass jump out.
The Bose Soundlink Mini connects wirelessly with Bluetooth devices such as smartphones, tablets and laptops that are within 30 feet of the speaker. Via its auxiliary input it can be connected to an MP3 or similar player.
Its battery life is about 7 hours, and comes with an additional charging dock. Charging without the dock, using an included charger, is also possible.
For an additional $24.95 you have a soft cover available in red, orange, green or blue. The tiny Bose weighs: 1.5 lbs (.67 kg). Its dimensions are; height: 2.0 in (5.1 cm), width: 7.1 in (18 cm), depth: 2.3 in (5.8 cm).
Check out GadgetMac for a higly detailed review of the smallest Bose speaker.