Last Updated on September 6, 2018 by hobbr.com
Looking for workout gear you can take with you while on the go? Whether you want to bring compact fitness material in the trunk of your car, pack training gear in your backpack while crossing South-East Asia, or just want to bring workout accessories on the commute from and to work, here's an overview of the best portable workout equipment currently available.
Updated Sept, 2018
---
1. Inflatable exercise ball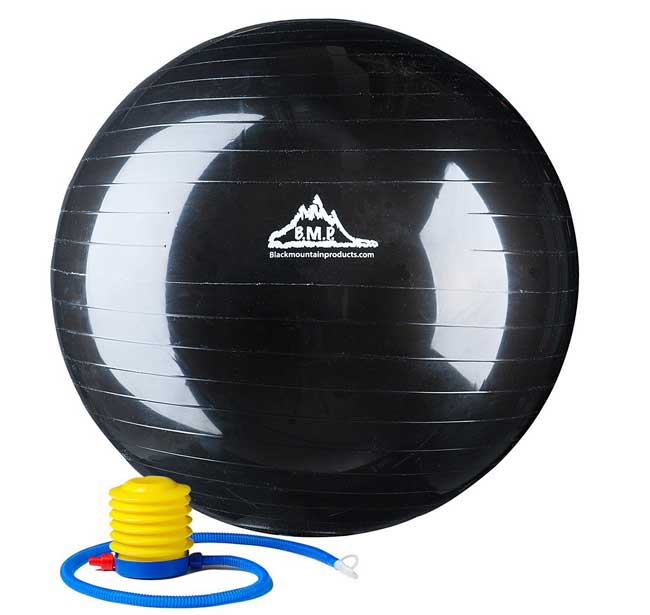 A stability ball, such as this Exercise Ball by Black Mountain, is an affordable, convenient exercise tool to use at home or on-the-go. When inflated (pump is included), the ball takes up a fair amount of space; but when deflated, you can toss it in a suitcase or in the backseat for your next business trip or vacation.
Thus making it an ideal fitness tool for stretching, agility and balance exercises. In addition, it also makes a great active sitting chair for watching TV or for behind the desk. Take it to home from the office, and vice versa. Thus mitigating your inactive, continuously seated lifestyle even more.
Beginners should be careful when using an exercise ball – proper sizing and inflation are vital. And because rolling off could cause injury, make sure you're strong enough to balance before trying complex moves.
2. Monkii Bars ultra-portable suspension training system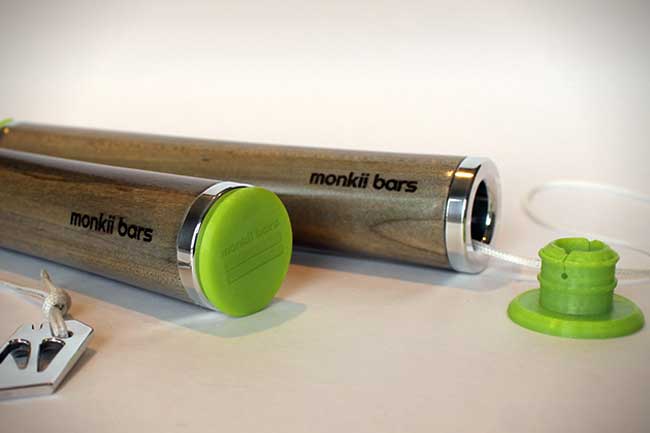 Release your inner primate with Monkii Bars. Wild Gym Company's unique workout gear is comprised of two wooden handles that loop through a super strong fiber cable and hang on any secure surface. The portable gym fits in a fanny pack and weighs less than a pound, allowing you to work your whole body wherever you are.
Indoors or out, making Monkii Bars Great for those who dislike the indoor training atmosphere of the gym and prefer training outdoors in the park or while camping or hiking.
A great portable workout option for and travelers as well as they can be used inside  in hotel rooms and hostels. Hang your Monkii bars at home or the office, provided a stable structure is available allowing you to perform a variety of movements to train your arms, legs, and core.
Loop them over a tree during your next camping trip with friends, or pack them to use over the holidays at your parents' house to burn off those heavy meals in a jiffy.
3. Sandbag trainers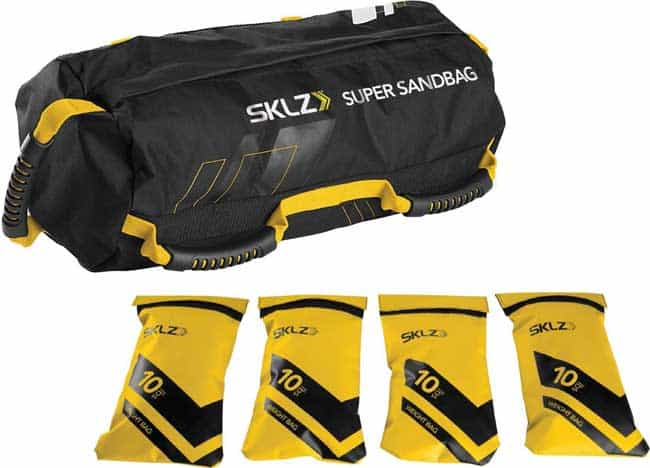 These SKLZ Super Sandbags are somewhat like portable kettlebells. Training with sandbags provides a break in the monotony of machine or weight training, and is best suited for those in search of a full-body challenge.
Sandbags are inexpensive and perfect for car travel (you can travel via plane with them if you empty and fill them up upon arrival) – use them in your backyard, on the beach, or in your basement.
Working out with sandbags requires correct technique and may come with a learning curve, so newbies may need trainer supervision to get started. Make sure you buy high-quality bags to reduce the risk of sand leakage.
4. Resistance bands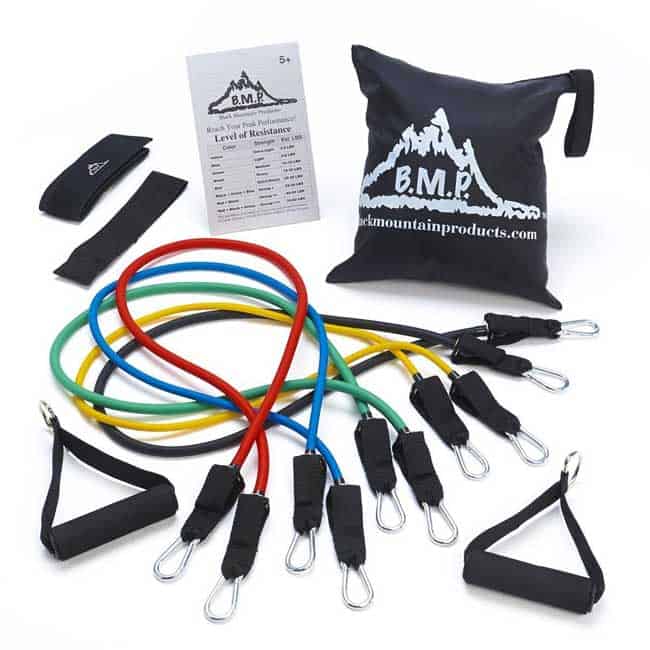 Get ripped on the go with this resistance band kit, a fitting solution when you don't have access to free weights or workout machines. This resistance band kit includes everything you need for strength training on the go: door anchor, exercise chart, carrying bag, ankle straps, and starter guide.
Bands are a great alternative when you don't have access to gym equipment, specifically free weights, and are also beneficial to solo weightlifters – it's like having your own personal spotter.
They come in a variety of widths and resistances, making their uses virtually endless, and are an inexpensive tool to add to your fitness repertoire.
Stuff them in your carry on to use in conjunction with the door hanging accessory at your vacation home over the weekend, or keep them in your trunk to use for impromptu workouts at the park. The various resistances allow you to tone and build your leg, arm, and core muscles whenever and wherever.
5. Jumprope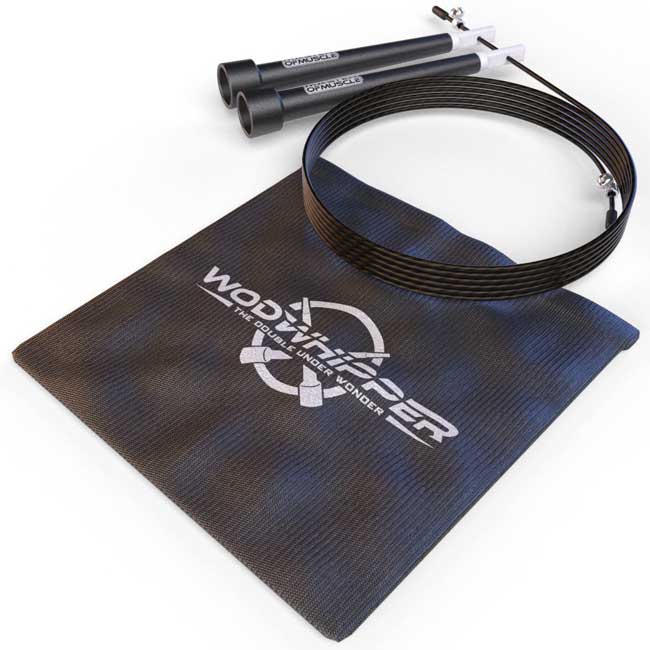 Jumping rope isn't just for kids on the playground. Jump ropes are an age-old standby, supplementing any workout by burning more calories per minute than most cardio. They're inexpensive, suitable for beginners and pros alike, and can be used anywhere with a high enough ceiling.
Keep one in your desk for a mid-morning pick-me-up between webinars, one in your living room to use while watching the evening news, and one in your carry-on to stay active during business trips.
Ropes come in a variety of materials – cloth, nylon, vinyl, leather and even wire. Vinyl, or speed ropes, allow for the maximum amount of turns while cloth ropes are best for beginners.
Tip: make sure to choose the right length, or get an adjustable rope such as this rope by Master of Muscle to avoid tripping.
6. AquaBells Travel Weights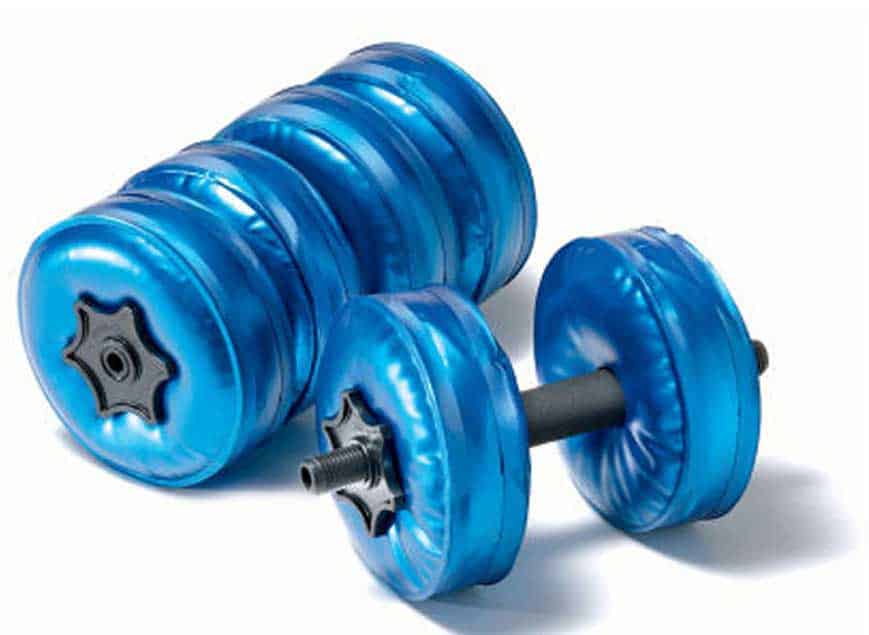 Travelling with weights is nearly impossible, especially by plane. Now you can keep your biceps perky wherever you are with revolutionary AquaBells Travel Weights. These water weight dumbbells weigh less than 30 ounces unfilled, and transform into 16 pound dumbbells when filled with water. Each bar is 13 inches long, and each of the 8 water chambers holds 4 pounds of water.
Leak-free AquaBells are perfect for reps between meetings or while on business calls, or jetting across the country for a friend's wedding weekend – just fill, work out, drain, repeat.
They are perfect for sticking in your briefcase or carry on for use in the office or hotel room, though not so great when travelling somewhere where water won't be readily available or is limited (camping, hiking, etc.)
7. Travel size foam roller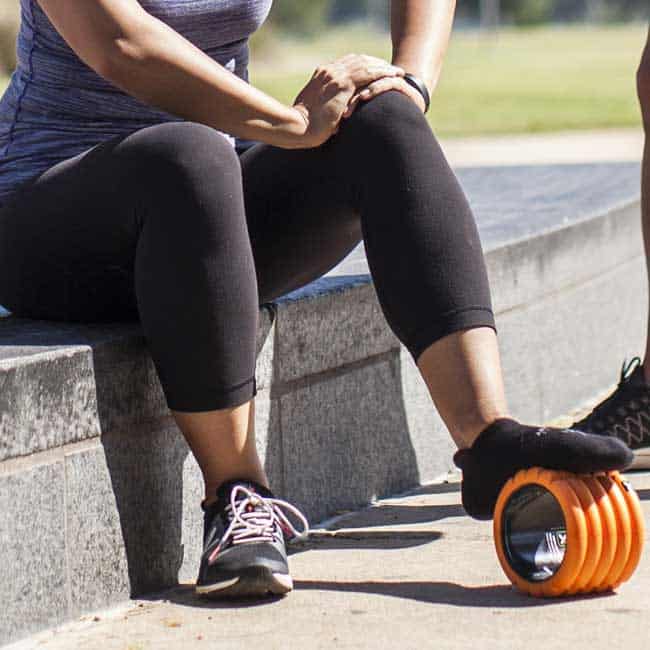 Ahhhhhh – loosen your muscles, reduce soreness, and improve overall performance on the fly with a mini foam roller like this one from TriggerPoint. It's best used after intense workouts or running to smooth and lengthen muscles.
A mini roller is useful for those travelling (stick it in your suitcase / it's tiny enough to fit in your carry-on) to relieve plane stiffness. Those who like to work out outdoors (stuff it in your pack or your car for post-workout massage), and even for gym use (who wants to use the communal rollers that are at the gym?)
It's  stretch out after a few laps around the hotel, or wind down from a P90X session; it can also be stuffed into a gym bag or briefcase for everyday mobile use.
8. Portable gymnastics rings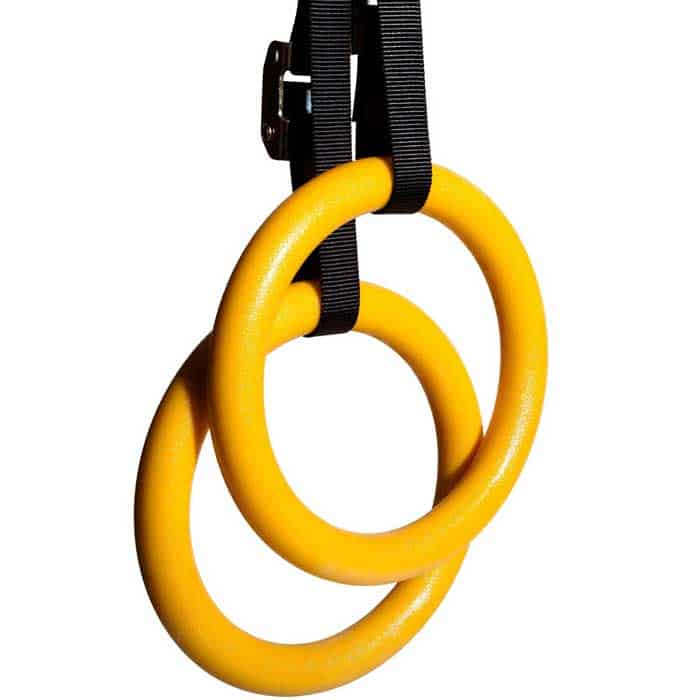 The original suspension training tool, gymnastics rings help build muscle with intense low-reps – effective and time-saving! Nayoya Gymnastic Strength Crossfit Training Rings can be used anywhere with a sturdy hanging structure to loop them over, and are lightweight and compact enough to take in a plane or car.
Versions with grippable handles eliminate the need to carry chalk (and the chance of it exploding all over your sport jacket for tomorrow's meeting in L.A!)
9. Travel yoga mat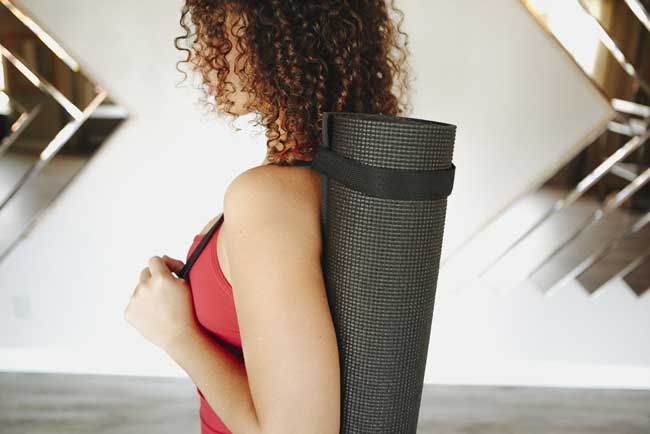 *Breathe in…breathe out*. Yoga requires little besides a good mat, and with one in tow, you can downward dog on any flat surface – in the park, in a hotel room, or beside a resort pool, on your in-law's back patio, or at the hostel before bed.
Mats such as the Zen Active Non Slip yoga mat are perfect for Pilates, floor, and ab exercises, and while most mats probably won't fit in a carry on, they shouldn't take up much room in a checked bag or in your trunk.
Versions with a carrying strap are ideal for toting to classes, and keep your mat tightly rolled and compact.
10.  Versastick

Kick up your resistance band training with the Versastick, a resistance band with a plastic bar instead of handles for added stability and versatility. The kit comes with 3 bands, a workout DVD, manual, and door anchor.
It's best when used with the door anchor, though a variety of exercises can be performed without. The lightweight band and bar weight less than a pair of gym shoes, and can easily be slid into a weekend bag or suitcase.
The kit isn't cheap ($80) and the workouts are geared toward fit individuals, which makes it a less suitable investment for beginners.
11. TRX suspension trainer kit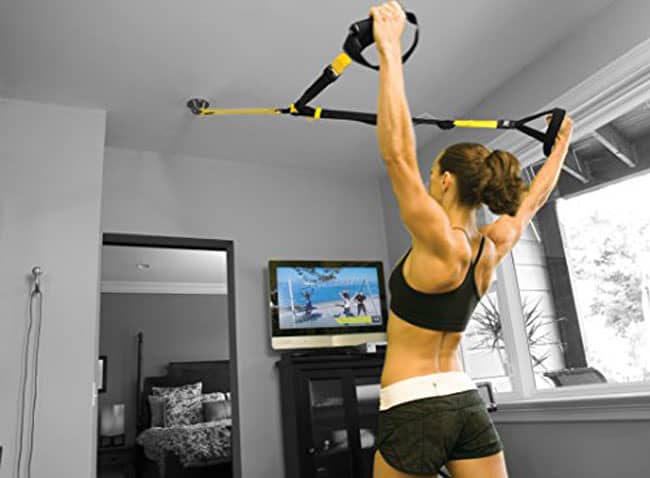 Use your own bodyweight to get buff! The TRX Suspension Trainer Kit is an all-in one workout program that trains your whole body, from arms to core to legs (unlike traditional gymnastics rings). The kit weighs less than 2 pounds, and takes only 60 seconds to attach to a door, a bar, or even a tree.
The TRX replaces an entire gym, and is perfect for those who want a full-body to workout whenever and wherever they are, and are willing to spend some considerable dough ($150 – $170.) You don't need a gym when the TRX replaces nearly every machine imaginable. 
12. Pilates ring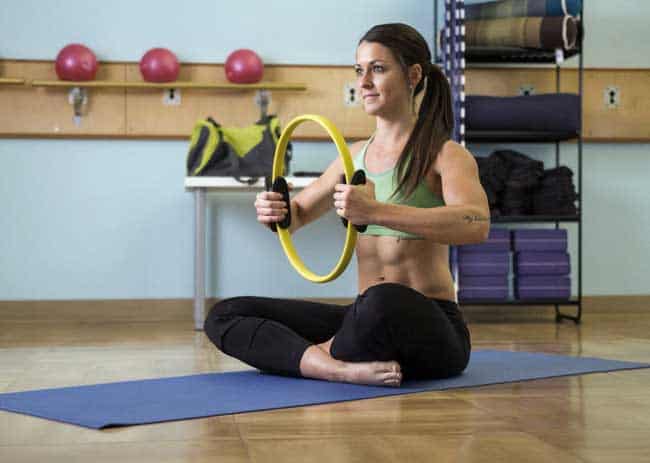 The Pilates Ring strengthens and tones the entire body using resistance – ideal for women looking to train their legs and arms without having to finagle visits to the gym.
The nearly-flat ring takes up next-to-no space under the couch, inside the ottoman, or in the backseat. The ring is nearly flat, though it may not fit in carry ons or purses at 14 inches in diameter.
Unlike other fitness circles, this Pilates Ring has pads on the inside and outside, making more exercises possible. Easy to use and learn, the ring is suitable for beginners yet still effective for avid exercisers.
Use it in the living room while the baby naps, with girlfriends during moving night, or in between sightseeing during an anniversary weekend.
13. Jayflex CrossGrips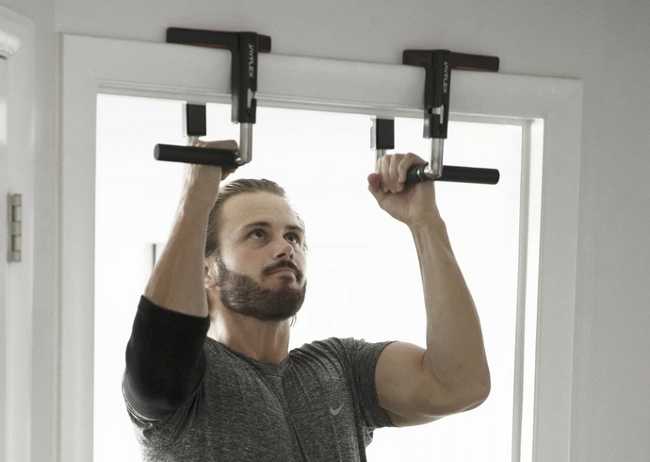 See yourself hauling your door frame pull up bar on your way to a friends house? Well, me neither. Even the collapsible versions are too bulky for that.
Now you can bring your favorite fitness equipment, thanks to this Kickstarter project that has been funded ten times over. CrossGrips allow you to do a whole lot more than just pull ups, it's like having the whole gym in your hands, well kinda.
As the creators say, you can do a full upper body workout with these versatile handles. This includes; pull and chin ups, shoulder push ups, sit ups, and much more.
The two lightweight, portable handles that are set up in 15 seconds, allow for travel because together they weigh just 3.8 lbs and take up 7 by 10 inches of your backpack.
The patented auto-adjust feature ensures via internal spring locks that the CrossGrips can be attached safe and secure to pretty much any door frame.
What is your favorite travel exercise gear?
These days, "The hotel didn't have a gym." isn't a viable excuse anymore. Road warriors can easily toss their favorite workout gear in the trunk of their car. Heck, thanks to these innovative gadgets even frequent flyers can stuff half a gym worth of equipment in their carry-on.
Which type of travel-friendly gym exercise gear do you like best?
Shout it out below.
You may also like:
17 Best Active Sitting Chairs For Better Posture, Productivity And Health