Detractrors of specialized fruit slicers claim that anyone with sub par knife skills will never need such "useless gadgets". Boy are they wrong. Granted, we at hobbr are allergic to the wasteful character of certain products too. You won't find peanut butter and jelly spreaders here. Yet there are some true gems among the vast range of worthless specialized kitchen tools.
Specific fruit preparation gizmos worthy of taking up your precious kitchen space. Peelers, slicers, cutters, gutters, and stem removers that are actually practical because they save you time, sticky hands, kitchen counter mess and stimulate eating fruit.
Which particular item deems serviceable to you will depend on your habits and preferences. Most however just don't cut it. Period. Which is why we made a selection of the most popular, most well-reviewed, actually practical devices.
Strawberry Huller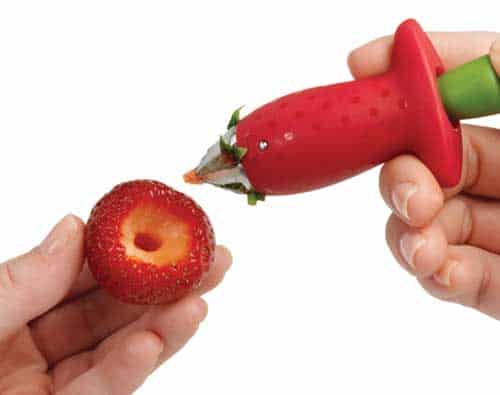 After seeing some delicious looking stuffed strawberries on Buzzfeed, you foolishly agreed to do the desert for a friend's dinner party. Woops. Who wants to find time to yank a hundred strawberry stems out by tomorrow?
With its durable, dish-washer proof stainless steel claw, the strawberry huller by Chef'n will have those cheesecake stuffed strawberries, you so bravely promised, ready in no time.
Chef'n StemGem Strawberry Huller $7,53.
Pineapple Slicer and De-Corer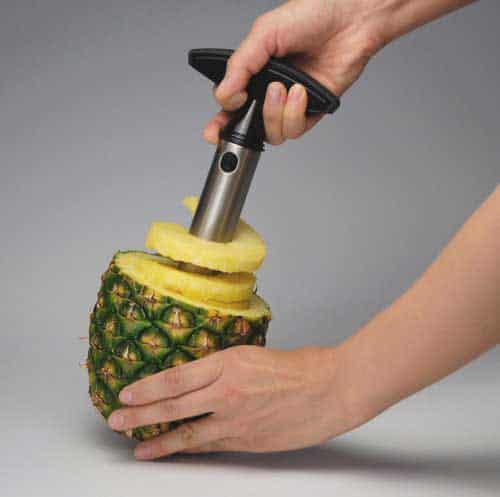 Your oldest has asked for pineapple chunks in his packed lunch. Fair enough it's delicious, it's great for them and who wouldn't want their kids to have more fruit. As soon as the words were out of their mouth you saw an inquisitive look appear on the face of your two other children, and instantly felt your stress levels rising.
At least peeling, coring and slicing the pineapple will be quick and effortless with the All Ware Pineapple Slicer. It even keeps all the juice, so you have something to look forward to once the kids are at school.
All Ware Pineapple Easy Slicer and De-Corer. $6,80
Apple slicer and corer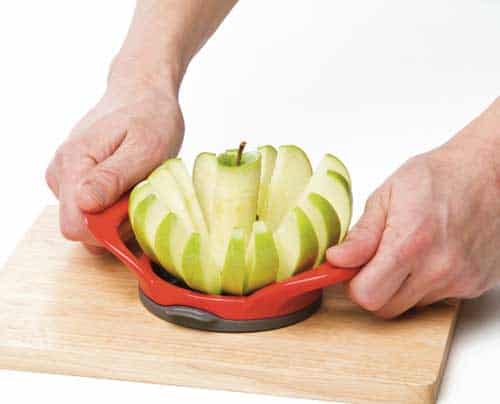 For some reason apple and cheese tastes so much better once it's been sliced, yet it would be all the sweeter if coring and slicing apple wasn't such a chore. This gadget has it all worked out. Slicing fruit into sixteen perfect, cored segments – it even has a cover to stop you making a finger into slice number seventeen.
Prepworks Thin Apple Slicer and Corer. $11,33
Professional Apple peeler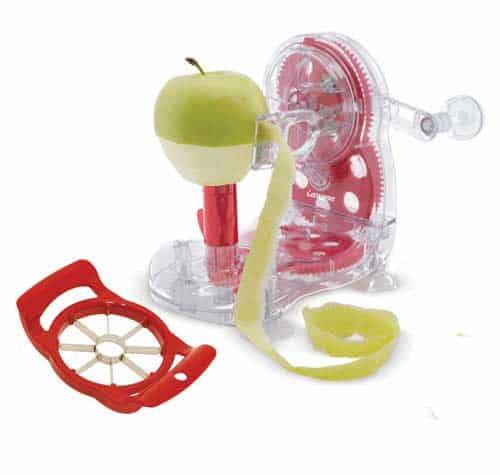 An apple pie has been a Sunday tradition ever since you were a nipper and planted that apple seed. Now you have your own house with a garden, you want to carry on that tradition – but peeling and coring that many apples can get stale quickly.
And what about the excess you want to make into chutneys? With extra-stable, suction grip feet and a spring loaded arm, the Starfrit Pro Apple Peeler will peel and core any apple you can get your hands on. Even those weird, misshapen ones. Which everybody knows are the tastiest. Neat if you can't stand that sticky apple touch either.
Starfrit Pro Apple Peeler. $11,54
Citrus Peeler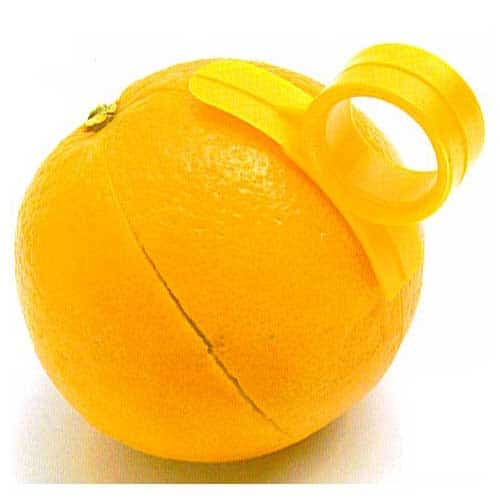 What's the one thing an adult and a 6 year old have in common? They find it impossible to peel an orange. Ok there's more things than that they have in common, which are less obscure, but the point stands. Oranges are a nightmare to peel. All you need to do is place your finger in the holder, stick the cutter into the orange and pull down. Easy.
Fox Run Orange Peeler, $1,46
OXO Mango splitter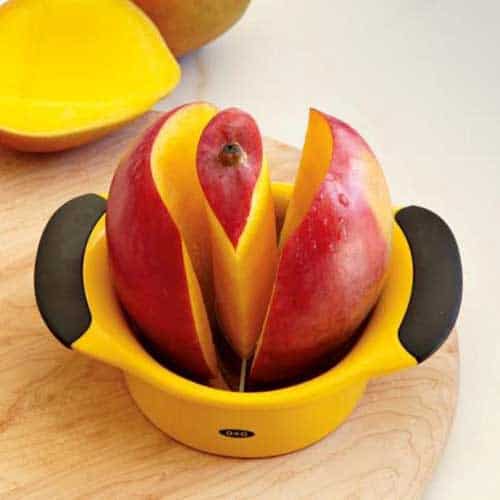 You probably thought watermelon was the messiest fruit you could eat, until you came across a ripe mango. Even getting the seed out seems to cover every available surface in juice. With one press of the soft, non-slip handle, the OXO splitter cuts the fruit in half and removes the seed – leaving almost nothing behind. Well nothing you can't slurp off.
OXO Good Grips Mango Splitter. $13,99
Peach wedger and pitter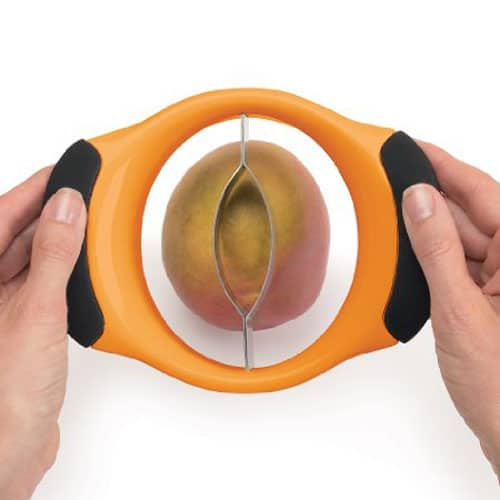 Of course you can eat your peaches whole, but you can't turn them into smoothies or can them whole. Position the guidelines along the seam of the fruit and push. There you have it: twelve perfectly prepared peach slices waiting for you. Just brace yourself for some serious splatter if you use over-ripe fruit. Like all good things in life, you should hand wash the NorPro Peach Wedger and Pitter.
Norpro Peach Wedger and Pitter, $8,15
Cherry chomper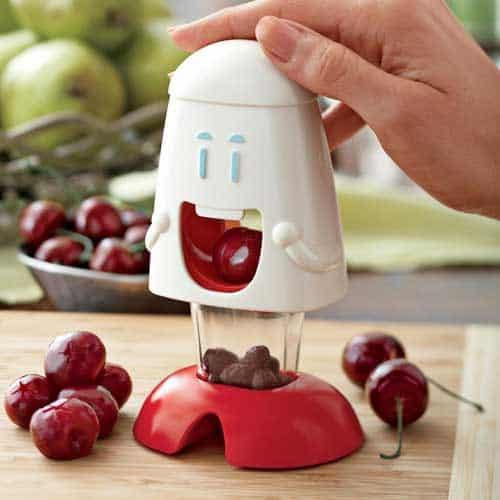 Maybe George Washington wouldn't have taken against his father's cherry tree if he had access to the Talisman Designs Cherry Chomper. Its plunger action pushes the pit and juice into the bottom container, making pitting cherries mess free. At six inches tall, it has a protective "tooth" ensuring tiny hands and fingers don't get hurt. As well as being a great gadget for kids, it also pits olives – so it's perfect for you big kids too.
Talisman Designs Cherry Chomper. $12,42
Corn stripper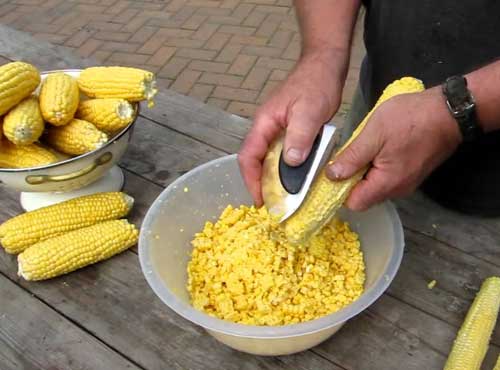 A 120 corn-per-hour gizmo; you'll strip every single ear of corn you have, your neighbour has and your local supermarket possess in no time. The kernels are collected in a 0.5-cup capacity container (approximately one cob), which is removable so you can clean it easily. Just slice the kernels away with the razor sharp stainless-steel blade, pour them out of the top opening, and repeat.
OXO Corn Stripper, $13,99
3-in-1 Avocado Slicer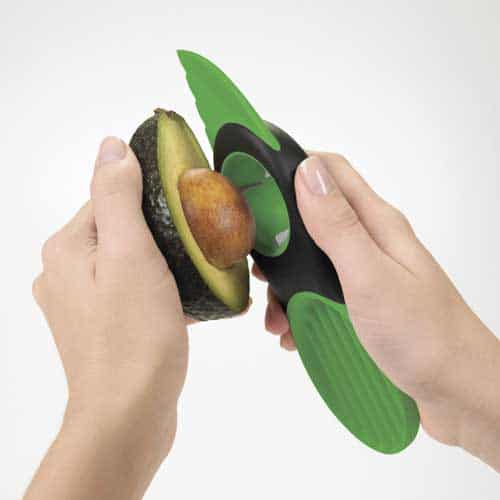 The avocado. Healthy, tasty and great with nachos. You probably saw an article about growing some from the seed too. A true do-it-all gadget (in terms of avocados anyway): the safe to the touch, serrated, plastic blade makes quick work of the fruit; three small, nested blades grip onto the pit and remove it with a simple, safe, twisting motion; and the fan blades remove the fruit from the skin in perfect slices. You don't even have to worry about dropping the OXO slicer with your slippery guacamole-hands, the soft, non-slip grip takes care of that.
Note: Avocado? That's not a fruit! I hear you object.But botanically speaking, you would not be correct.
OXO 3 in 1 Avocado Slicer  $9,95
Wait!       What!?       No banana slicer on this list?
You must be kidding me right? You've got a knife at home? Then you already own a banana slicer my dear.
Using specialized gadget will cost you more time cleaning and storing it. Yet still for some uses it is recommended though.
For instance for those with OCD demanding perfectly equally sizes slices. Or as a pervert deterrent. Have daughters in their early teens? Go get a banana slicer. Wondering why people actually buy such gizmos? You're not the only one who's questioning their sanity. Read the (actually pretty funny) banana slicer reviews
on Amazon to understand what I'm rambling about.
If the totally useless product itself isn't quirky enough, to top it all off, there's even an banana slicer instruction video. How useful is that?!
Conclusion
When it comes to eating fruit I am lazy as can be. The foresight of peeling an orange or slicing an apple often prevents me from eating one. In our modern lifestyles we're all in a hurry most of the time. Eating and preparing fruit is often less prioritized. Which is a downright shame. Thinking about it I realize I am hurting my health. Which is why these fruit slicing, cutting tools are so great. They indirectly improve my wellbeing.
Haters gonna hate anyway. If you eat a lot of a certain fruit these convenient items will safe you a lot messing around.
Last Updated on February 10, 2015 by Tyler