The variety of electric personal transporters has expanded considerably thanks to improvements in battery technology. A few years ago we could choose between an electric bicycle and the, back then, pretty expensive Segway.
In 2022 there are various types of personal, battery-driven means of transportation to choose from. With the various choices out there you may find it hard to decide which one is best for you.
In order to make a well-informed decision you first need to know which different types of electrically-assisted rides there are. Then comes the question, how do they differ? What are each type's pros and cons?
To help you pick, here's an overview of your options, including decisive factors as top speed and range, safety, learning curve, and other things to consider.
First this..
If you're looking to buy a personal electric vehicle (PEV), make sure to consider the following things:
portability: its size, weight, and features for carrying and hauling.
size for storage and where will you ride it. Crowded pedestrian areas require devices with a small footprint
range (how far will it bring you and will there be enough battery juice left to bring you back?).
wheel size (should be compatible with the terrain you'll be cruising on),
learning curve (some devices are easier to master than others),
fun vs utility ( is it just a convenient means of transportation or is the fun factor important as well?)
safety  (seats, handlebars, a front fork reduce the chance on severe injury)
When it comes to range, e-bikes, electric mopeds and eWheels a.k.a. electric unicycles score best, then high-end electric skateboards, then, e-scooters, then the Onewheel, and then low-end e-skateboards.
Is portability of the utmost importance to you? An electric unicycle, due to its compact shape and carrying handle is the most portable option. Followed by an e-skateboard, an e-scooter, and lastly the Onewheel. An e-scooter is foldable whereas the Onewheel has a huge tire and bulky board.
Safety-wise, the electric bicycle and moped are generally considered the safest as they have handle bars and seats as well as front forks and wheels that will absorb the impact of a possible head on collision.  Since they are larger they are more easily noticed by other traffic. Also consider wearing a helmet even if it's not mandatory in your area.
Which personal electric vehicles are there?
Click on the classes listed below to immediately jump to that section.
Seated electric scooters and bikes
---
If prolonged standing doesn't match your personal needs you'll probably want to stick with personal electric vehicles that have a seat.
1. The electric bicycle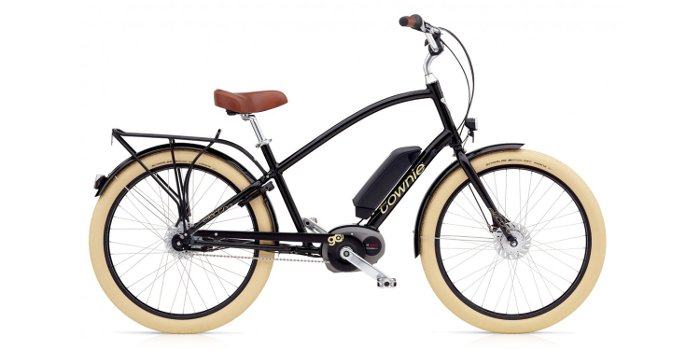 The electrically assisted bicycle has motivated many elderly to step back on the iron horse. Wind, inclines, and the physical inconveniences that come with older age aren't obstacles anymore. Increased range allow commuters to leave the car at home while they're not arriving all sweaty and gasping for air at work.
RV dwellers tend to love e-bikes too. Commuters may opt for foldable when public transportation is part of their route.
E-bikes come in all the variants normal bicycles come in. From ATB's and mountainbikes to racing bikes, tricycles, recumbent bikes, cargo bikes, and those fat tire snow and beach bikes.
Some models offer both pedal-assist sensors as well as a throttle. Then there are also electric bicycle conversion kits.
Specs
Range. most models offer 30-50 miles from one battery charge. The latest e-bike can do almost 100 miles.
Price: varies from a few hundred to several thousands of dollars
Top speed: approx. 25-30 mph. The fastest production e-bike (purchase price $12k) goes 50mph.
Pros
Comfortable and versatile with a saddle, handle bars, luggage rack, lights, and other features
No learning curve, pretty much everybody knows how to cycle.
Can be used without electric assistance too.
Endless choice in bicycle types.
Cons
Bulky and heavy.
Non- or less portable. One doesn't simply pick an e-bike up and store it next to their desk. Foldable models are designed for this purpose but still they are less portable than many other options on this list
Without high-quality locks or good storage they are common targets among thieves
Considering purchasing an e-bike?
Do yourself a favor and check out these popular Ride1Up e-bikes. Ride1Up is a company renowned for its high quality e-bikes for very affordable prices.
Click here to be amazed about the variation in e-bike types that are currently on the market
Tap the following link if you're looking for the best e-bike car rack to transport your electric bicycle.
2. The seated electric scooter with large wheels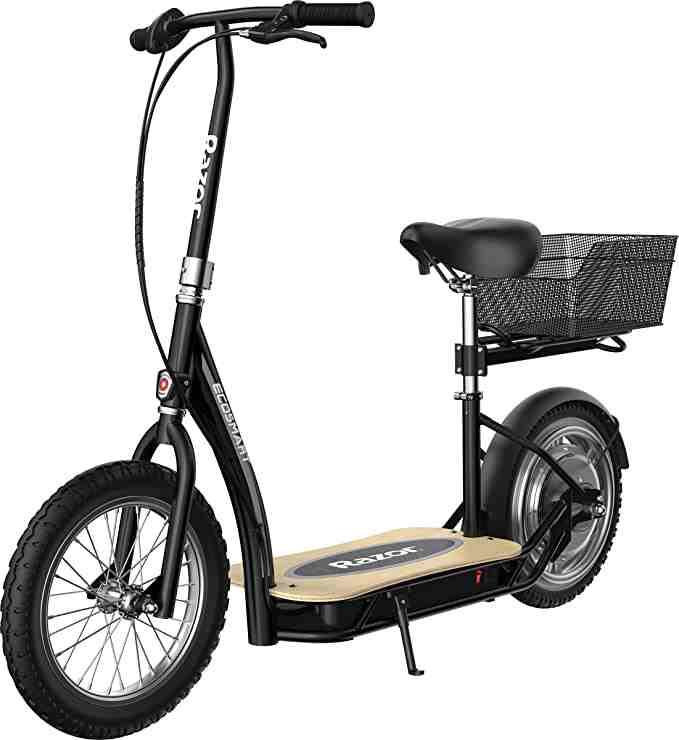 In similar fashion there's the seated electric scooter. This is basically a blend between a kick scooter (#8 on this list) which is typically ridden standing up, and a conventional bicycle. It's got the geometry of a kick scooter but with a padded seat, large 16″ air filled bicycle tires, a wide deck for ample foot room (or a seat for your canine copilot). Its handlebars feature a twist grip throttle and hand brake.
The quiet, high torque, maintenance free 350-watt hub motor can reach a top speed of of 18.6 mph / 30 kmh. Larger wheels provide more comfort and stability as they allow for a smoother, safer ride but are less agile and take up more storage space at home or in a car. The robust frame can safely carry riders up to 220 lbs. Which is one of the reasons this type of micro mobility vehicle is popular among seniors and slightly heavier people.
The Razor Ecosmart Metro HD (photo) is practically unique in its kind. It's the only scooter with these aforementioned features. Somewhat similar alternatives exist but don't have the wide deck at the bottom of the frame nor offer such a comfy, cushy ride.
Pros
It's affordable, has a comfortable, cushy seat, has a quiet and efficient brushless hub motor.
Cons
At approx. 70 lbs it's heavy. Not the most robust EPV out there. Has only a rear drum brake. Not the highest quality cup and cone bearings which normally ensures a stable and sturdy fork. It has a lead acid battery (old tech) which limits your range and well as how long the battery will last. Battery charging takes 12 hours for a scanty 12 miles (19 km) of range.
Why get this scooter? Despite its limited range, long required plug in time and the fact that the battery technology is kind of outdated –  which is why many electric scooter aficionado scoffs at this scooter – it still has quite the appeal.
For one because it just offers a comfy ride. It's so easy to mount and dismount due to its low entry. Moreover, the low step through scooter frame's abundant deck real estate helps prevent feet from slipping off or accidentally stepping next to it.
It's a safe ride as you can always put both feet on the ground while remaining seated in the saddle at the traffic lights or other stops you'll have to make. It's no wonder this type of personal electric ride is popular among the elderly and slightly heavier individuals. As such it could make a valuable addition to an independent living plan.
Aside from these target groups this scooter might appeal to anyone who simply wants a simple and safe electric ride to go from A to B where top speed, range and cool factor are of less importance than downright convenience.
Check price and availability here.
3. The electric folding bike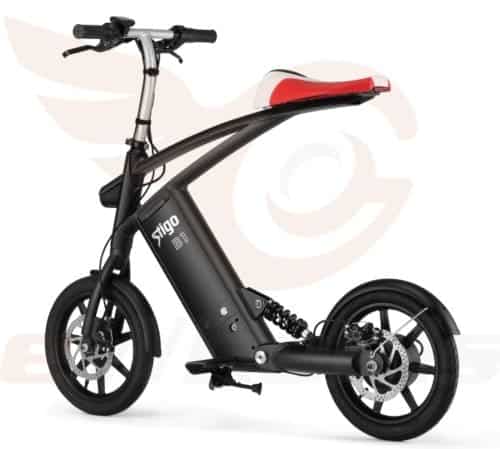 Since they are easy to travel with – once folded they are easily carried like luggage, the battery driven folding bike is a popular choice day trippers and other travelers.
Commuters love them for intermodal travel, to bridge the parts of their commute that lack public transportation. Since they save space they are popular among small apartment dwellers. Stored inside there's less risk on vandalism, theft or getting rusty due to rain.
RV-ers who lack a garage in their rig often opt for electric folding bikes as they don't want to store their expensive e-bikes on the bike rack where it's more prone to theft.
The electric folding bicycle on the photo is the Stigo B1 350W electric folding bike.
Pros
Combines the trusted experience of riding a bicycle with portability and storage benefits.
Low profile makes them ideal in urban settings and while on the go.
Cons
Even foldable e-bikes often have a considerable weight due to the folding mechanism and battery
Smaller sized tires than non-folding bicycles reduce the top speed and range.
Smaller wheel (16-20″) makes them less suitable for rougher terrain (i.e. off road- potholes)
4. The electric motorcycle / moped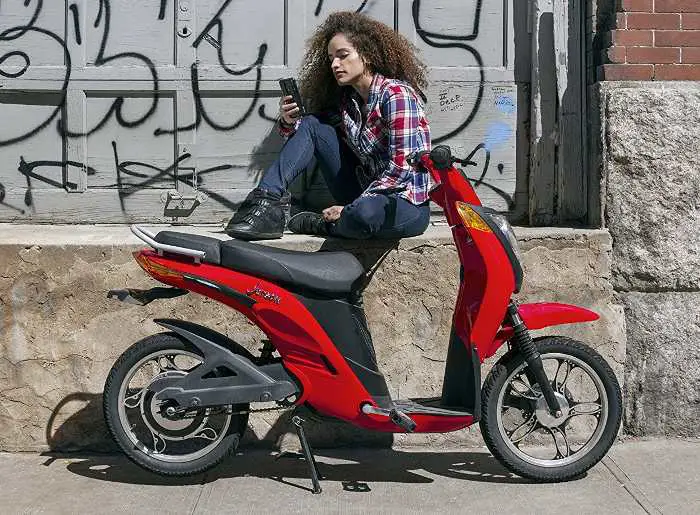 Just like the traditional bicycle has gotten an electrical counterpart, there are electrical moped scooters now too. Opting for a scooter means you can take quite a bit of luggage such as groceries with you. Also taking a passenger with you belongs to the possibilities which is something that's not possible on an electric longboard or unicycle.
Basically there are two types of electric scooters, electrical moped and motor variants. Mopeds are often restricted to 30mph (equivalent to 50cc petrol scooters) whereas the most powerful electric scooters are legally perceived as motors. For both groups registration documents, number plates, (and sometimes road tax) are required.
The scooter on the photo has pedals but these are merely present so the PEV can be classified as an electric bicycle.
Hit the link to view Amazon's most popular: electric moped scooters
.
Specs  (50cc equivalent )
Range: 30 -50 miles
Top speed: 25-30mph
Pros
Environmental friendly
No fumes, nor leaking oil and petrol (a petrol-driven moped emits more pollution into the atmosphere than an 8 cylinder SUV.)
Silent
Suitable for two persons
Load carrying (to a certain extent)
Cons
Some states/ countries require a motorcycle license to ride these electric mopeds on the street. Check your local DMV
Wearing a helmet is often mandatory (although helmets are highly recommended on most rides mentioned here)
Bulky when compared to other EPTDs, which requires sufficient space for storage
Not suitable for sidewalks, pedestrian areas
Needs to be locked outside or put in storage
An innovative, yet to be released electric scooter is the Brekr Model B. The aluminum, lightweight motorcycle can carry two removable 2 kwh batteries, each enabling you to distance 30 to 50 miles (50 to 80 kilometers). A max range of 100 miles (160 kilometers) combined with a top speed of either 15.5 mph (25 km/h) or 25 mph (45 km/h) depending on the variant you choose.
Either way, its big wheels, front and rear suspension, its relatively low weight make it a great, environmental friendly personal electric vehicle for leisurely touring in nature, urban commutes, and other types of transportation.
5. The electric trike (3 wheel scooter)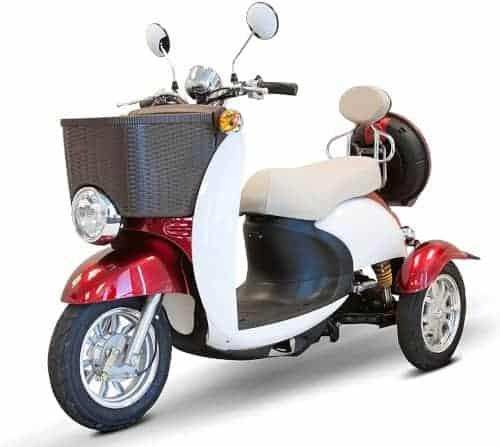 The eWheels EW 11 vintage, euro-style scooter isn't just pleasing to the eye. It could be used as an outdoor only mobility scooter alternative. Granted, measuring 67 x 29 x 38 inches it's quite a bit larger than a standard mobility scooter taking up, on average 5 feet in length, 3 feet in width and 4 feet in height of space.
But when you're in need for something to get you around yet feel a typical mobility scooter is just one step too far, the EW 11 might be the solution for you.
To be clear, with its 29″ width it's not suitable to use indoors as most indoor doors are 28″ wide. Nor can you as easily park it in a small shed but in return you'll get a max range of 40 miles on a single charge and a top speed of 18 mph.
With its electrically opened storage compartment underneath the seat, anti-theft alarm system, and remote on off key fob it's a quite the luxurious PEV. Apart from that it boasts great performance and quality.
6. The electric folding tricycle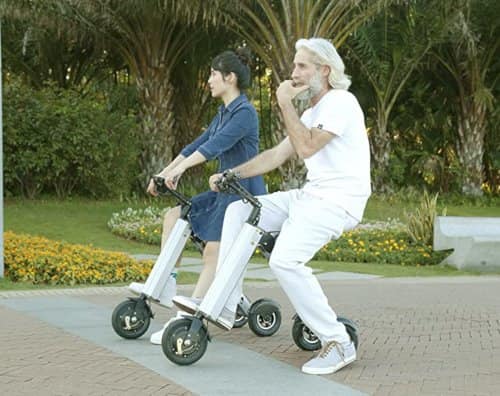 What makes this three-wheeled electric scooter so appealing is not just its modest size. Nor is it the fact that it folds up to the size of about a large suitcase. Neither the fact that it's, at just under 31 lbs (14kg), very light weight yet still transports people up to 220 lbs (110 kg).
No, what's so attractive about this tricycle is that it doesn't look like a typical mobility scooter, yet it might just be that you could use it as one. The benefits of a mobility scooter without the social stigma. Especially for younger people, its quite sporty, minimalist trendy looks might appeal.
That said, it's not necessarily a mobility aid but a pretty cool looking PEV in itself. It could make a great alternative to traditional step scooters for those who have trouble maintaining their balance.
It's fun to ride, has three speed settings, shock absorbers, a full battery range of 6 miles (10 km) and due to its portability it makes a great companion when shopping or going for a fresh breath of air.
When folded you can pull it behind you so you can bring it with you in public transportation, on flights, cruises, or in the trunk of your car.
Officially this tricycle isn't intended for off-road use. Users, however, have been cruising packed dirt paths and level grass surfaces successfully.
Specs
range: 15.5-18.6 miles max. (25-30 km)
max. speed: 15 mph (24 km/h)
Pros
Portable. Small so easy to store.
No steep learning curve
Quite safe
Stylish appearance
Cons
Not as versatile regarding road surfaces
Limited range
Not as comfortable for prolonged use as a typical mobility scooter
Hoverboards and scooters with handlebars
---
Personal transport vehicles with handlebars.
7. Segway-style hoverboards with handlebars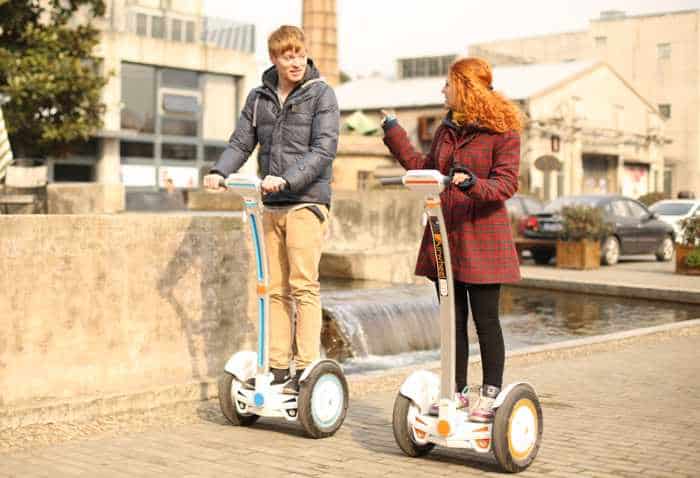 These are basically hands-free hoverboards but with handlebars so you don't have to put as much effort into keeping your balance and you can steer a little bit. The first popular brand names on the market included the Segway E+ and Airwheel S3. This type of Segway (nowadays there are various other types of Segways) is the grandfather of all EPTDs.
The Airwheel S3 is a more affordable alternative to the Segway. Other alternatives include the Airwheel S5 SUV (an off-road alternative to the S3), Fortech Mini, InMotion Mogo, M1 Robstep, and the very expensive Chegway. Prices among these alternatives vary greatly, from less than $400 to over $4000,-.
Some models are merely inexpensive (read: cheaply built) hoverboards with a Segway-style handle attached to it, others are more robust and of higher quality. Some offer an optional seat. The M1 Robstep is one of the smallest in its kind which makes it ideal for indoor use, for instance if you're disabled or recovering from injury.
Specs (based on Airwheel S3)
range: 40 miles in range max.
max. speed: 11 miles mph
Pros
The handlebars make them easy to ride for pretty much anyone including the elderly and those who have trouble keeping their balance
No steep learning curve
Relatively safe
Cons
Not as versatile regarding road surfaces
Relatively slow
Bulkier than a Boosted board or electric unicycle which makes storage less easy
For more info about these self balancing transporters; check out the most popular Segway Ninebot models on Amazon
.
8. The electric kick scooter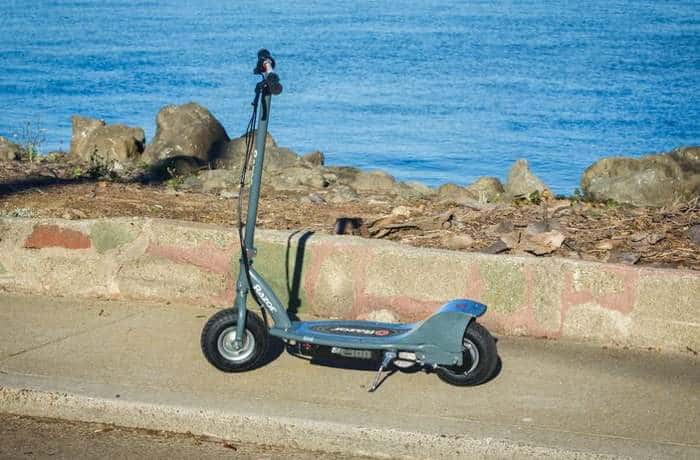 The kids toy image clings to the electric scooter, even though they come in adult versions too. The small wheels make them mainly useful on flat surfaces such as tarmac, skate parks, and regular pavements. This because small wheels can get stuck in cracks in the road which may lead to accidents. Off-road versions, with bigger wheels are available too.
These scooters have handlebars and hand brakes which makes keeping your balance child's play. Handlebars also offer protection as they will cushion a potential frontal collision. Foldable models are great for commuters as they allow for easy storage in public transportation or at the workplace. Some models come with a (detachable) seat or allow for installing an aftermarket seat.
Pros
Affordable. Starting at around $100.
No steep learning curve. Pretty much anyone can ride electric scooters
Cons
small wheels may limit your freedom of movement
limited range compared to some other types of electric personal transporters
Among the most popular electric kick scooters for adults;
Glion Dolly foldable lightweight electric scooter. People up to 300 lb report using it without issues.
Razor E Prime III electric scooter with a max weight capacity of 22o lbs.
Looking for something more professional for your daily commute? Visit eWheels.com for a wide range of high quality e-scooters for adults from renowned brands such as Dualtron and Turbowheel.
They also carry heavier, fast, long range models that can bring you up to 80 miles on one battery charge or let you scoot at a top speed of 60 mph.
9. The off-road e-scooter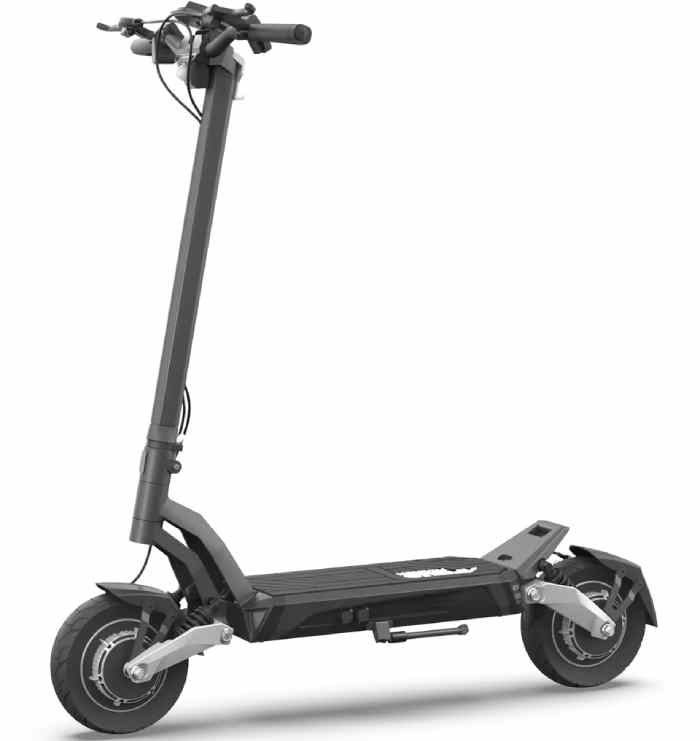 Need something tough to run some errands while boondocking with your RV in rugged terrain? Does your daily commute include bad roads or rocky, hilly areas? Just want to have fun ripping through trails? Wish to finally manage to keep up with your fast-paced, long-distance walking dog?
Pros
For conquering various types of jagged surface as well as smooth rides on relatively bad roads, an off road electric scooter is hard to beat.
Cons
However, keep in mind that e-scooters due to their small wheels and geometry are not the most suitable PEV class for true off-roading. If you mean business when it comes to ripping off road, get a PEV type with a more robust frame and a seat like, for instance, an off road e-bike.
But if you're willing to do a concession in lieu of easier storage  (a scooter is easy to quickly get in and out of an RV or car ), then a quality off-road e-scooter might be your best bet.
Specs
A good machine has powerful dual motors, wide handlebars with grippy handlebar grips, a non-slip deck, solid, preferably, hydraulic brakes, and of course suspension. High quality, articulating suspension. The more, the better. Allowing them to eat up rock-strewn, root-infested dirt roads. Well, like we said, in their own, kind of limited way.
Searching for the best off road e-scooter available?
Make sure to consider these two, currently very popular, bite-sized beasts. The Apollo Ghost (under $1500) comes with dual spring suspension and is best geared for hardpack dirt roads whereas the even tougher machine, the Apollo Phantom (under $2500) with quad spring suspension can handle pretty much any off road terrain. Both belong to the best-selling top rated off road scooters on the market.
Personal electric vehicles without a seat or handlebars
---
These require the most balance skills and involve a more steep learning curve. Generally less suitable for the elderly or people who are physically impaired.
10. The electric skateboard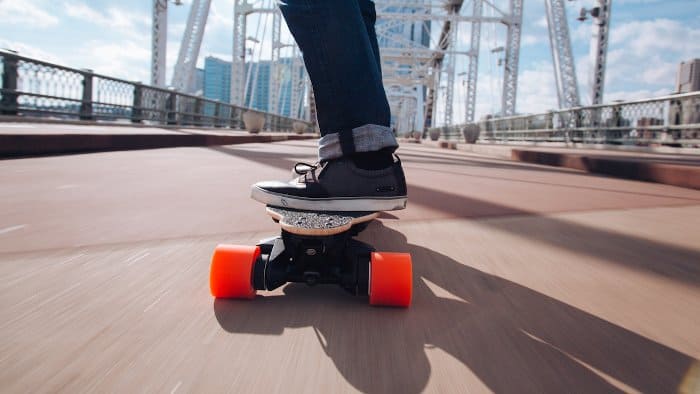 In comparison to the scooter, you'll have to be a bit more of a daredevil to opt for a powered skateboard, especially when you have no skate experience. On the other hand, most of these boards are longboards which, together with the fact that they are self-powered, makes them a lot easier to zip down the street than a normal skateboard.
Most boards have an external battery / motor mounted under the board. The Inboard M1 is the only board that has its motors in the wheels. This makes it ideal for inconspicuous battery-powered cruising. (Fool those pesky cops by pushing off your electric board like it's a conventional skateboard.)
Electric skateboard conversion kits are available too, allowing you to convert your current board so you can effortlessly surf the sidewalk.
Specs (based on the Boosted Dual skateboard mentioned below)
range  6 / 12 miles  (with extended battery)
top speed: 22 mph
25% grade hill climbing
driven by wireless hand control
Pros
High fun factor. Doing tricks belongs to the possibilities
Can be used without battery-assistance. Often the batteries can be quickly removed to reduce weight.
Discrete as motors are hidden from sight. Laws and ordinances vary per region. As the batteries are mounted under the board (or in-wheel) law enforcement can't see at a glance you're riding an electrically driven device.
The 'cool factor'. There aren't many EPTD's that will make you look cooler than a boosted board. (Well there's another contender, more at #4 of this list).
Cons
Potentially dangerous as small wheels may cause you to fall when the skate wheels stumble upon cracks, sand, and other irregularities in the road surface. (This can be overcome by opting for a dirt skateboard designed for off-roading.)
Not suitable for off-road. Limited to roads and pavements
Doesn't have head and tail lights
Riding in rainy conditions can be a problem. Electronics are known to damage upon which replacement is needed and you may slip when you get on wet pavement
Some models malfunction (or even permanently damage) in rain and on wet surfaces.
In big cities Wi-Fi dead zones (signals interfering with or obstructing the hand control signal) may occur.
Popular models include the top of the bill Boosted 2nd Gen Dual+ Boosted 2nd Gen which you may know from famous YouTuber Casey Neistat who drives several of these boards and promotes them on his channel.
There are also the also the top of the bill Evolve boards which come in carbon and bamboo versions. A very well-reviewed runner up is the more affordable TeamGee H8. Other popular boards include the WowGo 2S longboard, RazorX and Maxfind boards.
11. The electric unicycle (aka self-balancing unicycle)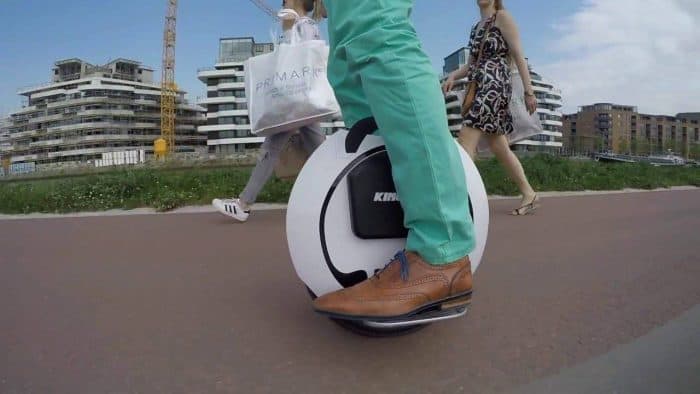 Self-balancing electric unicycles, also called electric wheels or simply eWheels,  belong to the most portable EPTDs. Their large wheels allow for taking curbs and potholes as well as riding lawns, dirt, and even gravel roads.
They come in wheel sizes ranging typically from 12″ up to 16″ but larger wheels exist too. High-end models are generally safer than cheap no-name devices as they have more breaking power and more powerful motors which can be crucial on bad roads.
Because of their limited size, weight, and footprint they make great vehicles for various purposes. For instance to bridge the so called 'last mile' when going to work. Also think about cruising campus, going shopping in the inner city (simply pack your EUC in a backpack or drag it behind you with the handle), commuting, or walking your way too energetic dog.
Specs
max speed: cheap wheels max out at approx. 12mph, the fastest EUCs go over 45 km/h (18 inch wheel)
avg. range: from 10 – up to 80 km (50 miles). Cheaper models only have a range of around 4-6 miles, mid-range models have an average range of 25 miles. It all depends on battery size, quality, wheel size and other factors.
Pros
Unlike electric skateboards which require a controller to get moving you simply accelerate and slow down by leaning your body forward or backward.
Highly portable. Easy to pick up or pull behind you (provided they have a telescopic handle)
Waterproof. Riding in rain or through puddles is no problem with most models. (check with the manufacturer before buying)
Some models have standard head and tail lights for safe gliding when it's dark
Easy to store. Put it next to your desk, tuck it away in an unused spot in your RV,
Riders report health benefits including strengthened back and abdominal muscles (core strength) as well as improved balance.
Cons
Steep learning curve. Prepare to spend at least a few hours for several days to learn how to drive. Some 'wheelers' said learning turned out to be "harder than they bargained for".
Visit eWheels to find out about the latest electric unicycle models and sales.
Click here to read our comprehensive Electric Unicycle Buying Guide.
12. The hoverboard (aka self-balancing scooter)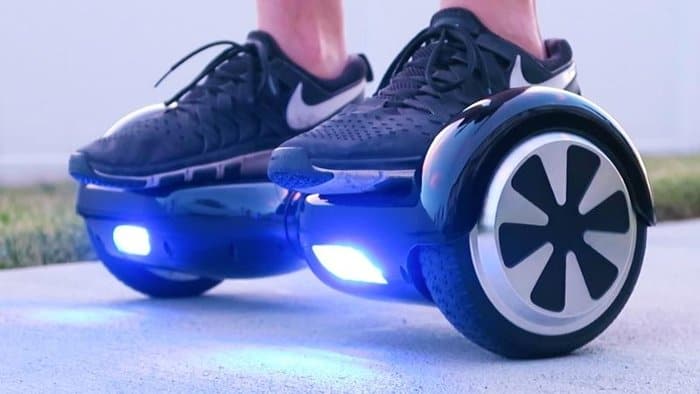 Just like the electric unicycle, the hoverboard, swegway, or self-balancing two-wheeled board has built-in gyroscopic, sensored pads. Since most hoverboards lack the terrain versatility of EUCs, their limited speed and range, and since learning to ride these is very easy, they are very popular for indoor use and as kids toys.
Generally 6,5 inch wheel size is recommended for children. 8 Inch for teens and small adults, and 10 inch for adults. A special type of hoverboard is the Segway miniPro self-balancing personal transporter that features a padded knee bar for easier steering and a relatively high top speed of 10 mph.
Decided this is the way to go for you? Check out these popular hoverboards.
Specs 
max speed: up to 10 mph,
range: approx. 14 miles (varies between models, from 12 – 17 miles)
Pros
Easy to master
Affordable
Relatively safe due to low top speed and ease of use
Cons
Not as fast or versatile as some of the other EPTDs. Therefore some people may find them more suitable for indoor use
Not always waterproof. PCAdvisor.co.uk found that "most boards have a waterproof rating of IP54, which means they'll survive a splash of water but not much else".
13. The Onewheel / Onewheel +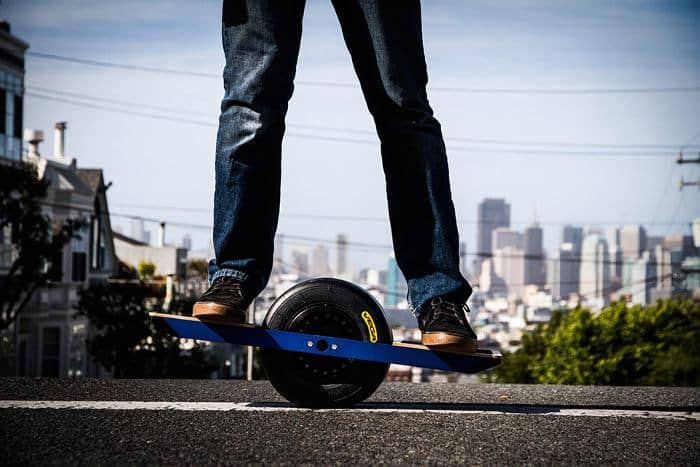 The Onewheel is a category in itself as there's only one in its kind. It looks like an electrical DIY project merging a wheelbarrow wheel with a board and motor but this description doesn't do it justice at all.
The Onewheel is built like a tank, with its two horsepower it's powerful enough to take on hills and bumps and allows for such entertaining surfing including carving and tricks that seasoned snowboarders and skateboarders praise this EPTD for its outstanding performance.
Available on the official Onewheel website.
Specs
top speed: 15 mph (experience riders may reach over 20 mph)
range: 7-8 miles
accelerating and braking is done by simply leaning forward or backward
Pros
Ride every terrain, from sandy beaches to muddy trails (no need to pick up your board or take your scooter by hand and walk a few meters to bridge non-smooth parts on your route)
Has standard head and tail lights allowing you to ride safely at night
Fun factor: the riding pleasure resembles snowboarding in particular and people rave about it in general
No controller (as with electric skateboards) is required to accelerate
Allows you to adopt the pace of surrounding pedestrians (this is much harder if not impossible on an electric skateboard)
Cons
Users who own electric skateboards and a Onewheel find the latter less safe. Nosediving can be a potential risk because of the way it's driven
Its limited range makes it less suitable for commutes and longer trips in general
14. The Walkcar 'rideable laptop'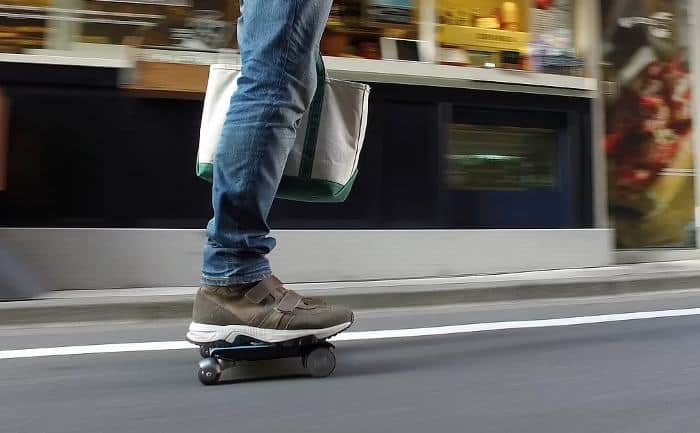 The smallest, weirdest alternative on this list is this 13″ laptop-sized Walkcar. The "car in a bag" as the Japanese inventor dubbed his creation  may look like a motorized dolly but if you need something very light and compact this might be for you. Its portability makes it great for many purposes yet its small wheels will limit its usability. Available for pre-order now. Price: $1280,-
Specs
top speed: 16 km/h
weight: 2,8 kg
driving time: 60 minutes
Pros
Ultra-portable, fits in your bag
Cons
Probably only suitable for flat and rather smooth surfaces, such as indoor
15. The enclosed e-bike a.k.a. car eBike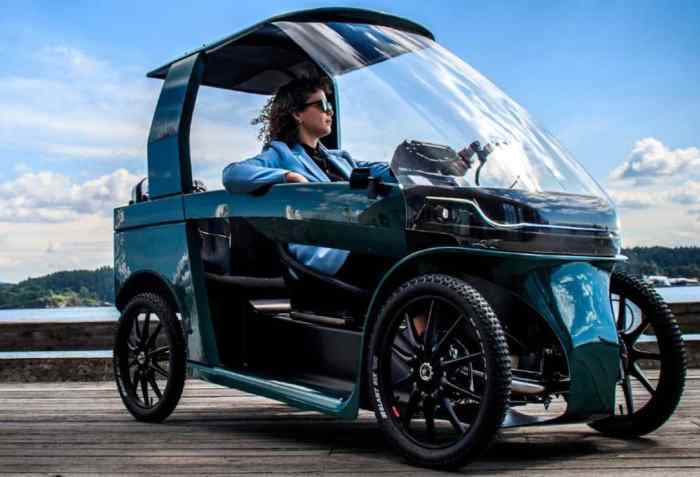 Some pod e-bikes are super aerodynamic – the Podbike Frikar for instance-, others have less streamlined shells but still shield you from the elements and collisions. There's both enclosed tricycles and quadracycles. Another word for this type of EPV is e-velomobile. A name derived from the non-electric velomobile which is a basically a recumbent bicycle car.
The CityQ Car-eBike (photo) lets you transport two children or one other adult and groceries or luggage through bad weather and yet this micro EV is only tad bit wider than a mountain bike. Passing by cars stuck in traffic, having no problems finding parking space you'll laugh all the way to your destination and back.
The absence of chains and gears and other mechanical bottlenecks – the car e-bike has a software-controlled drivetrain- allow for a peace of mind.
Specs
top speed: 25 km/h (15.5 mph)
weight: 70 kg (154 lb)
width: 87 cm (34 inches) in comparison, mountain bikes run up to 80 cm (31.5 inches) wide
weight capacity: 300 kg (660 lb)
seats: two adults, or one adult and two kids
cargo space: for groceries, luggage, two children


Pros
All weather EPV
Cons
Relatively expensive
How to choose?
When it comes to considering your options regarding micro-mobility vehicles (as EPVs are called as well) it all depends on your wants and needs. Are you going for the thrill of a ride? Or do you want to make your make your daily commute more efficient and convenient?
In the latter case, also consider making use of a micro-mobility service, if available in your area, instead of purchasing your own micro-mobility vehicle (MMV). These, sometimes subscription based sometimes pay as you go, services allow you to find the nearest available vehicle via an app. There's no docking stations so you can leave the vehicle at any place or moment and you often pay per minute making these services great for first and last mile needs.
Want your own personal micromobility vehicle?
If you're already aware of the existence of the various choices out there you may wonder, which is better a hoverboard or the Onewheel?
The answer totally depends on your personal situation. Which speed do you want, which range, which driving experience? Will you be able to take your ride with you on airlines?
The OneWheel 'street snowboard', for instance, offers a completely different experience than a hoverboard. There's nothing to compare actually.
Personally I would sooner consider the Onewheel versus an electric unicycle as they are both able to handle pretty much all kinds of surfaces. Which is essential to me. Onewheel's limited range of 6-ish miles doesn't cut it for me, though.
Say you're a skateboarder, snowboarder, or surfer who's looking to expand their playground you'll probably going to consider one of the  battery powered boards; i.e. an electric skateboard such as the Boosted Board vs the Onewheel. The one you can ride when the battery dies, the other you can't.
Let's say uneven terrain isn't much of an issue, then your dilemma could be, should I buy an electric skateboard or a self-balancing unicycle? In this case you might let resistance to water or range influence your decision.
One more thing..
I think all of these innovative electric rides rock. Each in its own way. When they become our main mode of transportation we risk that we can't be bothered to walk anymore, which may cause humanity to end up like the people in Wall-E. So whichever device you pick, don't forget to stay fit.
Note: Technically, electrical mobility scooters are EPTDs too. But so are golf carts. As they aren't innovations we haven't included them here.
Want more inspiration?
Learn more about the pros and cons of each option by reading reviews of those who went before you and bought an EPTD.
Which electric personal transportation device do you like best?
Shout it out below.
Electric Unicycle Buying Guide, Reviews, FAQ
Last Updated on August 27, 2022 by Tyler