Last Updated on April 8, 2021 by hobbr.com
Wondering "Which car rack is best for e-bikes?" You're not the only one with the question; "How do I know which is the right e-bike rack for me?".
The rapidly growing popularity of electric bicycles, as well as taking them along with the car to go on cycling trips, has spiked interest in dedicated racks. Here we will explain everything there is to know about picking the right rack for your needs.
There are various considerations to be made when determining which is the best hitch rack for electric bikes. See our extensive buying guide below to learn more. First, let's delve in to the most popular, well-reviewed racks on the market today.
The rundown: the best e bike car racks on the market
We've spent hundreds of hours reviewing various types of carriers for transporting lithium-battery powered e-bikes. Typically, recommendations done by leading retail e-bike companies who have been testing top brands as well as lesser known brands for the past years correspond with our top picks.
We've compiled this top 9 of the best e-bike racks on the following criteria; a. stability, b. security, c. ease of use (on and off-loading/ installing and storing the rack), d. price.
Here we go…
Reviews of the Top 9 Best e-Bike Racks
---
1. Best feature-rich car rack for e-bikes: Thule Easyfold XT2
top brand, full featured rack –  130lbs, 65 lbs per bike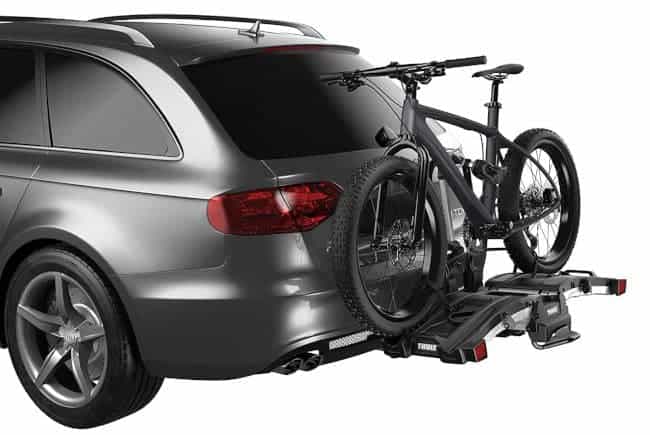 The compact and robust Thule Easyfold XT2 weighs 45 lb (17.9 kg) making it not as heavy as some of its competitors. Loading and unloading bikes is easy. Only positioning the bikes towards the clamps might take some effort, especially in the beginning.
Pros
Mounting is easy and can be done either with or without the use of tools and nonetheless clamps on securely.
Has an integrated, completely foldable onboarding ramp for easy storage and handling. No more breaking your back lifting heavy e-bikes but much more effortlessly rolling your bikes up the rack.
The rack itself is completely foldable as well for easy carrying (folds up to approx. the size of a carry on suitcase).
On top of that it has casters for even more convenient handling. The rear cargo space stays accessible due to a smart tilting that is operated via 'smart foot pedal tilt'.
The bikes as well as the rack itself can be locked through the lockable receiver and rack arms with the One-Key Lock System. A breath of fresh air compared to other bike racks is that there's no need to reach down and insert a bolt.
The Thule Easy Fold is one of the more expensive e-bike compatible racks. You get what you pay for as this high-end rack is at the top of the segment in terms of usability and features. It comes with lots of features that many other racks don't have such as; reflectors,  brake light plug-ins, a license plate holder, and a carbon fiber frames protector.
Thule's Road Dampening Technology (RDT) are essentially padded clamps that ensure there will be no abrasions on the bikes due to vibration.
What's more is that when you buy a Thule rack you purchase a brand that is renowned for its well-built, cleverly designed, long-lasting products. Their customer service is top notch and the Thule company is known for incorporating feedback from their customers in their racks.
Cons
Securing bikes isn't as intuitive as some other e bike racks on the market. When the rack is folded up while attached to the hitch it still protrudes about 2′ from the car's rear end.
Two red reflectors warn traffic from behind but it could be a potential safety hazard. For this reason users indicate they prefer to take the rack off completely and store it in the car.
The rack doesn't have actual tire trays or dips. Its tire groves are superficial, shallow and run the entire length of the rack. The loading ramp extends to max. 48″ which isn't high enough for larger vehicles.
The most critical users claim that the price isn't reflected back in its build quality as a lot of parts are plastic. The ramp isn't as robust as one could hope for. It might not be the best rack for fat tire bikes.
2. Best budget car rack for e-bikes: Swagman Current
high quality budget buy  –  120 lbs, 60 lbs per bike, hitch mount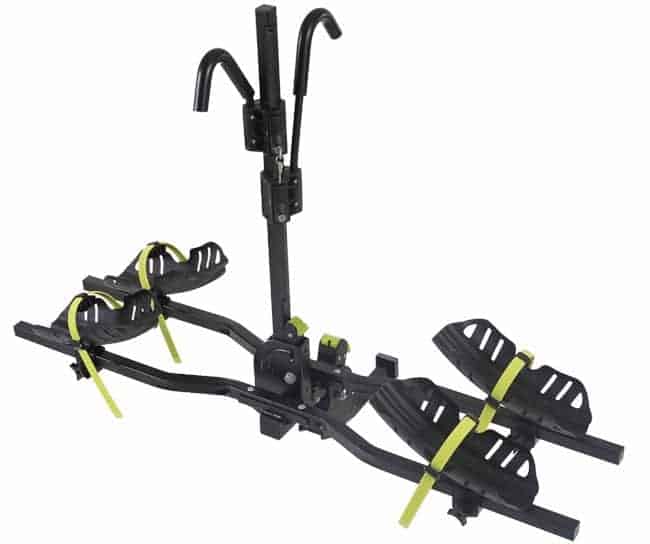 One aspect that makes the affordable Swagman Current stand out is its versatility as it accommodates not just e-bikes but also heavy MTB's and fat bikes (tires up to 5 inches wide). The rack weighs 33 lbs.
Pros
Can be easily tilted away to reach the back of the car without having to unload bicycles from the rack.
Its robustness is another advantage as the rack is almost completely made out of steel. The only plastic parts are the top tube hook ratchets and the release levers. Robust metal wheel trays – instead of common plastic- are another feature that make this rack stand out.
The Current comes with a locking receiver pin, and a cable lock. Bicycles are secured with ratcheting hooks with incorporated locks. All locks are operated with the same key.
High quality clamps make sure your bikes are sufficiently tight to keep accidents from happening. As it clamps the top tube you'll be able to carry various types of bikes with and without fenders.
It can be easily folded up against the car to minimize its size while being parked. Fits both 2″ and 1 1/4″ receivers. Swagman is known for its grade A service and warranty.
Cons
Minor rattling sound may occur when driving over potholes or bumps with an unloaded rack.
The Swagman Current is a well-reviewed budget buy that can compete with considerably more expensive high-end brand names.
3. Best stable car rack for e-bikes: Overdrive Sport 2
modestly priced- well-reviewed – stable- versatile  –  120 lbs, 60 lbs per bike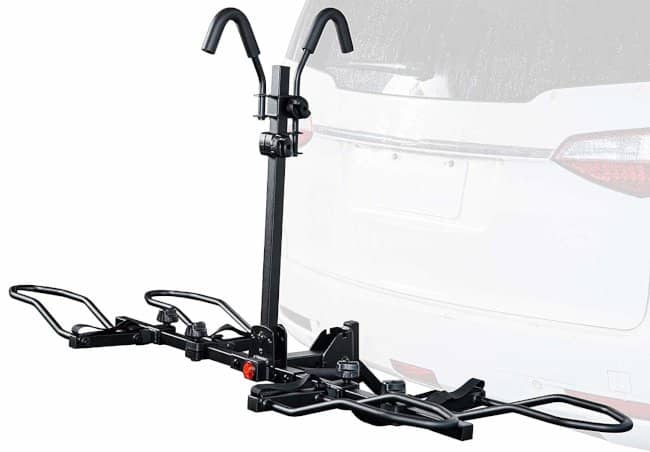 Be done with cheap rattling bike racks by investing in the Overdrive Sport 2 which utilizes a  patented anti-wobble system. The quality built, very sturdy and stable, almost entirely made out of metal carrier keeps your heavy e-bikes steady even on bumpy roads.
You can tilt down the rack to open the trunk while bikes are loaded. The load and unload process is almost effortless.
This platform tray style carrier weighs 50.5 lbs and fits 1 1/4″  hitch receivers. Yet adapters are available to make your 2″ receiver suitable.
Besides electric bikes, thanks to its adjustable 5″ wide heavy duty wheel cradles, it accommodates fat tire and standard bicycles as well and can be used as a single carrier too.
Do note that bikes are held by the top tube (also called cross bar) so if you want to haul bikes with a step-through frame (a.k.a. step-through frame or open frame) you will need an optional adapter.
Haul your e-bikes safely and securely with this stable, versatile platform type bike rack. No more wobbling, no more expensive, shiny bikes scratching each other.
Pros
Totally made out of metal save a few plastic parts. Hauls fat bikes and traditional bikes
Cons
Despite the patented anti-wobble feature the rack might wobble a bit if a hitch extender is used but this easily fixed.
4. Best car rack for heavy e-bikes: Hollywood HR1450Z-E
the Hercules among e-bike racks – carries 160 lbs, two bikes of 80 lbs each!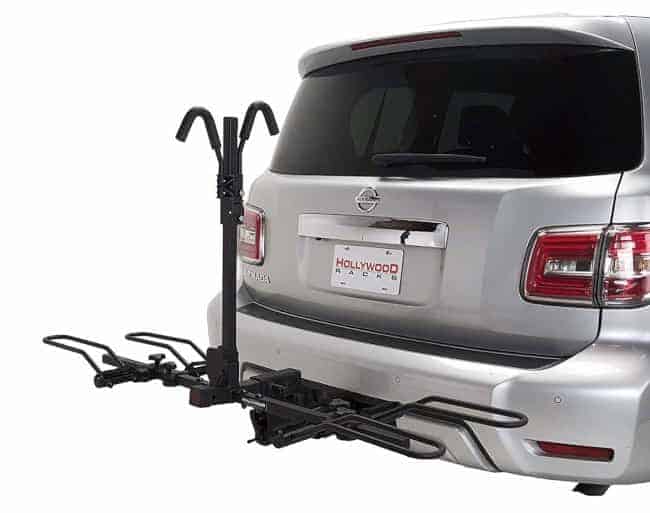 The Hollywood HR1450Z-E is a premium choice for heavy e-bikes as this durable carrier lets you haul a whopping two 80 pounds e-bikes. It's the electric bicycle version of the well-reviewed Sport Rider SE2. Rack weight: 51 lbs.
Pros
Besides its extraordinary load capacity of 80lbs per bike, 160 lbs in total, it has the sane features many other racks have too. These include; extra robust wheel holders, tilt away function for rear cargo access (simply pull the locking pin and tilt), locking frame hooks, and that it is foldable for convenient storage. On top of that the rack folds flat against the car when not in use while still mounted.
This heavy duty e-bicycle rack is a great choice if you want to bring extra heavy bikes. Thanks to its extra wide tire holders you can get it to fit standard tires (up to 3″ wide) or, with the optional set of fat tire slots, you can fit fat tires (up to 5″ wide). It's suitable for bikes with fenders too.
Assembling the carrier isn't totally tool-free, however it's easy, even for those with two left hands. In the past Hollywood racks were known to be hard to put together. Not anymore as the company improved on this point too.
One of the main advantages of this rack is that it's tough. It's stable and built to last. Yet here lies one of its disadvantages as well.
Cons
Because it has such a high load capacity and is built for stability and durability it's heavy. It might take two people to load two e-bikes. While one loads the bike, the other adjusts the wheel sockets.
Only fits 2″ hitch receivers. Keep in mind that 1.25″ to  2″ adapters don't work on this carrier.
Another downside is that it doesn't come with a loading ramp. So not only do you need some physical prowess to lift the approx. 50 lbs weighing rack to attach it to the hitch but you'll need to be able to lift your e-bikes on it as well.
Read about customer experiences here.
5. Best budget car rack for e-bikes: BUZZ RACK Approach
great design at budget price-  capacity: 55 lbs per bike, 110 lbs in total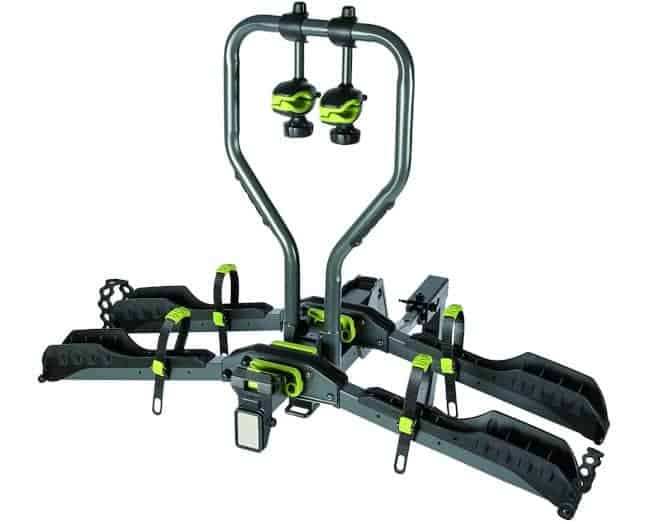 Just like the aforementioned e-bike compatible bike racks the BUZZRACK Approach platform hitch rack, too, features a hitch pin lock, integrated bicycle locks and the possibility to tilt down the rack with the bikes mounted. Carrier weight: 38 lbs.
Pros
What's more is that it has padded bicycle frame clamps and is foldable for convenient storage. Basically, this lesser known brand offers all the features, stability, and robustness that the premium brands do yet at a more wallet-friendly price.
This rack is designed to accommodate not just e-bikes but fat bikes and heavy downhill bikes as well. Besides its versatility it's cleverly engineered which results in a rack that's easy to use, effortlessly adjustable, steady as a rock and durable.
Contrary to some other racks the BUZZRACK Approach is can be loaded with bikes by just one person.
Cons
If we have to point out a disadvantage it's the fact that the rack doesn't come with ramp. However, this can be ordered optionally.
6. Best easy cargo access rack for e-bikes: Rocky Mounts Swing Away
unique tilt feature – 60 lbs per bike, 120 lbs total capacity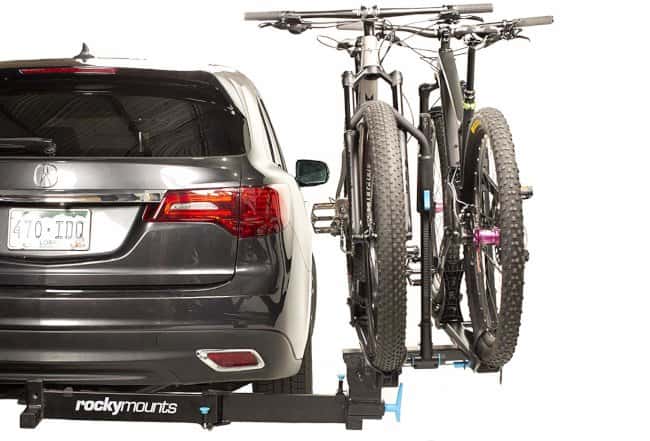 Look no further if easy cargo access is your main priority. This rack is the first in its kind that has an integrated swing arm that tilts and swings away 180 degrees. (brands such as Yakima and Thule sell swing arm attachments but no other brand has this as a standard feature). Carrier weight: 75 lbs.
In other words, you can both tilt back this rack 30 degrees as well as swing it away 180 degrees for convenient trunk access. Allows you to haul 3 bikes in total.
Contrary to many other racks the RockyMounts Backstage is compatible with various vans and RV's too. Don't be alarmed by the seemingly longer list of cons regarding this rack as this rack offers pretty much all the benefits of more expensive A brand racks.
Cons
The cradle arms don't have integrated locks. Instead a cable lock (included) has to be fed through the bicycle frames to secure the bikes from theft.
The Rocky Mounts Swing Away is built like a tank which aids durability and stability yet makes it rather bulky and quite heavy.  So you have to be quite fit to carry the rack to the car and mount it on the hitch.
Another aspect that might be a downside depending on your personal situation is the fact that the rack lifts your bicycles more than a foot above hitch height. So if your car's hitch is quite high you might get into trouble when trying to enter the garage with bikes mounted.
Users report that their bikes don't fit under their standard 7′ high garage doors when this rack is mounted on a Subaru Ascent hitch. The increased height also makes loading and unloading bikes requires more effort.
7. Best light-weight car rack for e-bikes: Saris Freedom 2 Bike Hitch
this lightweight rack still has a 120 lbs total capacity!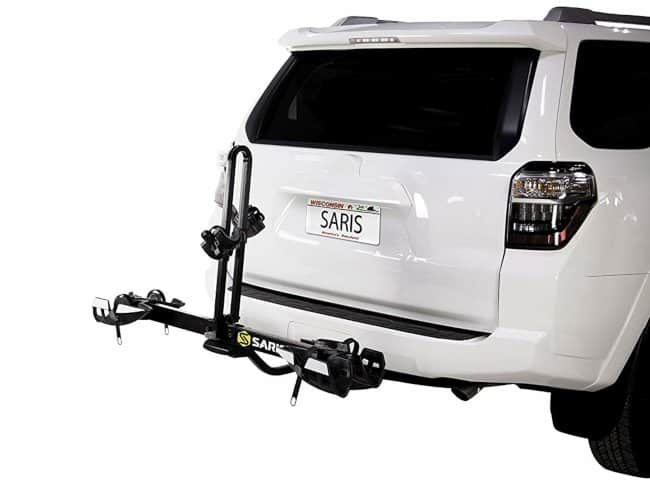 A common complaint is that e-bike carriers are too heavy. Another common issue prospective buyers have with racks is that they clamp in such a way that they squeeze fenders. Read on if this sounds familiar.
Pros
Weighing only 27 pounds, the Freedom is the least heavy e-bike rack on the market. Nonetheless it has an optional tilt feature, hauls two bikes of up to 60 lbs each and is compatible with bicycles with low crossbars, beach cruisers fenders and ladies bikes too. Want to haul fat bikes? For the Freedom are fat tire adapters available.
It's able to carry all these different types of bikes because it doesn't clamp over the top crossbar or wheels like many other racks (utilizes under frame clamps instead).
Because of this you won't risk damaging your fenders. Because it is ultra light but also due to a clever design, the rack is quite effortlessly installed within a few minutes. It's exactly this portability and light weight that makes it ideal if you often have to remove and store it.
The Saris Freedom platform hitch rack comes in a regular and an EX version. The EX has as extra features; standard up to 4.5″ tire wheel trays instead of wheel trays for up to 2.25″ tires, a hitch lock, a tilt mechanism that can tilt away with the bikes loaded for cargo access as well as tilt at 90 degrees toward the car.
On top of this, the Saris Freedom has an attractive price tag costing almost half of what some of the other reviewed racks cost.
Cons
It doesn't come with a hitch lock to avoid theft of the rack when your car is parked someplace unattended. Doesn't come standard with tilt mechanism, however, you can order an optional universal replacement tilting base that's compatible with all Freedom hitch racks.
Overall verdict
The lightest e-bike rack on the market offers great value for your money. Obviously you will have to compromise a bit in terms of robustness and user friendliness.
8. Best 'any tire and frame size' e-bike rack: Kuat Racks NV 2.0
carries all kinds of e-bikes – 120 lbs max load capacity 120lbs, rack weight 56lbs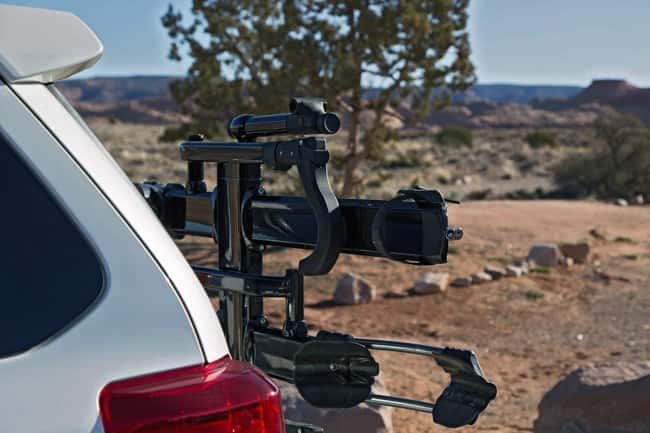 Another heavy-duty, versatile rack yet the Kuat NV 2.0 accommodates fat tires as well as long wheelbase bikes without having to purchase add-ons. Often compared with the Thule T2, this rack has a few features that make it stand out from its competitors.
Pros
Its well-designed platform lets you haul your electric bikes without wobbling or rattling. No back-breaking efforts to lift your bikes on the rack because the Kuat features an integrated loading ramp.
Its tilt feature allows easy access to your car's trunk. There's plenty of space between two mounted bikes. Adjustable cradles avoid bikes touching and scratching each other.
Comes with a locking cable and a matching locking hitch pin so you can leave your car with mounted rack unattended without worrying about theft.
Mounting the rack is simple. Just slide the locking hitch pin into the receiver and turn the rubberized tension knob to secure it. Assembly of the rack itself is easy too.

Something that most racks don't have; the NV 2.0 sports a TrailDoc work stand. Attach this to the rack so you can repair or adjust your bike while it's still on the rack thus saving you having to haul a heavy, bulky repair stand.
You can opt to carry 4 bikes on this rack too (provided you stay within the max. load capacity). The clever use of extruded aluminum arms makes the Kuat NV 2.0 one of the lightest four bike platform racks on the market.
Cons
In order to operate the pivot lever to make the rack tilt you might require the assistance of another person. Unlike the Thule XT it doesn't have wheels for easy transport.
The max load capacity of 120lbs is fine for most users although it prevents you from transporting two heavier than average bikes.
It's one of the heavier racks in terms of its own weight as well as in price tag although not as expensive as Thule XT.
Read more reviews and check prices here.
9. Best rack for 2 e-bikes and 2 normal bikes: Saris Superclamp EX
highest bike carrying capacity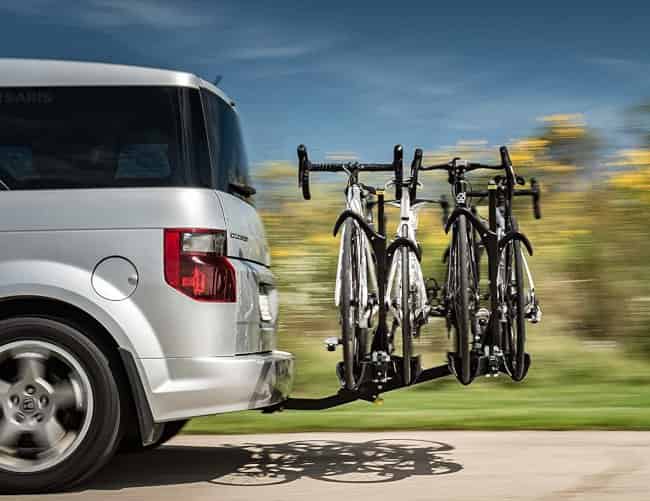 The Superclamp EX comes in a two bike and a four bike model. The four bike model weighs 63 lbs and has a maximum weight capacity of 190lbs. The inner bikes can weigh up to 60 lbs while the outer bikes can weigh 35 lbs max. It's suitable for both 1-1/4″ as well as 2″ hitches.
What we like
The Superclamp holds your bikes by the top of the wheels so there's no frame contact that might potentially cause damage. Suitable for 20″-29″ wheels and tires up to 4″. The carrier can be tilted down for quick and easy trunk access. Despite it being a large rack it's very stable and doesn't wobble, not even on bumpy roads.
Besides its ability to carry 4 bikes of which two e-bikes, the Superclamp comes with a lot of features too (it's even got an integrated bottle opener!). It has an built-in locking cable to lock your bikes to the rack. A locking hitch pin secures the rack to the  hitch. The outer wheel trays feature reflectors for increased visibility.
Its relatively low center of gravity makes on-boarding and off-loading bikes very easy. For the same reason this is one of the best racks for sport sedans and SUV's.
What we don't like
The main downside of this carrier lies in a lack of robustness. Users report that wheel trays, levers and a hitch base plate broke off.
On some cars/ hitches it's impossible to fold up the empty rack as there's not sufficient space. The locking cables are on the short side. The hitch locking pin needs to be tightened with a wrench to avoid wobbling.
The 4-bike model requires a 2″ hitch, although this is hardly a downside as it's quite obvious a smaller hitch won't suffice. Some users find they need help tilting the rack down when it's loaded with bikes.
Verdict
Since this is one of the few e-bike carriers that lets you haul four bikes in total – thus limiting your choice- it's advised to carefully weigh these downsides before purchasing. Make sure to thoroughly read up on customer experiences.
Electric Bicycle Car Rack FAQ
---
Q. Can you put an electric bicycle on a bike rack?
A. It depends mainly on the rack's weight capacity. Generally, you can't as normal bike racks have a lower weight capacity than the weight of electric bicycles. Weigh your e-bike with the battery taken off and see if you won't exceed the capacity of the rack. (put the batteries in the car trunk)
Q. What's the easiest e-bike rack to use?
A. The 3 to 4 main aspects that determine ease of use include; the rack is easy to mount on the hitch, it's easy to load bikes on, it's easy to store, and – additionally – it let's you access the car trunk when the rack is mounted and loaded.
Q. Which is the best e-bike rack for one or three bikes?
A.  Pretty much any rack is geared towards carrying two bikes. It's when you're in need of an outlier such as a single electric bicycle rack or a rack that carries three or more bikes when you'll have to do a lot more digging. Looking for a rack that carries just one e-Bike? Consider the Saris MTR 1-bike rack with a max. weight capacity of 60 pounds.
Q. I'm worried about scratching my shiny new e bikes when transporting them. What should I consider?
A. If you want to be absolutely sure the lacquer isn't damaged make sure to get a rack with the no-frame contact feature..
Q: Why are you only recommending hitch racks? Aren't trunk or roof racks viable options for carrying electric bicycles?
A: Trunk and roof racks were usable alternatives to hitch racks when hauling conventional bicycles. Since e-bikes are much heavier these options aren't really worth considering. Just imagine having to get your heavy e-bike on and off the roof of your car. Trunk rack weight capacity generally tops out at 35lbs per bike.
E-Bike Car Rack Buying Guide
Here's what to consider when purchasing a hitch rack for e-bikes
---
You've already made up your mind about how many bikes and what kind of bikes your new hitch bike rack will have to carry.
What more do you need to keep an eye out for in order to make a well-informed decision?
Here are some recommendations for e-bike carriers based on such personal situations.
Weight capacity. Roughly put, many new e-bikes weigh over 70 pounds, yet the load capacity of traditional bicycle racks is often limited at 50 pounds.
The average weight of e-bikes is 52 lb so you might get away with hauling one relatively light-weight e-bike on a traditional carrier but that's probably it.
Many of the best hitch racks for e-bikes have a 120lb total weight capacity. This lets you haul 2 electric bikes without their batteries. One rack in this overview is able to carry an impressive 160 lb in total.
Besides looking at e bike rack weight capacity there are other things to consider.
What kind of electric bicycles will you be carrying? For instance, bikes with fat tires, heavy mountain bikes, downhill rigs with longer frames, or other less traditional bikes?
What kind of attachment do you need? I.e. to the car's hitch, frame, spare tire, or fenders. Do need a rack that fits various receiver sizes? Want an e-bike rack that carries more than 2 bikes? A full-fendered rack? Is quick (un)loading very important to you?
What type of hitch(es) is it compatible with? Do you want to use the rack on more than one car? Do the cars have different hitches? Need it to fit 2″ or 1 1/4″ hitches or both?
Most hitch bike racks mount to the receiver of a trailer hitch. One can be retrofitted in case your car isn't equipped with a hitch receiver. (Keep in mind this involves an additional expense.)
Also remember that the total weight allowed in the hitch has to account for both the bikes AND the rack.  In other words, the total weight is limited by the tongue weight of the hitch.
Tongue weight capacity per hitch type
Light duty receiver hitches. Class 1: 1 1/4″ x 1 1/4″ receiver:  up to 200lbs
Regular duty receiver hitches. Class 2: 1 1/4″ x 1 1/4″ receiver:  up to 350lbs
Heavy duty receiver hitches. Class 3: 2″ receiver:  up to 750lbs
Super duty receiver hitches. . Class 4: 2″ and 2.5″ up to 1,700lbs
Is there a limit to its dimensions? For instance when you want to park your car with rack mounted and folded in a cramped garage.
Trunk access when bikes are mounted. Many e-bike racks have tilt features which allow you to access the back of your car without having to take the bikes off the rack. They don't all work similarly so make sure to check if the tilt feature is exactly what suits your needs best.
Does it allow you to drive in and out of the garage with the bikes loaded on the rack? For instance when you're loading bikes the evening before an early morning of cycling and want to store the car are bikes dry and secure.
How does the rack secure the bikes? Bikes with fenders will require a different way of clamping than bikes without. Does the rack secure on the bottom of the wheels, over the wheels (where fenders might be),  on the top cross bar or downtube (handy if you have full fenders)?
Does the rack feature tension adjustment to keep it from wobbling on the hitch mount?
Does it have lockable rack arms?  Do you need caster wheels to make storage easier for when carrying isn't an option. Want a (foldable) ramp to get bikes on and off the rack?
Which rack do you prefer to transport e-bikes?
Keep in mind, there's roughly two types of hitch-mounted bike racks.
1. Hanging bike racks which are racks that utilize arms and a mast to hold bicycles by the frame. More affordable and compact however generally not suitable to support heavy e-bikes.
2. Platform bike racks, known to carry various types and sizes of bike including e-bikes. Their versatility stems from the fact that bicycles are supported by the platform, reducing sway and wobble.
We've tried to do our best to help you pick the e-bike rack that's optimal for your situation or specific scenarios. Among these several choices, which rack do you prefer?
Doesn't the 160 lbs weight capacity suffice? Need a really heavy duty rack?  Look up the Guide Gear Fat Tire Bike Carrier Rack that can carry up to 200 lbs.
Share your questions or comments in the section below.