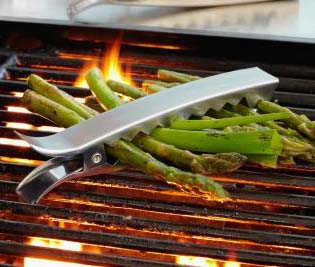 Manage your veggies like a BBQ-meister with Grill Clips. Paprika slices, onions, zucchini, peppers, green asparagus and more are kept in place and grilled evenly without any hassle.
Who isn't familiar with the struggly of keeping your smaller sized vegetables on the grill instead of below in the hot coal.?
As a result we often limited our choice to bell peppers and stuffed potatoes. With these grill clips there's a plethora of veggies you can now cook on the barbecue.
Last Updated on March 27, 2014 by Tyler