Smart doorbells do not solely bear the label 'smart' because they allow you to see who is at your door through your smartphone. Otherwise they would merely be digitally connected peepholes. Nope, there are more, very useful features these devices have to offer.
You can, for instance, interact with visitors through your smartphone or in case of the crazy ex- boyfriend or girlfriend, you may just want to act like you're not home (by spotting them on your smartphone app and diving behind the couch).
These doorbells have cameras and can send you alerts when someone has rung the bell, some even have motion sensors where you'll get an alert even if they don't ring the bell but just walk up to your porch. Also great is that they can let you know if the UPS guy finally dropped off the package you have been expecting while you are, for example, still at work.
Besides knowing who is at your door, wanted or unwanted guests, some of these connected devices can even trick burglars into thinking you are home by turning on the lights. Or even function as home security systems. Depending on which model you choose, the possibilities are almost endless.
Knock knock!
Who's there?
Five intelligent doorbells.
Okay, come in. We'd love to know what you guys have to offer.
1. SkyBell WiFi Doorbell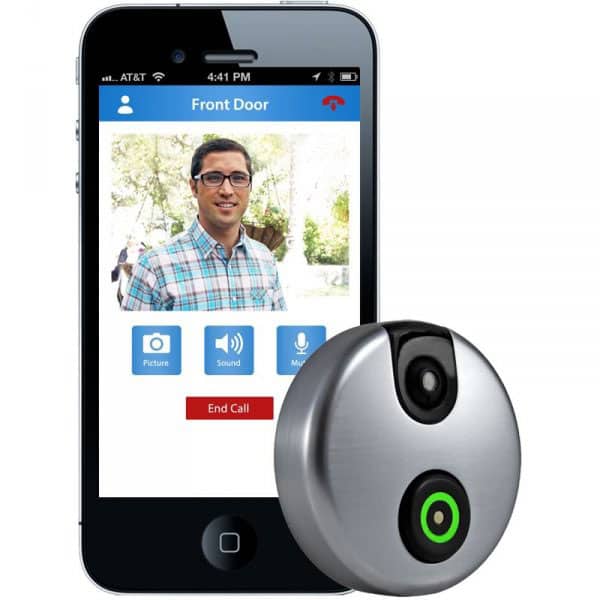 SkyBell, as you can tell by its name, uses WiFi for communication from the doorbell to your smartphone. It will send an alert and live video feed of who is at your door, through the app you can communicate with person at the door before you decide whether or not you want to invite them in. No need to actually go to the door and peep through the hole in order to find out who's there. No risk of being heard either.
Wide angle lens to see your whole doorstep
Nightvision
Motion Sensor (Know the delivery guy is there without him ringing the bell)
On-Demand Access (view your doorstep whenever you want through the app)
Compatible with iOS and Android
American company
Ring Video Doorbell (formerly Doorbot)
You may have previously heard of iDoorcam, it's rebranded as Skybell.
See how Skybell works here:
More info and reviews at Amazon.
2. Ring Smart Video doorbell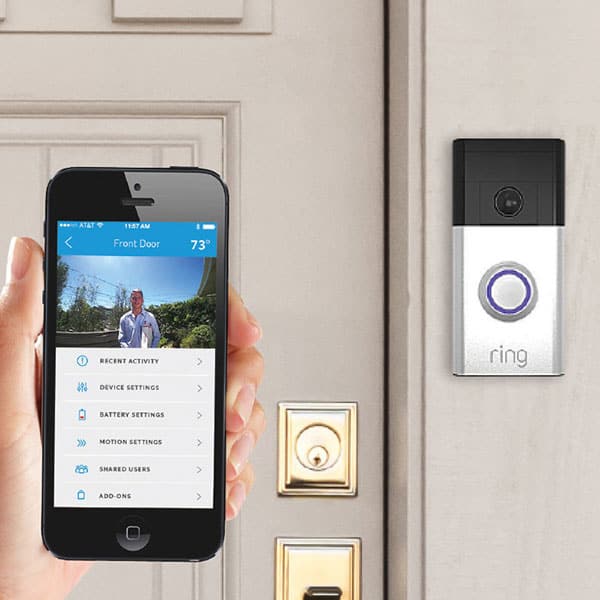 This doorbell is similar in that it lets you see on your smartphone screen what the camera registers. With the Ring app you will be able to see, hear and communicate with whoever is at your door, no matter where you are. Decide from the couch if you want to get up or even see who's at your door when at work or the beach during holiday.
However, the Ring Wi-Fi Enabled Video Doorbell has additional security features.
Get alerts whenever someone rings your doorbell or use the motion sensors for security purposes. The motion sensor can detect motion in four zones outside the front of your home and can alert you when it detects movement, it's got a very nice range too.
Wide angle HD lens
Large 4 zone motion sensor
Cloud recording
Compatible with both iOS and Android
Comes in four finishes
This doorbell isn't entirely new either. It's the former DoorBot. It works in combination with connected doorlocks such as Lockitron too. This way you don't even have to physically open the door anymore.
Ring is one of the most popular, if not the most popular video doorbell though. The invention got its first exposure on Shark Tank, and was just recently infused with investor cash from Richard Branson. The billionaire entrepreneur saw someone use his smartphone to interact with a UPS delivery man using Ring and "was immediately hooked by the product."
See how Ring works in this short video:
Ring costs $199. Order here.
3. Chui Intelligent Video Doorbell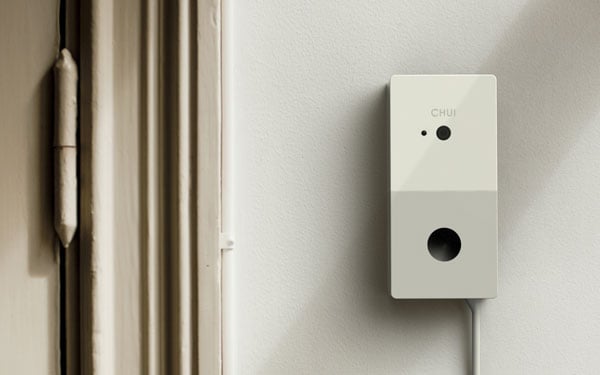 Uses facial recognition making your face your key. Besides a smart doorbell this is a home security system too. Thanks to its motion detection and live feed abilities you can use it to monitor what's going on inside the home.
If you want more than just a connected video doorbell than Chui may be your best option. This clever doorbell knows who's at your door because of facial recogniztion. It can make a photo of the person or inform you by life feed. It offers real time notifications, pre-recorded messages, motion detection, do not disturb and even has an automatic door unlock feature.
Because of its wide range of features, Chui has various cool features. What about being able to ignore that annoying neighbor always coming at the door about really nothing actually? Chui recognizes her/him and simply doesn't notify you of their presence if you don't want to. You don't have to ignore Mr. Naggingpants anymore, thanks to Chui you won't even know he's there.
Chui works in combination with smart doorlocks such as Lockitron and connected lighting systems such as Philips Hue. Once you are identified your lights switch on automatically.
two way audio, one way video
pre-recorded messages for specific individuals
'ignore' function
See how Chui works here:
Price: $199 (retail $249)
Check Chui out here.
4. YYGIFT Smart Video WiFi Doorbell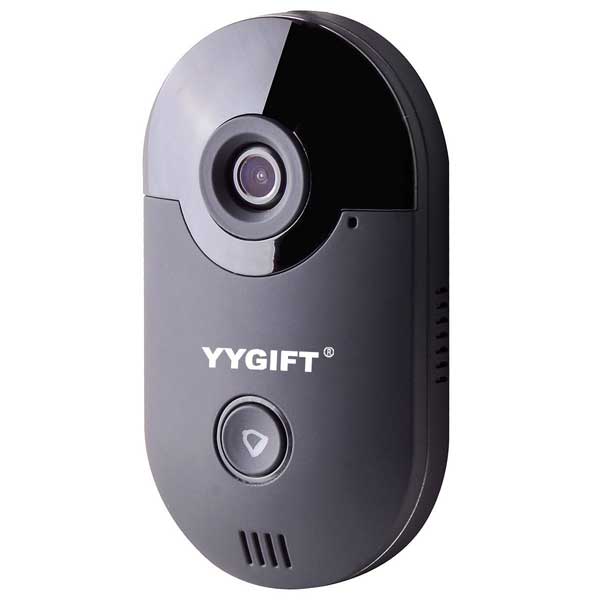 The YYGIFT is another video-linked doorbell that allows the user to both view and communicate with the person at the door using either an Apple or Android smartphone. When someone rings your bell your phone rings and you can choose to ignore or answer the call. You can also make a photo or video of the person at the door. The connection is made through your home's wireless system (can also be hard-wired using a standard RJ-45 cable).
You can see who is at the door from anywhere in your house and communicate with the person to tell them you'll be right there or just send them away.
The doorbell contains a wide, 135° lens with 0 lux night-vision capability, so you can know who is at the door at all hours of the day, under any light condition. You can improve your home's safety by always knowing who your visitors are before you get the door. Find out their identity and what they want with just a tap on your phone.
The incorporated night vision technology lets you view the area outside your door at distances of up to 10 meters, providing you with peace of mind around the clock. You can even answer your door remotely, through your smartphone, when you are not home. The DIY installation is simple, requiring some basic tools, and set-up is very easy.
Easy DIY installation.
Shatterproof ABS plastic construction.
Innovative wireless technology.
Two way audio, one way video.
Answer your front door from anywhere; even remotely from offsite.
See how the YYGIFT® works in this video:
Purchase.  $129,99.
5. Smartbel Remote Access Doorbell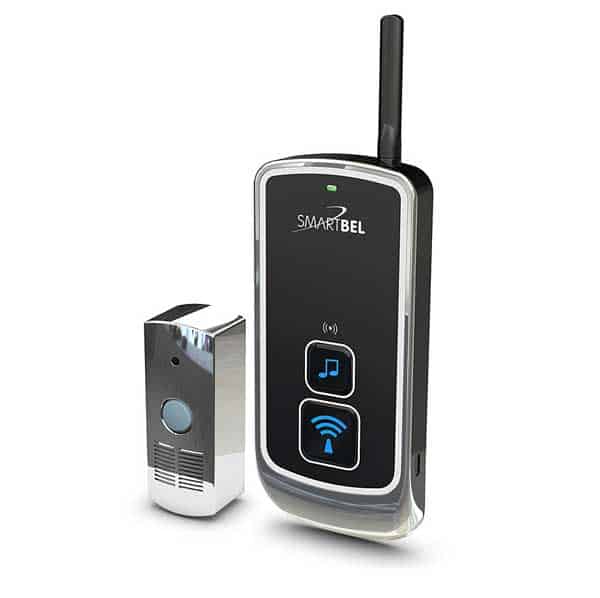 This is not a video doorbell but, as the manufacturer likes to say, an intelligent doorbell or global intercom. When somebody presses your doorbell, Smartbel calls your phone (mobile or landline) allowing you to speak to the visitor from wherever you are.
Smartbel is the creation of a 13 year old boy in the UK. He came up with it as a way to trick burglars into thinking you are home. Since most daytime crooks will actually knock on the door to see if anyone is home before breaking in, with the Smartbel you can anticipate by answering.
The clever lad even put a little white noise into it to make it sound more like an intercom system. Smartbel Intelligent Doorbell will call you when someone rings the bell.
Calls your mobile or home phone when someone rings the bell
You can communicate with who is at the door
Price: £129.95. More info at Smartbel.com or read Smartbel intelligent doorbell

reviews at Amazon.co.uk.
Concluding
As you can see, technology is allowing to help us in our lives and make things a little easier. These connected doorbells all make use of one way video so that there's no stream of you. Thus you can safely, seemingly answer the door even if you're on the beach.
Imagine being a mom at home with a baby, feeding, bathing, whatever you may happen to be doing and someone rings the bell. With any of these smart door bells you can see and answer the door without really having to stop what you are doing.
These are great for just knowing who is at your door and also for a peace of mind for those that suffer with anxiety. No more having to look out a peephole because you heard a noise, with most of these just jump on your app and check.
With all the features available and everything I think I would probably lean towards the Ring, but that's the paranoid in my talking, the added security of those 4 motion detected zones really appeal to me. But really, any of them would be good depending on which one suits your needs best.
About smart doorlocks
Smart/video doorbells are sometimes confused with automated door locks. This may happen because the two are commonly integrated creating even smarter, more high-tech gatekeeper devices.
Last Updated on October 6, 2015 by Tyler