If you're like me, having to go back up the porch to check if I really locked the door is part of the routine. Also double checking if I have my keys on me is normal day to day practice when leaving the house. These OCD type behaviors will be reduced with the arrival of smart doorlocks.
Smart locks are gaining in popularity these days since they offer more than just another way to keep your home secure. Using the latest technology these locks allow you to use your smartphone, tablet or computer to control and manage the locks on your house.
Some can be installed on the existing locks on your doors while others require you to put a whole new lock on. Besides being connected locks, some of the more advanced models give you extra perks along with it. They use WiFi and/or Bluetooth to communicate and most of them work with both Android and Apple. Let's look at seven of the popular smart locks out there.
Lockitron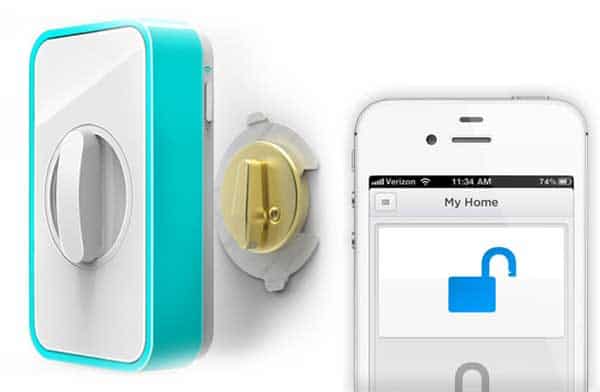 Lockitron is a fairly simple to use smart lock. It can be used on any smartphone to lock or unlock your door. Lockitron does not require you to install a new lock, their device slips over your existing deadbolt and fits almost every door. You can add users to the app so that they can lock or unlock the door and you can have it set where it alerts you when your door gets unlocked.
It uses WiFi to communicate for the most part, but does use Bluetooth when power is out and there is no WiFi available. If you have an older phone that doesn't have the touch screen abilities of today's phone, you can pay an extra monthly fee and can actually use text messages to lock and unlock your door.
Pro's
Does not require you to install a new door lock
Uses WiFi and Bluetooth connectivity
Sends alerts when door has been unlocked
Easy to use app that can be used anywhere
Con's
Small monthly fee to be able to send text messages to control the lock
Not always easy to install if deadbolt lock is not aligned properly
If you're looking for a simple smart lock that can be used on an existing lock, then the one by Lockitron may be one you want to look into. Not only is it great for your house, but because it installs over existing deadbolt locks, it can also be used on an apartment door.
$179. Check it out here.
Poly-Control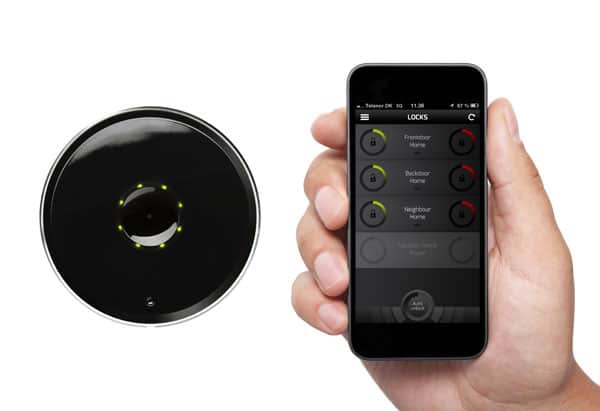 The Poly-Control Danalock is an elegant and simply designed smart lock that is packed full of features for the price. Installation is fairly simple and can be installed in about 10 minutes, it uses the existing door lock but replaces the thumb turn knob. It is compatible with just about every smartphone out there and you can choose to connect via Bluetooth or z-wave.
As with other smart locks, you control the lock through the app and can add users. You can control not only who has access by adding them, but you can also control the timing they can access the locks with their smartphones.
For example, if you have a cleaning lady come once a week, you can give her access for only that certain day of the week and you can also set the hours she has access for. You also can view the log activity for your smart lock, all the comings and goings and even battery level.
Pro's
Does not require a new door lock
Bluetooth and Z-wave connectivity
Control who has access and when
Activity log
Can be programmed to sense your arrival and unlock for you and lock after you enter
Con's
While it is a do it yourself installation, it is not easiest for those not used to doing these tasks
No WiFi connectivity
According to a CNet review it's "tough to recommend".
The Poly-Control Danalock is an impressive little smart lock that is packed full of features you wouldn't expect for the price point and can be used anywhere. However it's not really well reviewed and one of the least popular contenders among smart locks.
Price: $159 and up.
August Smartlock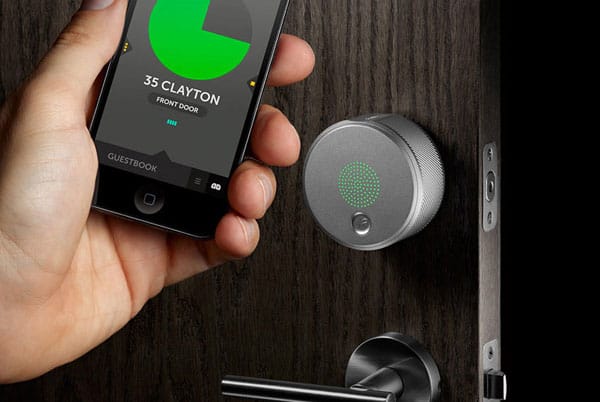 The August Smartlock uses Bluetooth technology instead of WiFi so you don't have to worry when the power goes out. Like other smart locks that are on the high end, you not only control who has access by granting them virtual keys, but you also can control when and how long they have access.
You can program it to sense when you arrive so that it unlocks the door for you so you do not have to grab your phone, great when your hands are full of groceries, you can also set it to lock behind you when you close it so you never have to worry about whether you locked the door or not.
The August Smartlock can be used by any smartphone that uses Bluetooth, which is virtually every phone out there so it should be compatible with yours too. They claim installation is easy and can be done is as little as 10 minutes. The smart lock itself will replace the interior part of your deadbolt, but will leave the exterior the same.
Pro's
Bluetooth connectivity, access with just about any smartphone
Can be programmed to unlock and lock when it senses you
Control who has access and when
Unobtrusive design
Con's
Installation not as easy unless you have handyman skills
A little expensive considering features as compared to lesser priced smart locks
The August Smartlock is packed full of features in an unobtrusive design, price is a little high as compared to other smart locks with similar features.
$ 250. More info at August.com.
Goji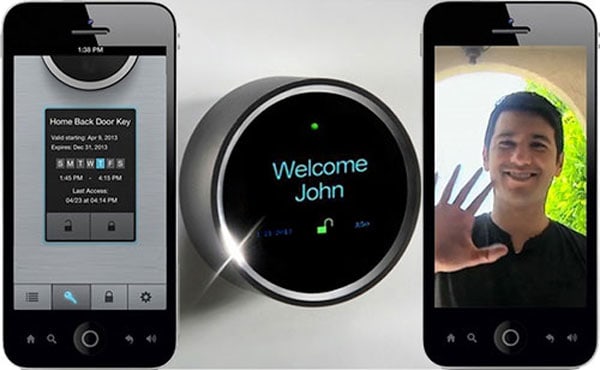 The Goji smart lock is one of the high end smart locks because it offers all the bells and whistles that the other ones don't always offer, of course you do pay a price for all the extra features. As with most smart locks, it uses Bluetooth for it's connectivity because of the always on versus WiFi which is dependent on electricity.
It can unlock the door as you approach so you don't even need to have your phone out. Goji also has Bluetooth fobs that you can give out for kids and others who don't have a smartphone to use, this way they can have access also and the fobs come with an actual key just in case.
Just like all the others, you have logs that keep you apprised of the activity and battery life, but another big feature the Goji has is that it will take a picture of who is at your door and send it to you real time. They claim it is simple to install and the Goji completely replaces your deadbolt.
Pro's
Loaded with tons of features
Senses your approach and unlocks for you
Takes a picture of who is at your door and sends it real time
Bluetooth connectivity
Fairly easy to install
Con's
Does not work with all smartphones, only iPhone 4 and newer and Android 4.4 and up with Bluetooth 4
Expensive
Price: $278. Hit up the link for more info. Gojiaccess.
Schlage Connect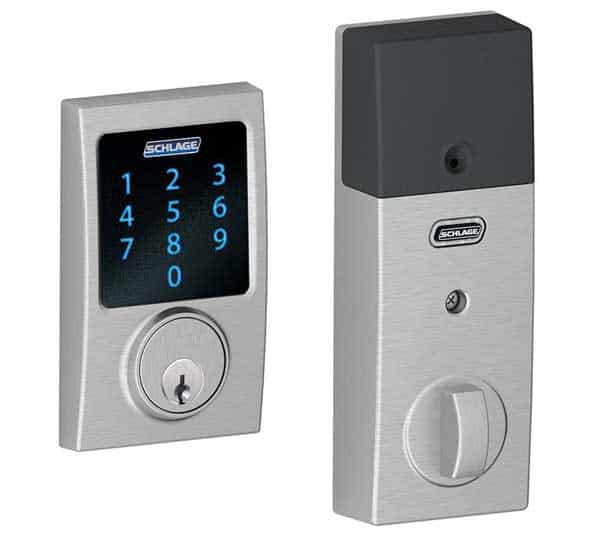 The Schlage Touchscreen Deadbolt is a little different from all the other smart locks out there. You can use your smartphone to control it, but the smart lock itself is actually a touchpad where you input a code to unlock or lock it.
It also has an alarm that has three different levels to alert you, quite interesting that they combine this technology and you can control everything from your smartphone or tablet. Installation requires complete replacement of your deadbolt with the Schlage.
Pro's
Control easily with your smartphone or tablet from anywhere
Fingerprint resistant keypad
Alarm
Con's
Requires complete replacement of your deadbolt
Not a lot of features for the price
The Schlage reminds of the kind of keypad locks only the rich could afford back when the technology came out. While it has come down to be more affordable for the average person, it lacks features that other smart locks out there have. Yet still it is a popular lock that has a 4 out of 5 star rating on Amazon.
$174.48. More info on Amazon.
Kevo Smart Lock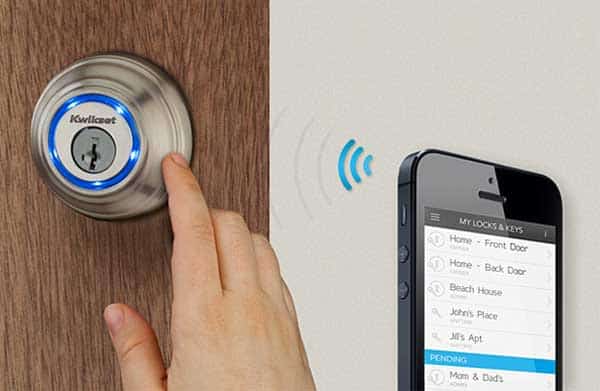 The Kevo Smart Lock combines today's technology and a kwikset deadbolt, how cool is that? With the Kevo Smart Lock, you can use the app to lock and unlock your door, assign ekeys to give family members or others access.
With the app you can view all the logs to see the activity which will tell you who has access and when the lock was unlocked or locked. The Kevo Smart Lock is fairly new and only works with the latest smartphones, it works on Apple iOS and select Android 5.0 Lollipop devices. Don't have one of these devices? They have fobs which can control your lock that have already been set up.
Pro's
Looks just like a regular deadbolt so it won't stick out
Can assign ekeys for access for others
Kwikset backing
Con's
Only works with the very latest smartphones
If you don't have the latest smartphone, it's expensive
With an Amazon review rating of three out of four stars it's not very well-reviewed
The Kevo Smart Lock is a very nondescript way to use today's technology for your homes locks. The Kwikset name gives it a lot of leverage with the known name, but with it only working with the latest top smartphones right now it leaves a lot of people out.
$199. More info at Kwikset.com
Haven Smart Lock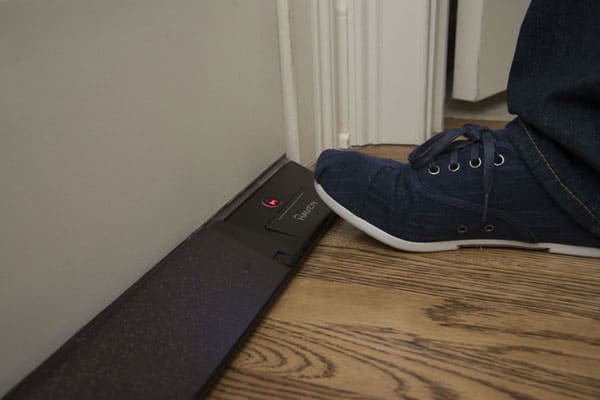 Haven essentially is a wedge fixed at the base of the door with an accordion lift gate offering extra security on top of the conventional deadbolt lock. Besides adding a security layer on another part of your door, Haven is super strong. Made out of steel, aluminum and glass reinforced nylon the lock is battering ram tested.
It makes use of wifi, Bluetooth and an accelerometer able to detect excessive force applied on the door. If that happens an alert is sent. Additional cool features are provided by the ability to connect Haven to other home automation products such as Apple HomeKit and Google Nest. If connected you can for instance have Haven turn on the lights when it detects suspicious activity.
199$. Expected to be available in summer 2015. More info here.
Final Thoughts
With all the technology out there it really is a no-brainer that people will move towards smart locks. These locks that were covered go from basic features to loaded with all the features you could want.
Depending on your situation, any of these locks would be good, the ones that stick out the most for meis the Goji.
The Goji really stuck out because of the camera with all the other features, but the price may be a sticking point for some that just can't afford to spend that much on a smart lock, which would make the Poly-Control smart lock the perfect choice for people who are financially challenged.
Any of these smart locks would be a good choice, you just have to find the right one that fits your needs best. There's little doubt that any of these smart door locks will help simplify your life as well as add security to it.
Which lock do you think will suit you best?
Update Feb 10 2106: a newcomer to the smart door locks market is Latch which promises to offer the first solution that works for everyone. Advertised as "the first smart access system that works for your apartment, your office, and your home." More to come soon.
Last Updated on February 10, 2016 by Tyler