Last Updated on March 26, 2014 by hobbr.com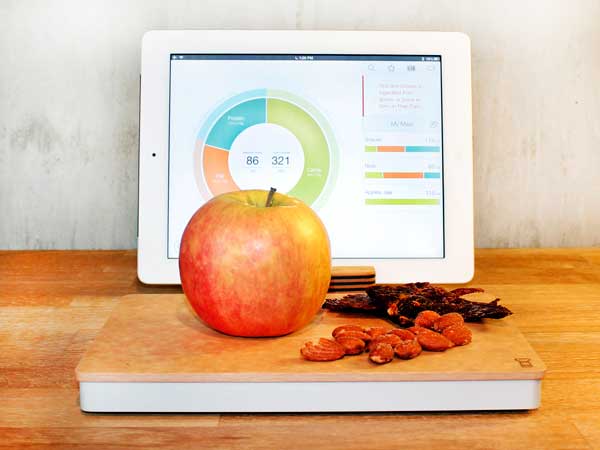 This smart kitchen scale gives you a better insight in your eating habits. The Prep Pad is an iPad (or iPhone) connected scale that exactly shows you nutritional information based on the weight of the foods you put on it.
After typing or scanning a bar code of the food it shows visualizations of the amount of carbs, protein, fats, and more, present in the food. The device works with brand name foods and home made foods.
You can set nutritional goals and streamline your recipes with your dietary goals. Multiple user accounts are supported. It lets you save and share your meals and recipes on Facebook and Twitter.
You can also measure nutritional information of recipes. The corresponding app (called Countertop) connects to a database of 300,000 foods.
You may for example become more aware that 20 almonds in a salad is quite a lot of calories. Or that that apple, however all carbs, consists of healthy carbs.
That's why it makes a great teaching device for kids too. Prep Pad helps you understand food better, know better what you are doing in the kitchen, eat and be healthier, feel better.
I'm not sure if it provides insight in your Omega 3 vs Omega 6 essential fatty acids ratio or your alkaline vs base food intake but if not that will probably be part of future app releases.
Constructed out of an aluminium frame with a paper composite surface that that allows for easy cleaning it has a sensitive downweight sensor with +/-1gram accuracy.
Prep Pad brings next generation cooking into your kitchen. See the video below for other things you can do with the Prep Pad.