Pain in your lower back. Stiffness in your knees. Aching in your thighs. For those that work at a desk all day, these symptoms are all too familiar.
Some spend thousands of dollars for ergonomically-designed leather office chairs with lumbar support, but the pain returns should you choose to work outside of your $3,000 chair for the afternoon.
Especially in our day and age of telecommuting (working slouched on the sofa) and digital nomadism (sitting curled up behind your laptop in a crowded Bangkok coffee shop) we often forget to consider ergonomics.
But, it doesn't have to be that way.
The Edge desk has your back.
The revolutionary transformable folding desk combines the ergonomics and productivity enhancing qualities* of a kneeling chair with an adjustable desk surface. (* Due to continual, controlled movement, kneeling stools promote active sitting.)
Because of the way they distribute pressure one of the main kneeling desk chair benefits includes improved posture and less pressure on your back.
This portable multipurpose desk keeps you in an ideal position to rid you of those pesky leg aches and all of that lower back pain while giving you a completely adjustable workspace that you can tailor to suit your needs.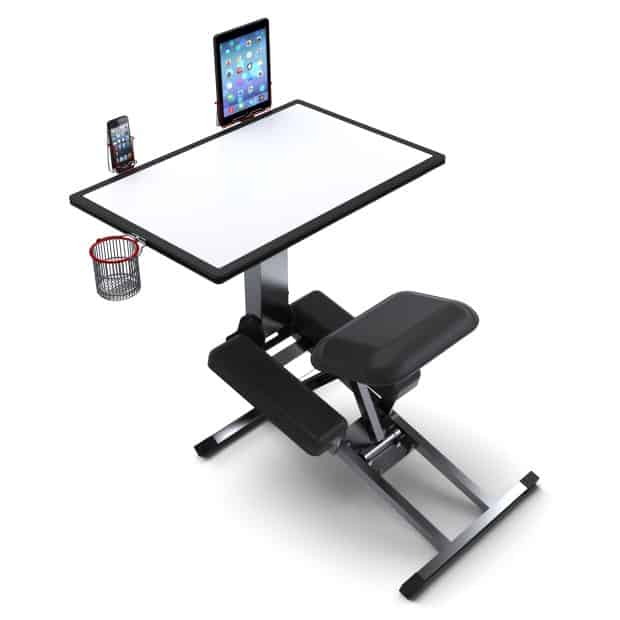 The desktop adjusts to multiple angles and can be switched between a landscape and a portrait layout, depending on your working needs, and the desk itself is adjustable in five different areas to fit multiple combinations of body types.
This three-in-one desk, easel, and chair fits any artist's, student's, or freelancer's needs.
The Edge has accessories that can be added, like cup and tablet holders, that give this easily-accessible workspace the kind of personal touch it needs to make it your own.
It comes fully assembled, takes less than 30 seconds to set up, and folds up to a mere 6 inches in height.
The Edge is the most comfortable, portable workspace on the market.
Our technology has evolved from the wheel all the way to Turing machines and handheld tablets. It's about time our workspaces evolved along with us.
Check out The Edge Desk here and you may be able to quit spending thousands of dollars on ergonomic office furniture.
Your back, and your wallet, will thank you.
Visit The Edge Desk.
Sources
Independent research on the ergonomic benefits of kneeling chairs.
Ergonomically designed kneeling chairs are they worth it? : Comparison of sagittal lumbar curvature in two different seating postures. PubMed.
Last Updated on November 3, 2020 by Tyler