Kitting out a kids game room can be a real exercise in nostalgia. It's a chance to stock up on all the favorites you loved as a child, while perhaps treating your kids to something special which your own parents couldn't afford.
But it's not just about children's games: with a little thought, you can easily find games which the whole family can enjoy together. From competitive sports like ping-pong to a peaceful game of dominoes, there are so many activities which bring together people of all ages.
Unless you're lucky enough to have a whole basement to use as a rec room, space will probably be a consideration: many of the most popular family games are designed to be easily dismantled and stored, so you can keep a variety of activities in even the smallest kids room.
Here we go, 27 kids game room ideas.
1. Klask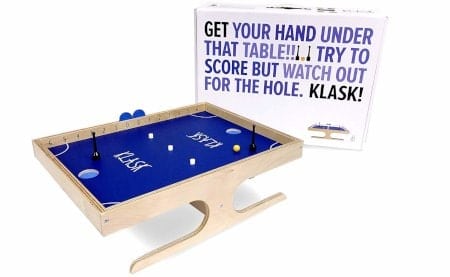 Klask is a clever variant on table football. Instead of controlling your players using handles on the side, you use a magnet underneath the table to move your pieces into the opponent's goal.
Since being invented in a garage in 2013, it's become a popular bar game in Denmark – the word "klask!" is a Danish onomatopoeia, mimicking the noise made when a piece tumbles into the goal. It's great for family playing. Since everyone is trying to maneuver without being able to see what they're doing, it evens the playing field between adults and kids
2. Skee ball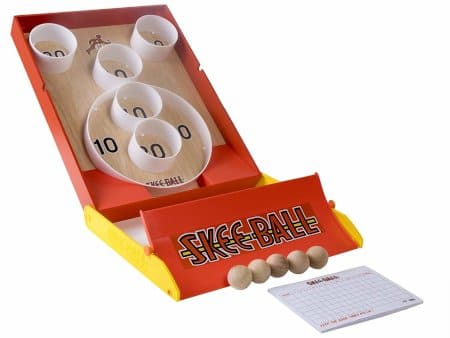 Skeeball is a classic arcade game and this is an officially licensed portable version. The concept is simple – just roll a ball up the ramp and try to fire it into one of the scoring circles.
There are lots of adjustments to change the level of difficulty, meaning it can work for players of any age – for example, younger players can roll from closer to the ramp or even try throwing the balls directly into the circles. You can play solo or in teams, so you can hone your skills even when you're home alone.
3. Arcade basketball game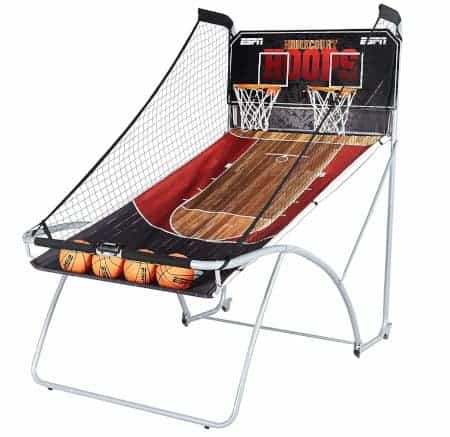 Great for energetic kids on rainy days, this arcade game turns a basketball shootout into a fun indoors game. It has two 12" metal hoops and comes with four 7" basketballs for solo play or shootouts.
Arcade sound effects keep the tension high, and an LED scoring system means no more squabbling about whether a ball went in. This bestselling indoor basketball game is 4 feet wide and over 6ft high, meaning it's large enough to suit adults as well, but it's made from fabric stretched over a metal frame which folds conveniently down for storage.
4. Nok hockey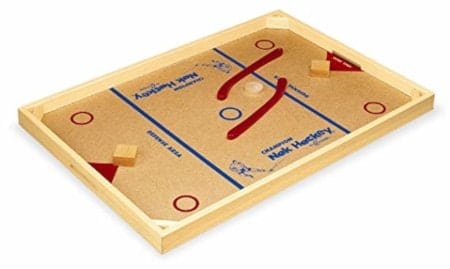 Nok-hockey is a zero-electronics competitive game for any sports-mad kid. You may remember the simple idea from summer camp: a wooden board, two plastic sticks, and small flat pucks to fire into your opponent's goal.
It requires skill but no physical strength, ideal for competitions between family members of very different sizes and ages. And since there are no electronic components or moving parts, there's no risk of it being damaged when kids get carried away.
5. Air hockey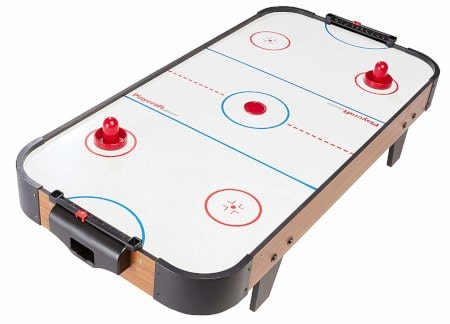 At just 40" long, this is a miniature air-hockey game with all the fun of a full-sized version. Kids love the quick and noisy movement of the pucks, and anyone who was a teen in the 80s and 90s will have fond memories of playing air hockey arcade games. It's tabletop sized, which means it's easy to store away when not in use – ideal for smaller kids game rooms.
6. Fastrack NHL board game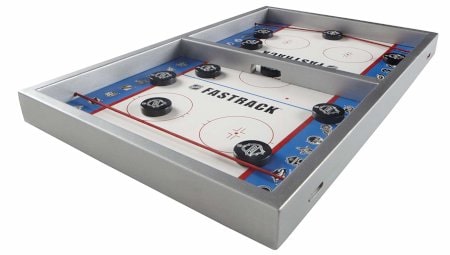 This fast-moving game takes the simple concept of air hockey and cranks up the tension. Each player has a stretched piece of elastic at their end of the board, and the aim is to ping all your pucks through a central slit and onto your opponent's half of the board. It's a simple concept but the game gets highly competitive. And since it requires zero electricity, it's an easy way to lure kids off their devices.
7. Tabletop pool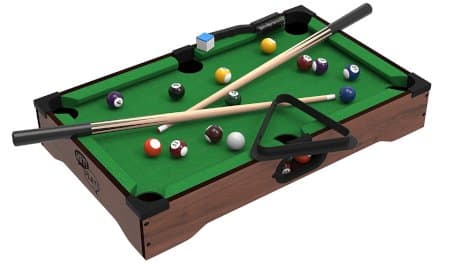 You don't need a large kids games room or basement to enjoy playing pool at home. This mini pool table is about a third of the size of a regular pool table, but accurate in all other respects: sixteen balls with a decent weight to them, two solid-wood cues, and a triangle to get the correct set-up. Teenagers often go through a phase of thinking they're too cool to play rec room games, but this one is an exact replica of a bar game, so even the most cynical 15-year-old will play it.
8. Beanbag toss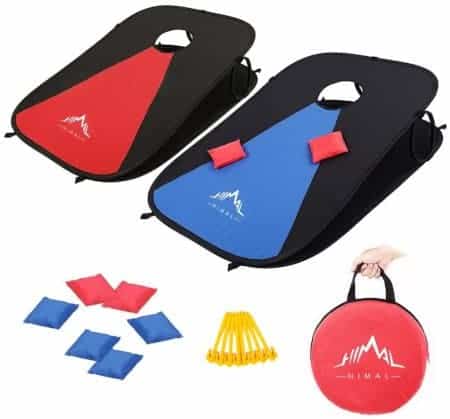 Cornhole toss is the classic game of beanbag throwing, suitable for all the family. These collapsible boards make it easy to quickly set up a game, indoors or outdoors. They have a collapsible wire so they can spring into shape without any setup, and they come with stakes to keep them in place on windy beaches and picnics.
A regular game of cornhole beanbag toss takes a lot of space, so these smaller portable boards are ideal for playing indoors. Since the beanbags are slightly lighter than the official size for cornhole toss, kids can happily fling them around the games room without a risk of damaging anything.
9. Toy grabber claw machine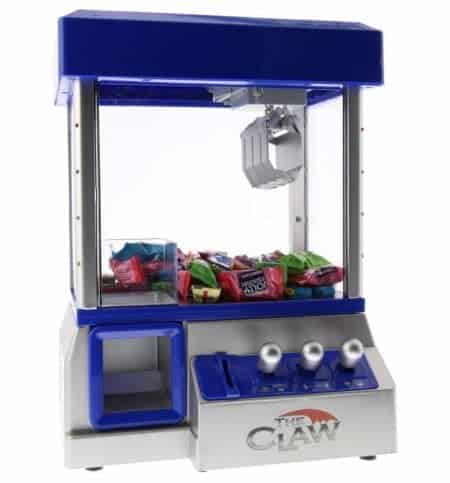 Every kid loves the claw machines at the arcade – but at $1 or more a game, it's an expensive hobby. This miniature version offers the same thrill of trying to pick up prizes, but kids can play to their hearts' content by feeding in plastic coins.
Fill it with small toys, snacks, or gum, and watch it become the center of attention at any party – even a grown-up gathering. It's roughly the size of a backpack, which means it's big enough to be sturdy on a tabletop but small enough to store in a cupboard when not in use.
10. Foam bowling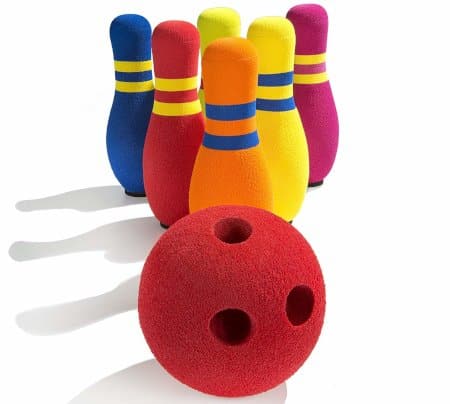 Everyone loves bowling, and this light foam set means you can practice at home with no risk of damage to furniture. The popular foam bowling set sets up quickly in any game room or hallway and tidies away into a small plastic pouch when not in use. Since the balls are light, it's a game of skill rather than strength, ideal for competitions between siblings of different ages.
11. Magnetic darts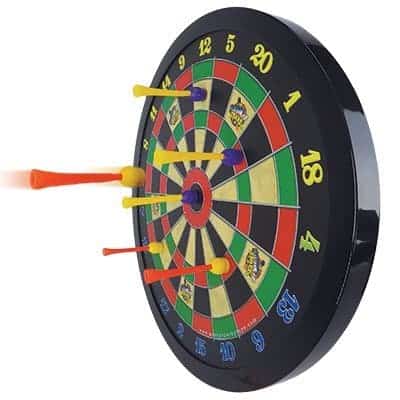 Kids love darts, but parents usually aren't so keen. These magnetic darts stick to the board with powerful magnets, so if someone misses a throw, the dart will bounce harmlessly to the floor rather than punching holes in the wall. Not only is it a fun game which improves co-ordination, but calculating darts scores is a great way to practice math skills – quick, what's triple 18, plus double 8, plus 13?
12. Jumbo checkers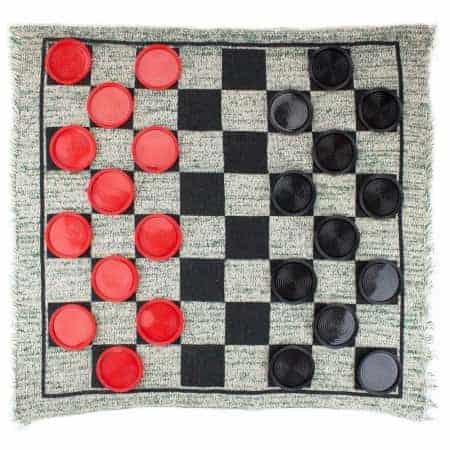 This soft game rug comes printed with a checkers board on one side and two variants of tic-tac-toe on the other. It's made from a soft jersey fabric which rolls up small for portability, and it can easily be throw into the washing machine if it gets grubby from little ones' sticky fingers.
Checkers is one of the simplest board games there is, but it's a great way to introduce kids to strategy games, and there's no greater satisfaction for a kid than beating Grandpa at a 'grown-up' game like this.
13. Tumbling Towers giant jumbo game blocks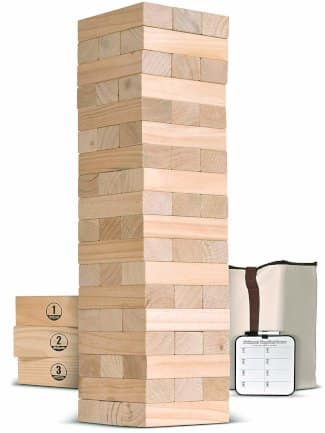 This twist on the classic game of Jenga grows up to five feet tall, ideal for families to play together in large groups. Little children love the clatter when it all falls down, and adults get competitive over pulling out precariously-balanced blocks.
This wooden toppling tower set comes with numbered blocks and a dry-erase board to set your own rules – maybe drawing a 1 means 'take another block', 2 means 'skip the next player', or whatever. Don't tell the kids, but this also means it works great as a drinking game once the younger ones are safely in bed.
14. Nerf game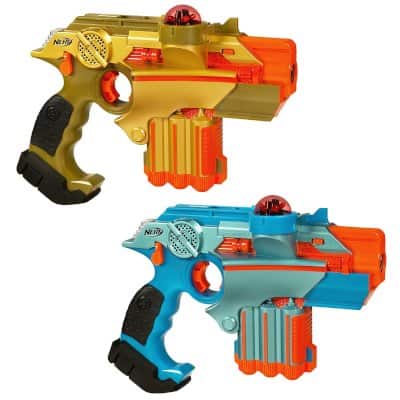 Hand a kid a banana, a stick, or a baguette, and they'll probably pretend it's a weapon. If you've ever had a dent in your wall made by over-enthusiastic sword-fighting, then you'll appreciate these laser guns. Instead of shooting projectiles, they fire beams of light and register hits with flashes and bleeps.
You can assign players to teams or simply play a free-for-all, and the guns work inside or outdoors. Each player can set their gun to fire either 10 or 25 shots before they're 'out', which means you can even the playing field between players of different skill levels – older or more experienced players can start with 10 shots while beginners can start with 25, to make the competition more evenly balanced.
15. Wooden tabletop soccer pinball game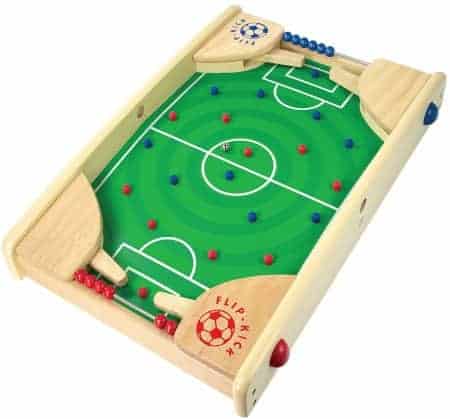 This game combines elements of foosball and pinball for a quick-moving competition. Players fire their balls using flippers and try to get it into their opponents' goal. Rubber nubs on the board represent the players of opposing teams, and when the ball hits a player it will bounce off at an unexpected angle. Since the board is made of sturdy wood and has no electronics to come loose, it'll last for years even when bashed about by excited kids.
16. Indoor hover ball soccer goal set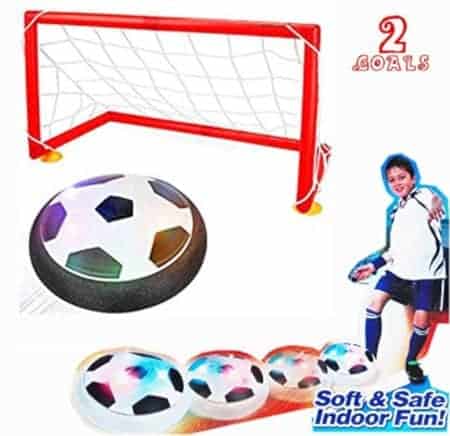 What do you do with energetic kids on rainy days? You want them to burn off some of their energy without trashing the house. This hover-ball set allows anyone to practice their soccer skills indoors – safely.
The battery-powered hoverball floats across any hard surface but can't be kicked up high enough to break windows, and the soft foam edging means it won't damage anything it knocks into. The set comes with two easy-to-assemble plastic goals, so kids can set up a mini soccer game in a rec room.
17. Karaoke system
From family Christmas to bachelorette parties, it's amazing how many situations can be livened up with a karaoke machine. And there's no need to limit yourself to "I Will Survive".
This machine is Bluetooth-enabled and comes with access to a music app, so all ages can sing their favorite tracks. You can also hook it up to your TV screen or iPad for singalong scrolling lyrics. Many kids love to put on performances, and this professional-looking microphone makes them feel like your basement games room is an auditorium.
18. Gumball machine
This vintage-style candy machine will appeal to curious children and nostalgic grandparents alike. It comes with a detachable stand, so you can either stand it in the rec room as a permanent fixture, or pop it on the tabletop for parties.
A gumball is a brilliant way to encourage your family to save money – the machine accepts any coins (pennies, nickels, dimes, etc) so once kids have finished the gumballs they can open the machine and see how much money they've collected.
19. Electronic dance mat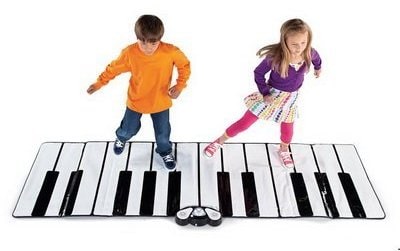 Young children love music and movement, and this roll-out keyboard mat introduces them to music making in a fun and active way. Notes play as kids step on the keys: they can play around on their own or collaborate with others for a duet.
The keyboard playmat is the size of a floor runner, but rolls up small enough to fit in a drawer, so you can easily roll it out on a small kids room or even along a corridor. As it runs on batteries (4xAA), the mat is fully portable since you don't need to worry about plugging it in.
20. 4 in 1 Game rug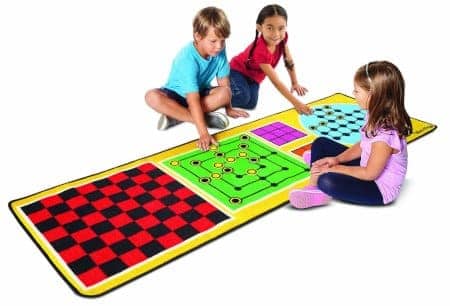 This roll-out game rug features four traditional children's games – tic-tac-toe, nine men's morris, checkers, and peg solitaire. Young kids will love playing tic-tac-toe with the tough reversible game counters, and older players will enjoy learning the more challenging strategy games. The mat is machine washable with a non-slip backing, which makes it safe and hygienic to play on the floor.
21. Carpet shuffleboard game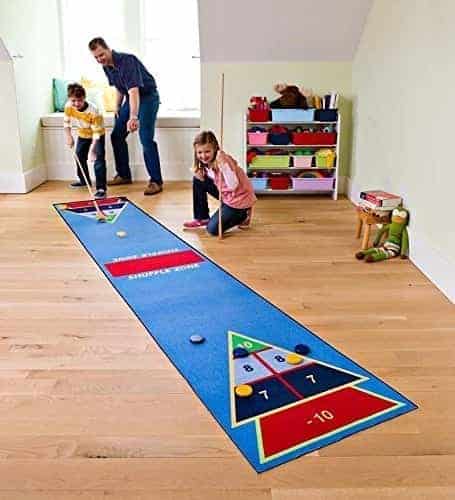 Shuffleboard is a classic competitive game, still played in bars across the world. Hit the pucks across the board: you'll score more highly the further you go, but you'll lose points if you overshoot.
It's great fun and suitable for all ages, but the standard game is played on a 22ft wooden table which is sprinkled with fine-grained sand – not really a practical option for your games room.
This floor mat turns it into a fun floor game – roll out the 12ft mat on any flat surface, indoors or outdoors, and start hitting the wooden pucks. Once you're done, just roll the board up like a rug and tuck it away out of sight.
22. Tabletop curling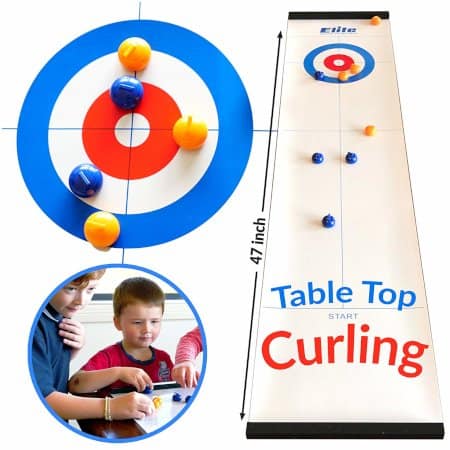 Famed as the world's weirdest-looking winter sport, curling requires a huge amount of skill and accuracy. This glossy roll-out mat simulates the surface of ice, and comes with weighted curling stones which slide dramatically into the scoring ring.
The sliding action is simple enough for young kids to master, but still challenging for adults, making this a fun game for inter-generational competitions – Mom and Dad have no advantage here. A great one to bring out during the Winter Olympics.
23. Ping pong / table tennis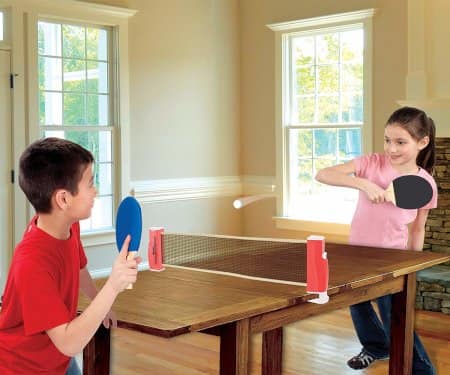 Ping-pong was originally invented in Victorian times as a way for tennis-lovers to keep training over winter without breaking things around the house – making it an ideal game for a rec room. Depending on how much effort you put in, it can be either a gentle game or a demanding workout.
This portable set means you can suggest a game of ping-pong on a rainy afternoon, without the commitment of having a full-sized table in the house. Just stretch out the retractable net and clip it to either side of a standard kitchen table, and you've got a game of ping-pong ready to go.
24. Combination game table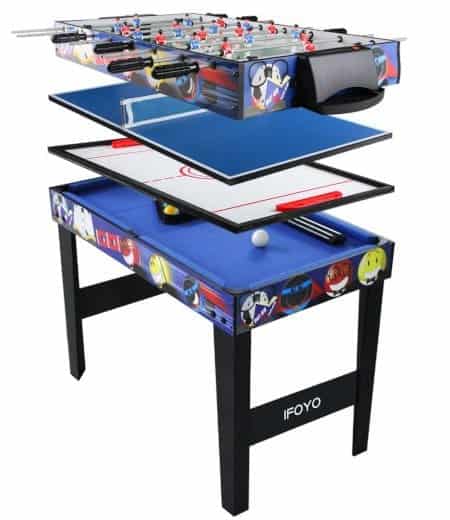 Why buy a single-use games table, when you could get four in one? This combo game table has interchangeable tops for playing foosball, pool, table tennis, and hockey. When you're tired of one game, just swap the tops to play another.
The tops stack securely underneath each other, so there's no worry about finding storage for three unused tabletops. If all your family have different hobbies, this table is a great compromise for the games room.
25. Wooden dominoes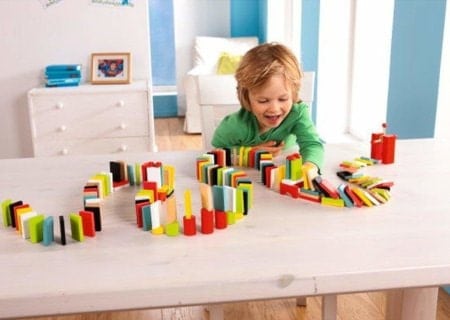 Kids are endlessly imaginative. This set of a thousand dominoes could be stacked into a train and knocked over, like the manufacturer suggests. Or the dominoes could be built up into a castle, or arranged into a picture on the floor, or piled up by color, or any one of a dozen creative things your kids can think of. Setting dominoes up as a train teaches creativity and patience, and it's a lovely low-stress activity for shy children to do with relatives they don't know very well.
26. Crazy Forts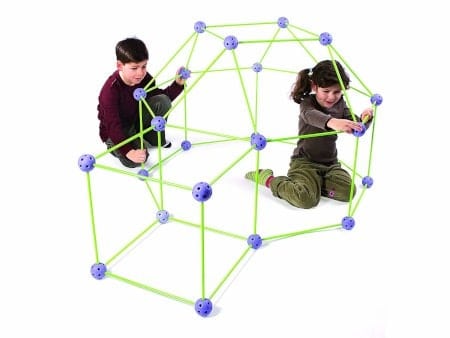 Remember how much fun it was building pillow forts when you were a kid? This clever mix-and-match building kit allows kids to construct their own dens quickly and safely: just lock the framework together into whatever shape you like, then drape over a bedsheet as a cover. They have all the fun of constructing their own hideaway, but without stripping the cushions off the sofa and rearranging all the furniture.
27. Giant 4 in A Row, 4 to Score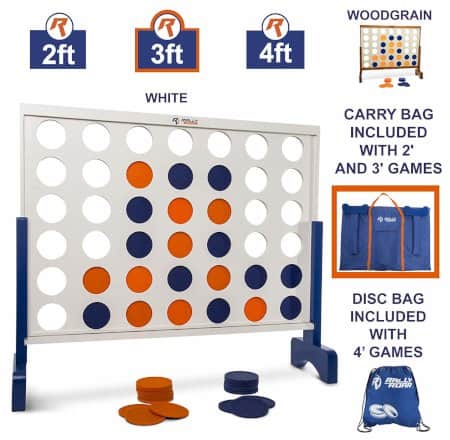 This giant grid takes the classic game of Connect 4 and enlarges it to a large family game. With boards available in 2ft. 3ft, and 4ft sizes, you can choose the best dimensions to fit your games room.
It fits together quickly and without tools, so you can also dismantle it and carry it elsewhere for family parties and picnics. Since the game has such a simple concept, it's suitable for adults and children to play together.
Want more?
Sure you do.
Last Updated on January 3, 2019 by Tyler