Last Updated on November 15, 2016 by hobbr.com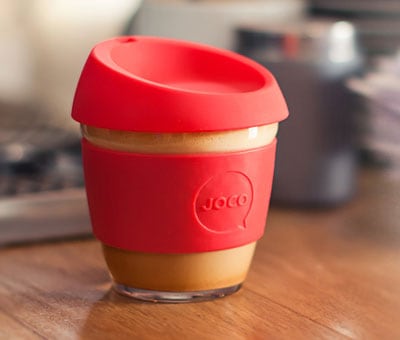 San Francisco recently banned the sale of plastic water bottles. Other measures and solutions to limit our waste production are omnipresent. The highly stylish, well-designed reusable coffee cup by Joco belongs to those.
With Joco you don't need paper cups for to-go coffee anymore. You don't want them either since this cup has some additional perks over paper cups.
It is lightweight, sturdy, features an anti-splash lid and thermal sleeve that keeps your java longer steaming hot.
It fits nicely in your hand with its sleek ergonomic shape and the lid is designed to be nose-stain-proof.
The designers even thought about how to improve dissolving your additives. They created a cyclonic base that pulls additives to the center for easier stirring.
Made out of borosilicate glass and .. JOCO cups make conscious living more fun.
Are you ready to discard paper and pick glass? Go to Jococups.com for more info.
You may like