A good cup of coffee takes time. From grinding the beans to brewing, it can take 15 minutes to make the perfect cup. Who has that kind of time? Even the barista at your local Starbucks can only spend 90 seconds on each drink.
Enter the remote-controlled coffee maker. Load the machine with beans and water, link it to your smartphone via an app, and you can set it to make a drink with no more input from you. Once your drink is ready, you'll get a text summoning you to pick it up.
You can sync the app to your alarm, so there's always a cup of coffee waiting for you when you get downstairs.
Get the machine to automatically pour you a coffee just before your regular work break, so you can spend your break relaxing instead of waiting for your drink to brew.
Or set the machine to make you a mild cup when you get in from work in the evening, so you have that delicious smell to welcome you home.
Is it worth paying twice the price, or more, for a special coffee maker which is app-enabled and Android IOS compatible? You could plug your regular drip-filter coffee machine into a smart switch, and then you'll be able to turn it on remotely.
You could even use an old-fashioned timer switch. If all you want is a cup of something hot and caffeinated to greet you when you get up in the morning, then a wifi-linked coffee machine is probably not the right choice.
But if you're a serious coffee fan, a good app-enabled coffee maker can do so much more than just make you a drink while you're still in the shower.
They give you a level of control which is rarely found in home coffee machines – from how finely they grind the beans, to how long they keep your drink warm, you can use your smartphone to design exactly how you want your coffee.
1. Auroma One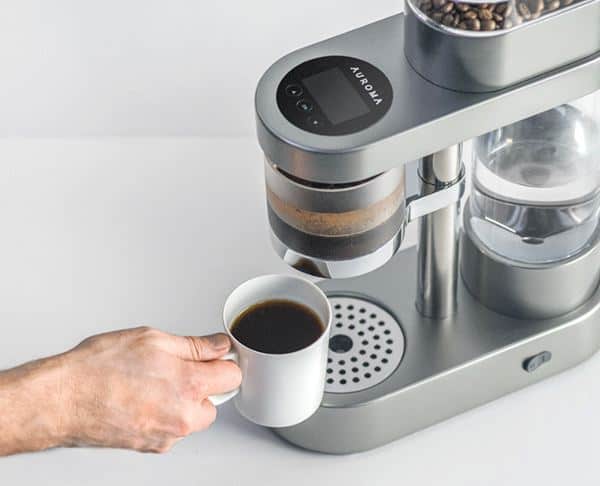 After a wildly successful Kickstarter campaign, the Aurora One is now available for pre-order. It's a bean-to-cup coffee maker which allows you to control all the variables that make a cup of coffee, from the coarseness of the grind to the temperature of the water.
There are a few fancy flourishes, like conductivity sensors to monitor the strength of the brew and an embedded scale to help you get the exact ratio of coffee grounds to water (other machines go by volume, so packing the grounds in tightly will result in a stronger coffee). You can even create a home-made tasting flight of 3 tiny coffees each from a differently-ground bean.
The exact brewing process is a highly guarded secret with patents pending, but the manufacturers claim it "combines the clarity of pour-over with the steeping of French press."
The built-in burr grinder will allow you the freshest possible taste, and the 1.2L water reservoir holds enough for five cups. It also works with ground coffee.
Once you set the variables through the app, the machine is fully automated, and you can pre-set it to go on at different times. There's also the option to save several different people's preferences, so there's no need to go through the fuss of setting up a whole new flavor profile every time you make a cup for a guest.
There are a couple of issues with the Aurora. Obviously, since it's currently in pre-order stages, nobody has any idea whether it will make good coffee. At the moment, it's not Android IOS compatible, so unless you have an Iphone you'll be stuck using the manual operation buttons on the front.
Head to Auroma Brewing to learn more.
2. Mr. Coffee WiFi brewer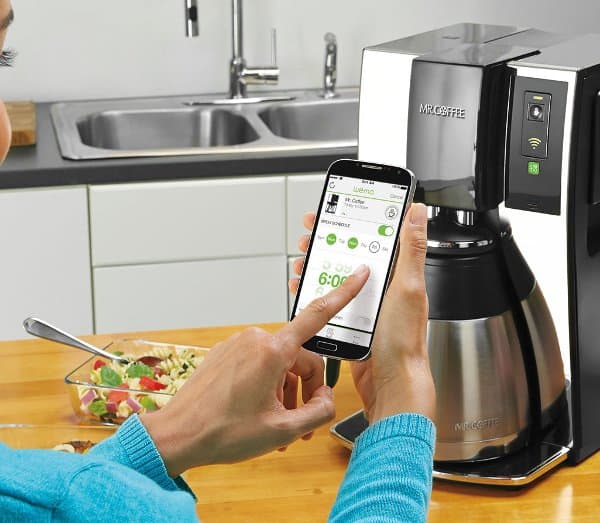 Mr Coffee is designed for a big family or a busy office. It brews anything from 4 to 10 cups at a time, and its vacuum-walled insulation carafe keeps drinks hot for hours. Serious caffeine fiends will be glad to hear that it brews in just 7 minutes, 20 percent faster than most comparable machines. And with a removable side basket, it's easy to change the filter or top up grounds without making a mess.
The clever thing about the Mr Coffee is that you can set up a weekly drink schedule. So, for example, you can set it to make you a drink at 7am on weekdays and later at the weekend. It runs on WeMo, a remote home management system which works on Android and Apple.
It's currently not compatible with other management systems, although there's a program you can download to make it work with Echo and Alexa.
However, the Mr Coffee doesn't give you any control over the actual brew. You can tell it what time to come on, but you can't control the strength or the temperature, and it only uses ready-ground coffee. It's handy that you can set your coffee to start brewing when you wake up so it's ready when you've finished dressing.
But you could get the same effect by asking your spouse, "Honey, could you put the coffee on while I'm getting ready?" – and your spouse won't beep insistently when your coffee is ready. This machine makes tasty coffee, but it doesn't offer any of the technological benefits of rival machines.
3.  Behmor Connected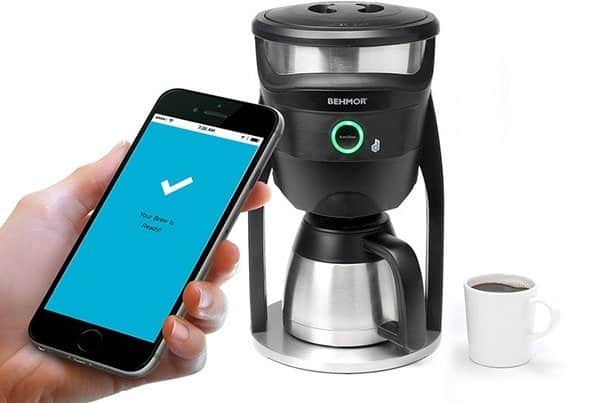 The Behmor was designed by an engineer to combat two causes of bad home coffee: wrong temperature and uneven soaking. It has one some of the most precise settings of any Bluetooth coffee pot on the market. You can use the app to set up a different brew each time, or assign a favourite brew to the main button on the front of the machine so you can just press and go.
To understand why the Behmor's design is unusual, you have to be a bit of a coffee geek. In order to save space, most home coffee makers have a single-source water feed (picture a running faucet) and a conical drip basket, which means the coffee grounds get saturated in the middle and barely damp at the sides.
The Behmor has a showerhead water feed and a flat-bottomed drip basket, so that all the grounds get an equal amount of water and your coffee has a more balanced flavor. There's even a pre-soak setting, adjustable from 15 seconds to 2 minutes depending on how much you want your grounds to "bloom" before brewing.
You can also set the temperature at anything from 190 to 210oF. The recommended temperature range is 200-205oF: the extra range has been provided for people who live at high altitudes, where water boils at a different temperature.
Despite its incredible precision, there are a few frustrating issues with the Behmor. It makes a minimum of 6 cups at a time: the coffee will keep warm for a few hours in the double-walled thermal carafe, but if you live alone that's still an awful lot of coffee to drink in a morning. Although the app allows you to make your perfect coffee, there's no timer function: you can't set it to wake you up with a coffee or greet you at the door with a fresh cup.
Purchase here.
4. Smarter Coffee brewer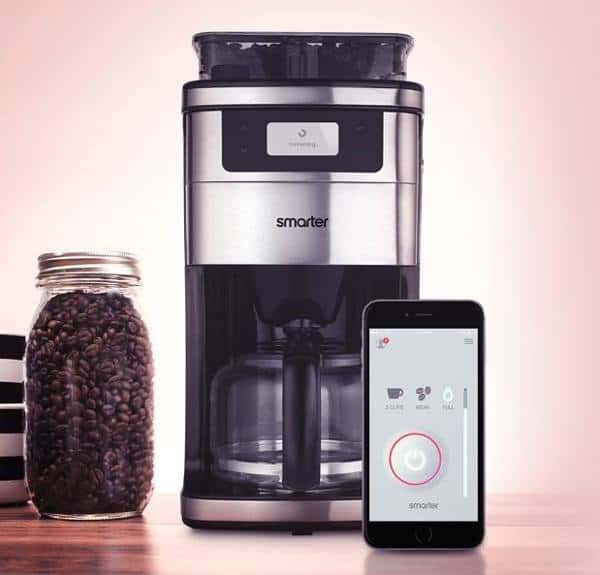 The Smarter claims to be the world's first fully connected grind-and-brew machine. Like most grind-and-brew machines, it has a burr grinder for an evenly-sized grind; unlike most machines, the bean hopper has an airtight seal so that whole beans don't go stale while they're waiting to be used.
The free app allows you to adjust the strength of your coffee via your phone. It brews from 1 to 12 cups at a time, and you can pre-set it to come on at a certain time. Cleverly, it will also let you know if water or coffee is low, so you won't have the annoyance of coming home to find your expensive machine has boiled itself dry.
There are also clear, easy-to-use manual operation buttons on the front of the machine, which is great if you have house guests who just want to fix themselves a cup of java without having to fuss around trying to download an app at 8am.
The Smarter is both functional and beautiful, with a glass carafe that will keep coffee piping hot for up to 30 minutes. It's customizable, with changeable covers in three colorways – and they come free when you order the machine, rather than as an expensive add-on.
5. Nespresso Prodigio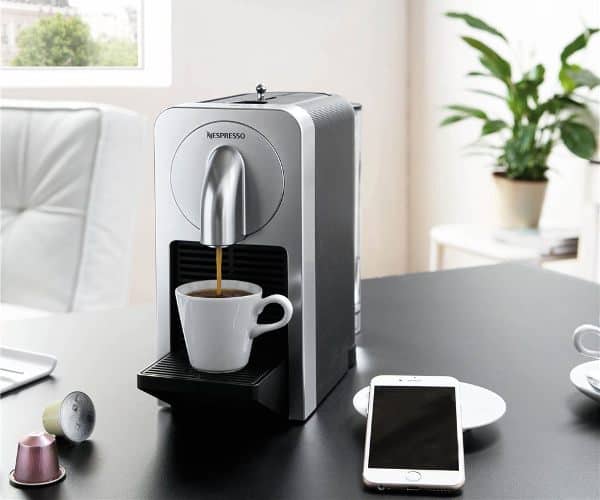 This one is a love-it-or-hate-it option, depending on how you feel about the taste of Nespresso pods. You load the Prodigio up with pods and fill the tank with water. When it hits the pre-set time for a caffeine hit, the machine automatically flicks a new pod into place and makes you a drink. Heatup takes just 25 seconds. It auto-ejects the old pod into a container that can hold up to 19 empty capsules, so you don't need to throw away a spat-out pod you make a coffee.
The Prodigio comes in two varieties, one basic model and another with an inbuilt milk frother for better lattes and cappuccinos. Although it can only make one drink at a time, you can select from 3 different cup sizes.
The app is easy to use: it's Apple and Android compatible, and you can even download a trial version onto your phone before you decide to buy the machine. You can pre-set the machine to make you a drink at certain times, and it sends an alert when it needs maintenance.
Cleverly, the machine has a capsule counter which is linked to the app; it'll tell you when you're running low on pods and you can automatically reorder from the store. However, you can only run the machine from one smartphone at a time, so there's no way you can share your Prodigio with a partner or housemate.
6. GINA smart coffee instrument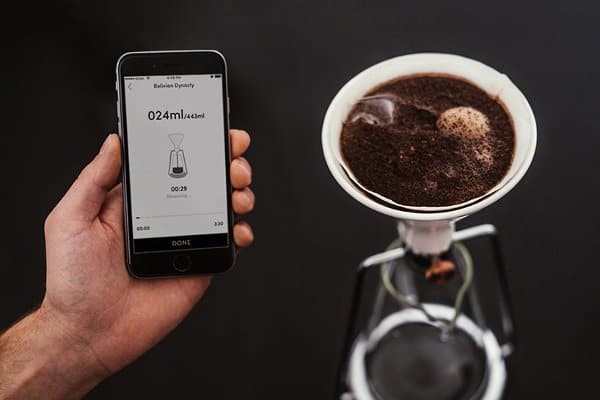 It's not even on the market yet, but the GINA promises to be a game-changer. The developers' Kickstarter goal was $50,000 and they raised six times that amount: that's how excited people are to see something genuinely new in the coffee brewing world. It's app-enabled, but instead of making the coffee automatically, the app helps you to monitor the results of your own experiments.
The GINA is a geeky delight for coffee lovers. It looks like a piece of lab equipment. A steel frame holds a ceramic water funnel over a conical pitcher. The coffee grounds go into a small inner container which hangs inside the mouth of the jug.
There's an adjustable valve at the bottom of the funnel, which gives you the choice between 3 different ways to make coffee. Open the valve to allow water to flow through for a pour-over coffee; close the valve to keep the water in and make an immersion brew; or set it half-way to make a cold drip coffee.
The base of the steel frame has a Bluetooth scale which allows you to weigh your coffee and water, so you can get the perfect ratio. It connects to the internet via an app with an inbuilt timer, which allows you to save your brewing data and remember how to make your perfect drink again: you can also connect with like-minded coffee lovers to discuss brewing techniques.
For professionals, the app has a "barista mode" which lets you monitor up to 4 GINAs at once. Although it's high-tech, the technology is low-maintenance: when fully charged via USB, the app offers 80 brewing hours, with a standby of up to 30 days.
More at Kickstarter.
Do you see the benefits of a connected coffee machine?
Found the perfect smart coffee maker for you? Let us know in the comments below.
Last Updated on November 15, 2016 by Tyler